Iskren Gaidarov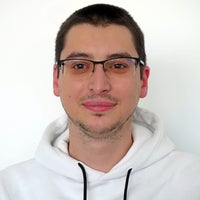 iskren.g@phonearena.com
Iskren has had a passion for technology ever since he was a child. His uncle used to be obsessed with changing phones, which meant Iskren had access to tons of phones that he found fascinating. Back then he was really impressed with the Ericsson T28 because of its iconic design and voice commands function.

The first smartphone Iskren got a hold of was the SymbianOS-running Sony Ericsson P910i. He remembers this phone as being one of the most impactful on his interest in tech, with its quirky design, large (for the time) display, and two sets of mechanical keyboards. He also remembers it having one of the best phone speakers ever.

Ever since then, Iskren has been obsessed with the smartphone industry. LG used to be his favorite smartphone brand back in the beginning of the 2010s. That's when he started being a PhoneArena fan. Later on, he started dreaming of one day becoming a tech journalist. He pursued his dream by getting a bachelor's degree in Media and Journalism. He then went on to study English Philology, which he should finish in 2022.

Iskren loves writing for PhoneArena. Previously he worked for a similar site, but in Bulgarian. As far as phones are concerned, currently his favorite brands are Apple and Motorola. He's been a fan of Apple ever since he got the 2nd Gen iPad, but didn't think he was the type of person to use an iPhone as his daily driver. That changed in 2016 when he got his first iPhone, and he's never looked back.

In his time off, Iskren loves watching TV-series and movies, going to the beach, fixing stuff, and driving. He is passionate about cars and the automotive industry itself. He explains his obsession with cars as a "long affair that is ongoing ever since I first drove when I was 7 years old". He also loves Formula 1.

Iskren says that while "the future of smartphones is never going to be certain", he's a firm believer in "rollable smartphones representing the next category of smart devices" and thinks foldable phones won't stick around.
Recent articles by Iskren