Motorola Edge 30 Review: the real deal
10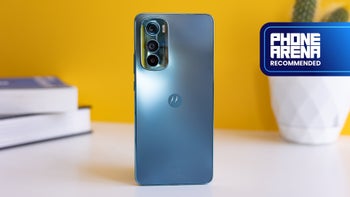 The new Motorola Edge 30 is here, and it strives to be the
best mid-range phone
there is. Its predecessor, the Edge 20, ranked highly in our review last year, and now it is time to test the new guy on the block.
Motorola's newest Edge phone is smaller than its predecessor, which makes it more compact and brings more variety to the brand's device lineup. For example, the Edge 30 Pro has a bigger display and weighs much more.
But is the Edge 30 a cheap version of the Edge 30 Pro, or a whole new phone for the masses? Well, with a price of €449.99, it is definitely affordable. On paper, this phone looks like it is a great deal, but what's it like in real life? Here we go.
Design and Display Quality
She's beauty and she's grace
The Motorola Edge 30 improves on its predecessor's design while keeping the good stuff. Now the phone comes with bolder color options, and in my opinion, these are better-looking. Our review unit is in the Aurora Green color, and it is a beauty. The back of the phone changes color depending on the light conditions. Sometimes it's green, and sometimes it's bluer, which looks awesome.
As for the back itself, it is plastic, but it feels sturdy enough. The frame of the phone is made from what Motorola calls "premium-feeling plastic". While I must admit that these feel sturdy, they don't feel as premium as the rails of Samsung's Galaxy A53, which is this phone's biggest rival.
The camera module on the back of the phone rocks
Motorola
's newest design language, which is basically to make modules with round corners. It does look pretty on this phone though.
As I mentioned earlier, the Edge 30 has gotten smaller. It is also very light, just 155g, which makes it feel great in the hand. One thing this phone has kept from its predecessor is its thinness. The Edge 30 measures just 6.8mm in thickness, which is even slimmer than before.
The smaller size of the Edge 30 is thanks to its 6.5-inch 144Hz AMOLED display. This screen has tiny bezels around it and an FHD+ resolution. It is 0.2-inch smaller than the one we found in the Edge 20 and the Edge 30 Pro, making the phone a bit more compact.
The display itself is pretty great. Brightness is good, and the high refresh rate makes the user interface feel very fluid and snappy. The minimum brightness is also good. However, you should keep in mind that the glass that covers the screen is a bit on the reflective side. This is something we've experienced with other Motorola phones released in the last year too.
This phone's FHD+ resolution is plenty for its screen size. The images it displays look sharp, and the color temperature is excellent. Unlike the Pro version of this phone, the Edge 30 uses an in-display fingerprint scanner, rather than a side one. The sensor works very well and fast, so no worries there.
Display measurements and quality
Performance and Software
The best performing non-flagship phone?
There are no complaints in terms of the Edge 30's performance. With its snappy Snapdragon 778G+ chip, this phone is noticeably quicker in opening apps compared to the Galaxy A53. It isn't a big improvement over its predecessor, but the Edge 20 was already a pretty snappy phone. Even though this phone is very thin, it doesn't heat up easily.
8GB of RAM is more than enough to ensure smooth launching of and switching between apps. Our review unit has 128GB of storage, but you can also purchase a version with twice as much. Android 12 doesn't take that much space on this phone, so if you're someone that doesn't shoot videos every day, or keep 20+ games on their phone, you should be fine with the base Edge 30's storage.
Speaking of Android 12, this phone runs Motorola's MyUX skin on top of it. But the word skin isn't really accurate in this case. As with the rest of Motorola's lineup, alterations to the original vanilla Android software are minimal. You do get the company's best software features though, like the double chop to turn the flashlight on and the ReadyFor platform. Overall, the software experience is very good, and the phone feels very stable and well optimized.
ReadyFor is a platform that lets you turn your phone into a PC-like machine when you connect it to a TV or a Monitor. This could be done both wirelessly and via a USB-C to HDMI adapter. ReadyFor also allows for easier access to your phone's files and apps from your Windows PC.
The platform works great on this phone, especially when connected via the USB-C. It also works well wirelessly, but it requires you to have fast internet and an excellent Wi-Fi connection.
Camera
A hit or miss
Things have not been the greatest for Motorola in terms of its cameras. In the last couple of years, there have been many attempts made by the brand to catch up to the competition, but most of these have failed. Unfortunately, while the Edge 30 brings some improvements in the camera department over its predecessor, it is still not on par with the best of its rivals.
The Motorola Edge 30 features a triple-camera system. The main sensor is a 50MP f/1.8 camera with OIS. This shooter is capable of producing good-looking pictures during the day, but not as sharp as these shot with a Galaxy A53. Still, for most people, the results should be more than satisfactory.
There is an advantage the Edge 30 has over its main rival in the camera department. It is found in the colors it captures. Photos from the Motorola are much more color accurate than ones shot on the Samsung. This is because the software doesn't over-saturate the shots, which makes them look very close to what you see in real life. Still, when you zoom in, detail is simply average.
The second sensor is a 50MP f/2.2 ultra-wide camera with a 118˚ viewing angle. It is significantly better than the ultra-wide sensor found in the Edge 30's predecessor. Daytime shoots look good, although a bit dimmer than ones captured with the main camera. This sensor is also used for macro shots.

The third camera is a 2MP depth shooter, which is supposed to help when shooting portrait shots, but I believe it is mostly there just for the sake of having a third camera, and it doesn't seem like it adds anything to the result whatsoever.



During the night, the main camera of the Edge 30 does okay. Night Vision helps brighten up the image, and the detail is good. Still, there is something to be desired. Photos that are taken with Night Vision often look way too bright, and when you turn this mode off, you end up with an image that looks soft.

The ultra-wide camera tends to suffer during the night. Low light isn't a friend of this sensor, as it struggles to capture enough light even with Night Vision on, and shots look way too noisy.



As far as selfies are concerned, the 32MP f/2.3 front camera does a fine job during the day. There is plenty of detail, although, colors tend to look a bit washed out in some scenarios. During the night the front camera struggles and takes way too long to take a picture with Night Vision on. If you turn it off, you can forget about sharp-looking selfies.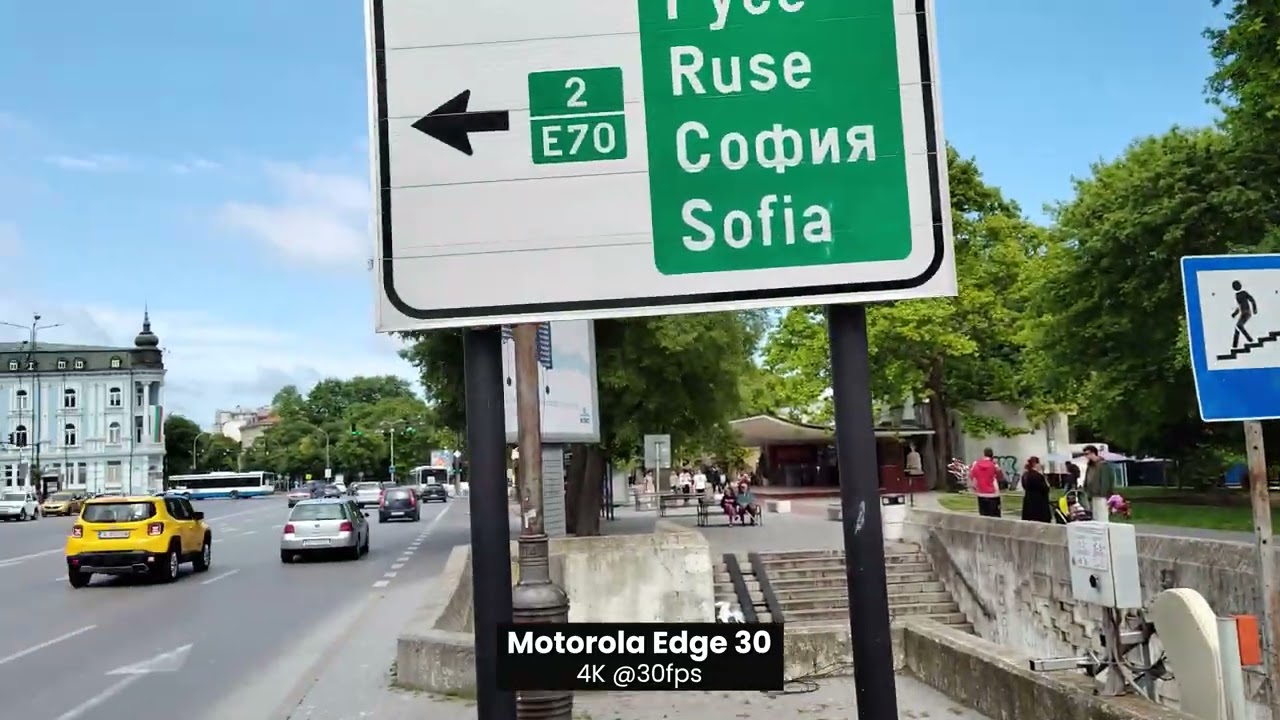 The video recording abilities of the Edge 30 are good, but not great. This phone can record 4K video, but only at 30fps. In 4K you cannot switch between the main and ultra-wide cameras, this feature is reserved only for 1080p videos. The OIS (optical-image-stabilization) helps a lot with keeping the recording steady, even in 4K, which is a big improvement over the predecessor of this phone.
However, during the night, video quality tends to deteriorate, as the footage is less steady and way too noisy.
Audio Quality and Haptics
Finally, this phone has dual speakers. That wasn't the case with the Edge 20 series, which was a big drawback. The Edge 30's speakers support Dolby Atmos audio. These get pretty loud and have good mids, but I still desired a bit more depth. See, the lows and highs sound a bit muffled on this phone, but that's not to say it is bad, it's just that it isn't the best.
The call quality is pretty good. I was able to hear people loud and clearly, and they did not complain about how they heard me. When on speaker, the phone does a good job of eliminating nearby noises.
In terms of haptics, I can't say this phone is good. The vibration motor is on the weak side, and it does not distribute haptic feedback across the whole body of the phone.
Battery Life and Charging
Surprisingly good
The Motorola Edge 30 comes with a modest-sounding 4,000mAh battery. While it really is a bit on the small side compared to other similarly priced phones, this battery still gets the job done. There was no day when I found myself looking for a charger with this phone. It will last most users at least a day, some even a day and a half.
Some phones last longer, of course, but as I mentioned earlier, the software optimization of the Edge 30 is very good, so there's nothing concerning.
The Edge 30 comes with 33W fast wired charging. This charging speed is more than enough to top off its battery from 0 to 100% in about 45 minutes. It is especially fast when you charge it between 40% and 80%. This takes about 25 minutes, which is very convenient.
Another convenient thing is the fact that you get the 33W charger in the box. You also get a protective case, which is very nice of Motorola and further increases the value of this phone.
Competitors
What competitors? The Motorola Edge 30 is a beast of a phone and in my opinion, brings the best value to the table. The Xiaomi Redmi Note 11 Pro is cheaper but less powerful and with an inferior display.
We mentioned many times the Samsung Galaxy A53 in this review. This phone is indeed the Edge 30's biggest competition. The Samsung is better in terms of fit and finish and camera. However, the Motorola feels significantly faster, has a more clean-feeling software, and is both slimmer and lighter.
The OnePlus Nord 2T is another alternative to the Motorola Edge 30. It is a bit cheaper, offers similar performance, but has worse cameras and display. So again, it's a no-no.
And what about Motorola's own Edge 30 Pro? What's so Pro about it compared to the Edge 30? Well, I've been asking myself this question ever since I got the non-Pro model. The Edge 30 Pro offers better performance but is almost twice the price of the Edge 30. Its camera performance is very similar, both haptics and audio output are also close, and the screen, except for the fact that it is bigger and has an LTPO panel, doesn't bring that much more to the table.
If you're into games, the Edge 30 Pro is the way to go. For anyone else, I believe you are better off not spending all that money and getting a phone that is both cheaper and prettier, and the Edge 30 is exactly that.
Recommended Stories