Motorola Edge Plus (2022) review: cutting it close
7


Intro
Motorola is once again trying to compete in the flagship smartphone segment. This time, its most polished model is also available in the US, so it needs special attention.
The new Motorola Edge 30 Pro comes at a price of $999, with a special $100 discount at launch. For that, you get blazing-fast performance thanks to the Snapdragon 8 Gen 1 processor, a very capable 6.7-inch 144Hz P-OLED screen, and good quality feel to the phone. In Europe, this phone is marketed with the Edge 30 Pro name, and in the USA it is called the Motorola Edge Plus (2022), but both versions are almost identical.
Camera-wise things get interesting. Motorola has made significant improvements with a brand new 50MP triple-camera system. This phone captures nice photos both during the day and night. Unfortunately, it isn't the best in terms of video recording. The front camera is among the best.
This phone is definitely oriented to those who prefer performance over cameras and expensive build materials. Its looks aren't flashy. They can be described as pretty conservative and safe for buyers. Still, you might be wondering, what else is worth knowing about this new Motorola and how does it stack up against the competition? Let's find out.
Read more:
Motorola Moto G200 5G review
Design and Display
This Motorola isn't a small phone. Yes, it also isn't the biggest out there, thanks to its very slim display bezels, but I did find it a bit of a handful. Its body is boxier in real-life, which doesn't really help with ergonomics. The Motorola Edge 30 Pro is also pretty slippery, even though it has a matte back, so you should definitely use it with a case. At least the phone feels pretty light and thin, especially considering its size.
The iconic Motorola logo on the back isn't textured, which is a bit of a missed opportunity for a distinctive design element if you ask me. Still, it looks very nice and reflects light a lot. The camera module for the three cameras doesn't protrude a whole lot from the body. This way the phone doesn't wobble when put on a flat surface. The module itself is covered with plastic glass, but this doesn't make it feel cheap.
The cameras aren't covered by this glass. They have separate real-glass housings, just like the iPhone 13 series. These are nice to the touch, but also very easy to smudge, so be careful before you open the camera app.
Motorola's Edge 30 Pro has nice metal sides which could always be mistaken for plastic due to their glossy finish. These aren't very grippy either. All buttons are on the right side and the power button doubles as a fingerprint scanner. The scanner is fast and unproblematic, but I would've loved to see an in-display one.
The volume buttons offer good feedback but feel pretty small for such a big phone. These are also put very high, which makes them hard to reach for people with smaller hands.
As mentioned earlier, this front has pretty tiny bezels on the front. The display's edges are round, and the phone's top and bottom bezels look symmetrical. This gives the Edge 30 Pro's front a very balanced look. A punch-hole camera is located in the middle.
There isn't a headphone jack on this phone. A microSD card slot is also nowhere to be found, which might be a bummer to some. It has an IP52 water-resistance rating, which means it can withstand drops of water but cannot be submerged.
The Motorola Edge 30 Pro
shines with a very good-looking display. This phone's 6.7-inch P-OLED screen produces very nice saturated colors with good minimum and maximum brightness. The only problem I found with this display is its visibility during direct sunlight. Don't get me wrong, the display is readable, but competition like the iPhone 13 and Galaxy S22 have brighter-looking displays. This could be due to its glass being more reflective than the rest.
Indoor you will be glad you have a 144Hz variable refresh rate. This helps with gaming performance and makes navigating the phone feels very snappy. Motorola's Edge 30 Pro uses a 1st Gen P-OLED panel. This means that it cannot go from 1Hz to 144Hz, like some competitors.
Still, it does adjust its refresh rate according to conditions, and according to Motorola the phone automatically switches between 60Hz, 90Hz, 120Hz, and 144Hz. This preserves the battery while improving the overall feel of the phone. I haven't noticed any stutters or the switching between refresh rates, which is good. The touch sampling rates are excellent and make the phone feel very responsive.
Display measurements and quality
Performance and Software
Surprise, surprise, Motorola has finally released a phone with a flagship-caliber chipset in the USA. Not that it hasn't before, but it's been a long time since it last did. The Motorola Edge 30 Pro's Snapdragon 8 Gen 1 processor is simply amazing. Early reports stated that this chipset heats up easily, but that's not the case with this latest Motorola flagship. This phone doesn't feel warm even when you're gaming hard.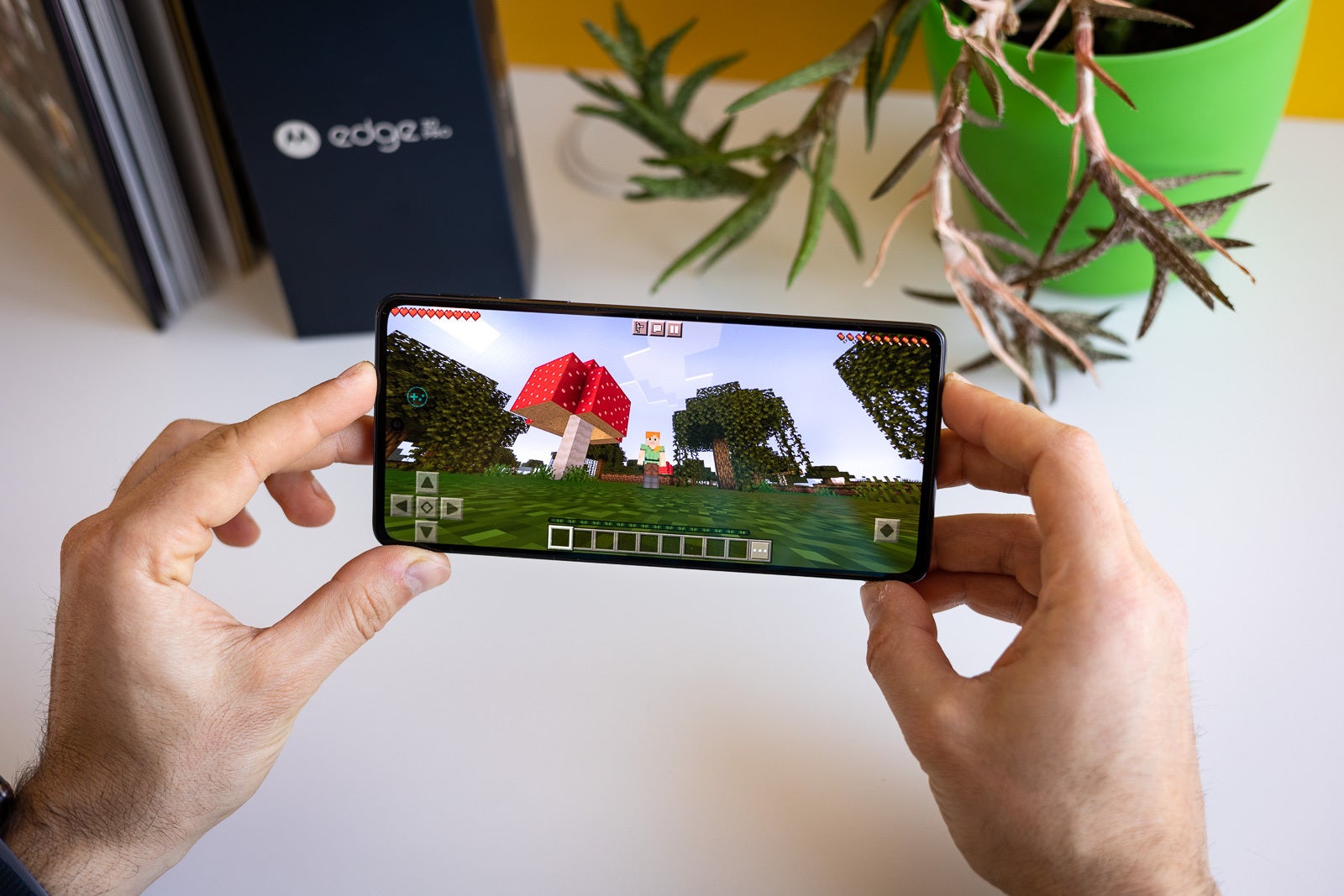 The performance itself is one of the best I've ever seen. This phone opens heavy apps and games like it's nothing. I got the variant with 12GB of RAM and 256GB of UFS 3.1 storage. I've had no issues with multitasking, as this phone easily kept ten or so apps open. I believe that even if you go for the 8GB of RAM variant it will still handle multitasking nicely, as its software feels pretty well optimized.
The Motorola Edge 30 Pro has other flagship-grade qualities too. It not only comes with Sub-6GHz 5G but also with mmWave. This means that it supports the fastest 5G bands and can reach speeds of about 4 Gbits per second. I've had no issues with reception whatsoever.
Motorola's Edge 30 Pro runs Android 12 out of the box. The company's latest My UX user interface is very light and offers good modern looks and the traditional Motorola intuitive smart features like the double chopping motion to turn the flashlight on.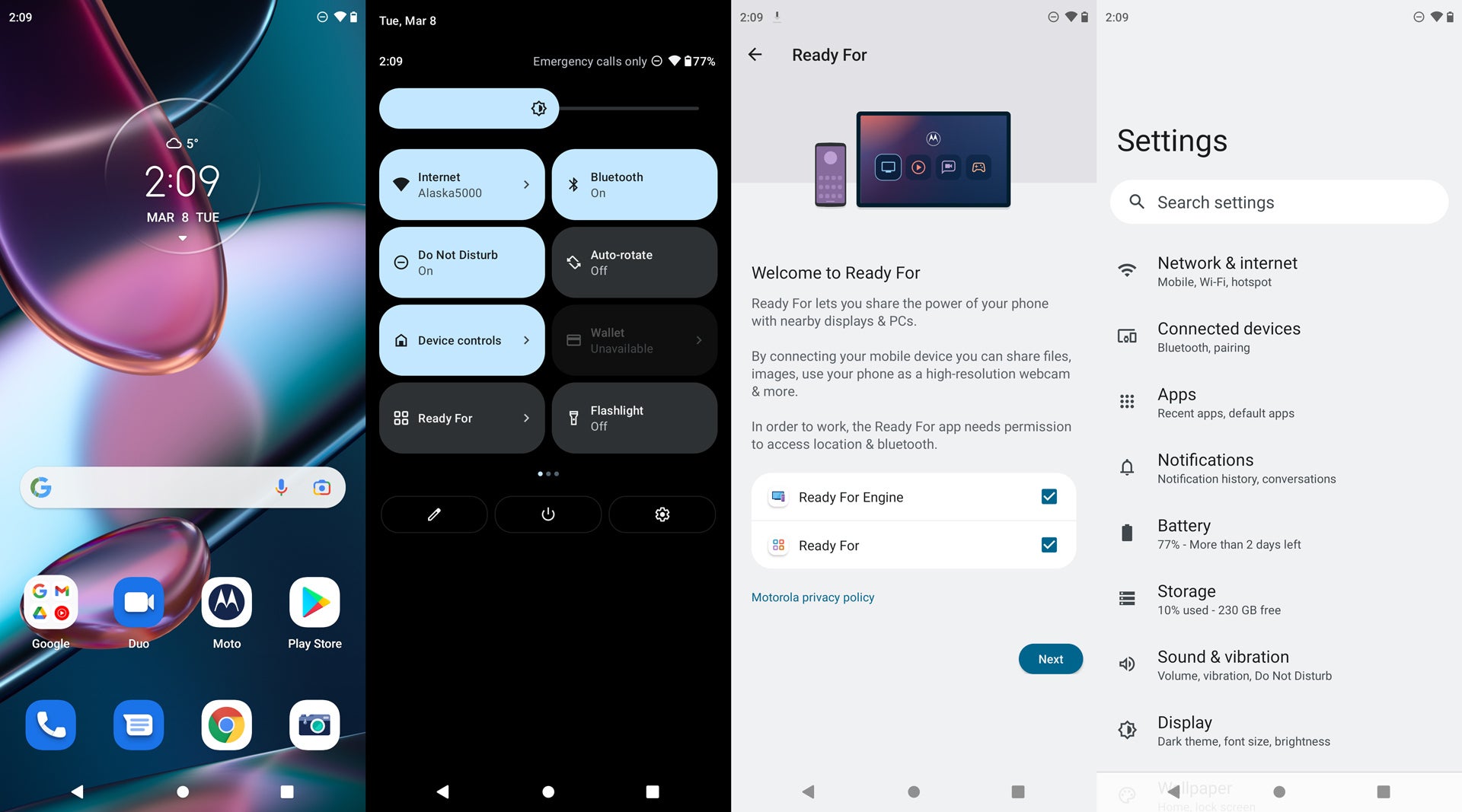 As I mentioned above, I've had no issues with performance on this phone. The software feels very well optimized and responsive. Multitasking is also great, and using this phone is a very snappy-feeling experience.
This phone also features Motorola's Ready For platform. This is a platform that lets you connect the phone with your TV or PC, bringing a desktop view of its system on a bigger screen.
You can connect the phone with your TV either wirelessly (if you have a smart TV that supports wireless streaming) or via a USB-C to HDMI cable. Both methods work great, and when connected the phone acts as a mouse and a keyboard. You can also connect аn external mouse and a keyboard via Bluetooth.
On a PC, you have to download the Ready For app, which is available for Windows 10/11. The Edge 30 Pro can be connected to your computer both wirelessly and via USB-C. I found the latter option to be more reliable, as the first one requires a very good Wi-Fi connection in order to work flawlessly.
Ready For lets you interact with your phone's files, settings, and apps on both TV and PC devices. You are presented with a desktop-style interface that is easy to navigate. Apps work properly, even the third-party ones, and browsing is pretty good. File transfer times from the phone to your PC are also adequate.
This platform is perfect for people who rarely need to use a PC and have a monitor or a TV lying around. The desktop experience on the Ready For platform is good enough for entertainment and browsing purposes.
A Motorola Smart Stylus will be available in the coming months for about $70. This stylus will have an adaptable folio and pinpoint precision. It will charge wirelessly from the back of the phone, and official cases with housing for it will be available. Unfortunately, I haven't received the stylus yet, so I can't give you any more information on it. Stay tuned.
Camera
Motorola phones were never popular for their cameras. This is due to the fact that the company was never making the best camera-performers out there. I must admit that in the last couple of years Motorola has put much effort into changing this trend, and the results are here.
The Motorola Edge 30 Pro rocks a brand new 50MP triple-camera system. The main shooter is a 50MP sensor with an f/1.8 aperture and OIS. This sensor also features QuadPixel technology, which combines four pixels into one bigger one, improving low-light photography and saving on memory.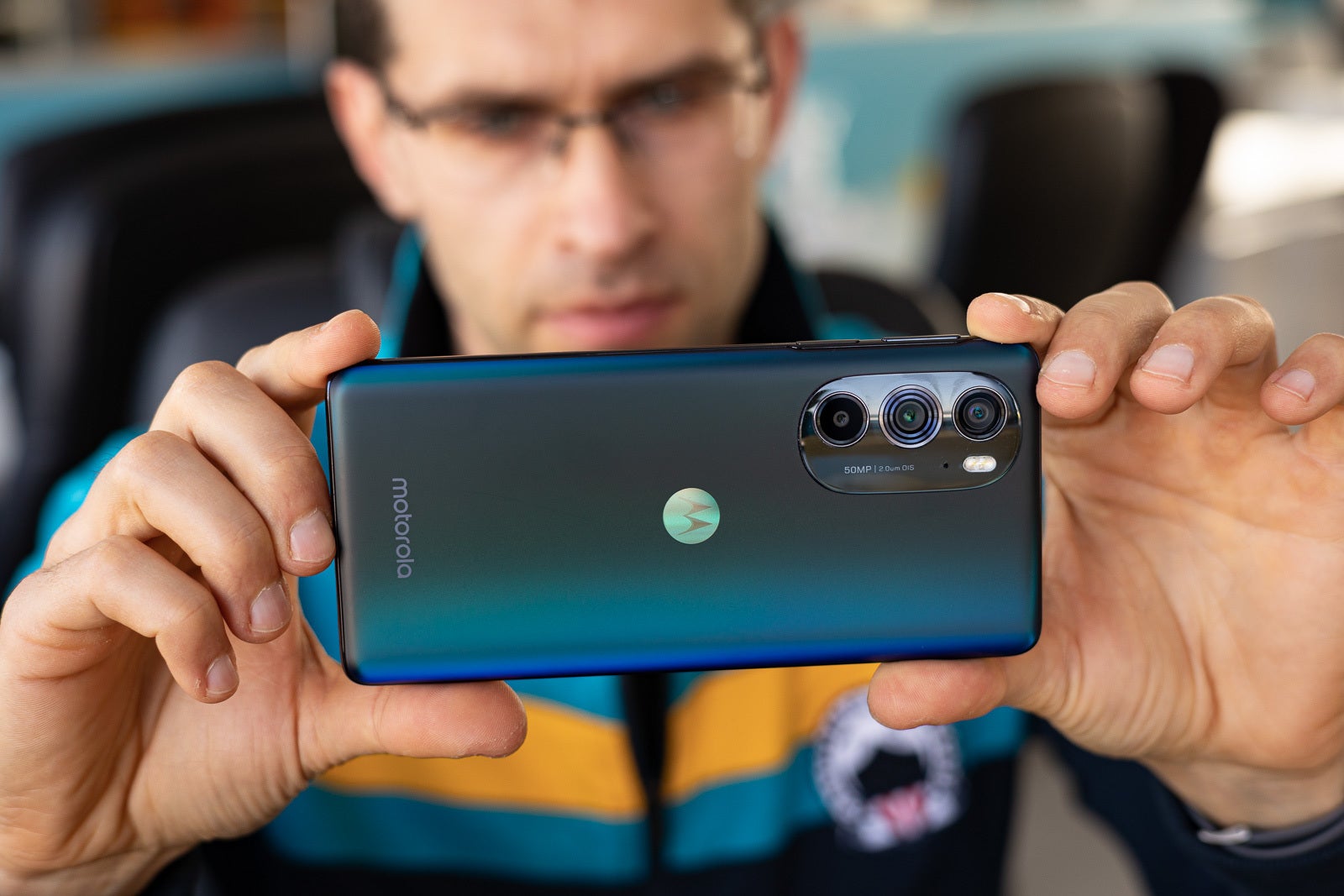 This main camera produces very good results during daylight. Photos have correct saturation and exposure while maintaining good detail even with moving objects. Focus is fast and OIS helps the shooting process feel steady and predictable. The photos from the Edge 30 Pro aren't the most detail-full but are more than okay for most users.
The ultra-wide camera of this Motorola flagship phone is another 50MP sensor. It has an f/2.2 aperture and also uses QuadPixel technology. I have mixed feelings about this sensor. While photos during the day look good and have good exposure, detail is nowhere to be found. It isn't bad, but the moment you try to zoom in the picture starts to look grainy.
Motorola's new phone has a third sensor too. It is a 2MP depth camera, and it doesn't seem to do much, if anything to contribute to the end result. It's seems mostly just there to look pretty. I guess it probably helps with portraits, but Motorola should've probably gone for another type of sensor, most importantly one that adds real functionality.
During the night things start to get very interesting for the Motorola Edge 30 Pro. I must admit that the camera performance on the main camera is very improved compared to last year's model. Photos look pretty even without the Night Vision mode. In fact, I did not find the need to use this mode even once. When I manually activated it the result was a tiny bit more light let into the photo, but nothing major as far as differences.
Unfortunately, Motorola messed up with the ultra-wide night performance yet again. Night shots from the 50MP ultra-wide camera are most often unusable. Detail is nowhere to be found, the phone struggles to focus even when you are static, and the overall experience isn't on par with the iPhones and the Samsungs of the world. I was definitely disappointed.
The selfie camera on the Edge 30 Pro is a 60MP f/2.2 sensor. It too features Quad Pixel technology. Results are impressive, especially during the day. Selfies have natural-looking soft bokeh and great exposure and detail. Night selfies are also good, but colors look a bit under-saturated.
As far as video is concerned, Motorola has made some strange decisions. This phone can shoot in 8K 30fps, 4K 30fps, and 1080p 30/60fps. You might be wondering if I forgot the 4K 60fps setting? Well, sadly, I didn't. For some reason, the Edge 30 Pro doesn't give you the option to shoot a 4K video in 60fps. That's very strange, as this phone's processor is more than capable of supporting the resolution.
Other than that the phone produces good results during the day. The detail is nice, zooming looks fine, and stabilization is adequate even in 8K. In 4K video is a bit smoother, but 8K definitely offers more detail during the day. The phone focuses quickly and correctly, the colors look nice and the video doesn't look choppy.
When the night comes you will be better off shooting in 4K, as it offers better stabilization. The 8K night video sample looks a bit choppy though, and detail has definitely deteriorated compared to the day sample.
The Motorola Edge 30 Pro has three microphones in total. When you're not in a loud environment these do a great job of capturing audio. Still, if you're shooting on a windy day, the phone doesn't do a good job of eliminating the unwanted noise.
Audio Quality and Haptics
Thankfully, unlike the Motorola Edge phones from last year, this one has stereo speakers. The speakerphone doubles as a speaker and produces some pretty loud audio. Combined with the second speaker on the bottom, the Edge 30 Pro shows significant improvement compared to its predecessors, but it still isn't the best-sounding phone. Audio output is loud, but not as clear as I like it to be. Mids are strong, but lows are weak.
As far as haptics goes, the Motorola Edge 30 Pro does an average job at best. Haptic feedback is a bit weak, but I must admit I've seen much worse.
Battery Life and Charging
Simply put, the Motorola Edge 30 Pro offers great battery life. Its 4,800mAh battery might not be the largest out there but combined with this phone's P-OLED display and efficient processor it will easily last you at least a day and a half. Light users can count on at least two days without a single charge.
When the time for charging comes, Motorola is presenting you with plenty of methods to do it. Unlike older Edge phones, which only supported 30W fast-wired charging and had no wireless charging, the new Motorola Edge 30 Pro offers 68 fast-wired charging and 15W wireless charging. It even has 5W reverse charging, which is a very convenient feature.
When it comes to real-life charging, this phone is blazing fast. I was able to charge it with the 68W charger from 0 to 100% in about 40 minutes. The charger is in the box, which is a very nice gesture from Motorola. There's a catch though. North American markets only get a 30W charging brick in the box. This is a real bummer, as Europe receives not only a 68W charger but also a case.
Best Motorola Edge Plus (2022) alternatives
While the new Motorola flagship offering is pretty good, some other phones are worth a look at. For example, if you are really keen on the camera performance, this isn't the phone for you. The
Samsung Galaxy S22 Plus
and the
iPhone 13 Pro
will do a much better job for a similar amount of money.
Still, if you're after performance and having a clean-looking Android user interface, the Motorola Edge 30 Pro, or Edge Plus (2022) as it is called in the US, is the best there is in the states. This phone is a beast of a performer, with a great display and battery life, and should not get overshadowed by more popular brands.
But there's another catch. The competition is promising more than Motorola in terms of software updates. This is important if you are looking for a phone that will last you around five years. If not, the Motorola is a great choice, especially if you're into big displays and alternative smartphone choices.