Motorola Edge 30 Ultra Review: Beauty and a beast
7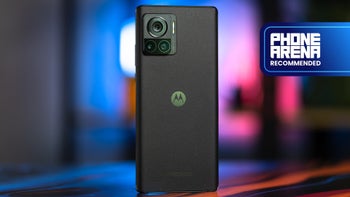 Motorola Edge 30 Ultra Intro
It finally happened, guys. Motorola released a true flagship-grade smartphone for the masses. The Edge 30 Ultra is the brand's latest high-end addition, and it packs top-notch specs for not that high of a price.
This phone boasts a whopping 200MP main camera sensor, making it one of the first to use one of these. It also packs two other impressive cameras. The Edge 30 Ultra uses Snapdragon's latest and greatest, the 8+ Gen 1 processor, and has plenty of storage. The display is awesome as well.
While this isn't the first Edge 30 device we've seen, it is definitely the best one. But I must admit that Motorola's naming starts to get confusing. You have the Edge 30 Pro, Edge 30, and now also the Edge 30 Neo and Edge 30 Fusion. Talk about a big family.
But this phone looks very different compared to the Edge 30 Pro, which was released earlier this year. For €899, the Edge 30 Ultra needs not only to look flashy and be impressive on paper, but also deliver in real life. Let's find out if it does that.
Table of contents:
Motorola Edge 30 Ultra Unboxing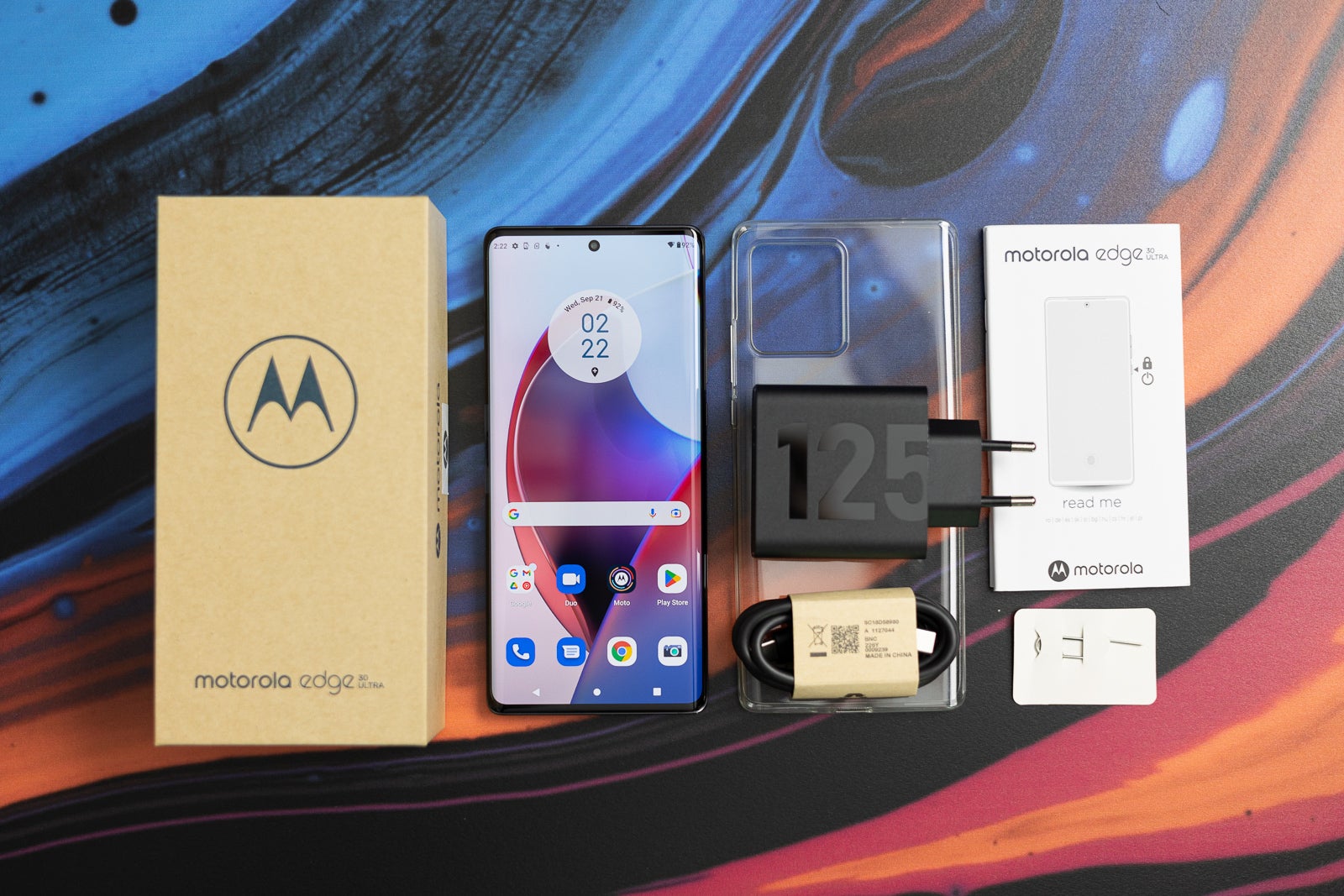 In the box of this pricey Motorola you will find a 125W charging brick, a USB-C to USB-C charging cable, and a SIM ejection tool. Including this monster of a charger is quite generous of the Lenovo-owned brand.
I'm also glad to see that the brand decided to include a silicone case. This is a very welcome accessory, as the phone looks a bit fragile due to its very curved display.
Motorola Edge 30 Ultra Design
Beautiful nostalgia
Compared to the previous Edge 30 phones from the beginning of the year, the new Edge 30 Ultra takes on a whole other approach to smartphone design. This new premium device is definitely way more 'edgy'. Reminiscent of the OG Motorola Edge phones, the Edge 30 Ultra's display is very curved, and because of that it could as well have the smallest display bezels ever seen in a Motorola device.
The fingerprint scanner is an in-display one and it works perfectly. There's a 2-in-1 earpiece and a speaker above the punch-hole camera. The cutout for this speaker is rather long and very thin.
As for the back of the Edge 30 Ultra, it rocks Motorola's latest design language which is also found on the Neo and Fusion Edge 30 phones. This means that the camera module is square, with round corners, housing three camera sensors, and a dual-LED flashlight. The part housing the cameras is raised from the body of the phone, while the flashlight is flush. The very large 200MP main sensor takes up the most space, while the other two cameras sit below it covered by one uninterrupted glass piece.
The back of the phone is very matte and very soft to the touch. It feels quality-made and sturdy. The texture of the Motorola logo and branding is different, making for a sensational feeling on your fingers when going from one material to the other. Still, I must say this phone is pretty slippery, so the case you get in the box comes in handy.
The sides of the phone are metal and very slim because of the screen's curved edges. Unfortunately, this also means that the buttons of the Edge 30 Ultra, which all sit on its right side, are very slim as well. The power button in particular is tiny, but it is textured, which helps when you try to find it by touch. Of course, this texture is gone as soon as you put а case on. Still, all of the buttons are very clicky and offer good-enough feedback.
Because of the phone's curved display and very slim and sharp side rails, it isn't the most comfortable to hold, especially without a case on, which is something you should be aware of.
It is also a pretty big phone. The Edge 30 Ultra measures 161.8 x 73.5 x 8.4 mm and weighs 198g. It is very close in size to an iPhone 14 Pro Max or a Galaxy S22 Ultra. There are two color options this phone comes in: Interstellar Black and Starlight White. We must admit that both of these look gorgeous.
Motorola Edge 30 Ultra Display
Something left to be desired
The display of the Edge 30 Ultra measures 6.67 inches. It is a P-OLED panel with a 144Hz refresh rate and an FHD+ resolution. This screen is pretty nice, with vivid color and good minimum and maximum brightness levels. The refresh rate keeps things very snappy.
However, the FHD+ resolution is a bit on the low side for such a big panel on an expensive phone, so you can sometimes see pixels here and there. Also, the fact that the display is so curved makes it very prone to accidental touches. This is something that's been bothering me while using the device.
Display measurements and quality
Motorola Edge 30 Ultra Camera
200MP do the job
Now we get to the good part. The Edge 30 Ultra is simply a beast of a camera phone. After Motorola's many struggles in this department over the years, it looks like we finally have a very impressive camera-wise smartphone from the brand.
The Motorola Edge 30 Ultra has a 200MP main camera with an f/1.9 aperture and OIS (optical image stabilization). Photos from this camera look great during the day in every scenario. Motorola's camera software uses pixel binning and scales the 200MP picture down to 12.5MP – or to about 50MP in the new Smart High-Resolution mode, which is engaged when you're shooting something that would look better in more detail. The camera app uses AI and determines automatically whether you need this mode. That's most of the time, in my experience.
The photos contain plenty of detail, very close to real life colors and saturation, and correct exposures. Overall, this camera is one of the best to ever be put in a smartphone. You can also go into Ultra-Res mode, which takes 200MP photos. You do get a bit more detail that way, especially visible when you pinch to zoom in, but the phone takes more time to take its shot and in the end, there's not that big of a difference between the 200MP and 50MP photos.
The rest of the cameras are a 50MP ultra-wide sensor with an f/2.2 aperture and a 114-degree field of view and a 12MP f/1.6 aperture shooter with 2x optical zoom. Both of these cameras capture excellent shots in the daytime, especially the ultra-wide one. The telephoto camera doesn't give you that much detail, but it is still adequate. Both of these also capture the correct colors and exposures. The ultra-wide shooter is also used for macro shots, and the results are nice.
Portrait shots are pretty cool on the Edge 30 Ultra. You can switch between all three of the cameras. The ultra-wide and main cameras do a very good job of capturing your object, and the software is blurring out the background just fine. However, the telephoto camera again lacks detail, but it is nothing critical.
During the night, photos look good from the ultra-wide and main cameras. Still, the iPhone 14 Pro and the Galaxy S22 Ultra will probably do a better job here. If given enough light, Night Vision is capable of capturing some great photos, but if, for example, you try to capture the night sky, the Edge 30 Ultra will struggle. The 2x zoom telephoto camera simply looks to be not made for such conditions, as the results from it are average at best.
The front punch-hole camera of the Motorola Edge 30 Ultra is a 60MP f/2.2 shooter. This is one of the best front cameras I've ever seen on a smartphone. During the day, the selfie shooter takes amazing photos, capturing even more detail than one might want. Group selfie mode is also great.
The default setting is for 15MP Quad Pixel photos. Quad Pixel technology combines four pixels into one bigger one, improving results in challenging conditions. But you can also capture selfies in 60MP and see all of the pores on your face. How cool is that?
Night selfies are a bit meh. Night Vision does a good job of capturing light, but the photos don't look nearly as good as the ones captured during the day. Also, sometimes the selfie shooter takes a long time to snap the shot, even with Night Vision off.
Video-wise, things for the Edge 30 Ultra look pretty good. The maximum video recording setting is 8K 30 fps. Surprisingly, during the day, footage in this setting looks pretty amazing, as it isn't unstable or very choppy. The detail is there, and the Edge 30 Ultra doesn't seem to heat up while recording. The 4K 30fps and 60fps settings also produce pretty good results during the day. Unfortunately, the only setting in which you can switch between all three cameras is the FullHD 30fps one.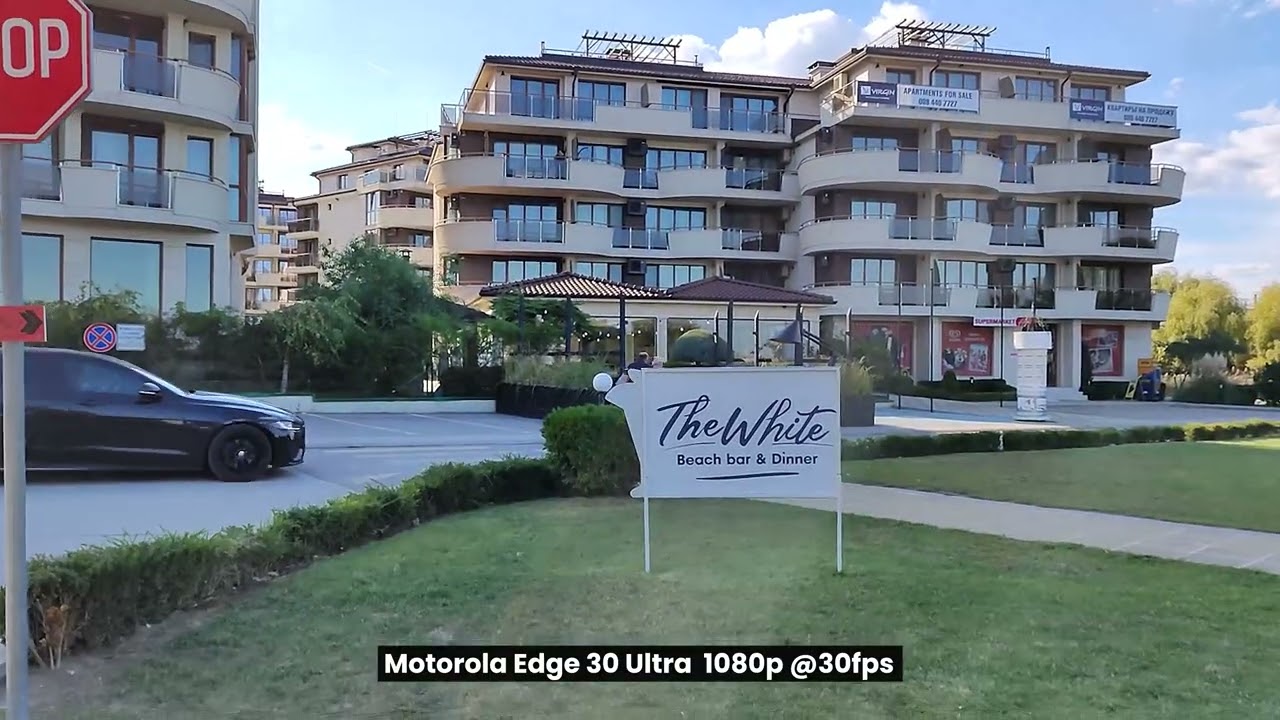 During the night, the Motorola Edge 30 Ultra struggles a bit with video capture. The camera tends to be slow with focusing while moving around. When you're still, there's plenty of detail in all settings. The microphones are pretty good too. Overall, the iPhone is still king when it comes to video, but this Motorola is not that far behind.
Motorola Edge 30 Ultra Performance and Benchmarks
A real-life beast
Motorola phones have lately been very good in terms of performance, especially the mid-range and high-end devices. This Edge 30 Ultra is the most powerful Motorola ever created. With its Snapdragon 8+ Gen 1 chip, the performance is excellent. Gaming is very smooth, the phone stays cool all the time, and the user interface is very fluid.
This performance is helped by having 12GB of RAM and 256GB of storage on my review unit. This is more than enough for unproblematic multitasking on par with the rest of the most expensive phones in 2022. There are also storage options with 8GB of RAM, and I think that even with this smaller memory option, you should be fine. Here are some benchmarks for better reference:
Motorola Edge 30 Ultra Android version
The Edge 30 Ultra runs Android 12 out of the box with the brand's light user interface on top. The phone is expected to receive Android 13 soon, and two more major OS updates in the future.
The software on this Motorola is very stable and unproblematic. Motorola's tweaks and features like the double chop to turn the flashlight on are still here, which is good. The phone also comes with the brand's ReadyFor software platform.
ReadyFor lets you turn your phone into a desktop-like computer that powers an external display or a TV. You can also use it on a Windows PC, where it lets you transfer files from and to your phone with ease. You can connect it to the PC both wirelessly and via the USB-C cable.
Motorola Edge 30 Ultra Battery
A reliable performer
Motorola's Edge 30 Ultra has a 4,610mAh battery. This is enough to last you up to two days if you're a light user and at least a day if you're always on your phone. The battery percentage drops at a very slow rate, even at maximum brightness, and there isn't a big difference whether you're connected to your Wi-Fi network or 5G. Check out how the Edge 30 Ultra battery is in comparison to other similarly priced phones:
Motorola Edge 30 Ultra Charging speeds
The Usain Bolt of phones
There's no going around it. This phone impresses the most with how fast it charges. The Edge 30 Ultra supports 125W fast wired charging, and the best news is that the charger is part of the package. I'm not kidding you, the Edge 30 Ultra was able to charge from 20 to 80% in just 16 minutes and top off its battery to 100% in 28 minutes. This is the fastest-charging phone I've ever tested, and is definitely one of the fastest-charging phones released this year.
The Edge 30 Ultra also supports 50W fast wireless charging, which is one of the best there is as well. 10W reverse wireless charging is also there. Now check out this battery champ's results for yourself:
Motorola Edge 30 Ultra Audio Quality and Haptics
This new flagship Motorola phone has dual stereo speakers with Dolby Atmos audio. The audio output itself is pretty good, with nice lows and mids, but a bit weak on the highs. Still, the Edge 30 Ultra does get pretty loud. Haptics are also pretty good.
The call quality on this phone is excellent, just as it should be on a premium device. The Edge 30 Ultra does a fine job of eliminating unwanted noises and capturing quality-sounding speech. The loudspeaker is also pretty great, even if you're not close to the phone. There were no connectivity issues with my phone on 5G and 4G LTE networks.
Motorola Edge 30 Ultra Competitors
It is a shame that this phone won't make it to the other side of the ocean. The Edge 30 Ultra is offered only in Europe and Asia. Still, we should talk about what competition it faces.
With its price of €899, the Motorola is significantly cheaper than the Samsung Galaxy S22 Ultra and the Apple iPhone 14 Pro Max it competes with. This means that it has a much better value for the money it costs. But I must admit that the Samsung and Apple offerings do feel a bit more premium than the Edge 30 Ultra when it comes to the overall feel of the phone. They also do a better job with video recording, have better displays, and have more user-friendly designs.
However, the Edge 30 Ultra is better than the S22 Ultra when it comes to performance, and much better than both it and the iPhone when it comes to charging and what's in the box. The 200MP main camera of the Edge 30 Ultra is very impressive too, but is it as good as its competitors? Well, yes, especially during the day.
Motorola Edge 30 Ultra Summary and final verdict
We have it, guys. Motorola has finally released a true premium smartphone for the masses. The only problem is it isn't coming to North America. With its rather appealing price, the Edge 30 Ultra reminds me of the OnePlus philosophy from a couple of years ago, which was basically, to give the people flagship specs while undercutting your rivals.
The Motorola Edge 30 Ultra has an excellent camera system, and beautiful looks, and is a beast when it comes to performance and charging speeds. Still, some compromises had to be made for this phone to be as affordable as it is. For example, the display is good, but not excellent, and the materials used are nice, but not the most premium out there. These are small but noticeable disadvantages.
The curved display and sharp side rails of the Edge 30 Ultra automatically mean it isn't going to be to everyone's taste design-wise. This isn't a phone that's comfortable to hold. You can fix that by buying a more rugged case, but the display will still be prone to accidental touches. Let's hope these get to a minimum with a future software update from Motorola.
Recommended Stories