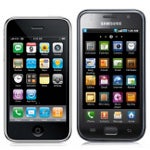 Well, this sure is a slow month as far as new announcements go, but that doesn't mean we don't have other interesting stories going on. It would be safe to say that the lead story these days is... you guessed it, the trial between Apple and Samsung - two companies, which have been accusing each other over patent infringements for quite some time now, and have finally managed to get a real trial going.
The cool thing from all this is that we get to see many interesting prototypes, as well as learn juicy bits of inside info about the companies thanks to the companies' attorneys and witnesses. However, the thing is that all this information is scattered around numerous news posts and articles, and following it all might prove to be a bit difficult. No anymore! Below you'll find a complete list with all the important moments of the legal clash between Apple and Samsung, with some dating even before the start of the trial itself. We'll keep this list updated as the new info comes out, so you can just return to this post later (bookmark!) to see how things develop.
APPLE V. SAMSUNG TRIAL PROGRESS
(
newest posts are on top
)
SUBSCRIBE TO OUR NEWSLETTER!