Evidence in Apple v. Samsung trial shows Steve Jobs "receptive" to idea of 7 inch tablet
43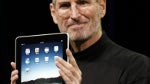 An internal Apple email was revealed in court Friday during the Apple v. Samsung trial and shows that contrary to public comments he made, Steve Jobs was actually receptive to a smaller version of the Apple iPad with a 7 inch display. The email was dated January 24th, 2011 and was communication
between Eddy Cue, head of Apple's Internet software and services, and top executives in reference to a story in

GigaOm called

"Why I just dumped the iPad (Hint: Size Matters)"
.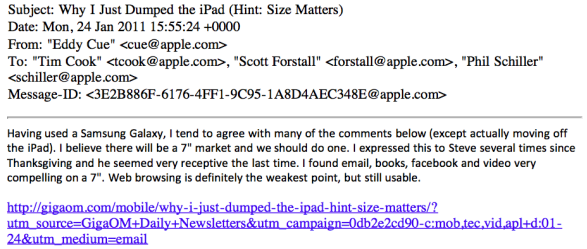 Email used as evidence reveals how Steve Jobs was receptive toward a 7 inch tablet
In the email, Cue mentions how he used the Samsung GALAXY Tab and not only felt like a market would develop for 7 inch tablets, but that Apple should produce one. He also notes that Steve Job was receptive toward the idea. That seems like a huge shift for the late co-founder of Apple who publicly rejected the idea of a tablet with a 7 inch screen. In fact, as we reported in October 2010, Jobs said that 7 inch tablets would not support great apps. He added that
Apple had done extensive testing and would never release a 7 inch tablet
. The email, dated slightly more than 3 months after Jobs' comments during a quarterly earnings conference call, could indicate a
shift in his position on a smaller tablet
. Another possibility is that Jobs' earlier comments were a smokescreen designed to hide Apple's true intentions.
Samsung's goal in producing this email in front of the jury could be to show how Apple does indeed keep an eye on what the competition is producing. Outside of the trial, it could indicate that
all of the speculation about Apple introducing an iPad mini next month
, could very well be true. Most talk about a 7 inch Apple iPad comes from checking out Apple's supply chain and noticing that the
manufacturer has been ordering more parts than required
for the next iteration of the Apple iPhone. Other talk has centered around a
refresh for the 3rd generation of Apple's tablet using a thinner IGZO screen
.
Apple is expected to
introduce the 6th generation Apple iPhone and perhaps a new tablet, on September 12th
.
source:
CNET

The way it was, Phone Arena October 19th 2010
Recommended Stories