Samsung shares take a hit and drop 7% after verdict
18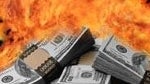 Around the globe, overseas stock markets are opening and for Samsung, it is the first chance investors have had to react to
the verdict of the Apple v. Samsung patent trial
which was announced late Friday. As you might expect, with the prospect of having to pay Apple as much as $3 billion if the judge triples the award, and the chance that
some Samsung devices could be banned in the States
, shares of the Korean tech titan are being trashed on Monday morning.
"Both companies are in the midst of a squabble but I don't think it's a structural negative for Samsung. At the end of the day, as Forbes reported recently, Samsung has 65,000 patents versus 9,000 for Apple. Furthermore, Apple relies on Samsung for the processing brains of their phones. I sold Samsung four months ago but am watching the stock closely now."-anonymous Hong Kong Hedge Fund manager
In its home town market in South Korea, shares of Samsung dropped as much as 7.7%, the largest single day decline in four years. That wiped an
astounding $12 billion off the value of the company
. Equity analysts see Samsung's earnings taking a 4% hit because of patent related issues. One anonymous Hedge Fund manager in Hong Kong said that Samsung will be OK after taking this 4 to 5% hit to the bottom line. He notes that Samsung has 65,000 patents compared to 9,000 for Apple and that the latter still counts on Samsung to build the processors for the Apple iPhone and the Apple iPad..
Brokerage firm Morgan Stanley says that the verdict is an opportunity for Samsung to be a "
true alternative
" to Apple with its "
innovative thinking
". Samsung and its fans are now concerned that Apple will target the hot selling
Samsung Galaxy S III
which has been a true challenger to the Apple iPhone with
more than 10 million units already sold
. That model was not involved in the court battle.
Apple shares will officially open on NASDAQ at 9:30 am EDT. In after hours trading after the verdict was announced, the stock rose nearly $12 or 1.77% to $674. Android developer Google will also see its shares open for trading at 9:30. After hours Friday, the stock dropped $5.63 or .83% to $673.
"The ruling is a costly lesson for Samsung – but also an opportunity for a true alternative to Apple's well-known hardware with more innovative thinking and imaginative products ahead. There are more ways to build a touch screen smartphone and thanks to its fast execution capability, Samsung could quickly work around design changes, upgrading models and introducing new technology such as flexible displays, Galaxy S III and Galaxy Note to differentiate its devices from Apple."-Morgan Stanley note to investors
source:
GlobeandMail
,
YahooFinance
Recommended Stories