Apple's internal research revealed: why customers chose Android over the iPhone
99+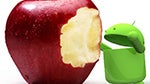 A couple of years ago Apple was facing a dilemma. It had committed to an exclusive deal with AT&T for five years, but had just watched Android surge past the iPhone in terms of market share. On the one hand, surely being on just one carrier was holding them back, but on the other hand AT&T was paying through the nose for each exclusive iPhone they sold, which helped Apple to achieve more profitability than anyone else in the mobile phone market. To evaluate the impact of carrier exclusivity Apple commissioned a poll of Android owners to see why those chose the phone over an iPhone.
Thanks to the Apple v. Samsung trial we know get to know what Apple's internal study discovered.
At the time 25% of Android phone owners had considered buying an iPhone before settling on an Android handset. Of that 25% that did consider getting an iPhone, the number one reason for going with an Android was not wanting to switch carriers (43%). Next up was trusting Google as a brand (36%) and 30% wanted a larger screen size than an iPhone offered.
Note that respondents could check more than one answer; so a consumer may have preferred the screen size, turn-by-turn GPS, and not having to change carriers. Indeed, Apple now offering devices on most carriers has not lead to a collapse in Android's market share (although new iPhone launches now lead to a temporary annual recalibration of market share between the two platforms), but the carrier exclusivity issue was the one that Apple could most easily fix, and their market share has indeed grown since then in the United States.
The entire list reads as follows:
43% Wanted to stay with current provider
36% Trusted Google brand
30% Preferred larger screen
27% Preferred Android Market
26% Wanted better Google services intergration
25% Wanted latest and greatest smartphone
25% Wanted turn-by-turn GPS
25% Wanted latest and greatest technology
source:
The Verge
Recommended Stories