Judge tells Samsung and Apple it's time to make peace before both companies get hurt
69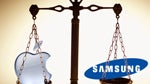 Who will win the Apple v. Samsung trial going on right now? According to the presiding judge, they may both be liable to lose. Judge Lucy Koh urged the two companies to arrange meetings between their CEOs to try and settle their differences before the trial goes before a jury, which should happen early next week. Koh said that based on the evidence presented she sees danger for both companies if a jury is allowed to rule, so she feels it would be in their best interest to put on their big-boy pants and figure out a way to settle this first.
According to the judge, if the main goal was to raise awareness about their respective IP, then Apple and Samsung's mission is already accomplished. Going "all the way" could actually result in negative consequences. What could those be? Samsung naturally could end up having to pay Apple money (though probably nowhere near the amounts that Apple asked for) or have to change some of its phones to comply with a ruling. But Apple might also lose several of its patents and trade dress claims, some of which it is relying upon to sue other companies over.
Perhaps the most likely outcome is a hung jury; in a Federal court the decision must be unanimous (even in civil litigation), and with as many false starts, prior art, and differing timelines as the sides have shown it's entirely possible that the jury simply won't be able to agree with either side. In that case both Samsung and Apple would be out a lot of money for legal bills, and Apple at least would suffer from a greatly diminished fear of their IP.
Both sides agreed to arrange talks (presumably via teleconference), but Judge Koh has already got the two sides to talk several times before to no avail. Now that they've each seen what the other side is bringing to court, will they finally manage to work out a deal? We're hopeful, but not optimistic…
source:
Twitter feed
Recommended Stories