Samsung accuses Apple of refusing to negotiate 3G patent licensing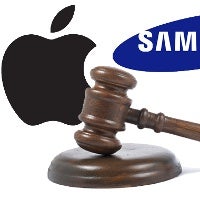 In Sydney, Australia, the legal battle between Apple and Samsung heats up and now the Korean company is
accusing Apple of refusing to negotiate 3G patent licensing
for technologies used in the iPad and iPhone.
Last July, Apple filed a lawsuit against Samsung for touchscreen technology patent infringement as Samsung launched its then new Galaxy tablet. In return, Samsung fired back saying Apple infringed its 3G data transmission patents on the second-gen iPad and iPhone 4 and 4S.
The legal session will now look at two of the patents in question, and hopefully the two companies can settle on a decision soon.
This whole patent madness started in April 2011 with Apple throwing a gauntlet at Samsung for its Galaxy tablet. Samsung tried to negotiate licensing the patents and claims
"Apple has refused to engage in negotiations."
This trial in the Land Down Under will run through the whole week and more sessions are planned for October. It's just one of many legal fights spanning across several countries. Most recently, in the UK, a judge famously wrote that Samsung devices don't infringe on Apple's patents since "they are not as cool."
source:
ComputerWorld