Judge Koh orders both sides to meet face to face on Sunday over jury instructions
36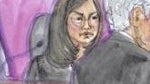 "The Court is disappointed by the parties' respective reports regarding their meet and confer efforts on final jury instructions. Lead trial counsel shall meet and confer in person today and file joint and disputed final jury instructions by Monday, August 13, 2012 at 8 a.m."
-Judge Lucy Koh
Judge Lucy Koh has had it up to here (imagine a very tall building) with both sides in the epic Apple v. Samsung patent battle now about to start week 3. The big issue that has the Judge's gavel all tied up in a bunch is the instructions to the jury that each side wants the judge to read. Late Friday, Apple told the court that "
although [it] has tried diligently to advance the process, Samsung has stymied those efforts

",
and asked the court for help. A couple of hours later came Samsung's reply. "
(Samsung) has agreed to more than twenty revised instructions proposed by Apple and is continuing to review Apple's remaining disputed instructions for any common ground
." While Samsung said it has agreed to twenty revised instructions from Apple, the Korean manufacturer said Apple agreed to only two jury instructions written by Samsung and one of those was
merely the model used by the 9th Circuit
.
Now, both sides are being told by Judge Koh to report to court Monday at 8am to file joint and disputed jury instructions. While the jury instructions probably won't come into play for a week or so, Juge Koh can use this time to figure out her decision. The instructions given to the jury before they deliberate usually tell them the legal rules that they are supposed to follow in order to reach their decision. Because they are the last words that the jury hears before reaching a decision, even just one word could make a difference in how the jury rules which is why both sides are fighting tooth and nail to get the court to go with the instruction that favors their side.
source:
FOSSPatents
Recommended Stories