Apple spent $1.75 million to go after Samsung's 35% gross margin, its lawyers counter with iPhone supply shortages
30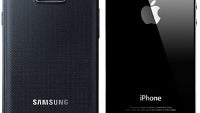 Apple's accountant witness Terry Musika revealed some very important data about Samsung sales yesterday during trial. The Koreans were said to have sold 87 million mobile devices in total from mid-2010, when the Galaxy line was introduced, to March of this year.
22.7 million of those, that brought Samsung $8.16 billion in revenue, are found to be infringing on Apple's claimed patents. Terry Musika and his team estimated Samsung to command 35.5% gross profit margin on this revenue, thus arriving at the conclusion that "all your profits are belong to us" with the
up to $2.75 billion of damages
request.
Of course, Samsung lawyers argued that even if its gadgets are found to be infringing on Apple patents in the end, not all of them would have broke alll of the submitted patents at once during their sales cycle, so the damages are likely to be substantially less, but the interesting take from the story is the 3
5.5% gross profit margin that Samsung allegedly commands on its mobile devices
.
Given that
Apple's gross on the iPhone can hit up to 60%
, and that Samsung doesn't sell much tablets compared to its smartphone sales to bring down the margin, this means that overall Samsung has been more conservative with its profit charges than Cupertino in that period. Apple's witness Terry Musika said that these calculation are not "
just me sitting on a desk with a calculator
", but they are derived from "
literally
hundreds of millions of calculations
" by a team of 20 analysts, programmers, statisticians and economists that arrived at the $2.5-$2.75 ballpark estimate of infringement due by Samsung. Apple
has paid $1.75 million to the team for this number-crunching
, added Mr Musika.
Samsung, on the other hand, argued that the $8.16 billion worth of mobile device revenue from June 2010-March 2012 don't mean that Apple has missed on the exact same amount of iPhone and iPad sales, and not only because people could tell the difference between an Apple and a Samsung gear, but also because Cupertino simply couldn't produce that much more handsets and tablets to sell in the period.
Bill Price, Samsung's attorney, directly asked Terry Musika: "
Apple couldn't service its own customers with the iPhone 4, but it could service customers it didn't have?
", referring to the production shortage that the
iPhone 4 experienced from July to October 2010
.
Recommended Stories