Apple vs Samsung closing arguments: "It took you three months to copy what we've been developing for five years"
99+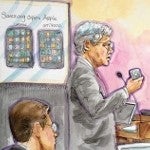 The Apple and Samsung legal teams took the stage yesterday for their closing speeches, giving them one last shot to convince the
ragtag jury crew
, before they enter the final deliberations stage today, and come up with a verdict.
Most of the closing statements were a rehash of every argument and counter-argument we've heard so far for the trial's duration, but there are some quotations and dramatic gestures that deserve your attention. Apart from Apple's lawyer McElhinny
taking out a Nokia Lumia and an Xperia arc
to substantiate his argument that there can be innovation in phone design without copying Apple, a lot of attention was paid to the way the jury has to look at the evidence.
Apple basically claimed that the so-called "trade dress" is the
design and software as a whole
that brings the exquisite look and feel, whereas Samsung was trying to point out
subtle differences
that according to its legal team make their phones and tablets apart enough from Apple's. Here is Cupertino's fiery take on the matter, as presented by various members of its legal team - they were first in line at the closing arguments, with rebuttal times for both companies:
First, is that documents are the most valuable key in the truth-finding function. Witnesses can be incorrect. Historical documents are almost always where the truth lies.Steve Jobs started the iPhone development project in 2003. Steve Jobs shocked the world. It was perhaps the most famous product in the world...
This is a historical document. This is what Samsung was thinking in 2008. It calls the iPhone a revolution. [Google demanded] that Samsung change the designs of the Galaxy S phones and the tablets they were working on because Google recognized Samsung was copying...
[Galaxy S design took two to three months, Samsung icon designer says.] I literally almost fell out of my chair. In those three months Samsung was able to copy and emulate Apple's designs without taking any risks. Because it was copying the world's most successful product... [Samsung wa] bound and determined to cash in on the iPhone's success. Samsung got what it wanted. [Its sales] took off after the first iPhone-derived product was added to the mix. No Samsung executives were willing to come here from Korea... Instead of witnesses, they brought you lawyers...
They say our patents are invalid because they are functional, and because they are obvious... Samsung's defense is a word game... It should be clear to you why no real designer would come to this trial to testify... Samsung was the iPhone's biggest fan. They knew a good thing when they saw it. They tried to compete with it, and when they couldn't, they copied it....
It's the look of the design that tells you who made or who sells the product. Apple has asserted four trade dresses in this case. All the testimony here went to elements. Color, a corner. But trade dress is viewed as a whole... You cannot help but reach the conclusion that these products are so similar... that Apple's products wil be viewed as less than unique in the marketplace. They have spent a billion dollars mimicking our designs and holding it out to the world so the Apple design is no longer seen as unique...
[Rebuttal]Compete on your own innovations. We've going to have them to protect our investment in innovations. Because if we don't, we won't have people like Apple spending five years in a room coming up with a phone that revolutionizes the world. They copied our product, but what they're saying to you is we don't want to pay...
If Samsung had all of this, as they just told you, why was there a crisis in design? Why was there a difference between heaven and earth?... They wanted to fly below the radar so they could ambush their partner with a knock-off phone and that's what they did. This is 100 pages of side-by-side comparison where they say 'we're going to copy the iPhone. What they didn't do is ask their own inventors, 'can you help us out here?' Because they couldn't... You're going to have to decide who lived by the rules and who didn't live by the rules. And those who didn't live by the rules were Samsung.
Here are Samsung's arguments, presented by Charles Verhoeven:
Apple is asking you to award it over $2 billion for them. You'd think that if Apple is going to come in here and ask for over $2 bilion in damages they might have used all the money to have an expert come in here and say people were deceived. But they didn't... Apple is seeking a competitive edge through the courtroom, and attempting to block its most serious competitor from even playing the game.
[The jury verdict] can change the way competition works in this country. Think about Silicon Valley, the way it used to be, back in the day... now there's tens of thousands of tech jobs. That's because of free competition. Consumers deserve a choice. Competition is what's built this country...
Just think about walking into a Best Buy store. You go into the TV section. All of the TVs look the same. They're all boxes. They're all flatscreens. They're all minimalist designs...
[Apple has no] monopoly on a rounded rectangle with a touchscreen. Is anyone really deceived by Samsung's devices that they were buying Apple devices? The fact is consumers make choices, not mistakes... there's no deception, there's no confusion, and Apple has no credible evidence of it...
The Galaxy S 4G, as you can plainly see does not have a bezel of uniform thickness, unlike the iPhone. It's a totally different design style... There's only two icons that Dr. Kare says were similar. The phone and clock... I would submit that the vast majority of the icons are substantially different. And let's not pretend you can patent a colorful row, a colorful matrix of icons...
[Damages] We hope you don't get there, but if you do, you've got to use your common sense. Let's have Samsung compete freely in the marketplace instead of Apple trying to stop it in the courtroom.
In the end, it will all come up to a certain amount of money exchanging hands, say Wall Street Journal legal experts, and the jury has to decide how much. Of course, if they find Samsung infringing and trying to sincerely copy Apple's ideas since the Galaxy S, there will be the moral victory for Cupertino, which is likely what they are aiming at, since the monetary damage, if any, is likely to be much less than the
up to $2.75 billion Apple is asking
.
Just for the trade dress violation, Apple's attorney argued it is owed a minimum of $519 million, and a maximum of $1.396, if Samsung's indirect costs calculation is overlooked by the jury, yet both figures are not exactly of significance for the $100+ billion in cash Apple has anyway, as well as Samsung, which made $5 billion last quarter alone. We can't wait for the verdict, so we can move on towards what's in store for the holiday season from both companies this year, and the goodies they will be prepping the next.