With no last second agreement likely, Apple v. Samsung winner will be up to the 9 person jury
59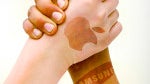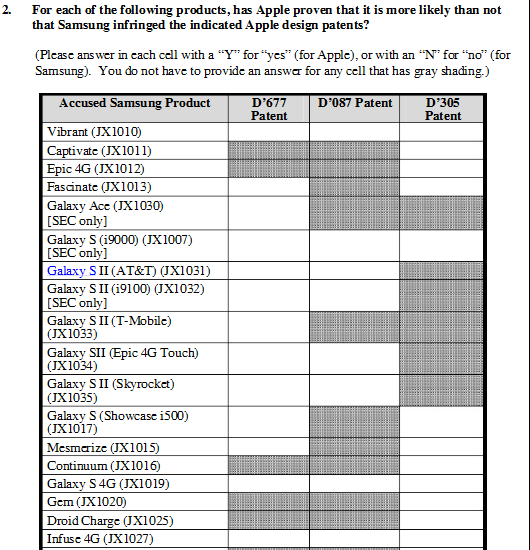 Part of Apple's proposed jury verdict form
Apple and Samsung met on Saturday in an attempt to get each side to reduce the number of claims both were presenting to the jury against the other in this epic court battle. With both sides unable or unwilling to work things out, it means that the ultimate decision on who wins the case could end up in the hands of the 9 strangers sitting in the jury box. And that's is the hard thing for the attorneys on both sides to swallow. At this stage, Apple and Samsung know each other well. After all, in one of life's sweetest ironies,
Samsung is a major supplier to Apple
. And after both sides take swings at each other, fighting dirty and using every trick in the book to win, it will probably come down to the jury to make a decision.
Judge Lucy Koh continued to be "
pathologically optimistic
" that both sides could reach a settlement and if not, she hoped both sides could agree to reduce its claims. The fewer claims that each side makes, the easier time the jury might have reaching a decision. Speaking of the jury, Judge Koh and her staff will be filing a tentative set of final jury instructions on Sunday which will reflect all of the objections both sides have had to the original set of jury instructions. Last weekend, the
judge ordered both sides to meet to reach an agreement on the instructions
, a process that fell flat on its face and left Judge Koh "
disappointed
". This week, the judge wants each side to file by 8am Monday, no more than 16 pages of their top 8 high priority objections to the jury instructions. Any further objections will have to wait for a hearing later on Monday.
One disputed point is which chart the jury will use to keep track of those devices manufactured by Samsung that Apple claims infringed on its patents. Apple says its one page chart is easier to read than the 6 page chart devised by Samsung which includes Android model numbers and other info that might not be pertinent to the jury reaching a decision. Each side also filed a proposed jury verdict form. Remember, this is not a criminal trial so the jury does not have to decide beyond a reasonable doubt if one of the parties is guilty. In this case, Apple will need to have
proven by a preponderance of the evidence
that Samsung is liable. And the same legal yardstick must be applied to Samsung's cross-claims against Apple.
source:
Bloomberg
,
AppleInsider
Recommended Stories