Apple's main goal is to make great products, not money, says Jonathan Ive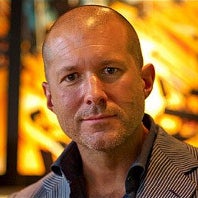 Sir Jonathan Ive, who is Senior Vice President of Industrial Design at Apple, and the person primarily responsible for the cool looks of your iPhone, iPod, iPad or Mac, has given a speech at the British Embassy's Creative Summit this Monday, talking about Apple's product-oriented approach to business.
The most interesting part of his speech has to do with how he explains Apple views its mission. In contrast to what many may have thought, Ive actually argues that high profits are a secondary goal for Cupertino. The design guru explains that most of the effort is put into innovating and coming up with great products:
"We are really pleased with our revenues but our goal isn't to make money. It sounds a little flippant, but it's the truth. Our goal and what makes us excited is to make great products. If we are successful people will like them and if we are operationally competent, we will make money."
Of course, being the chief designer, Jony Ive also talked about the design process within the company. An interesting part of his speech is when he says:
"Really great design is hard. Good is the enemy of great. Competent design is not too much of a stretch. But if you are trying to do something new, you have challenges on so many axes."
Should we believe the words of Mr. Ive when he says that Apple is going for the harder, but more satisfying approach to design? Could this be the reason why the iPhone easily stands out from the crowd when it comes to appearance? Maybe other handset designers should take a page out of his book. What do you think?
source:
AppleInsider