Jury seated in Apple-Samsung trial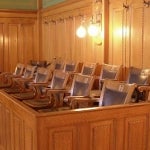 Day one is over and in the books. No, not the Olympics. We're talking about something that REALLY has an effect on everyone, the Apple-Samsung patent trial. As we told you, the first order of business was to seat a jury. The process, called voire dire, had Judge Lucy Koh questioning prospective jurors all day about their jobs, technology that they own, and some general background about their lives. The 10 member jury is made up of
7 men and 3 women
. Sitting in the jury box is one insurance agent, an unemployed video game fanatic (is there any other kind?) a cycling retail manager and a startup payroll manager among others. Both Apple and Google each had one employee dismissed from the pool as was another who said the case reminded him of the Microsoft vs. Apple trial twenty years ago.
intends to prove and how they intend to prove it
. Anyone who has watched an episode of
Matlack
or
Law And Order
is familiar with this procedure. Judge Koh has tried to speed up the process, getting both sides to drop certain claims with the understanding that they can be asserted at a later date.
Last year, Apple started the legal action
with a suit against Samsung for violating certain of Apple's patents
including the infamous data-tapping patent that converts embedded phone numbers and URLs into links for users to click on. Currently, there is a preliminary injunction against the Samsung GALAXY Tab 10.1 and the Samsung GALAXY Nexus although that one has been stayed by a Federal Appeals Court. As we told you on Monday, the Appeals Court has
extended that stay
, alowing the phone to be sold during the trial. An attempt by Apple to get a preliminary injunction against the Samsung Galaxy S III has failed.
source:
electronista