Apple: Samsung's royalty proposal was discriminatory
17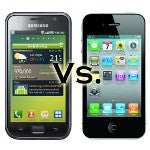 In the closing moments of the notorious trial between Apple and Samsung, Cupertino's last witnesses have called Samsung's asking price for a patent royalty "discriminatory".
First, it was a former lead patent attorney for Texas Instruments, Richard Donaldson, who said that the royalty Samsung asked for its wireless technology patents was 2.4% of the iPhone's price. That, according to him, is discriminatory, because this tech enabled such a small fraction of the device's features.
In addition, New York University professor Janusz Ordover, another Apple witness, said that these 2.4%, or $14 of the price of the iPhone, are equal to a holdup. "
It enabled Samsung's technology to be introduced, to become part of the standard. They have acquired holdup power,
" argued Ordover.
Could it be that Samsung wanted to put Apple in an unfavorable position through an overly high royalty fee, which would cause the U.S. company to lose hundreds of millions of dollars? Well, business is a dirty game, you know, so we guess companies are doing everything they can in order to overpower their rivals.
Read all our coverage on the Apple v. Samsung trial
here
!
source:
TheGuardian