Apple scores a EU-wide ban on sales of the Samsung Galaxy Tab 7.7, but 10.1 is free to roam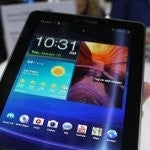 A German court today upheld the injunction against the
Samsung Galaxy Tab 7.7
, so the tablet is basically banned from being sold and marketed in the European Union for infringing on Apple's iPad design patents. It was just last year when
Samsung was frantically trying to hide it from the IFA show floor in Berlin
when it learned about the lawsuit filed against the slate, but that obviously didn't help. Samsung commented on the decision:
Samsung is disappointed with the court's ruling. We will continue to take all available measures, including legal action, to protect our intellectual property rights and defend against Apple's claims to ensure our products remain available to consumers throughout the European Union.
Too bad, since tablets with Super AMOLED screens and brushed aluminum backs are hard to find these days, but on the other hand Apple lost the appeal for the same EU-wide injunction against the
Galaxy Tab 10.1
, so the 10-incher is free to roam everywhere in Europe where there's still disposable cash or the credit cards haven't been maxed-out yet. Here Samsung didn't miss the opportunity to gloat one bit:
Samsung welcomes the court's ruling which confirms our position that the GALAXY Tab 10.1N does not infringe Apple's intellectual property and does not infringe laws against unfair competition. Should Apple continue to make legal claims based on such a generic design patent, design innovation and progress in the industry could be restricted.