Juror in Apple v. Samsung patent trial says it was Apple from day one of deliberations
83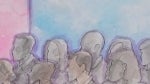 "We found for Apple because of the evidence they presented. It was clear there was infringement."-Manuel Ilagan, juror
Manuel Ilagan, one of the seven men and two women who sat on the jury for the Apple v. Samsung patent trial, revealed some inside information on what went on in the minds of the jury during the case. Ilagan said that the jury felt from day one of deliberations that Samsung had "harmed" Apple. Still, he did say that there
were heated arguments in the jury room
while a verdict was being reached. He said that the jury did not rush a decision and that all of the evidence was carefully considered before a verdict was reached.
Of the voluminous amount of evidence, what specifically convinced Ilagan? It seems that the emails that Samsung executives sent to each other asking which of Apple's features they should add to their own devices
was a smoking gun in his mind
. Also leading to his vote against Samsung was the chart showing what the Korean manufacturer's phones looked like prior to the release of the first Apple iPhone, and what they looked like afterward. The juror also felt that Samsung executives testifying via video link up from Korea were dodging questions.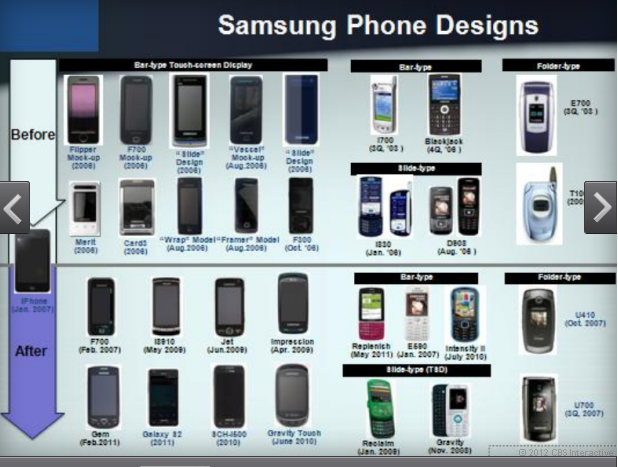 Ilagan said that this chart showing Samsung phone designs prior to and after the iPhone's launch, weighed heavily in his decision
It took the jury 21 hours to
reach the verdict that Samsung infringed on Apple's patents
and they awarded the latter slightly north of $1 billion. Apple was not found liable on any counts in the cross-claim, and
Samsung was awarded no money
. Later next month,
the court will hear motions from Apple seeking preliminary injunctions
on infringing Samsung models.
Courtroom action also persuaded Ilagan that Apple had not infringed upon Samsung patents. When Samsung argued that Apple had infringed on the Korean tech firm's patents with the baseband chip on the Apple iPhone and the third iteration of the iPad, Apple attorney's pointed out that a contract signed by Samsung and Intel had a clause that prevented Samsung from suing any company Intel sold the chips to. Apple presented receipts showing that it had bought the chips from Intel.
"Once you determine that Samsung violated the patents, it's easy to just go down those different [Samsung] products because it was all the same. Like the trade dress, once you determine Samsung violated the trade dress, the flatscreen with the Bezel...then you go down the products to see if it had a bezel. But we took our time. We didn't rush. We had a debate before we made a decision. Sometimes it was getting heated."-Manuel Ilagan, juror
There was no hometown bias for Apple noted Ilagan, who said that jury foreman Velvin Hogan had patents of his own and helped the jury understand the process. Another juror, a project manager for AT&T, helped compute the damages. Ilagan said that he spoke out about power controls because that is what he worked on as a systems engineer for Western Electronic and as an applications engineer for Stanford Telecom.
source:
CNET
Recommended Stories