Apple's charts compare its U.S. market share and global sales to Samsung's from 2004-2012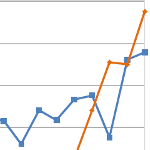 On Tuesday, Apple filed its response to Samsung's appeal of the preliminary injunction that Judge Lucy Koh had placed on the Samsung GALAXY Nexus. A
temporary stay has been extended on the injunction
by the appeals court. Included in the filing is a couple of interesting graphs. One shows the
U.S. smartphone market share of both Apple and Samsung
from Q1 if 2004 through Q1 of 2012. What is interesting about this graph is that Apple's market share does fluctuate. There were times, like in the second quarter of 2008 and the third quarter of last year, when both firms had nearly an equal share of the U.S. smartphone market.
The second quarter of 2008 was when Sprint was pushing the 3G Samsung Instinct as an "iPhone Killer". This was when the OG Apple iPhone was running on
EDGE
. It was also just
prior to the launch of the Apple iPhone 3G
which would also account for the dip in Apple's market share at the time. That would also explain the drop in market share in the third quarter of 2011 as
consumers awaited what would be the Apple iPhone 4S
.
does not include the most recent quarter
that showed the Korean manufacturer
nearly doubling the number of iPhones sold by Apple
in the period.
In today's opening statement at the District Court showdown between Apple and Samsung, the former once again pointed out Samsung's increasing market share, most likely to show how Apple has been harmed by Samsung's alleged patent infringement.
source:
FOSSPatents