Apple's lead attorney says Samsung will claim that "the Devil made me do it"
34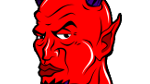 We are into day 2 of the national pastime known as Apple v. Samsung which means that
opening statements are already underway
. As we told you, this is the part of the trial when each side tells the jury exactly what they intend to prove and how they will go about doing it. And both sides are give a little leeway to speculate. Take for instance, the comments made this morning by Apple's lead attorney
Harold McElhinny. He speculated that Samsung will be defending itself by saying that using Apple's design patents
are the only way to create "functional products." This, says McElhinny, is "the Devil made me do it defense."
Other comments made during Apple's opening statement revolved around Apple's patents that are at the heart of this case including the "bounce-back" scrolling patent, which
McElhinny suggested that Samsung copied
early in its design process of the Samsung Galaxy S. Other patents brought up included several for "double tap to zoom" and another that allows a device to know if you have one or two fingers on the screen for scrolling or zooming. The attorney mentioned that these features showed up in Samsung surveys as highly thought of by Apple iPhone users and as such, ended up in the Samsung Galaxy S.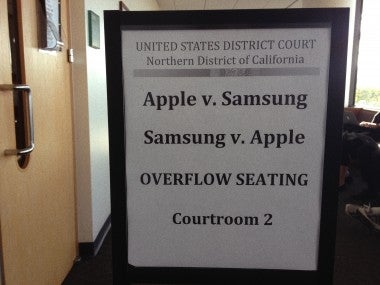 Apple v. Samsung is sold out

McElhinny
also brought up the idea of "trade dress infringement" that Apple is pursuing against the Korean based tech giant, as he listed the things that people look for that distinguish a device as coming from Apple. These include a
metallic bezel around a flat clear surface, a rectangular product with four evenly rounded corners, narrow black borders at the sides, larger bezels at top and bottom of product's front face and icon rows including dock at bottom of icons that doesn't change
.
Apple's lead attorney said that Samsung has sold 22.7 million phones and tablets that infringe on Apple's patents resulting in $8.16 billion in revenue for Samsung. The bottom line?
$2 billion of profits
went into Samsung's coffers instead of Apple's vault.
Samsung's attorney also brought up the matter of Samsung designs that pre-date Apple's and asked the court to hear more arguments about admitting this evidence. Judge Koh refused, saying that she has already heard three motions aboutr this evidence. Threatening to
sanction Samsung's attorney
, she said that Samsung has made its record for appeal. You might recall that Judge Koh has decided
not to admit as evidence the Sony designs
allegedly used by then Apple designer Shin Noshibori
to design an early Apple iPhone model
.
Before opening statements began, the jury was forced to watch an 18 minute video on patents and patent law which just so happens to appear on You Tube. You will find it below for your viewing pleasure.
source:
AllThingsD