iPhone 12 review
22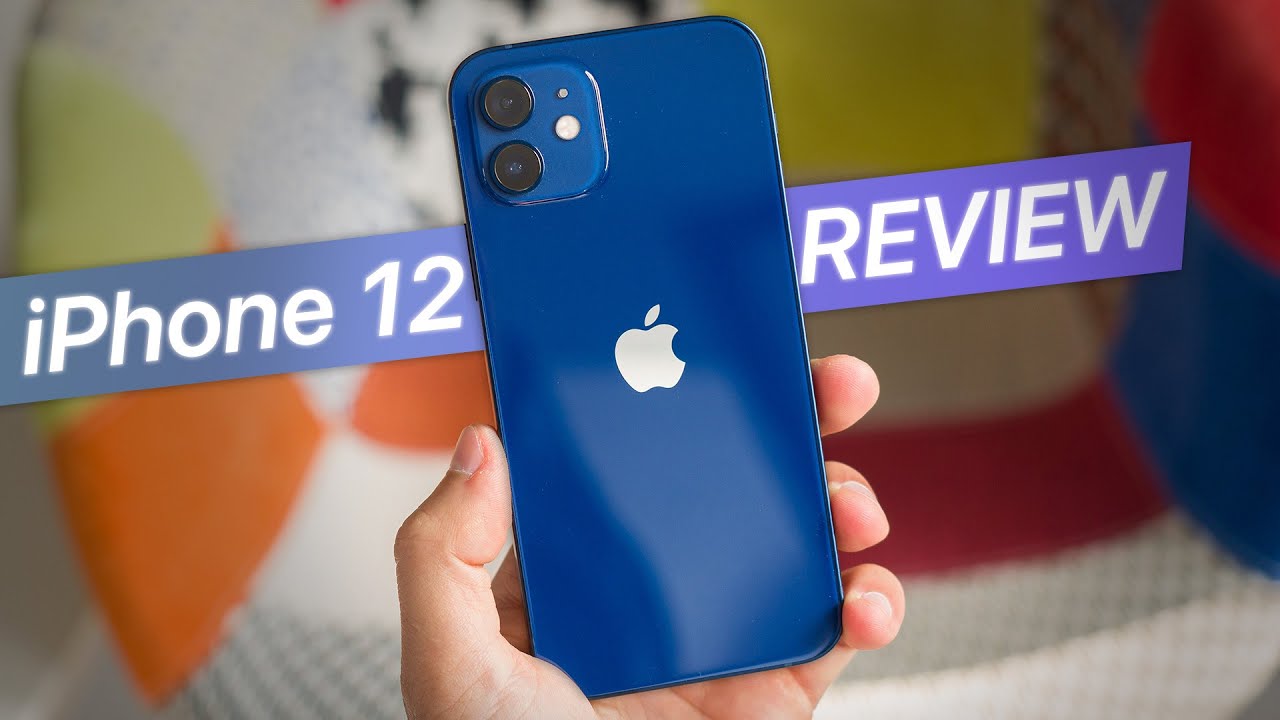 iPhone 12 intro
Apple's 2020 iPhone launch introduced a quartet of new models — the iPhone 12 mini, iPhone 12, iPhone 12 Pro, and iPhone 12 Pro Max. Each of them has its own selling point and target audience, but of course, the iPhone 12 happened to be the most balanced choice. Not too big, not too small, not too expensive, and similarly not too feature-rich.
The Apple iPhone 12 is the direct successor to the iPhone 11 and the iPhone XR before that. It comes with a new flat-sided boxy design with squared-off edges, but carries the same core concepts as its predecessors — all the core iPhone functionalities, without the extra bells and whistles that make the Pro models more expensive.
It sits comfortably in the $800 price bracket, which is — like it or not — "normal" flagship pricing nowadays. Even a bit on the low end if you compare it to the $1000 juggernauts that get flung around by manufacturers once every year.
You get the new design, 5 colors to pick from, and full compatibility with the new MagSafe accessories. There's very little distinguishing between the iPhone 12 from the iPhone 12 Pro, and most people will be just fine with the regular model.
The iPhone 12 strikes all the right notes — great display, great hardware, pretty colors, standard-setting camera, fast Face ID, and good battery life. In fact, it's kind of hard to recommend spending the extra $200 for the iPhone 12 Pro. The regular 12 just covers everything you might need, minus the 2x telephoto lens. And that's pretty much it…
Jump to section:
iPhone 12 unboxing
One thing is for certain, new iPhone unboxings are not very exciting anymore. What you get in the slim new box is just the iPhone, a Lightning to USB C cable for charging, and a couple of leaflets. No charger, no earbuds, no dongle.
iPhone 12 full specs
The first of the iPhone 12's new features is front and center on the phone —
the OLED display
. Technically, we've had an OLED screen on previous iPhones, but the feature was exclusive to the expensive models — the iPhone XS and the Pro variants that followed it. With the iPhone 12 line, Apple gave the whole family an OLED display, so you can enjoy the deep blacks on any of the 4 models.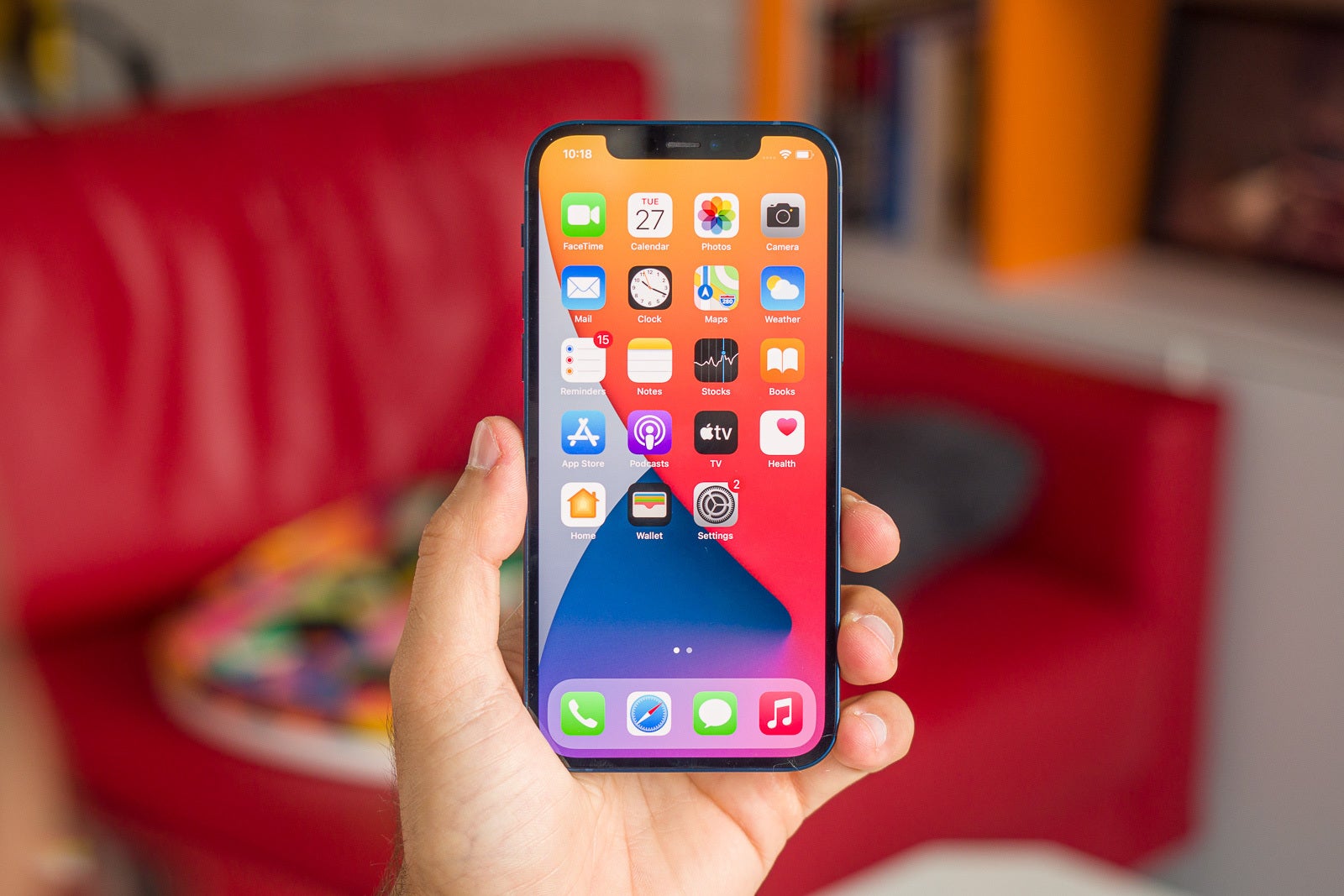 The iPhone 12, specifically, has a 6.1-inch screen with a resolution of 1170 x 2532 pixels — same size as the iPhone 11, but with a
much denser pixels-per-inch ratio
.
Unfortunately, the entire iPhone 12 family skipped upgrading to a high refresh rate screen. In 2020, Android phones already had 90 Hz or 120 Hz displays as a standard. The iPhone 12 is
still capped at 60 Hz
.
The iPhone 12 came with Apple's A14 Bionic — Cupertino's top-tier mobile chip for 2020. It was
the first mobile processor to be built on a 5 nm process
, first introduced with the iPad Air 4th gen, and it has a ton of processing power headroom to make the iPhone 12 viable for years to come.
Inside, there's
4 GB of RAM
, which is not a lot in a time when Android phones have 8 GB and even 12 GB in their devices. But, it has been said time and time again — it's all about how iOS manages memory and apps. The short of it is, 4 GB is plenty enough for an iPhone since it favors "freezing" background apps instead of running them.
At its lowest storage tier, the
iPhone 12 starts at 64 GB
, which is... OK, but not great. About a year down the line, you might feel stifled by the storage limits imposed by this. You can still make it work by utilizing cloud storage and the occasional app and file maintenance, but 64 GB is still stingy for a phone that takes Live Photos by default and flaunts 4K video recording.
Also, the iPhone 12 still rocks a Lightning port for charging and wired data transfer. It's a bit weird for a new phone to not have USB C nowadays, but Apple insists on sticking with the proprietary connector as long as possible. This means data transfer is stuck to old USB 2.0 speeds and you will need an adapter dongle if you want to use anything external — like a USB C accessory or wired headphones. Don't look at any new iPhones — the 13 series is the same.
That's a bit of a controversy in the tech circles — the EU is currently pressuring manufacturers to all switch to USB C. And Apple itself has put USB C ports on most of its iPads (save for the cheapest, $330
iPad 10.2
). Rumors say that Apple would sooner go for a completely portless iPhone rather than putting USB C ports on them, but we'll have to wait and see.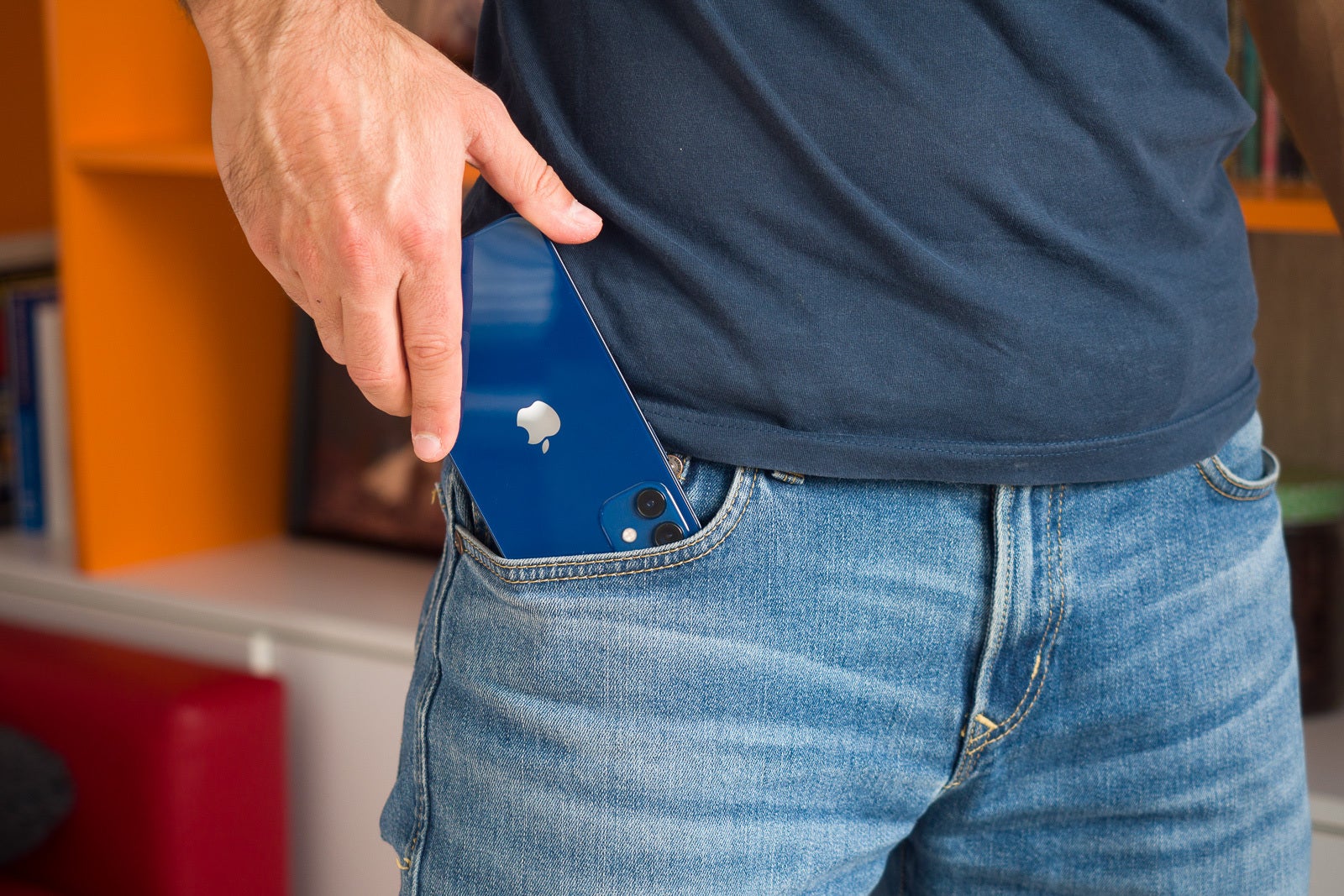 The battery inside the iPhone 12 was notably smaller than the cell in the iPhone 11 —
it shrunk to 2,815 mAh from 3,110 mAh
. The battery life didn't suffer that much — since the A14 bionic is more energy-efficient than the A13 in the previous generation —, but it can still be said that the
iPhone 11 had a better battery life than the iPhone 12
.
With the iPhone 12 line, Apple reintroduced an old name —
MagSafe
. Unfortunately, it's nothing like the cool chargers we had on MacBooks, but it's still kind of cool.
All iPhones from the 12 onwards have a ring of magnets on their backs, which allows for external accessories to attach and line up perfectly with the phone. MagSafe also reads proprietary chips, so the accessory can "tell" the iPhone what it is. Like — what color case it is or what type of charger.
MagSafe opens up the possibility for magnetically attachable chargers, wallets, battery banks, and other neat stuff.
In general, when it comes to performance over time, the iPhone 12 is a good investment. Especially considering that it costs well below that $1000 line that most flagships are happy to hop over nowadays.
And don't look at the Pro models — the iPhone 12 didn't skimp here. All the iPhone 12 variants are powered by the Apple A14, so
you are not making a compromise in performance
by going for a cheaper model.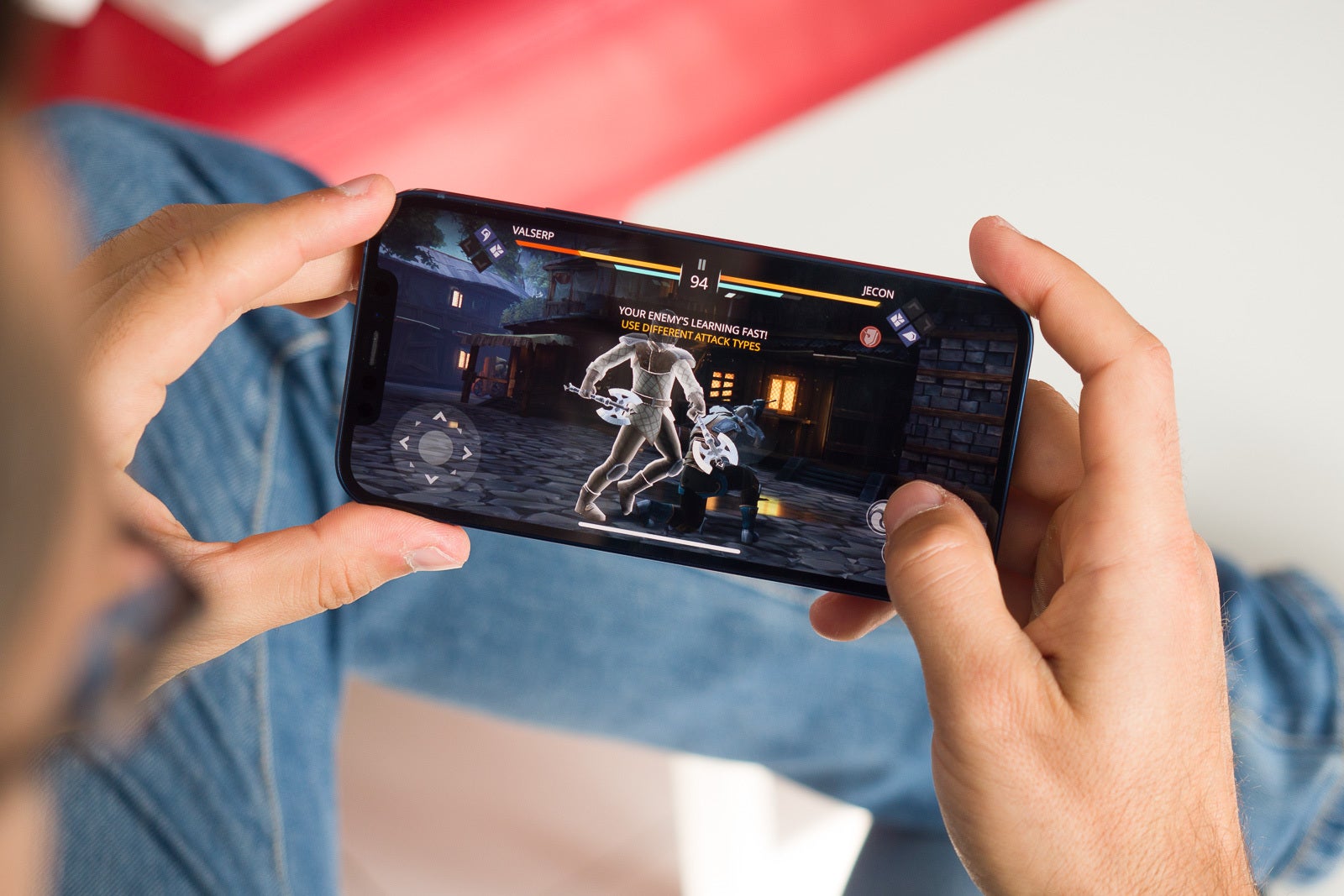 iPhone 12 pros and cons
Pros:
New design is pretty and compact
OLED screen, finally!
MagSafe is cool and has potential
Outstanding performance
One of the best cameras on a smartphone in 2020
Cons:
No charger, no headphones in the box
64 GB of storage is fine, but feels a bit stingy in current ecosystem
No telephoto lens
No ultra-high refresh rate
iPhone 12 models
There are a total of 4 new iPhone models to pick from — iPhone 12 mini, iPhone 12, iPhone 12 Pro, and iPhone 12 Pro Max. And the market is saturated with competitors from the Android side, too. So, how does the iPhone 12 stack up, and which one should you get exactly?
iPhone 12 vs iPhone 12 mini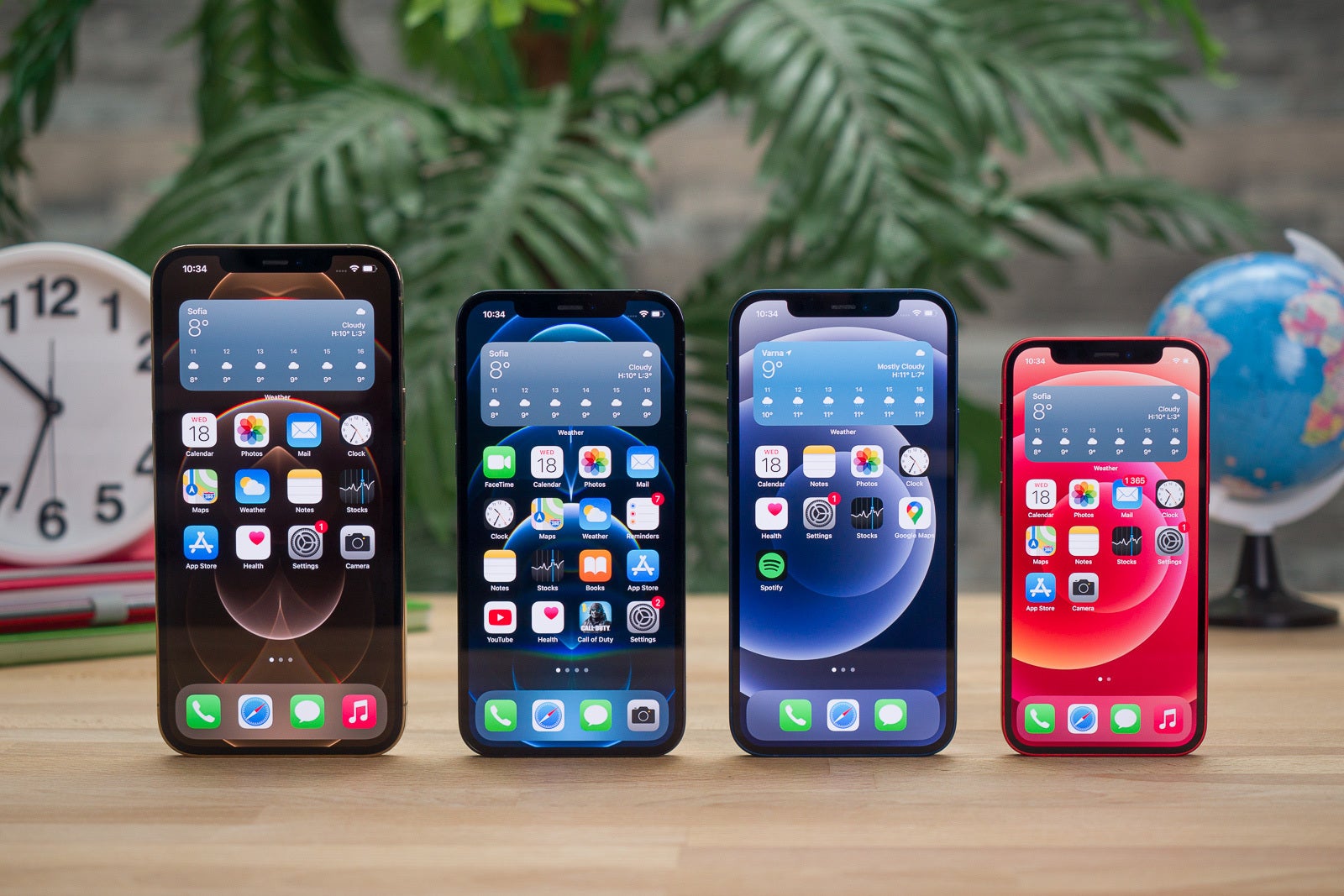 iPhone 12 Pro Max, iPhone 12 Pro, iPhone 12, iPhone 12 mini
So, let's get down to brass tacks. The iPhone 12 and iPhone 12 mini come with aluminum bodies and fun colors. Their glass backs are glossy, so fingerprint magnets — check. They have dual cameras on the back — 12 MP wide and 12 MP ultra-wide, and the same 12 MP selfie camera on the front. Of course, as evidenced by the large notch, they both have Face ID.
Out of these two, get the iPhone 12 if you spend a lot of time chatting, browsing social media, reading, and even watching YouTube and TikTok on your phone. The iPhone 12 mini can certainly do all those things, but the tiny display will cause you to squint your eyes quite often. We recommend the iPhone 12 mini for those that want the power and the good camera when they need it, but would mostly prefer a compact phone that stays out of the way and fits nicely in a pocket.
For more on the mini, read our iPhone 12 mini review.
iPhone 12 vs iPhone 12 Pro and 12 Pro Max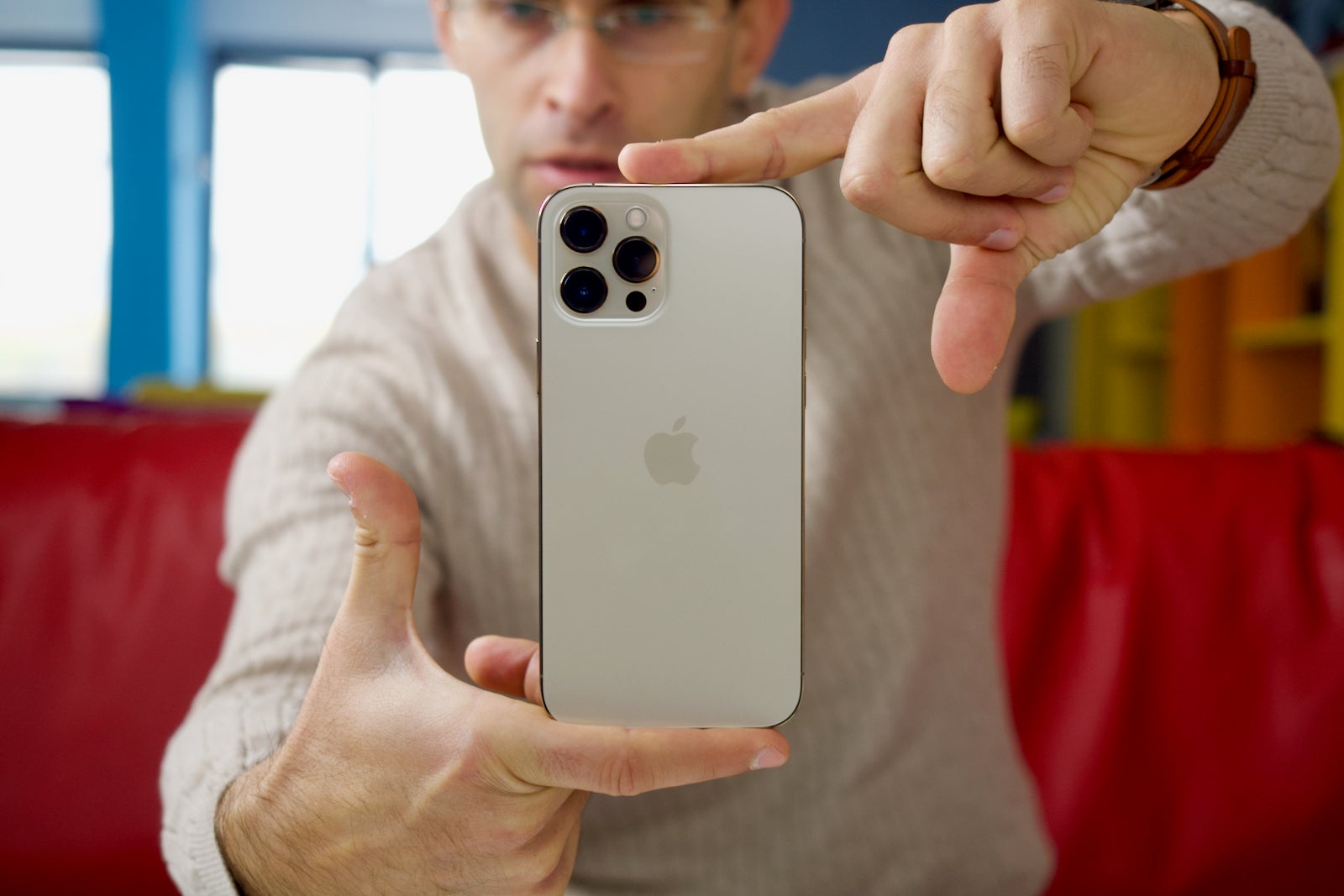 iPhone 12 Pro Max
What are you missing out if you get the iPhone 12 vs the iPhone 12 Pro? The 12 Pro comes with a matte finish on the back glass, which feels quite nice, but is more slippery. Its frame is stainless steel, as opposed to aluminum, and the iPhone 12 Pro and 12 Pro Max colors are more "muted" and "serious" (aside from the gold version, which just screams "Bling!"). Of course, the iPhone 12 Pro Max also has that gargantuan 6.7-inch screen, so if screen real estate is what you are really after, this model should be your top pick.
Both iPhone 12 Pro models add yet another 12 MP camera on the back — the telephoto camera. And there's a bit of a difference to be observed here, too — the iPhone 12 Pro has a 2x magnification lens, whereas the iPhone 12 Pro Max has a 2.5x zoom. Also, the 12 Pro Max has a slightly bigger sensor on its main camera, which helps for better Night Mode shots, and employs a new "sensor shift" stabilization method, where the sensor moves to compensate for hand-shake motions (while all other iPhone 12 models have a moving lens).
In other words, the iPhone 12 Pro adds only a minor improvement over the iPhone 12 and that is the telephoto camera for lossless zoom (2x isn't that much anyway) and portrait pictures (now, that is somewhat important). The iPhone 12 Pro Max adds a massive screen and slight camera improvements, so it kind of has more to flaunt over the base iPhone 12 unit. Also, the iPhone 12 Pro and Pro Max start off with a base storage of 128 GB, so the price hike of $200 is a bit more justified... in the world of Apple devices, that is. But most people will be just fine with the vanilla iPhone 12.
More on the iPhone 12 Pro:
What's new about iPhone 12?
Slim bezels resulting in a smaller body than iPhone 11
Flat edges instead of rounded corners
OLED screen with higher resolution and better contrast
Ceramic Shield front glass
Minor camera upgrades
Night Mode now available on selfie and ultra-wide cameras
Magnetic back for the new MagSafe accessories
USB C to Lightning charging cable
No charger, no earphones in the box
5G connectivity, supporting frequencies for all carriers
iPhone 12 performance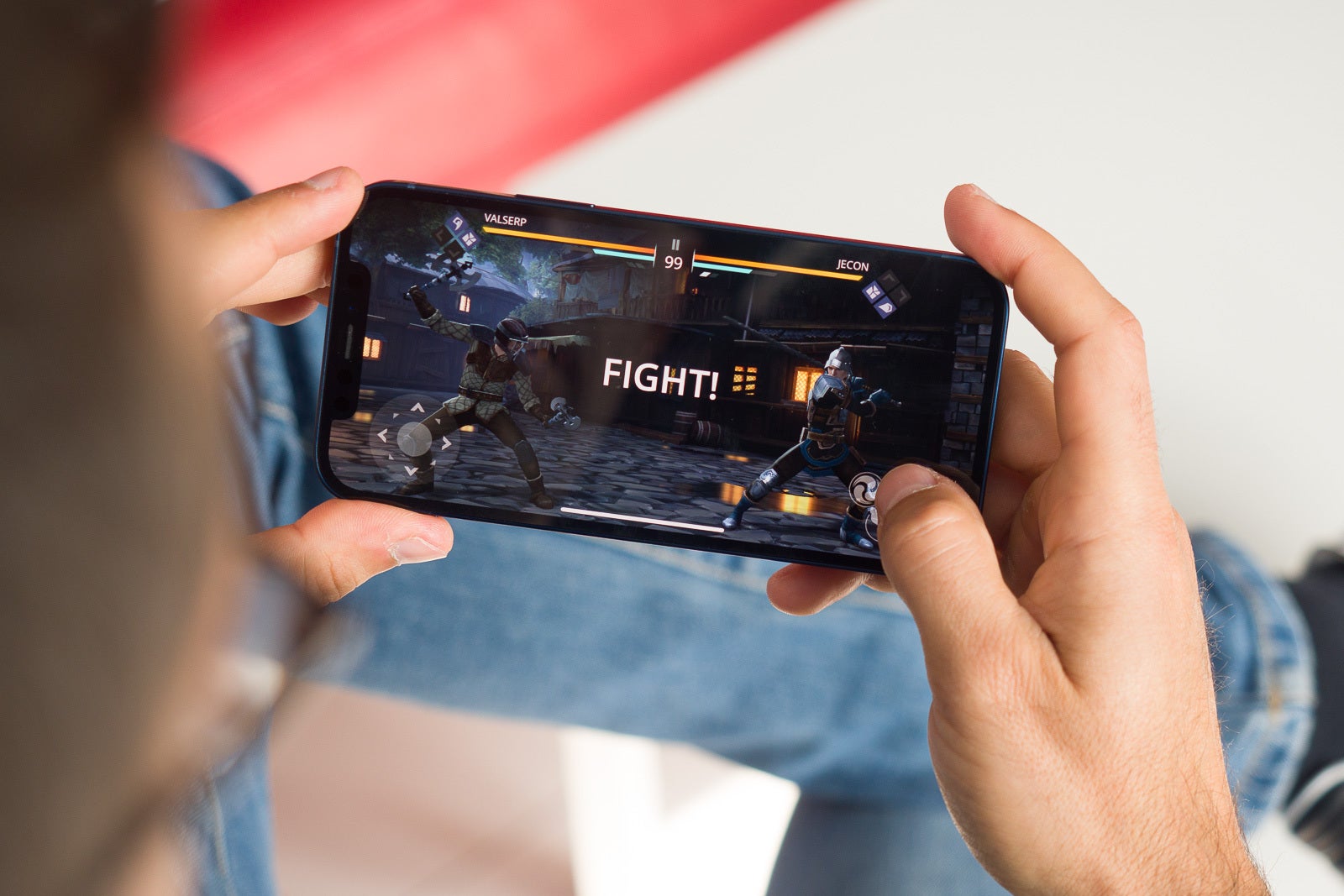 As can be expected, the Apple A14 Bionic that powers the iPhone 12 is a total monster. After all, it was at the heart of the iPad Air (2020), which many called an iPad Pro killer.
The iPhone 12 can comfortably run pretty much anything you can find on the App Store — from all the titles in the Apple Arcade section to cool camera and video apps like FiLMiC and Enlight Videoleap. The larger screen makes long usage sessions on the phone a pleasure, but the lack of a 120 Hz refresh rate can be bothersome to those, whose eyes were already spoiled by high refresh rates of competing phones.
With the release of the iPhone 12, Apple also launched iOS 14, which brought about a bunch of new features and quality-of-life improvements to the ecosystem. One is the support for widgets — anywhere on the homescreen. Apple sure took its time with that one, we might even be at the point when widgets are no longer cool.
But before you start dreaming about arranging your widgets and icons in cool and handy shapes, let me be the bearer of bad news and tell you that iOS still doesn't allow for empty spaces between icons. So, it's still a bit of a drag to try and arrange your homescreen to make any kind of sense.
The second big feature is that iOS has a sort of an app drawer now. You no longer need to tuck the apps you want in a folder and hide it somewhere — you can literally delete them from the homescreen and look for them in the "Apps Gallery" (the iOS version of an app drawer). Another small victory for the ordinary man!
There are also some small aesthetic changes, some interface elements are bolder, more accented, some small, very subtle animations here and there. For the first time ever, I feel like iOS has a bit of an Android flair to how it looks.
iPhone 12 battery life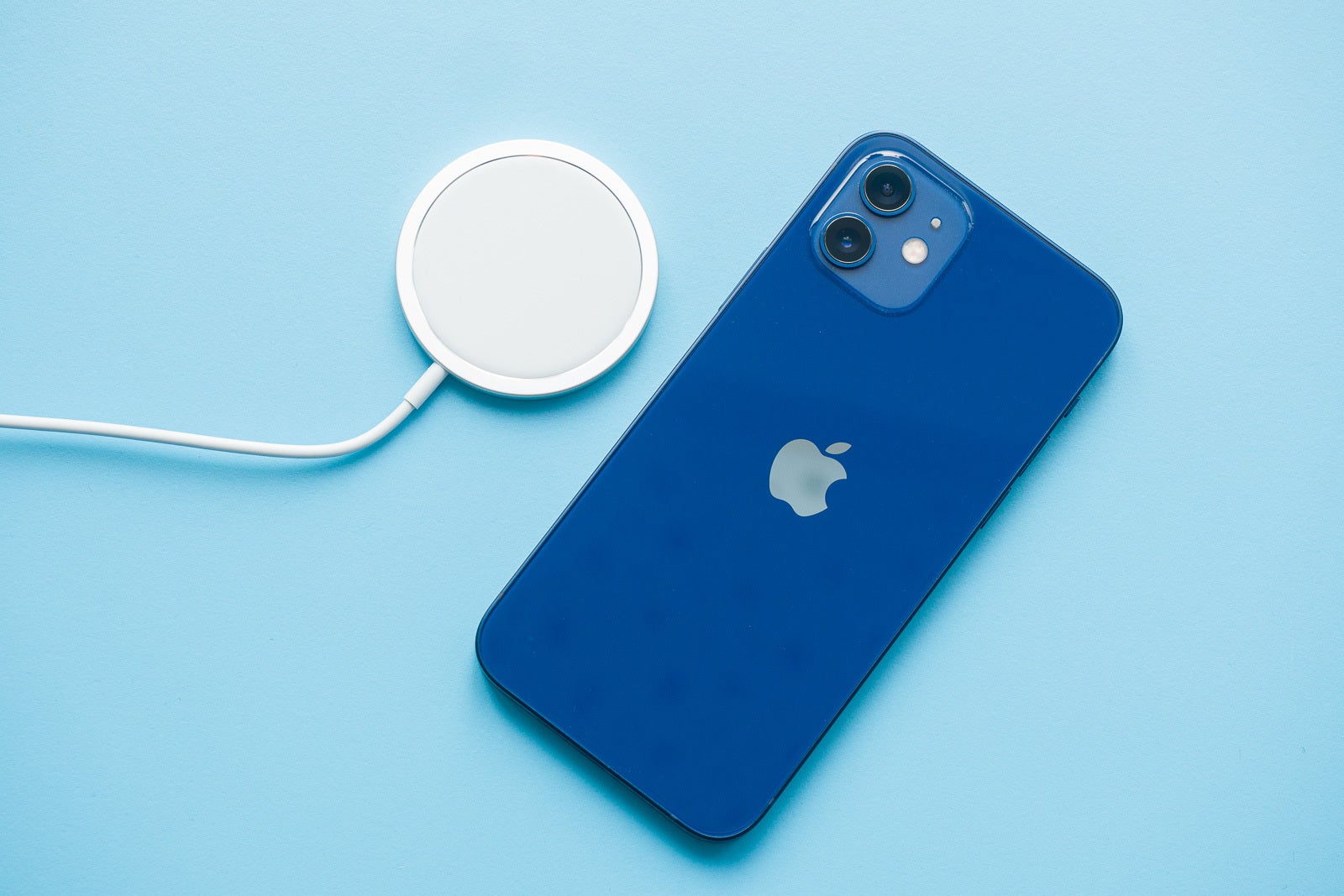 We've heard it time and time again — Apple claims "The new iPhone has an all-day battery!". In 2019, we saw an increase in battery size in the iPhone 11 series, which was nice. It led us to think that Apple might be pushing that "2-day battery life" threshold.
But nope. Since the iPhone 12's 5 nm A14 chip is now more energy-efficient, the iPhone has shed off some of that battery thickness. So, we are back to a pretty standard battery life.
I may sound just a bit disappointed here, but don't worry — the iPhone 12 is, indeed, more than capable of lasting you a day plus extra. Not only can the battery keep the screen on for a good amount of time, but iOS is pretty good at not draining charge when the phone is in standby mode. So yes, the iPhone 12's battery life is predictably dependable.
The iPhone 12 does not ship with a
charging brick
in the box. To top it off, you can't use an old iPhone power adapter with the new Lightning cable that comes in the iPhone 12's box — since it's a USB C cable with a Lightning bit on the iPhone end. The old chargers have the oldschool, rectangular USB Type-B port.
However, you can absolutely use an old charger with an old Lightning cable (with a USB B plug). Then keep your new Lightning cable in the box.
The good news is that the iPhone 12 now supports a 20 W fast charger. Additionally, the new MagSafe charger has a 15 W power output (if you connect it to a fast-charge brick). All in all, it doesn't break any charging speeds, but the iPhone 12 can top up in a reasonable amount of time. Here's our
full iPhone 12 charger test
.
As before, you can also use 3rd party Qi wireless chargers, too, so don't worry — Apple hasn't made the MagSafe charger the only wireless charge solution for iPhones (not yet?).
iPhone 12/12 Pro Charging Time using 20W Apple power adapter:
in 15 minutes - 27%
in 30 minutes - 55%
in 45 minutes - 74%
in 1 hour - 85%
in 1 hour and 30 minutes - 95%
FULL 100% CHARGE - 1 hour and 58 minutes
iPhone 12/12 Pro MagSafe wireless charging speed (w/ 18W iPhone 11 Pro charger):
in 30 minutes - 29%
in 1 hour - 54%
in 1 hour and 30 minutes - 76%
in 2 hours - 94%
iPhone 12 design
The design is a nice breath of fresh air. Apple famously sticks to designs for years on end, so every time the iPhone gets a new look, it's kind of a big deal. This time around, it's more of a facelift than anything. The iPhone 12 looks a lot like the iPhone 11, but has flat sides and a completely flat glass panel on the front. Its bezels are also thinner, making for an overall smaller device,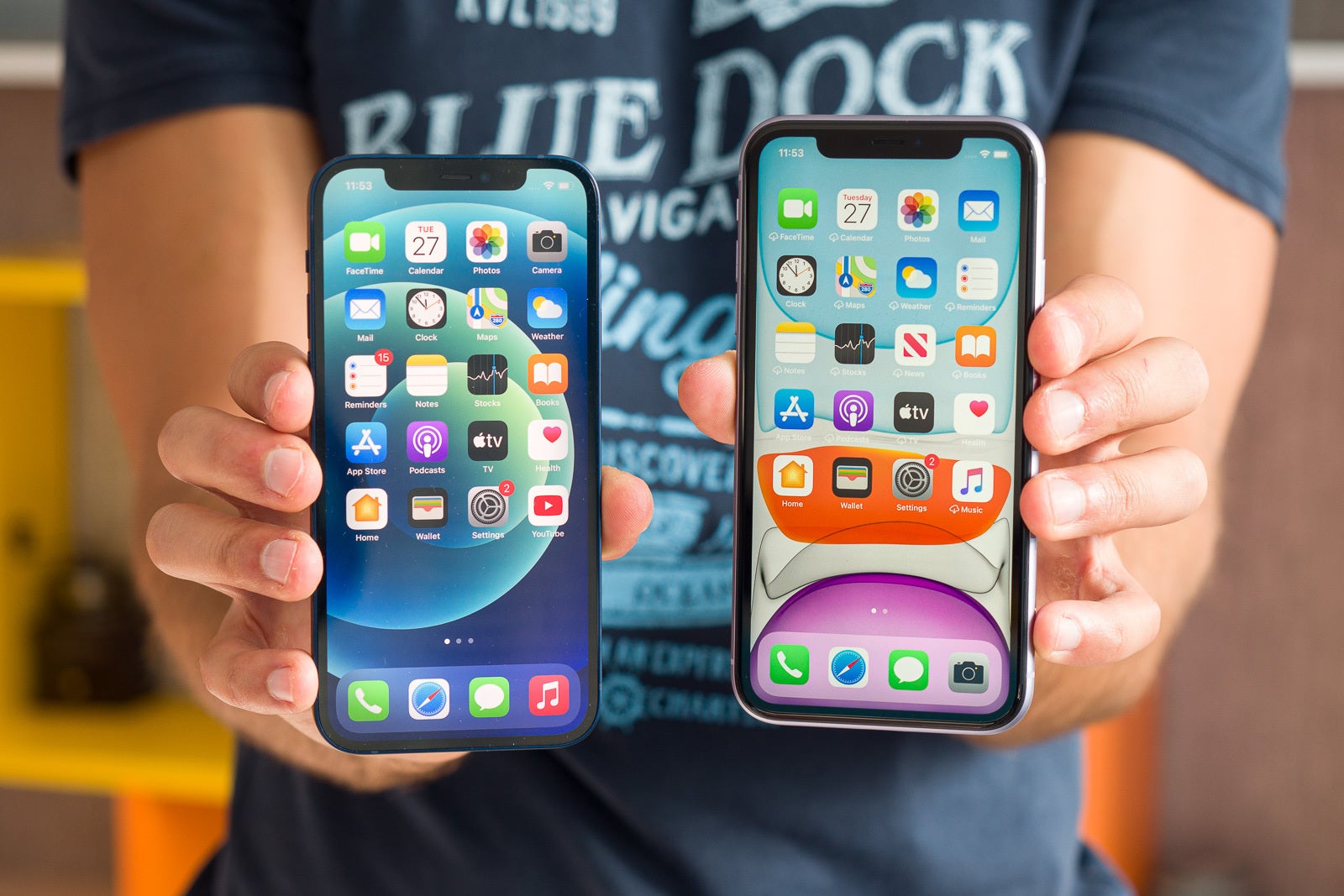 iPhone 12 vs iPhone 11
It feels like an oversized iPhone 5, in a good way. It also now has a more uniform look with Apple's greater family of mobile devices — iPads and MacBooks.
The iPhone 12 feels grippy and cool, though the corners can get a bit jabby against the palm. It's a new experience that one can get used to, but a lot of users (me included) kind of prefer the soft rounded touch of the previous models.
The glass on the back of the iPhone 12 is glossy, which may attract a lot of fingerprints, but it makes it stick to the hand easily. In contrast, the matte finish of the Pro units might stay grease-free, but it gets slippery especially when your hands are dry and cold.
And yes, there's still a notch cutout on the screen. Sure, it's the punchline to a ton of jokes on the Internet, but the fact is that it makes the iPhone instantly recognizable. And, considering that it's not only a tech product but also a lifestyle accessory — recognizability is what Apple and iPhone owners want.
Does it bother me? No. And it doesn't bother the millions of people that go for an iPhone.
iPhone 12 what is MagSafe?
MagSafe used to be a cool connector on MacBook laptops, which allowed your charger to snap on magnetically. The major thing about it was that if you trip over your laptop cord, the MagSafe port would disconnect instead of bringing your whole laptop down. Mag... Safe... Get it?
Since the introduction of USB C ports to MacBooks, MagSafe was removed and is sorely missed. Well, the branding is back now for a new iPhone feature.
Basically, MagSafe on the iPhone 12 is an array of magnets on the back, which allows you to stick different accessories to the phone. This includes a wireless charger puck, which sticks really tight on there, as well as a wallet or even the new cases. Even better — MagSafe accessories can have a chip in them, which communicates with the iPhone and lets it know exactly what type of accessory is on it.
So, while it's technically not the same concept as the good old MagSafe, the new system in the iPhone 12 is pretty good for wireless chargers. For one, it makes sure that you have the phone's coils perfectly aligned with the charger coils — this ensures optimum charging time and reduces energy wasted. Secondly, it opens the gate for mounts and stands with MagSafe, making it quicker and easier to place and remove your iPhone. So, the "Safe" in MagSafe still has a bit of meaning.
The system is opened to 3rd party developers and here are some of the
best iPhone 12 MagSafe accessories
we've managed to find.
iPhone 12 display
So far, the "cheap" iPhone models had an LCD panel, which kind of pushed people to go for the Pro variants and their pretty OLED screens. Well, the iPhone 12 now also has an OLED panel. This means higher resolution, better contrast with deep blacks, and better-looking animations. No, I am not talking about the refresh rate — the iPhone 12 is still locked at 60 Hz. But the LCD panels tended to have some ghosting when scrolling around, while the OLEDs do not.
While I do like the switch to OLED in general, Apple still has a bit of a problem with nailing the white balance. The good old LCD panels had pretty accurate whites — not too warm, not too cold. The OLED iPhones tend to be a bit more green-yellowish than they should and the True Tone setting doesn't have that "real paper" effect like the LCDs had. If you miss the white balance of the older iPhones, check out this article on
how to get rid of the yellow hue
on the iPhone OLED displays.
Display measurements and quality
So, we didn't get the ProMotion refresh rate we were hoping for with the iPhone 12. Users that are upgrading from an old phone will barely care, but those that have had their eyes spoiled by the recent advances made by Samsung, OnePlus, and Google will definitely feel a drop in smoothness when they go back to a 60 Hz iPhone 12. Thankfully, the hardware is powerful and iOS runs super-smooth, so getting reacquainted with the slightly choppier animations isn't too much of a problem.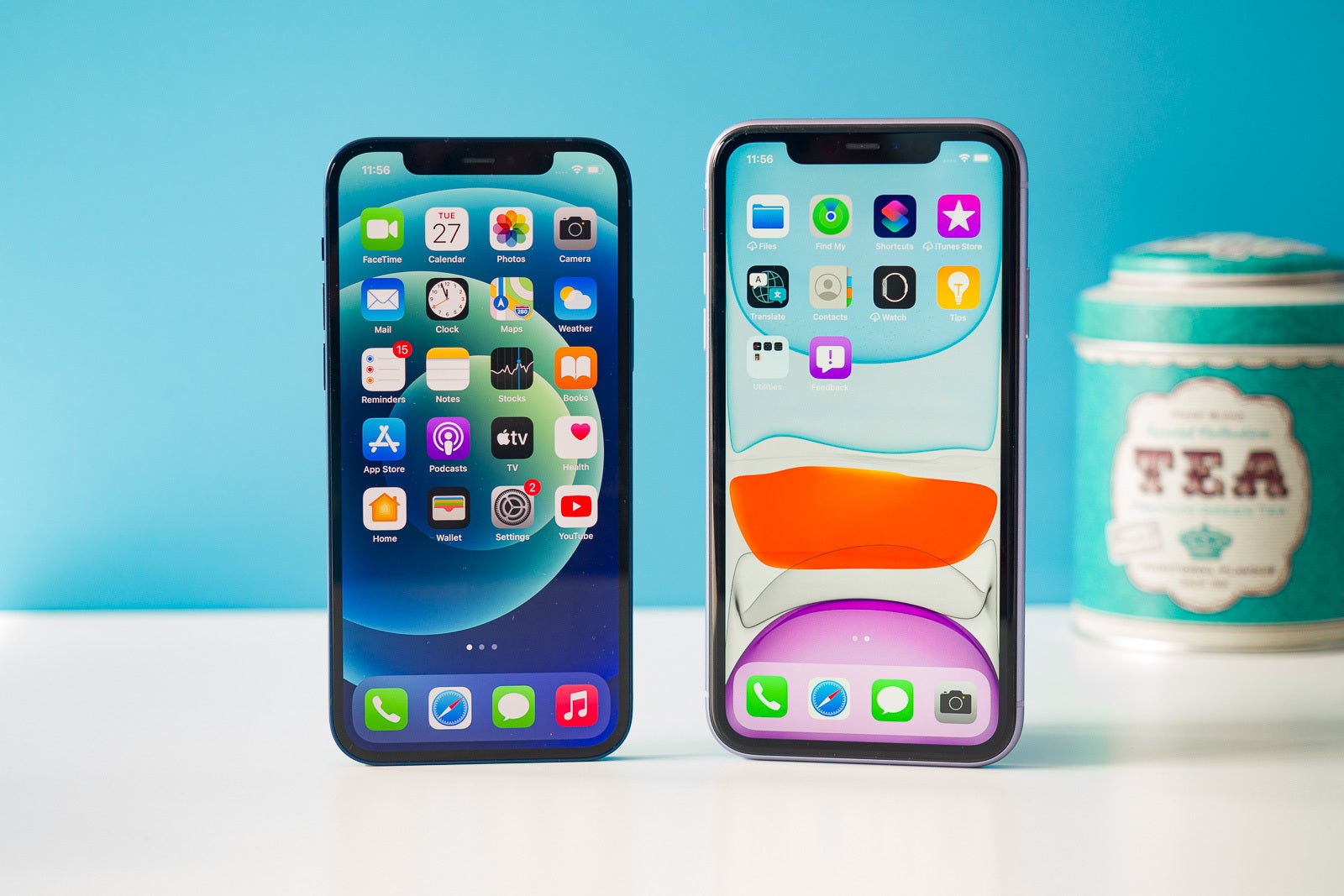 iPhone 12 vs iPhone 11 - bigger screen in a smaller body
Other than the weird hue and 60 Hz refresh, the iPhone 12's display is pretty much everything you could ask for. It's slightly bigger than the iPhone 11's display but the overall phone size is now smaller — it's just that the bezels are thinner. The new boxy design makes it easier to hold and operate without ghost touches. The deep blacks are appreciated and the bump in resolution will have pixel-peepers giddy since Apple has been keeping its base iPhones' screens to a pixel density of 326 pixels per inch ever since the iPhone 4 was a thing. Now, the iPhone 12 has 457 PPI for a more dense and sharp image.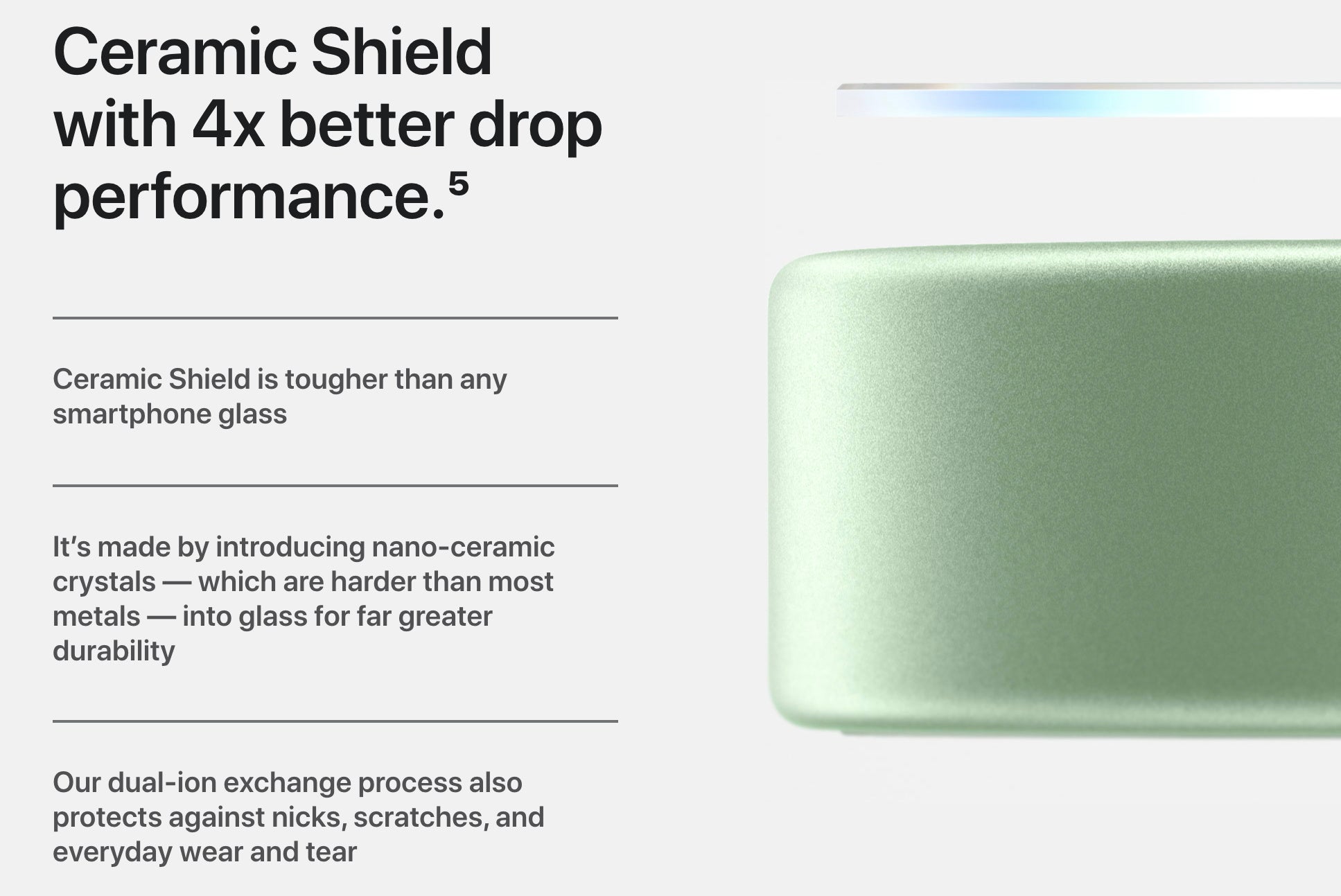 iPhone 12 Ceramic Shield
The screen is covered by a new type of tempered glass — it's branded "
Ceramic Shield
" and was developed
in partnership with Corning
, the maker of Gorilla Glass. Apple touts 4 times better drop protection and
drop tests
have proven this to be an accurate statement. Still, though, the Ceramic Shield will scratch from the random speck of sand in your pocket — it still scratches from a 6 on the Mohs scale of mineral hardness. Annoying — yes. Fact of life — double yes.
Screen protectors for iPhone 12
will still make a ton of sales.
iPhone 12 speakers
We've got the well-known stereo speaker setup here. One bottom driver with slightly meatier sound, and a supercharged earpiece that doubles as a second speaker. Apple's been using this setup since the iPhone 7 now and it hasn't seen much improvement. The iPhone 12's stereo speakers sound good for most scenarios, but the earpiece tweeter can crackle up or sound sharp with certain frequencies. Also, the sound is bound to thin out as you go up in volume levels.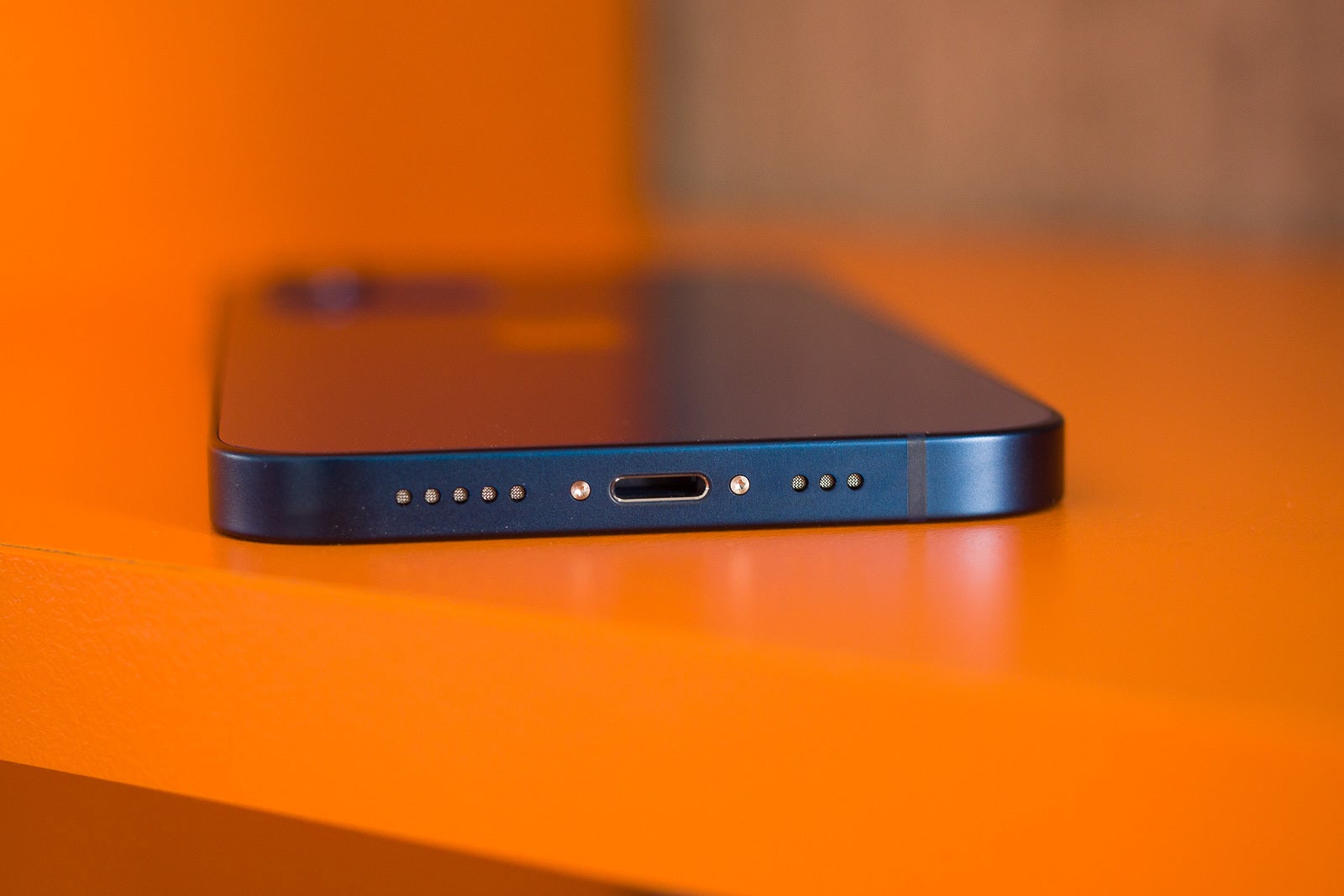 iPhones used to have the best-sounding speakers around, but in recent years, Android competitors have really improved their audio game. The Pixel 4 XL notably sounded incredible for a smartphone, the Samsung Galaxy S21 Ultra is quite meaty, and the Asus ROG Phone 5 recently
completely rocked our world
with its loud, detailed, and wide-sounding speakers.
Compared to these heavy-hitters, the iPhone 12's speakers sound like they are in the "upper range" of quality, but not among the best.
iPhone 12 camera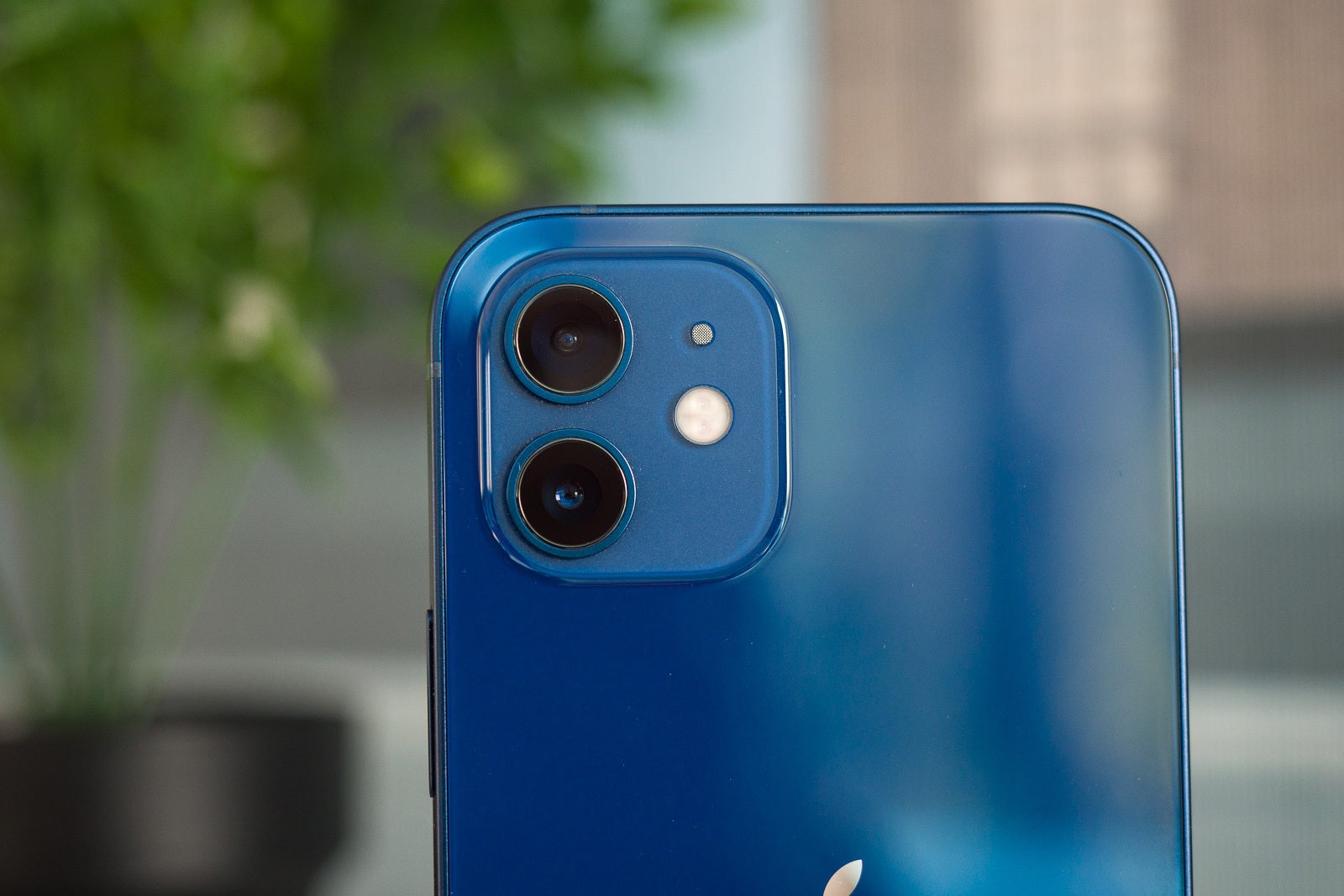 Every year, it's the same spiel. The new iPhone has a slightly better camera system with an extra X feature and Y number of improvements. Apple paces out its upgrades very carefully — if you buy a new iPhone every year, you will barely feel them. But upgrade once every 2 or 3 years and you will feel the jump.
So, what's new with the iPhone 12? We have a 12 MP sensor for the main wide-angle camera, once again, but the lens has been upgraded. It now has a slightly wider aperture — F1.6 — which helps with collecting a bit more light needed for well-exposed shots, low light or Night Mode photos. Apple says Deep Fusion has been tweaked and made better, and Smart HDR 3 is better at seamlessly stitching multi-exposure shots together.
In reality? Yeah… the photos from the iPhone 12 look a bit better than the iPhone 11 in certain scenarios. All in all — it's a very solid phone camera, certainly one of the best you can buy right now. There aren't new camera features introduced with the iPhone 12, rather small tweaks and upgrades of old ones.
We have Portrait Mode with the regular wide-angle camera, which is OK, I guess. I know there are some fans of wide-angle portraits out there, but I am strictly in the telephoto camp. If you are on my side and want to abuse the Portrait Mode with a nice zoom to it, the Pro iPhones are for you. There's no Night Portrait Mode just yet — the iPhone 13 family got that one.
The iPhone 12 does offer digital zoom, which looks pretty OK at up to 4x, I would say. Still, the lossless 2x and 2.5x of the iPhone 12 Pro and iPhone 12 Pro Max are a hair better, and they give you a better basis for zooming in further with the digital crop.
Night Mode is — in typical Apple fashion — automatic and easy to use. As soon as the iPhone 12 detects that it's shooting in a low light environment, it'll flip Night Mode on. You can fine-tune the shutter speed (anywhere between 1 seconds to 3 seconds) or choose to turn it off manually. You can spot the low-light night shots in the gallery below.

In other words, the iPhone 12 has a pretty camera system for point-and-shoot. If you want to play around with a couple of extra features, you'd have to invest in a Pro.



The sensor under the ultra-wide lens is, again, calibrated to match the main camera's colors, so it doesn't feel jarring when you switch between them. It's another 12 MP shooter and it does its job good enough. Details may be a bit on the soft side — such is the plight of ultra-wide cameras — but Smart HDR certainly makes for amazing landscape shots.

The iPhone 12 also employs some edge straighting wizardry — an ultra-wide lens distorts towards the edges, that's just how they work, yet the ultra-wide shots from the iPhone 12 look very serviceable and don't produce a fish-eye effect unless shooting at close ranges (and, if you choose to do that, you probably want the effect).

And then, we have a 12 MP front-facing camera. It feels and acts like the same selfie camera we had on the iPhone 11, so not much upgrading has been done there. That's not necessarily bad — while it's not the sharpest selfie shooter out there, it consistently delivers above average selfies that treat dynamics and skin tone fantastically. Rarely does the iPhone 12's deliver an "oopsie" selfie — usually, red sunsets are its kryptonite.



So, what else is new? Well, you can now use Night Mode with all three cameras — unlike the iPhone 11, which only had it on the main shooter. That's a welcome addition for certain scenarios for sure — it's also a bit late to the party, as other phones have had Night Mode on all their cameras for a year prior to the iPhone 12's release.

There's also the ability to record videos in Dolby Vision HDR, which Apple made a huge deal out of. Basically, HDR video handles highlights better — everything bright is even brighter, but details are not lost and burnt out. There's more contrast, colors pop out more. Usually, you want to put HDR footage through a video editor and do some color and exposure correction to make the best use of its range. The iPhone does do it automatically for you, so you can enjoy them instantly on video playback.

But Dolby HDR on the iPhone 12 isn't really a big deal right now… Why? Because playing a Dolby Vision HDR video taken with an iPhone on any other device is a hassle right now. It's a flip of the coin on whether it will work on your TV or PC. YouTube recognizes it and processes it correctly, but some browsers do not display it right.

This will probably change in the near future, as manufacturers push updates to make their devices compatible with it. After all, there are millions of iPhone users out there.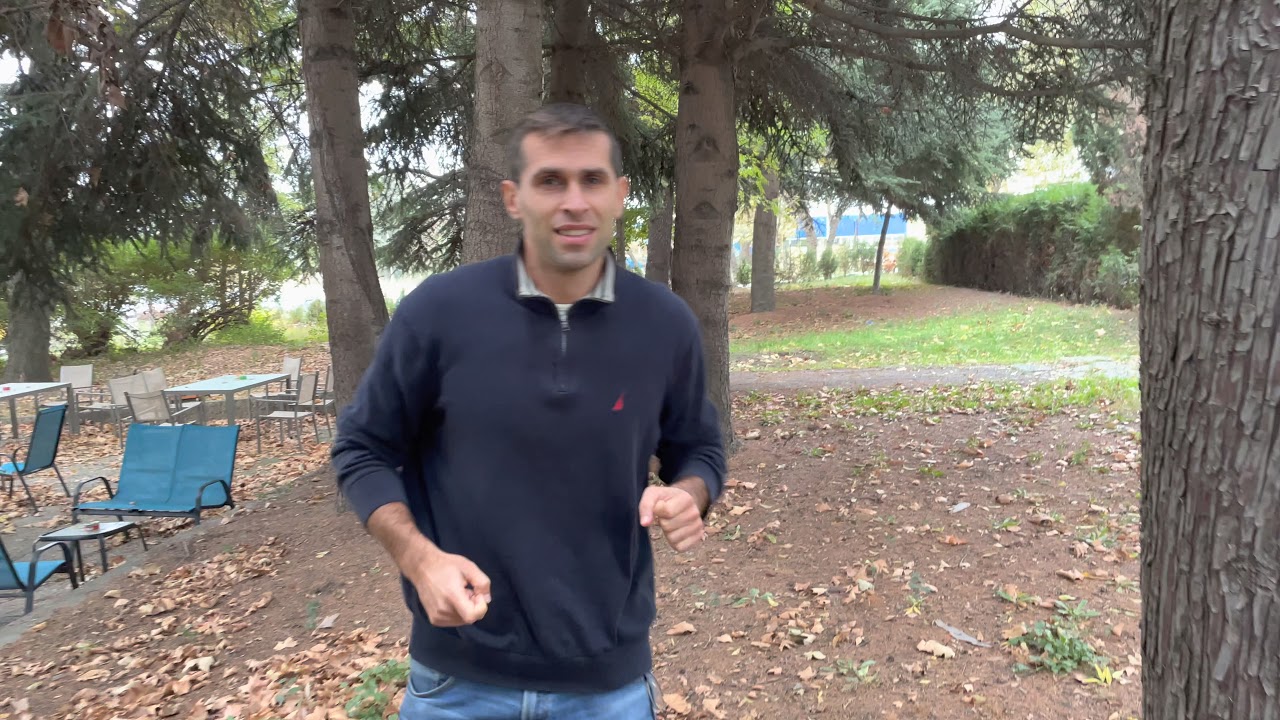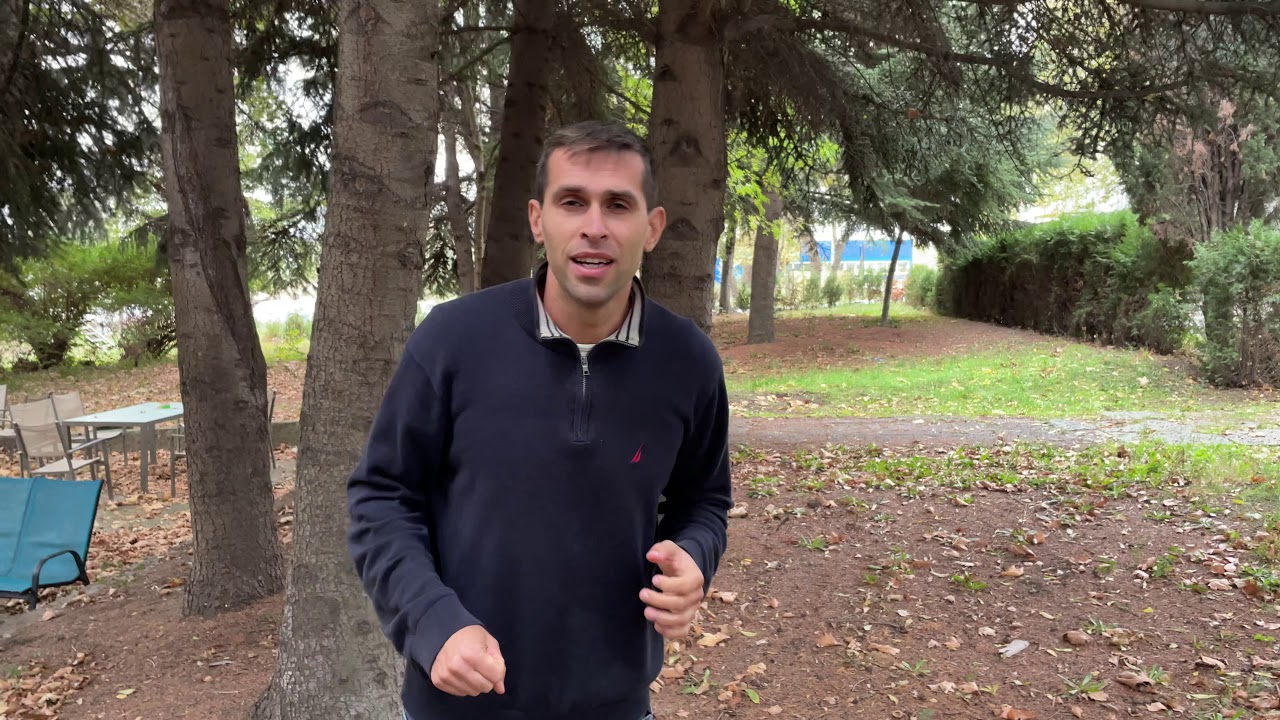 iPhone 12 competitors
There are some great alternatives on the Android phone side of this battle. All three presented here have high refresh rate screens for smooth animations and great touch responsiveness. The Pixel 5 and Galaxy S21 have cameras that can definitely rival the iPhone 12. The OnePlus 9's Hasselblad-branded camera didn't uplift its performance too much, but it's still quite good. And all competitors listed here come with more base storage than the 64 GB iPhone 12.
So, the iPhone 12 has a cool aluminum body, great cameras, the iOS experience, and a gateway to all things Apple — Apple Watch, Apple TV+, Fitness+, AirTags, ecosystem integration with Macs and HomePod's Siri functions.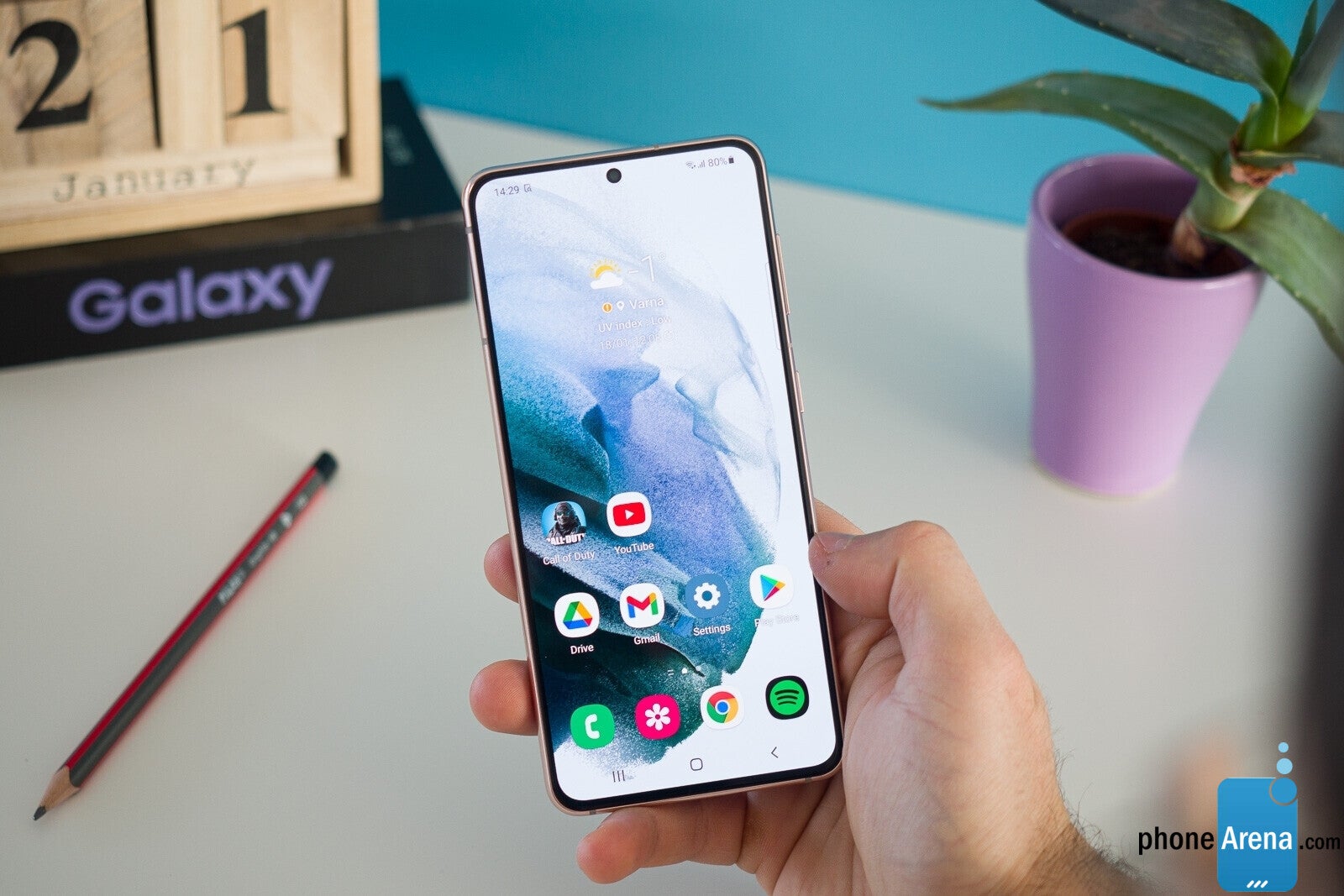 Samsung Galaxy S21
The
Samsung Galaxy S21
has a plastic back, but a smooth 120 Hz framerate, which really elevates the user experience. Also, Samsung is working hard on its own ecosystem, with integration with Windows PCs, the Galaxy SmartTags, and cross-talk with Galaxy tablets. Here's our review of the
Samsung Galaxy S21 vs Apple iPhone 12
.
The Google Pixel 5 has an upper-midrange hardware, a 90 Hz screen — still better than 60 Hz —, and an aluminum body covered in a very pristine-feeling, sandstone-like material. No glass back here, but it still supports wireless charging. And it has an awesome camera setup of its own, which definitely fights with the rest for the top spot. Here's a full review of
Google Pixel 5 vs Apple iPhone 12
.
The OnePlus 9 has a great design, super-fast performance, 120 Hz screen, long-lasting battery life, and offers the fastest charging you can find, thanks to OnePlus' Warp Charge technology. Its cameras lack just a bit behind the competition, though. We have a special fight of the
OnePlus 9 Pro vs the Apple iPhone 12 Pro Max here
and also a
full review of the regular OnePlus 9 here
.
Or, you might consider buying a slightly older iPhone and saving some cash:
iPhone 12 summary and final verdict
The new A14 chip inside is an impressive little worker, arguably outputting more power than you would ever need right now, even if the iPhone 12 is not a new phone anymore. The battery capacity is slightly lower than on the iPhone 11, but thanks to the A14's energy efficiency, you will barely feel a hit to battery life.
The screen is now OLED, in line with the Pro iPhones, and not like the LCD display on the iPhone 11. It's sharper, just a bit more vivid, and it has deeper blacks and infinite contrast.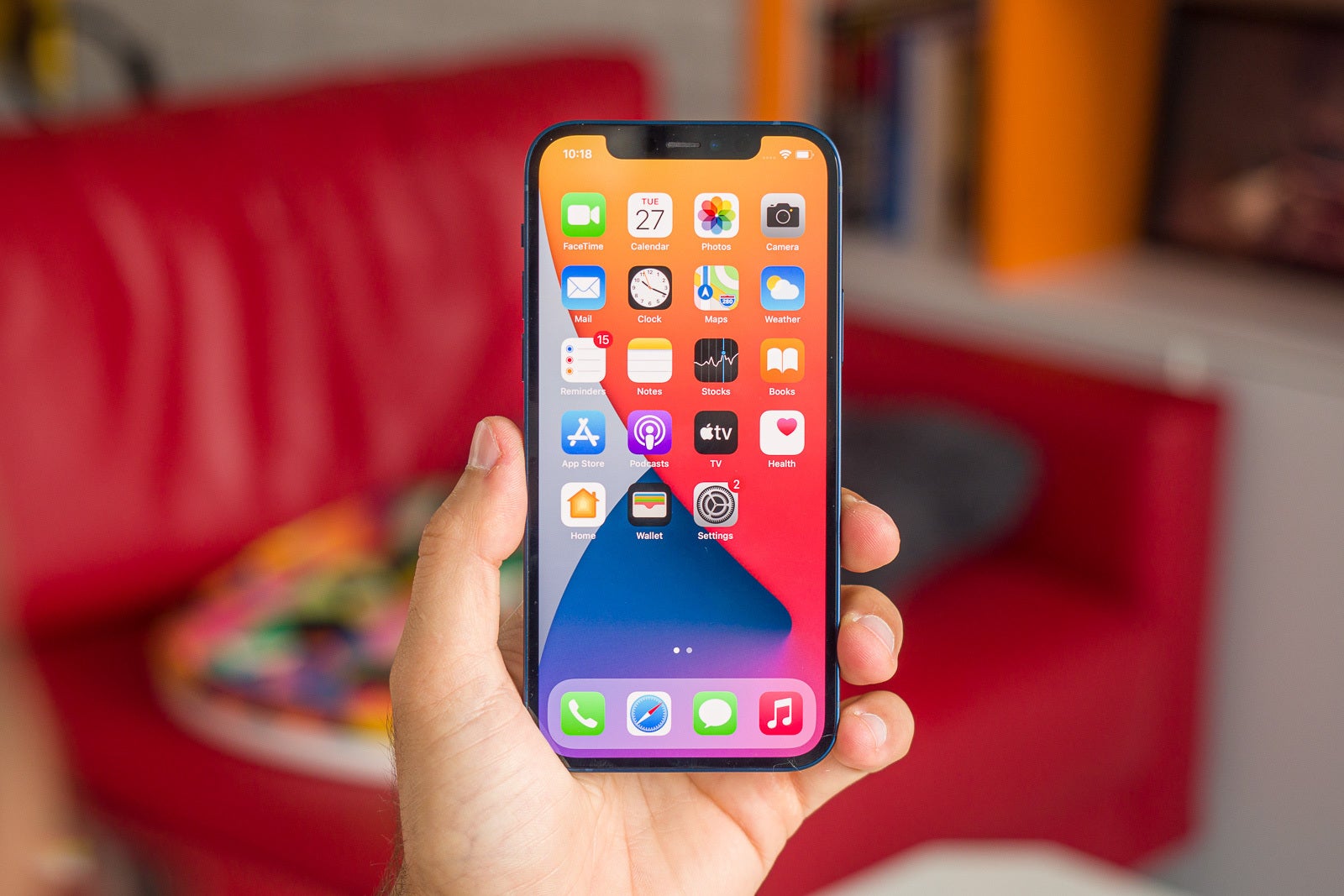 Where the iPhone 12 falls flat is that its base storage of 64 GB is starting to feel a little restricting in 2021. A $50 extra will get you a 128 GB model, which will allow you some breathing room, especially if you are the kind of person who enjoys having tons of apps and records a lot of videos with their phone camera.
The camera has gotten a minor upgrade — nothing too big over the iPhone 11, but you will feel the improvements if you are coming from an older model. Better light sensitivity for low light shots, Night Mode on all cameras, and new Dolby Vision HDR mode for video recording.
There's no charger in the box, but at least the iPhone 12 now supports 20 W fast charging. It's not breaking any records, but it ensures you can get 100% of charge in just 90 minutes. The MagSafe charger is also fast, providing 15 W (almost 100% in 2 hours of charging).
The iPhone 12 family are the first iPhones with 5G and they came in with a bang — supporting a wide array of bands and ready for the new "C-Bands" before AT&T and Verizon even activated the antennas, it's easily among the phones that are most ready for the 5G era.
Is the iPhone 12 worth buying?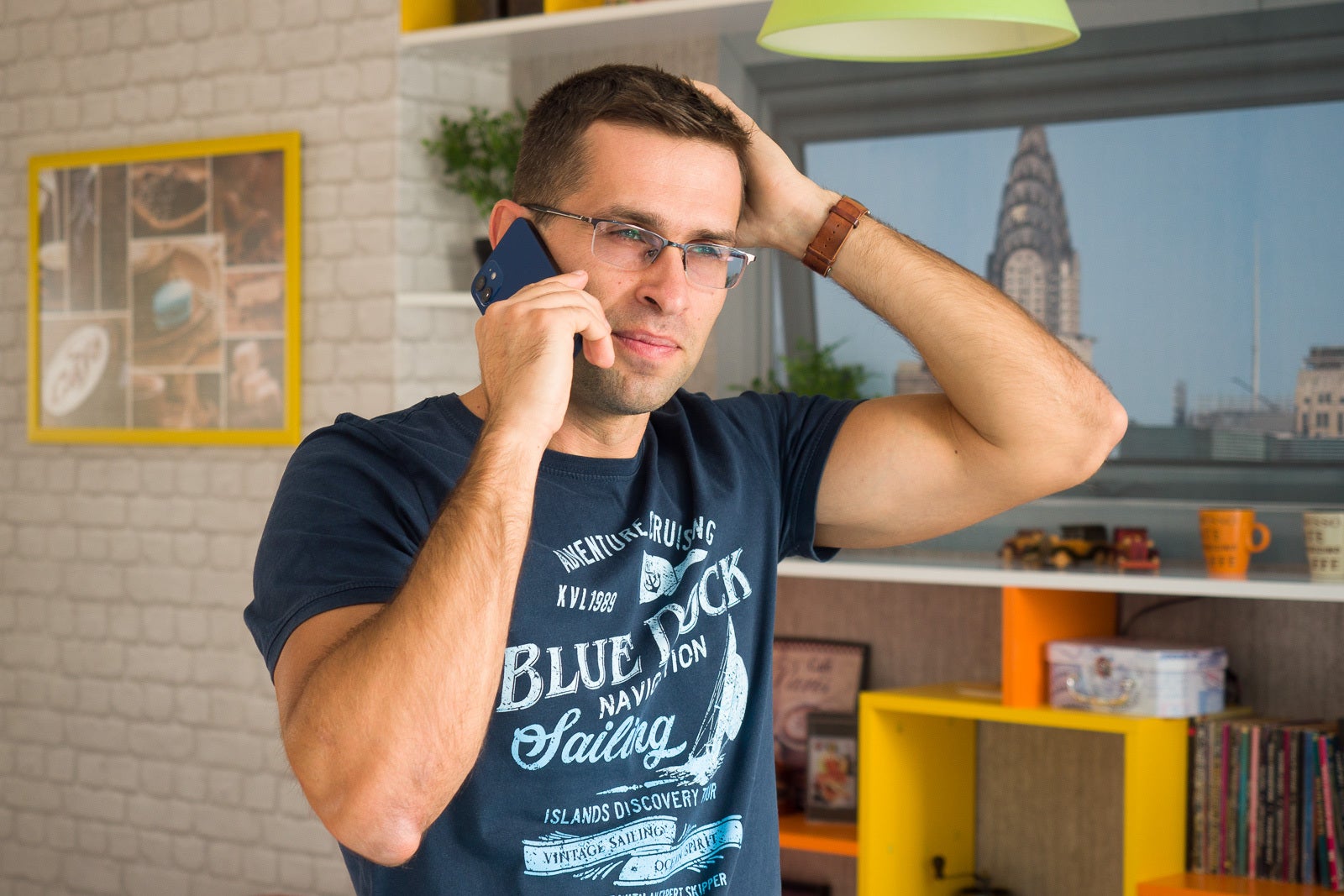 By all means, yes. In the iPhone 12 generation, there's barely a reason to go for a Pro — unless you shoot straight for the iPhone 12 Pro Max. But then, you wouldn't even be considering the iPhone 12, right?
In the latter half of 2021, you are also bound to find a lot of discounts or carrier deals that can land you an iPhone 12 at a bargain price.
Recommended Stories