Apple iPhone 12 Review
We may earn a commission if you make a purchase from the links on this page.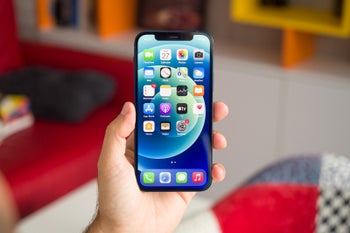 Apple's got a quartet of new iPhones this season — the
iPhone 12 mini
,
iPhone 12
,
iPhone 12 Pro
, and
iPhone 12 Pro Max
. Each of them has its own selling point and the iPhone 12 happens to be the most balanced choice. Not too big, not too small, not too expensive, and not too feature-rich.
You get the new design, 5 colors to pick from, and full compatibility with the new MagSafe accessories. There's very little distinguishing between the iPhone 12 from the iPhone 12 Pro.
The iPhone 12 strikes all the right notes — great display, great hardware, pretty colors, standard-setting camera, fast Face ID. In fact, it's kind of hard to recommend to spend the extra $200 for the iPhone 12 Pro. The regular 12 just covers everything you might need, minus the 2x telephoto lens. And that's it…
iPhone 12 everything that's new:
Slim bezels resulting in smaller body than iPhone 11
OLED screen with higher resolution and better contrast
Minor camera upgrades
Night Mode now available on selfie and ultra-wide cameras
Magnetic system for the new MagSafe accessories
iPhone 12: which phone to buy?
The iPhone 12 is certainly one of the best smartphones you can buy right now, but not the only one. Its costlier sibling, the $1,000 iPhone 12 Pro doesn't offer much in terms of an upgrade. But you certainly have a lot of choice in the $700-$800 range.
iPhone 12 alternatives
Samsung Galaxy S20 FE: $700
Google Pixel 5: $700
OnePlus 8 Pro or OnePlus 8T: $750 - $800
There are some great alternatives on the Android side of this battle. All three presented here have high refresh rate screens for smooth animations and great touch responsiveness. The
Pixel 5
and
Galaxy S20 FE
have cameras that can definitely rival the iPhone 12. And they all come with more base storage than the 64 GB iPhone 12.
So, the
iPhone 12
has a cool aluminum body, great cameras, the iOS experience, and a gateway to all things Apple —
Apple Watch
, Apple TV+, ecosystem integration with Macs and HomePod's Siri functions.
The
Galaxy S20 FE
has a plastic back, but smooth framerate and the full flagship Samsung experience at a lower price than the S20 models.
The
Google Pixel 5
has an upper-midrange hardware, but its aluminum body is covered in a very pristine-feeling material. No glass back here, but it still supports
wireless charging
. And it has an awesome camera setup of its own, which definitely fights with the rest for the top spot.
The
OnePlus 8T
and the slightly older
OnePlus 8
Pro have great design, super-fast performance, long-lasting battery life, and offer the fastest charging you can find, thanks to OnePlus' Warp Charge technology. Their cameras lack just a bit behind the competition, though.
iPhone 12 Display and Design
So far, the "cheap" iPhone models had an LCD panel, which kind of pushed people to go for the Pro models and their pretty OLED screens. Well, the iPhone 12 now also has an OLED panel. This means higher resolution, better contrast with deep blacks, and better-looking animations. No, I am not talking about the refresh rate — the iPhone 12 is still locked at 60 Hz. But the LCD panels tended to have some ghosting when scrolling around, while the OLEDs do not.
While I do like the switch to OLED in general, Apple still has a bit of a problem with nailing the white balance. The good old LCD panels had pretty accurate whites — not too warm, not too cold. The OLED iPhones tend to be a bit more yellowish than they should and the True Tone setting doesn't have that "real paper" effect like the LCDs had. If you miss the white balance of the older iPhones, check out this article on
how to get rid of the yellow hue
on the iPhone OLED displays.
Display measurements and quality
The design is a nice breath of fresh air. Apple famously sticks to designs for years on end, so every time the iPhone gets a new look, it's kind of a big deal. This time around, it's more of a facelift than anything. The iPhone 12 looks a lot like the iPhone 11, but has flat sides and a completely flat glass panel on the front. Its bezels are also thinner, making for an overall smaller device,
It feels like an oversized iPhone 5, in a good way. It also looks like a part of Apple's greater family of mobile devices — iPads and MacBooks.
The corners of the aluminum frame don't jab into the palm as you might imagine. It feels grippy and cool. The glass on the back is glossy, which may attract a lot of fingerprints, but it makes it stick to the hand easily.
And yes, there's still a notch cutout on the screen. Sure, it's the punchline to a ton of jokes on the Internet, but the fact is that it makes the iPhone instantly recognizable. And, considering that it's not only a tech product but also a lifestyle accessory — recognizability is what Apple wants.
Does it bother me? No. And it doesn't bother the millions of people that go for an iPhone.
iPhone 12 camera
Every year, it's the same spiel. The new iPhone has a slightly better camera with an extra X feature and Y number of improvements. Apple paces out its upgrades very carefully — if you buy a new iPhone every year, you will barely feel them. But upgrade once every 2 or 3 years and you will feel the jump.
So, what's new with the iPhone 12? We have a 12 MP sensor, once again, but the lens has been upgraded. It now has a slightly wider aperture — F1.6 — which helps with collecting a bit more light needed for well-exposed shots. Apple says Deep Fusion has been tweaked and made better, and Smart HDR 3 is better at seamlessly stitching multi-exposure shots together.
In reality? Yeah… the photos from the iPhone 12 look a bit better than the iPhone 11 in certain scenarios. All in all — it's a very solid phone camera, certainly one of the best you can buy right now.


The ultra-wide-angle camera is, again, calibrated to match the main camera's colors, so it doesn't feel jarring when you switch between them. It's another 12 MP shooter and it does its job good enough. Details may be a bit on the soft side — such is the plight of ultra-wide cameras — but Smart HDR certainly makes for amazing landscape shots.

And then, we have another 12 MP selfie camera on the front — pretty much the same as we had on the iPhone 11.



So, what else is new? Well, you can now use Night Mode with all three cameras — unlike the iPhone 11, which only had it on the main shooter. That's a welcome addition for certain scenarios for sure.


There's also the ability to record videos in Dolby Vision HDR, which Apple made a huge deal out of. Basically, HDR video handles highlights better — everything bright is even brighter, but also more detailed. There's more contrast, colors pop out more.

But this isn't really a big deal right now… Why? Because playing the Dolby Vision HDR videos taken with an iPhone on any other device is a hassle right now. It's a flip of the coin on whether it will work on your TV or PC. But this will probably change in the near future, as manufacturers push updates to make their devices compatible with it. After all, there are millions of iPhone users out there.
iPhone 12 speakers
We've got the well-known stereo speaker setup here. One bottom driver with slightly meatier sound, and a supercharged earpiece that doubles as a second speaker. It sounds great, considering the physical limitations of the phone's size, of course. It's not the best-sounding smartphone speaker — the
Pixel 4 XL
still keeps that title in my book — but the iPhone 12 is up there. You can enjoy YouTube clips, Netflix shows, or even well-mastered music on it.
iPhone 12 performance and software
Apple's chips have always been impressively powerful. And the A14 is yet another chip off of that block — it's the first smartphone processor built on a 5 nm process. This means it's more energy-efficient than the 7 nm generation that came before it, and it can push out more productivity than before.
This, combined with the fact that Apple also develops its own operating system means one thing — the iPhone 12 has a perfect performance. Hardly a surprise, right? And, it's a fact that iPhones keep their speed and responsiveness for years on end. So yeah, when it comes to performance over time, the iPhone 12 is a good investment. Especially considering that it costs well below that $1000 line that most flagships are happy to hop over nowadays.
The Apple A14 chip in the iPhone 12 is the same one you will find in the iPhone 12 Pro or iPad Air gen 4. So, no compromise made in performance there, despite the lower price.
iOS 14's got a couple of major features that are right in front of users' eyes. One is the support for widgets — anywhere on the homescreen. Apple sure took its time with that one, we might even be at the point when widgets are no longer cool.
But before you start dreaming about arranging your widgets and icons in cool and handy shapes, let me be the bearer of bad news and tell you that iOS still doesn't allow for empty spaces between icons. So, it's still a bit of a drag to try and arrange your homescreen to make any kind of sense.
The second big feature is that iOS 14 has a sort of an app drawer now. You no longer need to tuck the apps you want in a folder and hide it somewhere — you can literally delete them from the homescreen and look for them in the "Apps Gallery" (the iOS version of an app drawer). Another small victory for the ordinary man!
There are also some small aesthetic changes, some interface elements are bolder, more accented, some small, very subtle animations here and there. For the first time ever, I feel like iOS has a bit of an Android flair to how it looks.
Is iPhone 12 the best 5G phone you can get right now?
When introducing it, Apple said the iPhone 12 is the best 5G phone you can get right now, due to its support for a wide array of bands. But, of course, Apple would say that when trying to sell a product, right? So... what gives?
The iPhone 12, it turns out, is the first phone carrying the auctioned "C-bands" that will allow
Verizon or AT&T to catch up to T-Mobile in 5G coverage
next year.
Currently,
T-Mobile's peak 5G speeds are slower than, say, Verizon's
, but its low- to mid-band spectrum
travels way further than Verizon's mmWave 5G
, hence blankets the entire city of Philadelphia, for instance, with an area which until recently was larger than Verizon's 5G covered nationwide. Word is, AT&T and Verizon are racing to get city-wide coverage with new antennas as we speak. But their new bands will not be supported by any current Android phones... The iPhone 12, however, is ready and waiting for them to pop up.
iPhone 12 battery life
We've heard it time and time again — "The new iPhone has an all-day battery!". Last year, we saw an increase in battery capacities in the iPhone 11 series, which was nice. It led us to think that Apple might be pushing that "2-day battery life" threshold.
But nope. Since the iPhone 12's 5 nm A14 chip is now more energy-efficient, the iPhone has shed off some of that battery thickness. So, we are back to pretty standard battery performance.
I may sound just a bit disappointed here, but don't worry — the iPhone 12 is, indeed, more than capable of lasting you a day. Not only can the battery keep the screen on for a good amount of time, but iOS is pretty good at not draining charge when the phone is in standby mode. So yes, the iPhone 12's battery life is predictably dependable.
The iPhone 12 does not ship with a
charging brick
in the box. But the good news is that it now supports a 20 W fast charger. Additionally, the new MagSafe charger has a 15 W power output. All in all, it doesn't break any charging speeds, but the iPhone 12 can top up in a reasonable amount of time.
iPhone 12/12 Pro Charging Time using 20W Apple power adapter:
in 15 minutes - 27%
in 30 minutes - 55%
in 45 minutes - 74%
in 1 hours - 85%
in 1 hour and 30 minutes - 95%
FULL 100% CHARGE - 1 hour and 58 minutes
iPhone 12/12 Pro MagSafe wireless charging speed (w/ 18W iPhone 11 Pro charger):
in 30 minutes - 29%
in 1 hour - 54%
in 1 hour and 30 minutes - 76%
in 2 hours - 94%