iPad 2021 review: same old, same gold
7
We may earn a commission if you make a purchase from the links on this page.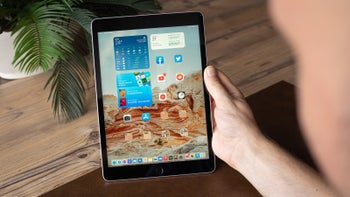 iPad 10.2 (2021) intro
Apple has used the September 2021 iPhone event to launch a pair of new iPads as well — the brand-new
iPad mini
and a refresh of the entry-level iPad 10.2" line. It's here to replace the Apple iPad 10.2 (2020) and introduces enough upgrades to make it worth picking up over the previous model.
Apple iPad 10.2 (2021) unboxing
The box is your typical minimalistic Apple experience. We get Apple's latest iPad 10.2, a wall charger with a USB Type-C plug, and a USB Type-C to Lightning cable. In other words — it will work with a recent iPhone, so if you bought one of those that don't have a charger in the box, you can use this one.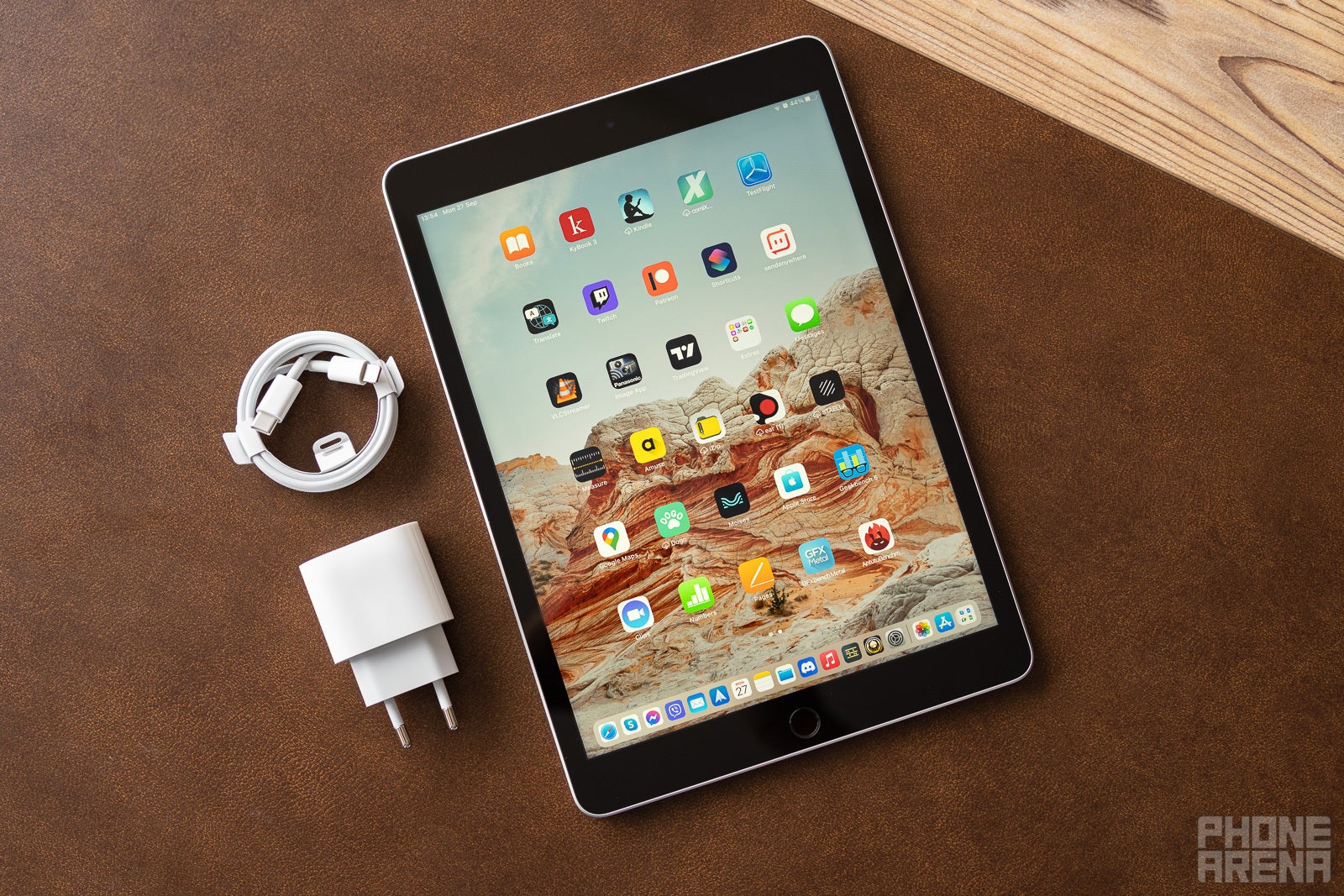 And yes, the iPad 10.2 is the only Apple iPad in the entire lineup that still uses the Lightning connector.
Still, we are willing to let that go, considering it's the entry-level iPad.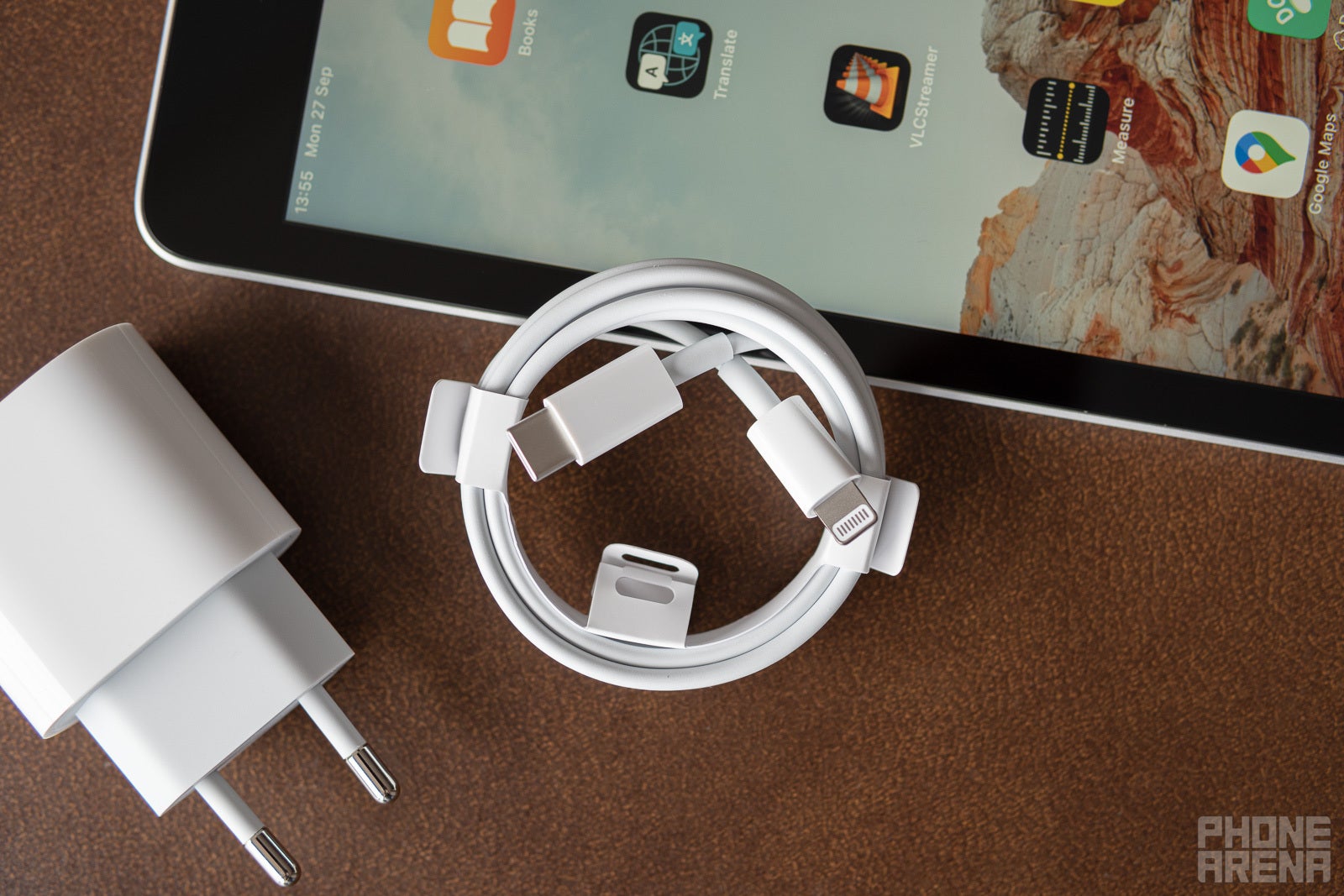 There's no Apple Pencil inside, in case you were hoping for one. The iPad 10.2 does support the first generation Apple Pencil and Apple's Smart Keyboard, but both are separate purchases.
Apple iPad 10.2 (2021) specs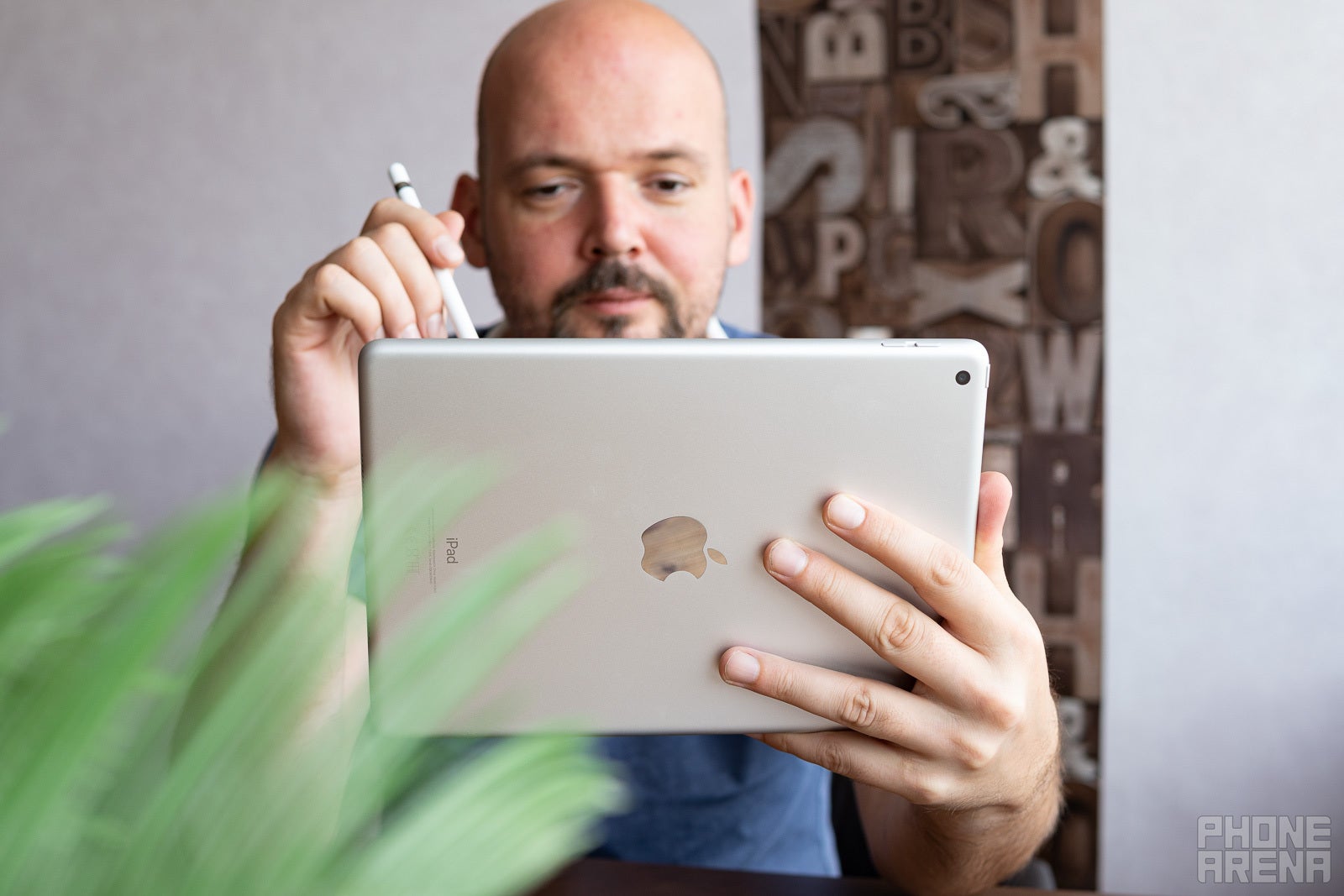 The entry-level iPad has always trailed behind the Air, the Pros, and even the latest iPhones. Apple likes to use old versions of the A-series processors as "midrange" silicon today. But here's the thing — something that was designed to be top-tier a couple of years ago will very often be better than anything that was designed to be "affordable" today.
The iPad 10.2 (2021) has an Apple A13 Bionic, which was the processor that powered the iPhone 11. And, as you probably know, Apple's mobile devices usually get about 5 years of software updates - if not more. So, it goes to reason to speculate that the iPad 10.2 (2021) will be getting updates and work as intended for at least 3 years from now.
Display: 10.2-inch LCD, 2160 x 1620 pixels, 60 Hz,
True Tone technology
Processor: Apple A13 Bionic, hexa-core, 2.65 GHz
Storage: 64 GB; 256 GB
Rear camera: 8 MP
Front facing camera: 12 MP ultra-wide with Center Stage feature
Battery: 8526 mAh; up to 10 hours of battery life
Display measurements and quality
Click here for full iPad 10.2 (2021) specs
Apple iPad 10.2 (2021) pros and cons
The new iPad 10.2 (2021) has a lot going for it — it's pretty much the best tablet you can get in the $300 price tier.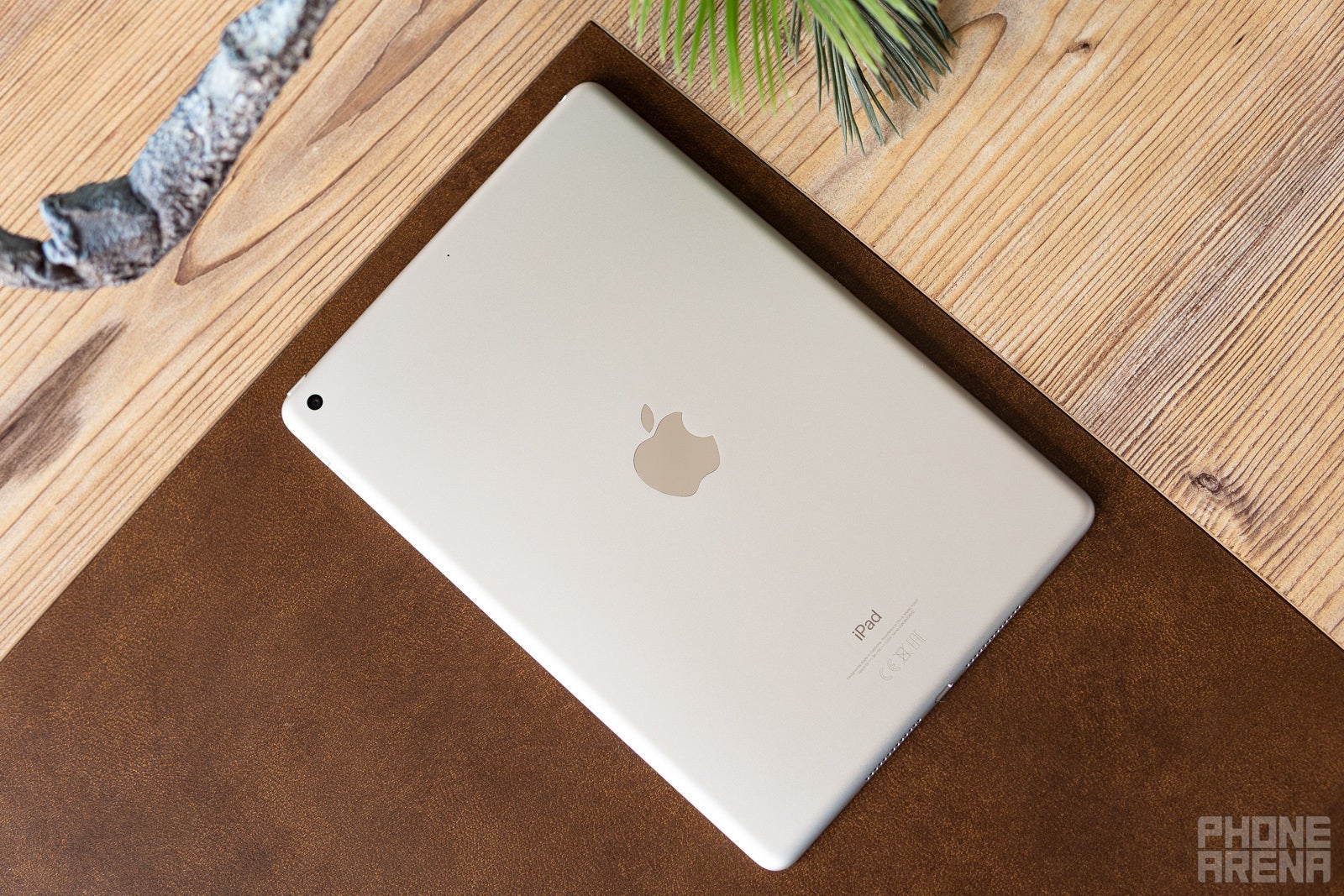 Pros:
The full iPadOS experience at a low cost — you get the exact same software features an iPad Pro does for a fraction of the cost
TrueTone — adjusts screen color temperature dynamically, depending on current ambient light. This has been on iPad Pros for years, finally makes it to the cheapest iPad
Works with Apple Pencil (gen 1) and Smart Keyboard — full access to the Apple accessories. The Apple Pencil is cool, but we do recommend using a different keyboard — the Smart Keyboard is pricey and feels pretty bad to write on, unlike the Magic Keyboard, which is fantastic (and pricier)
64 GB base storage — a very welcome (and very overdue) upgrade. Before this, the base iPad storage was 32 GB, which is pretty bad. 64 GB is not huge, but definitely gives you some breathing room. The upgrade tier is now 256 GB, which is plenty enough for most — if not all — users.
Center Stage feature — first introduced with the iPad Pro (2021), this feature uses the ultra-wide front-facing camera to follow you around. It basically makes it easier to hold video calls while doing other stuff around your room.
Has a headphone jack — something we rarely see on Apple devices nowadays
Future-proof for at least 3 years — the Apple A13 Bionic is a couple of years old by now, but still has plenty of life left in it
Dependable battery life — consistent 8 hours with mixed usage
Cons:
Dated design — it still looks like an iPad from 2016
One-sided speakers — the iPad 10.2 inch (2021) does have two speakers to play stereo channels, yes. But, they are located on one side of the device — right next to the charging port. So, technically, it's not a "stereo" experience.
The only iPad to still have a Lightning port — the disdain for Lightning keeps growing for two reasons. One, it is locked down to USB 2.0 speeds while the other iPads — even the iPad mini — have a USB C port and the new iPad Pros actually support Thunderbolt speeds through their USB C. Two, it's a proprietary plug, which requires you to use dongles to connect the iPad to external devices.
Non-laminated screen — Apple isn't using its fancy screen tech here, so you can sort of see a gap between the glass panel and the display underneath. Nothing to fret about, but it will annoy spoiled reviewers that use iPad Pros way too much.
Rear camera is nothing impressive
What's new about Apple iPad 10.2 (2021)?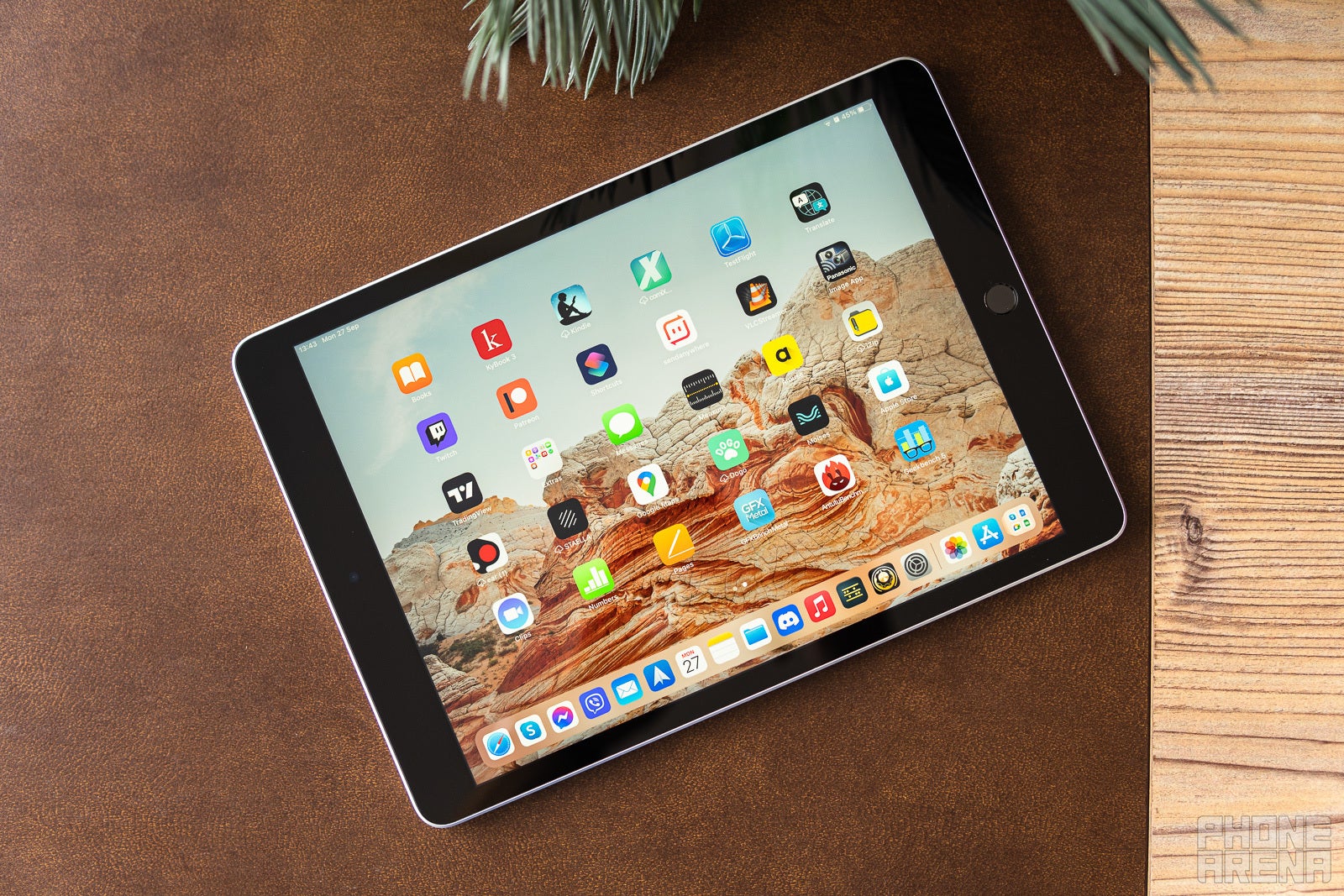 In a shocking turn of events, Apple decided to add a few upgrades that actually make the new iPad 10.2 inch pretty great. By order, which I deem important:
64 GB and 256 GB storage options — 64 GB of base storage is plenty enough for most people that are looking for a basic tablet. It can hold plenty of games and streaming apps and still have enough for your occasional iMovie project or scanned notes. At no extra cost — the 64 GB, Wi-Fi only model still costs $330.
True Tone technology — a feature that I never turn off, adjusts screen temperature according to ambient light to keep colors consistent
Apple A13 Bionic — upgrading over the A12 Bionic that was in last year's iPad 10.2 inch. It's still an old-ish chip, but it'll give you an extra bit of headroom
Ultra-wide front-facing camera that supports Center Stage — nowadays we spend a lot of time conversing digitally. Center Stage makes it so you don't have to be glued to your iPad while in video calls — walk about the room and watch the front-facing camera follow you thanks to its ultra-wide lens and software face recognition system
We still don't get support for the second generation Apple Pencil and have to make due with the original model. The Apple Pencil (1st gen) doesn't stick to the iPad magnetically — no, no, you charge the old gen by plugging it into the Lightning connector of the iPad, which introduces some dangers and just looks goofy.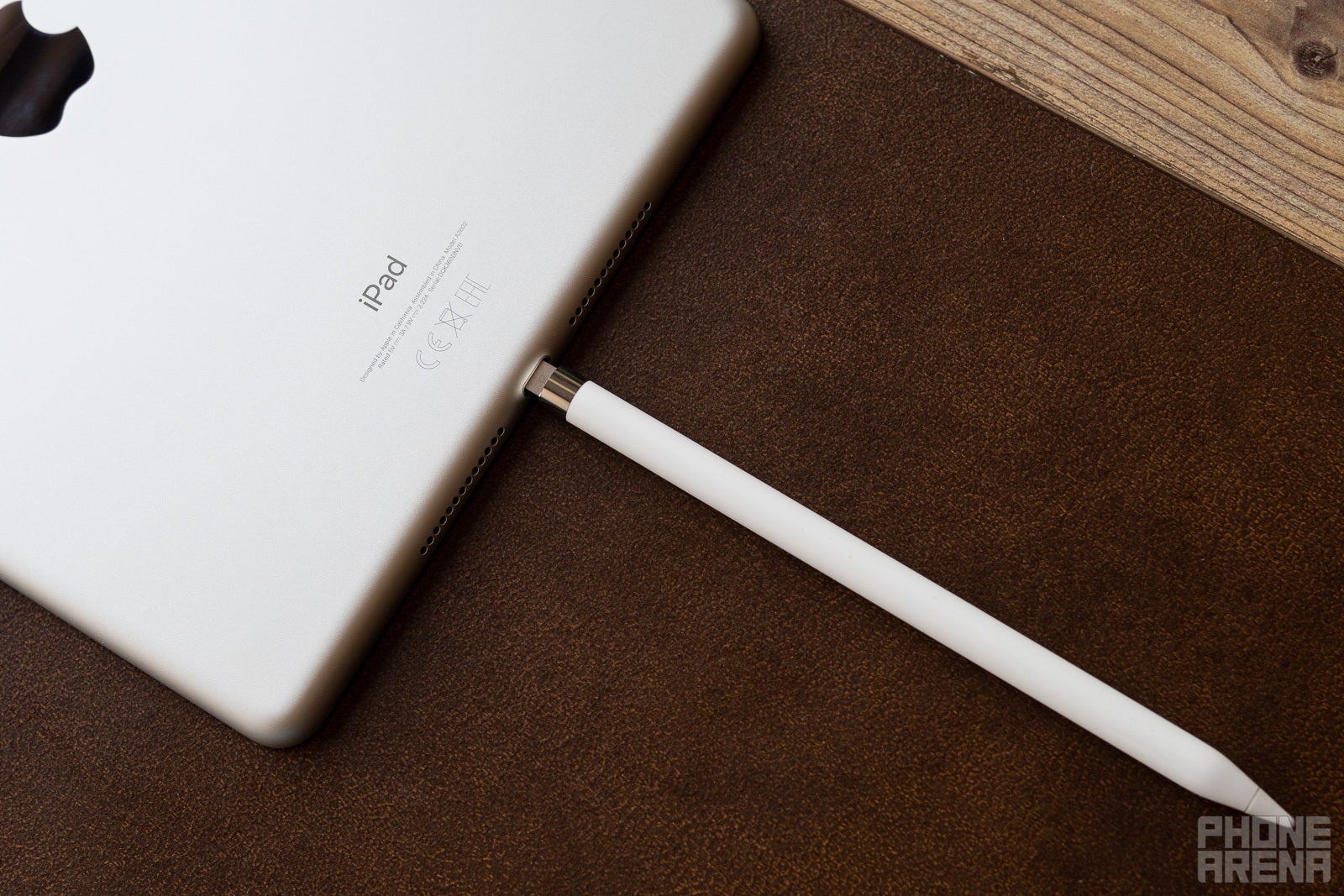 Also, the previous generation Apple Pencil does not support the double-tap gestures, which let you change brushes or eraser tools easily.
Apple iPad 10.2 (2021) performance
Alright, so I've ragged on the Apple A13 Bionic for a while now. How does the processor in the affordable iPad 10.2 (2021) actually perform?
Well, not surprisingly, it holds its own all too well. Apple's mobile processors usually have a ton of headroom to ensure future functionality. The new iPad 10.2 inch (2021) ran all of the apps that I typically use on an iPad Pro (2021) without a hitch.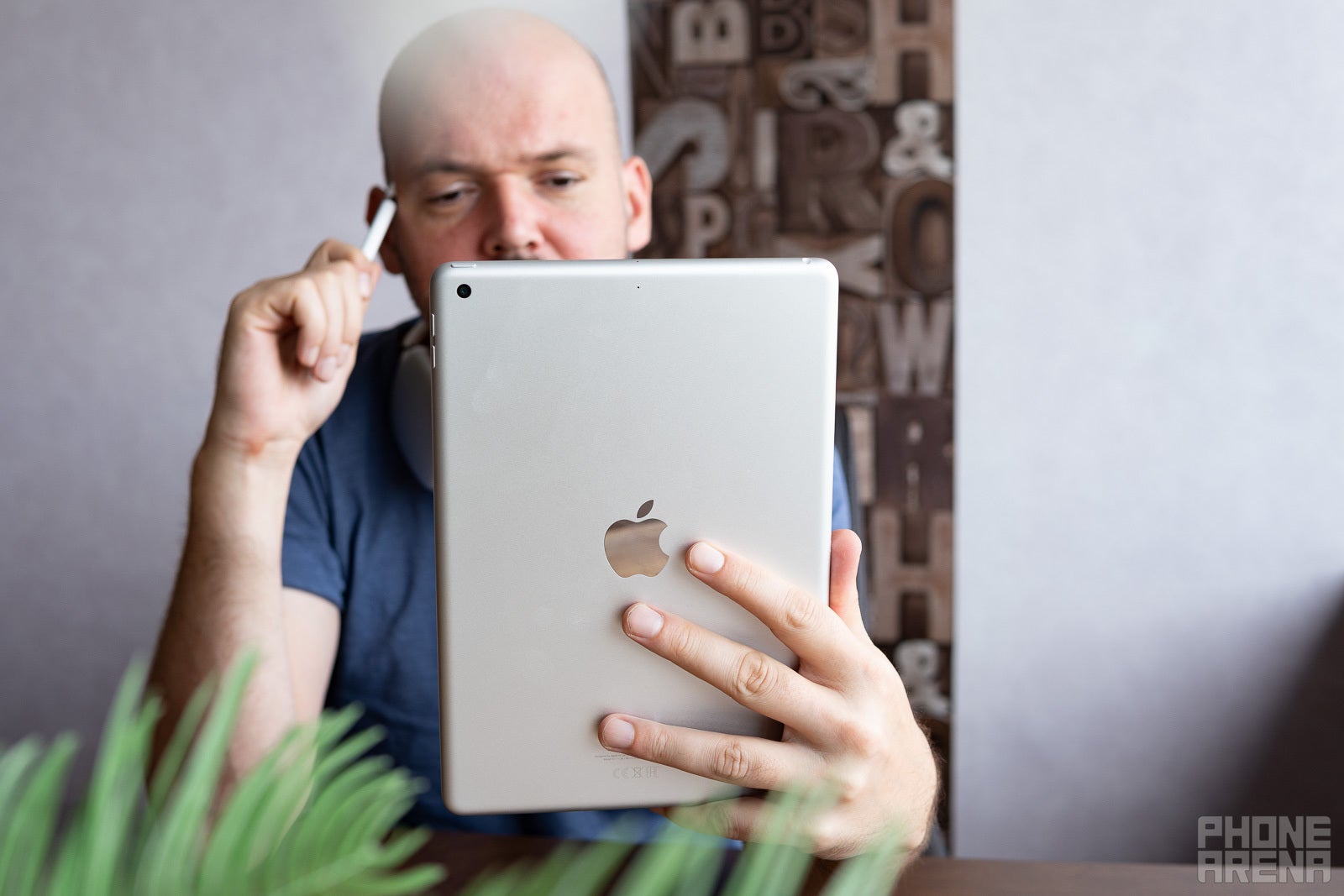 Granted, I could feel it be a bit slower to open things or load things in. But that's just the perception of someone who's been using a Pro for a couple of years now. If you are spending $330 for an entry-level iPad, you probably have your expectations on the low end. You will be pleasantly surprised.
The iPad 10.2 (2021) will run all of these popular App Store games like Brawl Stars, CoD: Mobile, PUBG, and
Fortnite
(
oops, maybe not
) smoothly. If there was a downgrade of graphics going on, I am not sure I detected it. When it's time to do some research or studying — Safari can open a ton of pages and you can use it in split screen with the Notes app with no issue.
It's the core iPad experience for cheap and Apple really managed to capture that essence. The more expensive models in the iPad range will enhance the look and feel of the device with various upgrades — an all-screen design, true stereo speakers, a better-looking display, Face ID — sure, all of that. But for software and actual use, the iPad 10.2 (2021) is solid.
With the Apple Pencil, you are free to draw and write as you would on any other iPad, and if you want that hybrid laptop experience — there's the Smart Keyboard. Although, in our experience, the Smart Keyboard's keys feel rubbery, wobbly, and without much tactile feedback — we do recommend looking for a different Bluetooth keyboard instead. This is where the iPad Air and Pro models have an advantage — the Magic Keyboard that's available for them is pretty great.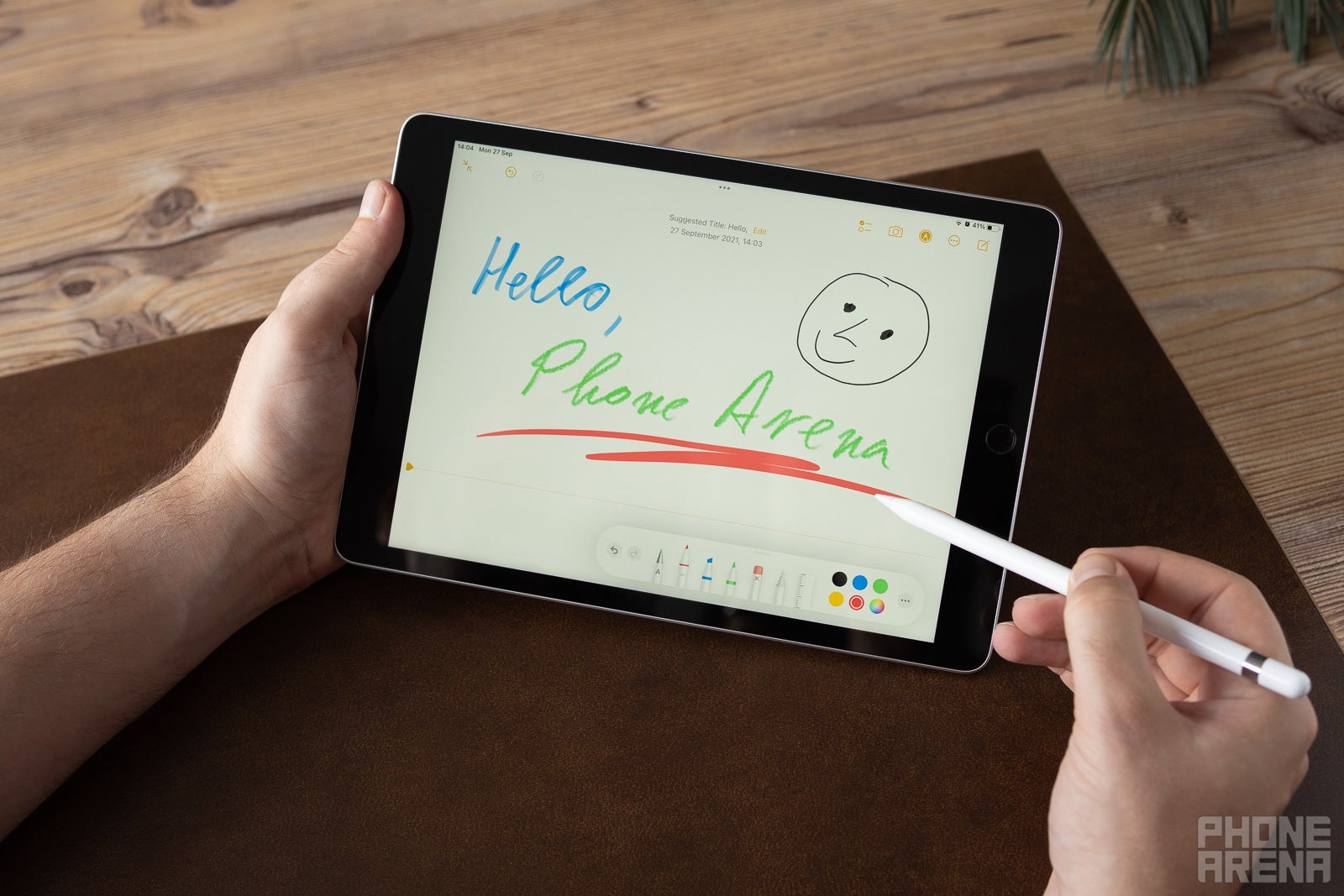 The cellular models do not support 5G — which is a bit of a disappointment, but then again can be expected from the cheapest tablet in the iPad lineup. Just like last year's model, the cellular modem here only supports 4G LTE connectivity.
Though considering that the cellular models cost you $150 extra over the Wi-Fi versions, you are probably better off getting a mobile cookie or using your phone as a hotspot anyway.
Apple iPad 10.2 (2021) battery
So, with each iPad, Apple claims a maximum battery life of 10 hours. If you are doing simple stuff, like browsing the web, emails, social media, chatting, checking out pictures — you do get less than 10% of battery drain per hour.
If you go a bit heavier — streaming a YouTube playlist, Netflix, or gaming, you do get a faster battery drain, naturally. Though, even then, the battery packs a punch. As you can see, the new iPad actually killed it on our YouTube drain test.
In typical use, I get about 8 hours of battery life out of the iPad. Throughout the day, I will use it to stream YouTube videos or Apple Music in the background, as I am doing stuff. In my time off, I might fire up a game. Alternatively, I could use it to check through my social media while stretching my legs around the apartment. I might edit a photo or two for my social medias, or do a quick edit for a video I recorded.
Main point — it gets very little rest, yet takes me through my day with no issue.
Apple iPad 10.2 (2021) design
If you've seen one iPad 10.2 in the past 3 years, you've seen them all. Apple stuck to the design of the previous generation iPad, which stuck to the design before that. We have the thicker bezels, especially on the top and bottom, the rounded back corners, the triple-dot Smart Connector for the Smart Keyboard on the side.
So, it's not very exciting or anything — it even only comes in Silver and Space Gray. The
iPad Air
and
iPad mini
are still the most colorful and fun in the iPad lineup.
The thick bezels do make it easy to hold the iPad 10.2 in one hand while going about your business — if there's one gripe I have with the iPad Pro or iPad Air, it's that I can barely hold it without tapping the screen.
The tablet's profile is also a bit on the thick side — at least by today's standards, that is. It's obvious Apple didn't waste time or resources to try and make it as thin as possible, which again, is fine for the price tag. It's just kind of comical as you tap away at the screen and you can hear a hollow clunk echo back at you from the inside.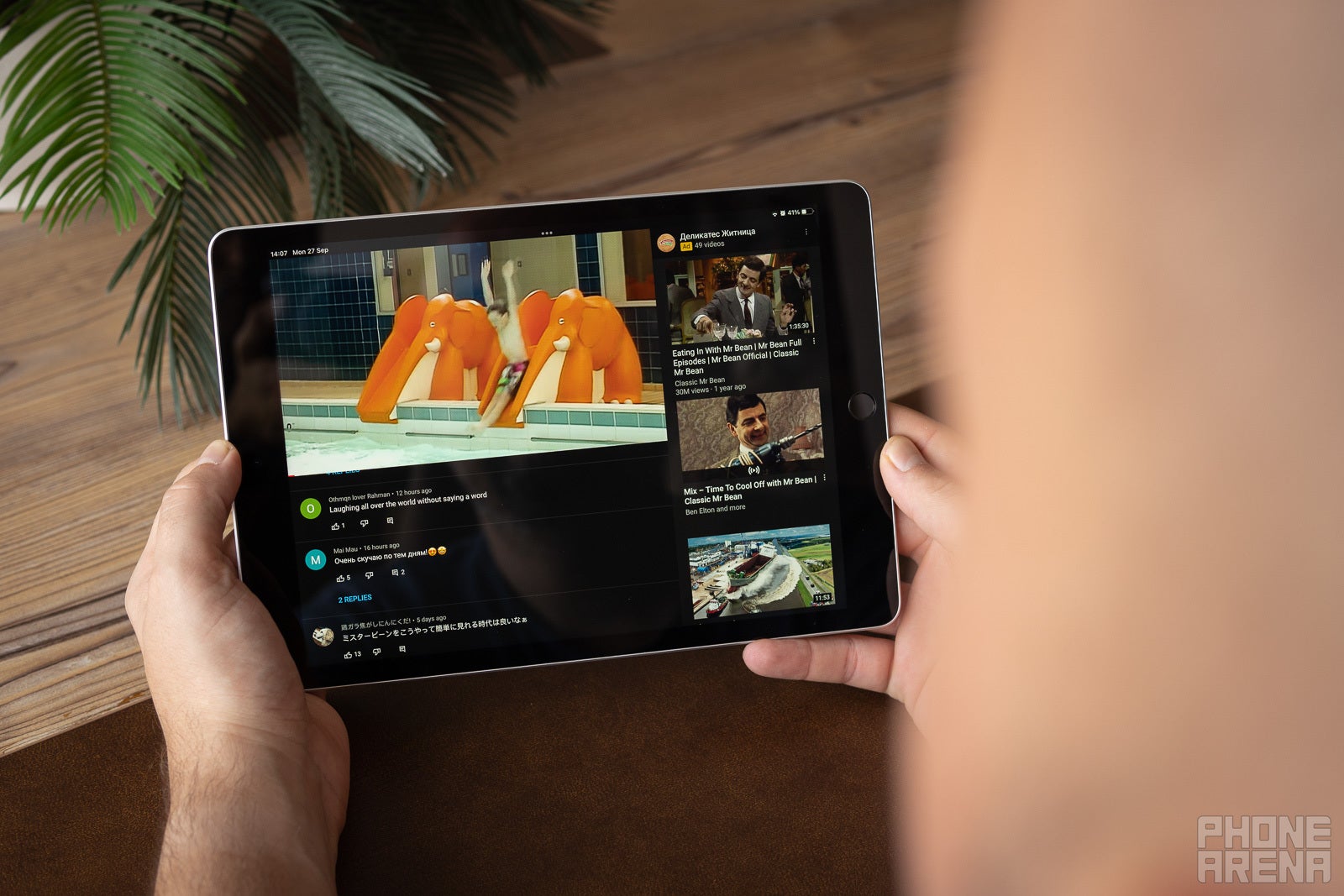 The home button with Touch ID is back — this is now the only iPad to still have a home button. A classic that feels instantly familiar. I should note — the iPad 10.2 still supports all the gestures that the buttonless iPad Pro and iPad Air do. You can still swipe in from the bottom to go home screen or swipe along the bottom edge to quick swap between apps. So, the home button kind of feels redundant here, which is weird on an Apple device.
As mentioned above, we do have stereo speakers — on the bottom of the device (or on the right if you hold it in landscape). They do play stereo channels, but obviously there's no physical separation between them, which is a shame.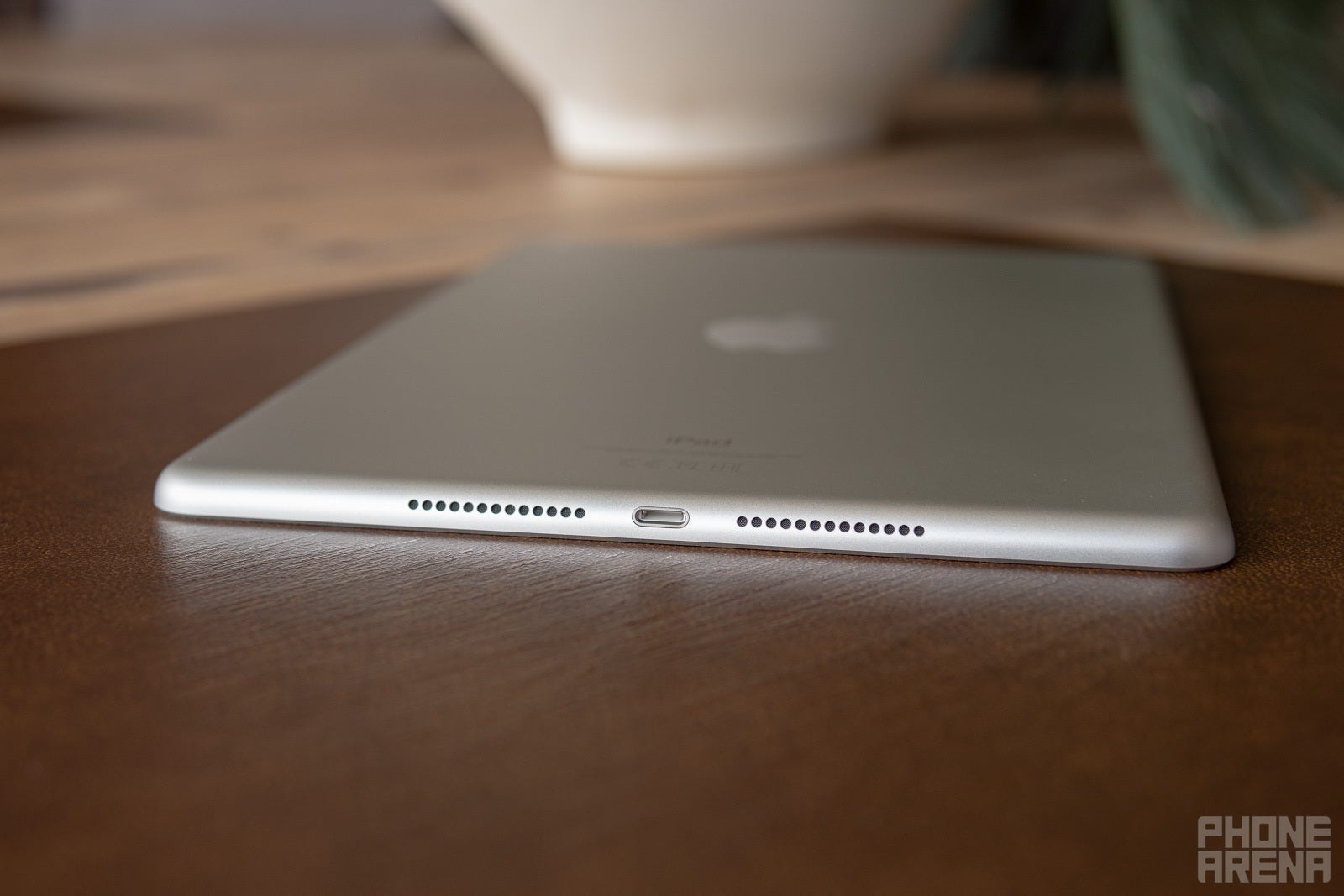 There also isn't an array of magnets on the inside — the iPad lineup is slowly moving towards all those cool gadgets like the Apple Pencil (gen 2) and Magic Keyboard. But the entry-level tablet still uses older iPad accessories — the old style Smart Keyboard, which only stick magnetically to one side of the iPad, and the OG Apple Pencil that needs to be physically plugged into the iPad to charge.
Apple iPad 10.2 (2021) camera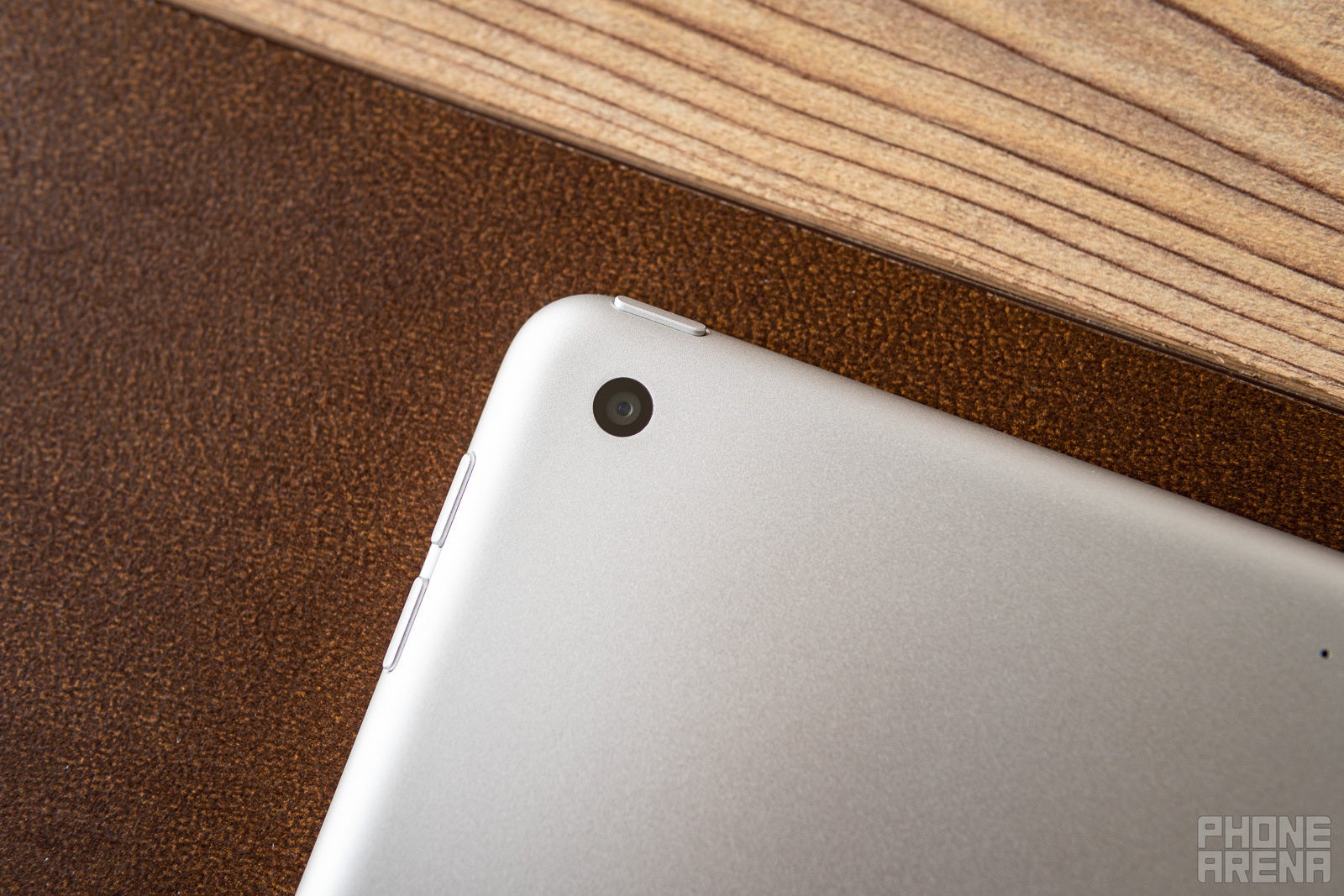 Obviously a camera is not a tablet's defining feature, especially when we are talking entry-level iPads. The iPad 10.2 (2021) has an 8 MP rear camera — seemingly the same snapper we had on last year's iPad —, and it's not amazing. It can somewhat take OK photos in well-lit environments, but they are always soft-looking with almost no depth of field. And the iPad itself has some trouble identifying what it should focus on.
The camera's main use will probably be to scan documents or to take a quick photo of something in your room as it becomes a topic for conversation over your chat or video call. As such, it can work. It handles dynamics well, though its detail definition is not great. When the light drops, it also struggles a bit to take non-shaky photos.
All in all, you won't be recording a live show with that rear camera… hopefully?
The front-facing camera is what usually matters in tablets, as we often use them for video calling and conferences. And here, Apple introduced an upgrade, which honestly surprised me. A 12 MP sensor and a 122-degree ultra-wide lens for the selfie camera.
We've seen this in the iPad Pro (2021) and it was also added to the new iPad mini (2021). Apparently, Apple wants all users to be able to enjoy Center Stage for their video calls, even the ones having the entry-level iPad. This leaves the iPad Air (2020) as the only Apple tablet to not have the new wide-angle front-facing camera. Do we smell an iPad Air (2022)?
If you are using the selfie camera to take a "normal" selfie, the software crops into the center of that ultra-wide image. As a result, details are soft and pixelated. It's evident it's not a selfie camera — it's a video calls camera.
You can enable and disable Center Stage on a per-app basis. If the app itself doesn't have a dedicated button for it — swipe in from the top-right for the Control Center and tap on Camera Effects while in a call.
How to turn off Center Stage
Apple iPad 10.2 (2021) competitors
Apple's tablets don't get much competition these days — Android device manufacturers have generally pulled away from the market, with a few names still sticking around.
One is Amazon's Fire HD 10 — it comes in a Productivity Bundle starting at $219, which includes the tablet, a Bluetooth keyboard case, and an Office 365 subscription for a full year. Fire HD tablets run on Fire OS, which is a fork of Android, and come pre-loaded with Amazon stuff, like Prime Video and the Alexa assistant.
Samsung still sells the Galaxy Tab S6 Lite for $350, which is in the same price range. The cool thing here is that Samsung's tablet comes with the S Pen in the box, whereas the Apple Pencil is a separate purchase for the iPad 10.2. However, Samsung's Tab S6 Lite was weak in performance on release and has nowadays only gotten worse.
The Galaxy A7 is even cheaper than the iPad 10.2 and has an official keyboard case you can buy for it. But, again, in terms of performance, the iPad runs laps around it.
The Microsoft Surface tablets sure are great when it comes to productivity for people used to the Windows environment — but you can't really get one at $330, can you? Sure, you can spring for the upcoming Surface Go 3, but the Go series have a nasty reputation of having underwhelming performance and battery life. Thumbs are crossed that the Go 3 fixes those issues, but you can see why it's easier to recommend an iPad over a Surface Go.
The iPad 10.2 (2021) sits very, very well in the affordable tablet category.
Apple iPad 10.2 (2021) summary and final verdict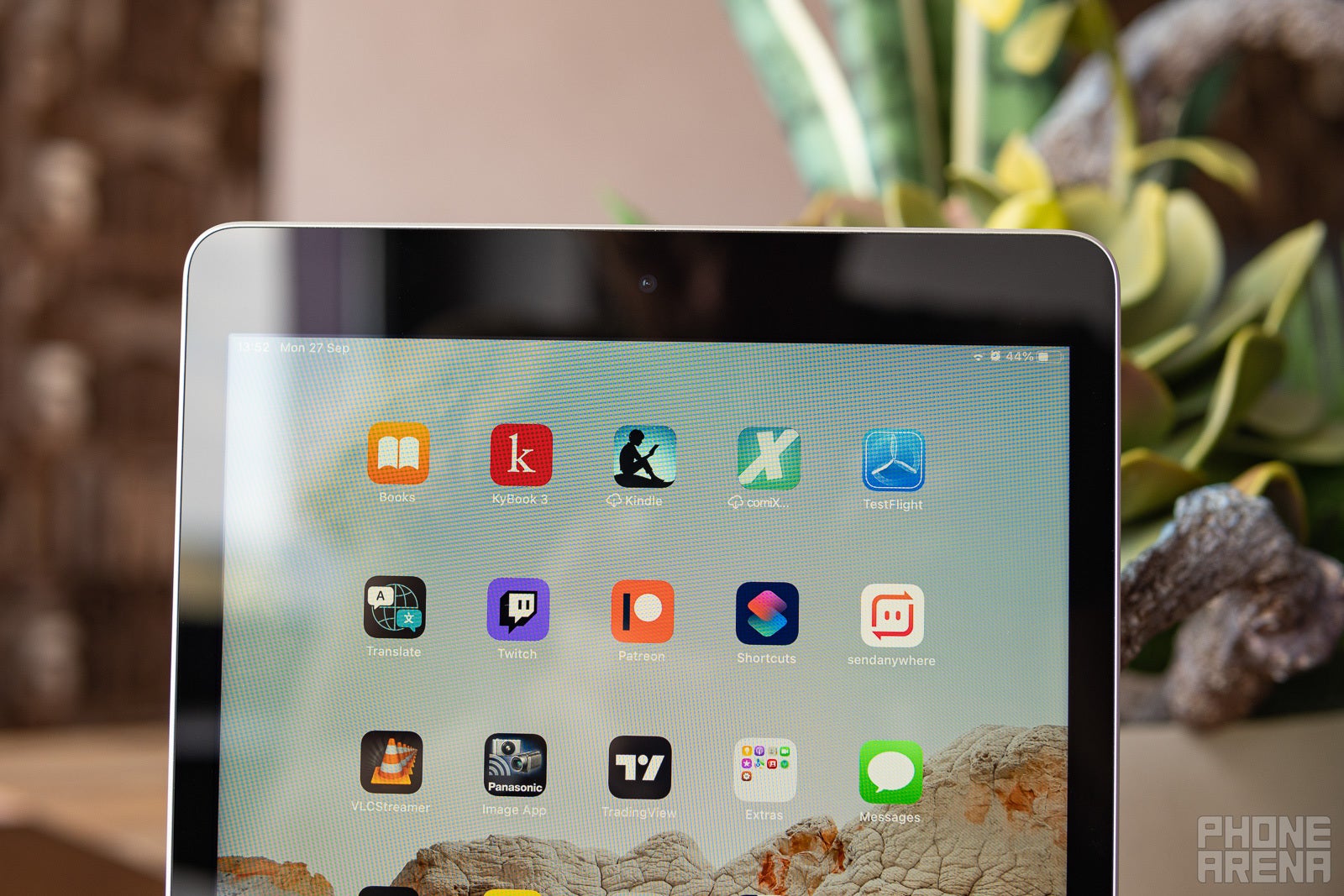 For the past couple of years, I was pretty critical of the iPad 10.2 line. The previous model just felt very stingy with its 32 GB of base storage and it required an extra $100 if you wanted to make an upgrade to 128 GB. At that point, it was much more worth it to just buy an iPad Air, especially if you could find one refurbished or second-hand.
Yeah, it supported the Smart Keyboard and the Apple Pencil, but it didn't feel right to invest in those accessories when the base tablet itself was on a ticking storage clock.
So, with more storage in the base tier, the latest iPad 10.2 already beats last year's model easily. 64 GB can work for most people, as long as you do some file housekeeping from time to time.
The bump in chipset is also appreciated — the iPad 10.2's performance is stable and solid enough. It has all of the iPadOS 15 perks, like the new multitasking features and swipe gestures, the widgets, the App Library in the dock. Though, last year's model still holds its own here as well.
Looking at it from a distance, it's not a major upgrade, but it strikes the right notes. It truly feels like an "iPad lite" — the hardware isn't much to look at, but it gets stuff done just as well as its siblings. Maybe it doesn't look as flashy or smooth with its 60 Hz screen, but at least the colors and definition are still great for watching content. Maybe it doesn't sound as good with those one-sided speakers, but at least it has a headphone jack.
It has a good battery life that's in the exact same spot as ever — a comfortable 6 to 8 hours of use, depending on whether you use really heavy apps like games, amp sims, and media editors or just prefer to sit back while watching video.
The iPad mini is definitely more powerful and has that new design, plus it supports the much more thought-out second generation Apple Pencil, all for a $100 uptick in the price. But its small screen makes it a device for a person with very specific needs. The 10.2-inch screen of the basic iPad lends itself better for a wider range of use cases.
The Lightning port is a hindrance, though. iPadOS supports external drives and a plethora of accessories — even audio interfaces. So, if you don't have 3rd party accessories that came with some type of Lightning cable themselves, you may need to invest in a dongle or two.
It's also a bit weird that Apple wants to market these for school and kids, yet sticks to the boring Silver and Space Gray. Feels like a missed opportunity.
Final verdict? Thumbs up — the entry level iPad is the best tablet you can buy in the $300 price tier.
Recommended Stories