Best Google Pixel phones in 2023
5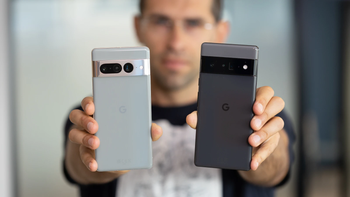 The Google Pixel lineup is your best bet if you're willing to experience
Android
in its purest form. Although the custom Android skins that phone manufacturers utilize on their devices have some extra functionality sprinkled on, there's some charm to the mostly stock Android iteration that Google puts on its Google Pixel lineup.
In recent times, Google's Pixel lineup has taken a slightly different path - instead of trying to match its rivals pound for pound, Google is moving towards a "custom" future, where its domestic lineup of
Tensor chipsets
make ripples with their amplified reliance on on-device artificial intelligence and machine learning.
Pixels are no longer raw-performance champions, but they have gained something more valuable—the smarts to be a useful everyday companion thanks to the powerful AI and machine-learning capabilities that Google has thrown inside its latest flagships.
So, what is the best Google Pixel phone in 2023?
Best Pixel phones in 2023:
With always class-leading cameras, super performance, and software that stands out, Google's Pixels are often the recommended choice when it comes to considering the
best Android phones
available every year, and 2023 is no exception. They are often lauded for their
exceptional cameras
, ranking them at the very pinnacle of
best camera phones
available, but it's not the only thing making them a worthwhile consideration.
So, what is the best Pixel phone right now? Let's see if we can find the answer together.
Coming soon-ish: Google Pixel 8 series
The
Google Pixel 8 Pro and Pixel 8
will most certainly be announced in late 2023 as the successors of the Pixel 7 series. So far, little is known about these, but they will most likely introduce performance and camera improvements to the mix.
Google loves to tease its upcoming flagship phones at its annual Google I/O events, so it shouldn't be too outlandish to expect a similar teaser at the 2023 I/O summit.
Given the previous Pixel releases, we highly suspect that the Pixel 8 series will come with the next-gen Google Tensor chipset, as well as a camera system that further elevates the Pixel camera to the next level.
Google Pixel Fold
Google's first foldable phone is mostly a winner!
Announced at Google I/O 2023, the Pixel Fold is Google's most advanced phone ever and its very first foldable offering. Our
Pixel Fold review
leaves nothing to the imagination, and my colleague Victor Hristov is deeply convinced that the Pixel Fold is easily one of the better, if not the best foldables you can get on the Western market right now!
The big selling point about the Pixel Fold is its quite usable external screen, which spans 5.8 inches across and is actually wider than most other foldable competitors, making for a friendlier user experience and ditching the need for opening the Pixel Fold all the time. The hinge, another essential hardware element of the Pixel Fold, also feels quite sturdy and satisfying to fold and unfold.
While it shares lots of hardware with the Pixel 7 Pro, like the Tensor chipset and the camera setup (with some hardware differences) , its glaring redeeming quality is the foldable form factor that reveals a large inner screen that will most probably forego your need to get a mini tablet. With the capable Pixel camera and all AI-powered features and functionalities that Google has in tow, the Pixel Fold is a promising upcoming phone that we can't wait to play with.
Some issues that the Pixel Fold has are its very delicate and reflective inner screen, which has to be pampered all the time, as well as the noticeable display crease.
Google Pixel 7a

The best value Pixel phone in 2023
The Google Pixel 7a was announced at the Google I/O 2023 developer summit, and just like previous Pixel phones, this once aims to maximize the value you get in the $500 price point. Sure, it's made of plastic and it lacks the overall polish of the pricier Pixel 7 and Pixel 7 Pro, but the rest of the package makes the Pixel 7a one of the best phones you can get in 2023.
What are we talking about? Sure, the Pixel 7a is not a flagship, but it comes with a very capable chip that will not have an issue with any of the tasks you throw at it. Performance-wise, it's up there with the flagships from a subjective point of view.
It has an improved camera system with new sensors that improve camera image quality in comparison with previous affordable Pixel phones. Actually, the camera is one of its main strengths, one that we generally praised in our
Pixel 7a review
. Although it lacks a telephoto camera, its wide camera is very, very capable in most situations that you might come across.
The Pixel 7a also comes with a smooth 90Hz display (which the iPhone 14, for example, doesn't have), wireless charging for the first time on an affordable Pixel, good battery life, and all the software bells and whistles from Google that make Pixel phones such notable devices. Overall, at $500, it's a safe bet. Definitely consider one!
The best Google phone so far
The Google Pixel 7 Pro is Big G's hot new flagship for 2022. While it doesn't bring that many revamps over the Pixel 6 Pro, it has quite a lot of enhancements on deck.
There's the revisited Tensor G2 chipset on board, which offers
better performance
than the first-gen Tensor, as well as improved machine learning and artificial intelligence capabilities that make it smarter and more adept.
Another benefit of the new Tensor chip is the improved camera image algorithms and some newly-scored camera features.
For example, the Pixel 7 Pro scores Cinematic Blur for videos, which lets you create appealing videos with a blurred background, as well as improved macro focus, and more.
Google also promises up to 5 years of software support, and at a starting price of $599 for the 128GB version of the phone, it's a killer deal, all things considered. Feel free to check out our full review of the
Google Pixel 7 Pro
.
Google Pixel 7
Compact design, capable camera, stock Android
The Google Pixel 7 is just a slightly improved version of the Pixel 6 that, happily, costs the same at launch but solves several important aspects of the smaller Pixel flagship. The Pixel 7 series generally has the same hardware as its predecessor but with more potent software capabilities, as well as a
more compact design
.
Sure, it lacks the 48MP 5X telephoto camera that is available on the Pixel 7 Pro is nowhere to be found here, and the battery on board is much smaller, and so is the display, but on the upside, it has a better camera, longer battery life, and a fresh design in addition to being more compact, which will be a pleasant change for those looking for a more manageable gadget.
Google Pixel 6 Pro
Exceptional camera, stock Android
Despite the performance shortcomings of the Google Tensor, the Pixel 6 Pro is an
excellent phone
with a superb camera that's absolutely the one to consider if you're willing to look past the Apple/Samsung duopoly that's domineering the market.
For the first time, Google has come up with a device that seemingly doesn't lack any contemporary new feature, has no immediately visible flaw, and feels interesting enough to be considered by regular folks, not just Android die-hards and tech enthusiasts.
It also comes with wireless charging and is still one of the best-value Google phones out. Thanks to its zoom camera and lots of camera features, it's a formidable camera phone.
Google Pixel 6
Great compact design, stock Android interface
While the regular Pixel 6 lacks the curved screen and the extra telephoto camera that grace the Pixel 6 Pro, it makes up for that with a more compact body and a lower price tag.
Well, technically the
"smaller"
Google Pixel 6 is not that much smaller, with its 6.4-inch screen, it's still built with
premium materials
— unlike some companies who dress their "cheap flagships" in plastic — and still has a high refresh rate screen —unlike some other companies that limit their "cheaper flagships" to 60 Hz.
With the same Google Tensor processor that's on the Pro and the same 50 MP main camera, the Google Pixel 6 has enough going for it to deserve your hard-earned money.
The most affordable Pixel phone
Announced at Google I/O 2022, the Google Pixel 6a is mostly similar to the Pixel 6 but comes at the affordable, and honestly,
unbeatable price
of $449. With a dual 12MP camera system and thanks to the Tensor chipset, the Pixel 6a scores a slew of important camera features normally found on the pricier Pixel 6 and Pixel 6 Pro.
For example, you get Enhanced Magic Eraser, which changes the colors of distracting objects, Night Sight, and Real Tone to your photos.
You don't get Motion Mode, which eliminates blur and keeps moving subjects in tack sharp focus, but that's a small price to pay for the phone's affordability. Aside from the improved camera, there's a 6.1-inch 1080p display running at 60Hz, 6GB RAM/128GB storage, a 4,410mAh battery, and 18W charging speed.
The phone is available in Sage (green), Chalk (white), and Charcoal (black) colors, and all of this comes in at $449. Excellent pricing!
Is it worth buying a Google Pixel phone in 2023?
With a very serious amount of certainty, one should consider buying a Google Pixel phone in 2023. This is especially true for those who are deeply invested in the Android ecosystem, as opposed to folks that have shaped their lives with Apple's ecosystem in mind.
The synergy between the Pixel phones and various other Android-friendly accessories and smart home gadgets isn't necessarily any better than what you'd get from, say, a flagship Samsung device, but overall, you can't go wrong with a Pixel.
Are there any disadvantages to Google Pixel phones?
While stock Android is one of its biggest strengths, it's also an Achilles' heel of the Pixel lineup. The vanilla, unmodified Android interface might be a plus for many, but it doesn't offer the same levels of customizability and flexibility that are normally associated with Android.

Some custom OEM Android skins, like Samsung's One UI, OnePlus' Oxygen OS, and Xiaomi's MIUI, among others, provide a set of features that are nowhere to be found in stock Android and the Pixels as well. This could be a big minus for all those willing to have some better control over their interfaces.
How many years do Google Pixel phones usually last?
Google has recently committed to
five years
of extended security support for the Google Pixel 7 series (until 2027), and three years of guaranteed Android updates (until 2025). The Pixel 6-series, on the other hand, will receive major Android updates until 2024 and will receive software security patches well until late 2026.
The Google Pixel 6a, as it was released later, will get major Android updates until July 2025 and security support will last till July 2027.
Earlier Google Pixel phones, like the Pixel 5 and Pixel 4a-series, are currently halfway through their digital life, and will only receive major Android and security updates for a couple of years more.
The Google Pixel 4a and Google Pixel 4a (5G) will get Android and security updates until August and November 2023, respectively, while the Google Pixel 5 and Pixel 5a will do so until August 2023 and August 2024, respectively.
How to choose the best Google Pixel phone for you?
As Google's lineup is pretty slim, there are few options—and little chance to pick the wrong device for you. That said, you should take into account what is the main use of your phone.
If you cherish portability and are not phased by camera prowess, then you should probably go for a regular Google Pixel, with the current best offers being the Pixel 7 and the Pixel 6, if you can find the latter on sale somewhere. Both are pretty capable, but they have

slightly smaller, less sophisticated displays

than their larger peers. There's no telephoto camera, so you can't zoom in that much.
In case you always go for the best and/or mobile photography is a cherished hobby, then you can't really go wrong with the "Pro" versions of the most recent Pixel flagship phone. The Pixel 6 Pro and Pixel 7 Pro are flagship phones that are both much larger and more adept than their regular peers, with bigger displays with higher refresh rates, longer battery life, and an extra telephoto camera that seals the deal as far as camera versatility goes.
Go for the Pixel 7 Pro if you want the

best Google phone in 2023

. It's easily the most adept Google Pixel phone available on the Google Store right now, with the best performance, best camera, and best user experience out there. It's often discounted or part of a promotion that can shed quite a lot off its regular price.
Go for the Pixel 7 or Pixel 6 if you want a compact and modern Android smartphone with pretty decent camera image quality, performance, and battery life.
Get the Pixel 6 Pro if you love an Android phone with a large display, good battery life, and decent camera hardware but don't necessarily need the best phone. It's a slightly older model that can be usually found on the cheap, but it still can do much more than regular phone calls. If you can stomach the slightly larger footprint, then it always makes sense to go for the more advanced "Pro" Google phone.
How do we test the best Pixel phones?
As with all devices that we review, we test the battery life, display quality, camera quality, and overall performance of each device.
The
camera quality
, arguably the most important aspect, is determined by comparing samples from the new phones with their predecessors and some notable rivals. Display qualities are measured with professional equipment by qualified personnel.
Battery life is measured with the phones' displays set at 200 nits and connected to Wi-Fi, with three different use case tests being run on each device: video streaming, 3D gaming, and our custom web browsing test.
We also test the charging speeds of each Pixel with the manufacturer-recommended battery charger, and if the device has a charger in the box, we use that one. Pixel phones usually fare very well in the display category, but they've been somewhat lacking in the performance category.
Why are Google Pixel phones so revered and well-received?
No matter if it's Pixels or Nexus phones, Google has always been an important factor in the mobile industry, both from a software and hardware perspective.
Google's Pixel phones are coveted for their
user-centric experience
that relies on software features and artificial intelligence, as well as the might of the Google Assistant to edge out the competition.
Another important aspect that's usually thrown around regarding Google Pixel phones is their camera prowess and image quality.
Fueled by Google's signature image-processing algorithms, a Pixel phone usually hits way above its pay grade even though it doesn't always have the best camera hardware and uses both AI and machine learning to deliver outstanding photos, most of the time.
That's why it's often compared to Samsung and Apple flagships despite the latter's hardware superiority.
In terms of image quality, Pixel phones take dramatic and expressive images with true-to-life colors but enhanced contrast and a distinct style that's unmistakably Pixel.
Recommended Stories