Best Android phones 2020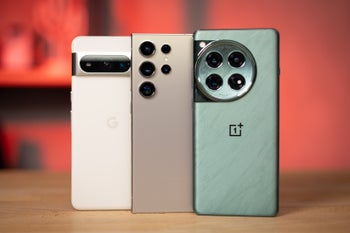 There are so many phones and new one keep on coming up, so it might be hard to pick just one. We are here to help. We have reviewed and tested hundreds of Android phones and we can recommend some great ones, tell you about their alternatives and even about those phones that you should absolutely avoid. What are the best Android phones of 2020?
Of course, there is no one right phone for everyone: some phones are bigger, others smaller, some focus on camera quality, others on battery life and so on. We will tell you about these and other note-worthy features of each phone listed here, so... let's get started.
Premium: $900 and up
Samsung's new flagship, the
Galaxy S20
Ultra, tries to pack every single modern phone feature and the kitchen sink, and it mostly succeeds. It is Samsung's most expensive smartphone yet (not counting the foldables) and for the first time, the starting price is actually higher than on arch-rival Apple's top device, the
iPhone 11 Pro
Max. Definitely one of the best Android phones of 2020.
In exchange for that high price, you get more features: the S20 Ultra comes with 5G connectivity that the iPhone lacks, it comes with a zoom camera that allows you to see things so far away that your eye cannot see them, and its screen now refreshes at double the rate for a buttery smooth experience. All of that is powered by a huge, 5,000mAh battery cell that lasts on and on.
There are a few camera kinks like a wonky autofocus in video and there are a few inconsistencies and smaller issues with the camera. Samsung has promised an update that would fix those camera issues, but while we are optimistic, we do feel like this phone has been rushed a bit. The interface is also starting to get a bit overwhelming with settings. Overall, though, the S20 Ultra will likely impress you, especially if you can stomach its $1,400 price.
Samsung Galaxy S20 Plus
With these two key factors in mind, it's time to take a closer look at the S20 and the S20 Plus, two phones that will not get as much press as the Ultra, but phones that are likely to end up in a lot more pockets. A runner-up for the best Android phone of 2020.
First, these are the major differences between the flagship S20 Ultra and the other two:
S20 Ultra has a 108MP main camera, while the other two have 12MP main snappers
S20 Ultra has 100X Space Zoom, while S20 and S20 Plus max out at 30X
S20 Ultra has a massive 6.9" screen size compared to a 6.7" display on the S20 Plus and a 6.2" screen on the S20
S20 Ultra has a gigantic 5,000mAh battery, while the other have smaller sized cells: 4,500mAh on the S20 Plus and 4,000mAh on the S20
S20 Ultra and S20 Plus have support for 5G mmWave, while S20 only supports 5G sub6
Apart from those few differences, all three phones share the same processor, the same amount of storage, the same awesome 120Hz refresh rate option, the same interface and the differences really mostly boil down to the size and their capabilities to zoom.
As to our thoughts on the S20 and the S20 Plus, we found them to be awesome devices. The one feature that impressed us most was the 120Hz refresh rate that makes everything run buttery smoothly. It's hard to switch back to 60Hz once you've tried 120Hz on the S20 series. Unfortunately, we also found that it takes a heavy toll on battery life, decreasing it by as much as 37% on the S20 series.
Samsung Galaxy Note 10+
The Note line has been called "The King" for years now for a reason — Samsung always crams all of the tech it possibly can in its latest Note phone. Though, this was an arguable point in 2020. The
Galaxy Note 10
did away with the headphone jack — something that Samsung was stubbornly holding on to and its fans loved — and stealthily removed the heartbeat sensor from the phone's back. Although released in 2019, the
Galaxy Note 10+
is one of the best Android phones of 2020.
The Galaxy Note 10+ is a gorgeous gem — especially in its Aura Glow color — that runs fast and has an extremely feature-rich software suite. It's a phone for the productive user, Samsung says, giving you tools like the S Pen or DeX Mode to expand your smartphone usage to a desktop setting. Its triple camera module is among the best smartphone shooters available and Samsung added a ToF camera on the back for better depth detection that would make accurate AR apps possible.




OnePlus 8 Pro




The OnePlus 8 Pro is the biggest, meanest, and best smartphone OnePlus has put out thus far. At least that's what it aims to be. It features a fantastic set of cameras, a big, gorgeous, 120 Hz AMOLED screen, the fastest possible hardware on an Android phone, and an impressive battery. Is it the best Android phone of 2020? Might as well be if you stomach the increased price in comparison with its predecessor.

But do you need to spend $900 for it, when the OnePlus 8 delivers a similar experience for $700? Well, the 8 Pro's camera is definitely an improvement over its cheaper sibling, but it also has a bunch of quirks that you may or may not like.

The Pro is slightly bigger, it's noticeably heavier, and its speakers are virtually the same. Indeed, I'd say that if you don't insist on that slight camera upgrade, you can save yourself $200.
Google Pixel 4 XL
Google's latest Pixel phones are — as always — buttery-smooth and snappy. It's Android the way Google intended it to be, super-powered by extra features of the
Google Assistant
. Of course, the Pixel line also tends to be a bit divisive with its design. The Pixel 4 line doesn't have a notch or anything, but a straight-up "big forehead" on both phones. This, of course, houses the gesture-detecting radar, which is underwhelming right now, but may or may not become something greater down the line.
Pixels have always had amazing cameras thanks to Google's magic algorithms, and the Pixel 4 is no different. It was certainly one of the benchmark smartphone cameras in 2019. Unfortunately, it doesn't have an ultra-wide-angle lens, which happens to be the hot trend nowadays. But if you don't care about that, the regular camera and telephoto lens will deliver some awesome photos for you to enjoy.

Both phones are still a bit on the expensive side and be warned that Google no longer gives you free Original Quality storage for its Photos service. You will either need to pay for Drive space or compress the photos down to High Quality like the rest of us.




The Motorola Edge Plus is a surprisingly great smartphone that checks all the boxes and then delivers more on top of that. Unlike more expensive phones like the Samsung Galaxy S20 series that come with higher refresh rates at the expense of battery life, the Motorola Edge Plus strikes a perfect balance with a buttery smooth 90Hz screen, great display quality and an incredibly long lasting 5,000mAh battery.

All of that is fueled by the power of the Snapdragon 865, the most powerful chip you can get on any Android phone. The interface is clean of bloatware, with just a few small but useful signature Moto features like a double chop to turn on the flashlight or a quick flick of the wrist to start the camera.

It not only excels at these smartphone fundamentals, the Motorola Edge Plus manages to give you a massive battery size AND a headphone jack, something other companies claimed impossible. It also provides an impressively booming loudspeaker setup, 256GB of native storage, double that of most other flagships, and little delicacies like a perfectly tuned vibration motor no less impressive than Apple's Taptic Engine. All of that at a $1,000 price, less than most rivals, makes the Motorola Edge Plus, our surprise high-end phone of the year. Read on to find out more about the details.



The LG G8X ThinQ is sort of a hotfix in a couple of different ways. For one, it's basically a G8 ThinQ without the gimmicky, broken Air Motion gesture controls. It also has stereo speakers — LG was betting hard on the
BoomBox mono speaker
up until the G8's release, but finally caved in. And it offers a kind of a foldable experience without being a foldable phone itself — it comes with a case that holds a secondary screen inside its flap. It can run two apps at the same time or show you different information from the same app on one screen, provided it's optimized for the hardware.
In general, the G8X ThinQ is good bang for the buck, especially considering the secondary screen is included. It's a good alternative to the
Galaxy S10
if you are getting a bit tired of the curved screens, but be aware that the G8X only has a dual camera module with wide-angle and ultra-wide-angle lenses; no telephoto.
Upper mid-range: Around $500
Sony Xperia 10 II




If you want a phone that looks like a flagship but doesn't cost an arm and a leg, you'll love the Sony Xperia 10 II. The Omnibalance design is back and there are no notches or cutouts in the gorgeous 6-inch OLED screen of this device. With its decent triple camera system on the back, the Xperia 10 II stands tall, in every possible meaning (metaphorically and literally), and shows what a mid-ranger phone should be.

It's pretty, very well built, and features some convenient "extras" of the recent past – a capacitive fingerprint scanner on the side and a 3.5 mm audio jack. If you factor in the IP68 protection, it becomes quite obvious that the Xperia 10 II is a really sweet deal with its $400 price tag. But let's dig a little deeper.




Motorola One Zoom
Motorola launched a few mid-rangers that each specialize in one thing or another. The Moto One Zoom's super-power is a 10x hybrid zoom, which gave us some surprisingly sharp results. On the design front, it has a beautiful and bold look with a glowing Moto logo on the back. As for the internals — it's not a heavy performer, but a pretty decent midranger.
You will notice that it does have a quad camera setup. One sensor is used solely for depth detection and the other is a sub-par ultra-wide-angle camera. The telephoto lens delivers the previously mentioned zoom, which we found to be pretty decent, and the main 48 MP camera is quite OK.


Google Pixel 3a XL


Google shook up the midrange segment of the market when it released the Pixel 3a and Pixel 3a XL. Why? Because despite having a hardware downgrade and a plastic body, these phones still pack the excellent cameras and computational photography of the "big boy" Pixel models. The 3a series are probably the best camera phones that you can find in the $400 - $500 price range. And, while they don't perform as snappy as a top-tier Pixel 3, they still run quite well as long as you don't demand heavy gaming from your phone.
And yes, we did list the Pixel 3a XL here, but if you want to get a more compact phone, or save up some cash, the Pixel 3a is just as great and priced at $399!