Best Android phones in 2022 (updated June)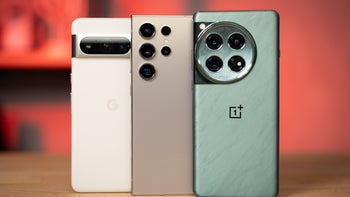 We are well into 2022, but most new Android phones are yet to come out. So far, we've seen Samsung's Galaxy S22 lineup launch, and they are indeed killer phones. We will soon see a refresh of OnePlus' phones. As far as Google's Pixels go — these get upgraded at the end of the year, so if you buy a Pixel 6 right now, you are still buying a new phone.
Contents:
Google Pixel 6 Pro
Google came back to the premium smartphone market after taking a break in 2020. And it came in hard and fast — the Pixel 6 Pro is big, pretty, and smart! It has a 6.7-inch LTPO OLED panel that hits up to 120 Hz refresh rates, it has a seriously upgraded camera that delivers some truly impressive shots, and it has Google's own processor on the inside. For the first time ever — the Tensor chip has been designed by Google to have extra AI cores and seriously improve how the Google Assistant understands speech, context, and interaction. All on device, too, as Google is making a massive push towards privacy-oriented features.
To top it off, the Pixel 6 Pro's price, while still up there, definitely undercuts the other heavy hitters on the market. So, it's certainly worth a look!
Read more:
Google Pixel 6 Pro review
Samsung Galaxy S22 Ultra
The biggest, meanest kid on the block. The Galaxy S22 Ultra dropped in the February of 2022 to gain a good bit of momentum before anyone else does. It's powered by a new-generation Snapdragon 8 Gen 1 processor and an Exynos 2200 for those outside of the US. And, the big news of course — it now supports an S Pen. No, not like the S21 Ultra — the S22 Ultra actually stores the S Pen in its body.
You know. Like a Galaxy Note. Yes, the Note series is back! In the form of the most expensive S phone, but it's still back!
The excellent camera with upgraded focusing and improved 100x zoom is just the cherry on top. The battery life should be pretty close to the S21 Ultra's, as it's the same-sized 5,000 mAh cell. As a true contemporary flagship, it has a 120 Hz screen for buttery-smooth animations too.


Samsung Galaxy S22 and Galaxy S22+
These two are almost the same phone. The S22 is there for those that prefer a more compact experience (though, it's not really small) or would like to save an extra buck. Otherwise it has the same internals as the S21+ and S21 Ultra, as well as the same cameras as the S21+.
The Plus version is slightly bigger — its screen size is almost as big as on the Ultra, so if you want that big Samsung phone experience but don't care for the Ultra's insane 100x camera, this one is your next best bet.
While the S22 and S22+ cameras are a step below the S22 Ultra's, they are most probably still going to be quite good — flagship grade, even. The phones should perform just as fast as their big sibling and also have 120 Hz displays.
The only thing that bothers us is that their batteries were slightly downgraded. The Galaxy S22's cell fell down to 3,700 mAh, the S22 Plus — to 4,500 mAh, which is better but not ideal for that size. Stay tuned for battery tests later this month!
Google Pixel 6
Google's Pixel 6 is a few bells and whistles short of what the Pixel 6 Pro has, but it's still not to be underestimated. In fact, at its core, it's still powered by the same Tensor chip as the Pro and it still has the same 50 MP main camera. The OLED screen is only slightly smaller, at 6.4 inches, but still plenty big for most multimedia or social browsing needs. And the display still has a 90 Hz screen, which we appreciate very much, especially at the price point.
Oh, yeah, about the price. The Google Pixel 6 starts at $600, which seriously undercuts most of its competitors. Considering that, at its core, the Pixel 6 is still the very same flagship that the Pixel 6 Pro is, that's an insanely good offer from Google, and we wouldn't be surprised if we start seeing more people with the Pixel 6 walking the streets soon.
Asus ROG Phone 5 Ultimate
Note:

Hold on! A new ROG Phone is on the way — we expect the announcement in a couple of weeks.
Gaming phones are a bit of a meme, but it's nice to see Asus fully embracing it. The ROG Phone 5 Ultimate has an aggressive-looking design, a tiny screen on the back whose sole purpose is to display custom logos, and 4 hardware pressure point buttons for enhanced gaming. It wouldn't be a "gaming phone" if it didn't have absolutely silly specs, too, and the ROG Phone 5 Ultimate delivers. 18 GB of RAM on a smartphone? 144 Hz screen? External cooler that you need to connect to the phone via a proprietary port? Yes, yes, and how else would you have it?
It's a niche phone, absolutely, but it's hard to keep it away from a "best" selection. After all, it is probably the (or among the) most powerful Android phones out on the market right now. Even if you don't need all the power — you definitely get the bragging rights.
If the ROG Phone 5 Ultimate is a bit too much for you, go for the non-Ultimate version. It's just as good, it just cuts back on all of that overhead that you may or may not need.
OnePlus 10 Pro
OnePlus' 2022 flagship entry is priced exactly as a Google Pixel 6 Pro competitor. Now, while OnePlus does not have the camera chops or the Tensor smarts, it certainly has its own charm. A selection of special features, borrowed from Oppo's Color OS, make the new Oxygen OS 12 highly customizable and... fun. The haptics are great, the screen is pretty, and the cameras are certainly above average.
With its own look and feel, the OnePlus 10 Pro is a nice alternative for those that wish to stray off the beaten path for a while.
OnePlus 9
OnePlus still sells the OnePlus 9 and OnePlus 9 Pro. And while the latter is a bit hard to... recommend at its current price point, the OnePlus 9 has dropped down to $599. If the Google Pixel 6 didn't exist, then we'd tell you that this is the best phone you can buy for $600 right here. But, as it stands right now — it's "one of the best". Yeah, the OnePlus 9 is a last-gen phone, but it's still a lot of phone for the current asking price!


Google Pixel 6a
The Google Pixel 6a is a budget offer based on the Pixel 6 platform. It shares the same looks and the same custom Google Tensor chip. The screen is slightly smaller and the 6a is capped at 60 Hz, while the Pixel 6 can go to 90 Hz refresh rate.

Those things aside, the Pixel 6a is a great value offer with a good chip inside, and a camera experience, which we are sure will not disappoint. It uses an older 12.2 MP sensor, which will be enhanced thanks to Google's computational photography and the new chops of the Tensor chip.
Though, it's not out yet, the Pixel 6a is expected to launch towards the end of July. We'd suggest holding out for that one instead of getting a
Pixel 5a
, for example.
Samsung Galaxy A53
Samsung has been knocking it out of the park with its midrange A series over the past couple of years. The
Galaxy A53 specs
hit just right and the phone offers the full Samsung experience at a much lower price than the S series. Unless top-of-the-line features and specs are absolutely needed, this is arguably the perfect Android smartphone for most people, as it should check the necessary boxes for all but the most hardcore Android users.
It sports a big, beautiful 120 Hz Super AMOLED display, a respectable camera setup with optical image stabilization, good stereo speakers, and good battery life. Its downsides are its somewhat bulky plastic build and, as is to be expected, its somewhat lower-tier (but still pretty stable) performance.
OnePlus Nord N10
OnePlus' attempt at a mid-ranger should have the competition scared — the company is well-known for its aggressive pricing and the Nord N10 is definitely a lot of phone for its $300 asking price. It may have midrange hardware, but the lightweight OxygenOS doesn't hog up all your resources, so it's still quite responsive.
Its camera is decent at best and it has an oldschool LCD screen, instead of OLED, but if you are looking for something on the cheaper side, the N10 is a solid option.
Motorola One 5G Ace
Motorola is also known for its rather well-made budget phones. The One Ace ticks the right boxes in terms of having OK performance and serviceable main camera. It truly shines when it comes to battery life, easily providing two days of usage on one charge.