Best Android phones in 2023 - our top picks
We may earn a commission if you make a purchase from the links on this page.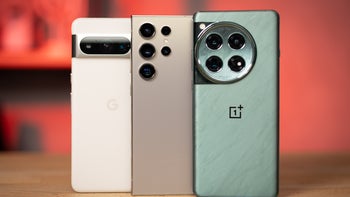 The world of Android smartphones is big, rich in variety, and open to almost any budget out there. From basic dependable smartphones, to cutting-edge devices of the future, anyone out looking for the
best

Android phones
is spoiled for choice.
So, we need to take a step back and focus — what makes an
Android phone
good and, more importantly, what would make it the
best

Android phone
for you? We need to consider the primary aspects of a device:
Battery life

- it doesn't matter how good your

Android phone

is if you can't depend it throughout a full day, at least. The battery life depends on size of the cell, the type of hardware inside, and the software optimizations that the manufacturer managed to squeeze in.

Display

- since it's your primary way of interacting with the phone, it helps if the screen actually looks good. Having enough brightness to be able to view it when out and about is definitely a plus, and a high refresh rate kind of makes everything feel smoother and more enjoyable.

Performance

- it's not just about being able to run games or heavy apps. Having a solid, snappy performance considerably improves your experience with the phone and may actually be useful. A camera app that launches fast helps you catch that fleeting moment. App switching that works seamlessly will help you multitask. And a snappy smartphone basically invites you to use it — and enjoy it — more, so... of course!

Camera

- for years now, flagships have been pushing the camera performance and the best

Android phones

you can get today typically have very good cameras. Each one will have its own quirks and differ in one way or another. Generally, if you spend top-tier money, you will most likely get a top-tier camera. However, some of the more budget-oriented

Android phones

also offer surprisingly good cameras, too!
Alright, OK, so when keeping these things in mind, what would we say the top 10
Android phones
are? In honesty, these key requirements barely helped us narrow down a solid list. Needless to say, we do need to branch out a "Honorable mentions" list below. But, that said, here are the
best

Android phones
you can get today:
Best Android phones 2023 - the top 10 list:
Honorable mentions:
Also check out: the
Best phones to buy right now
Samsung

Galaxy S23 Ultra
PhoneArena Rating:

9.2/10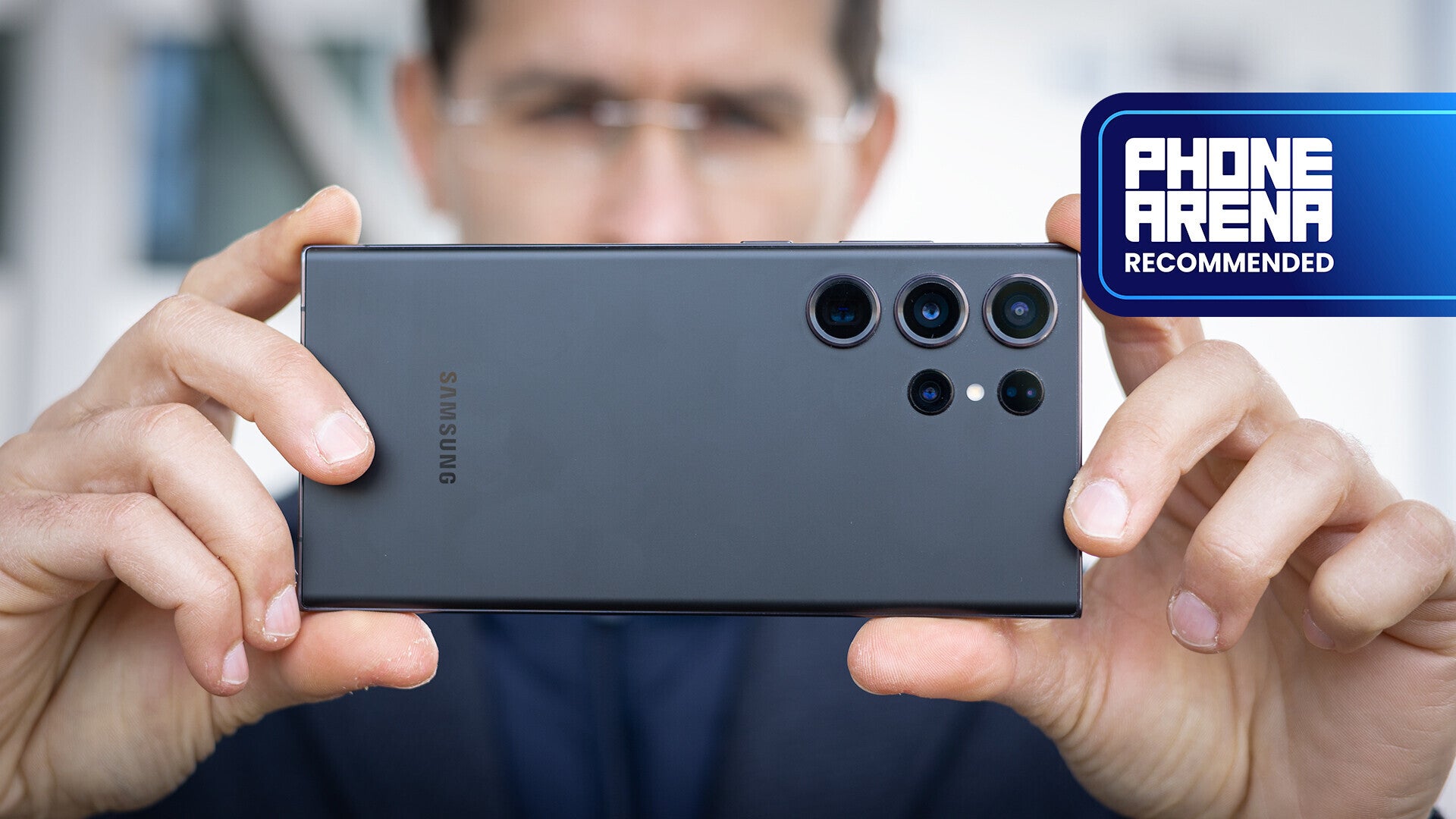 Image credit - PhoneArena
The biggest, meanest kid on the block. The
Galaxy S23 Ultra
dropped in February of 2023, with the latest flagship processor from Qualcomm — the Snapdragon 8 Gen 2 — built in partnership with Samsung and overclocked specifically for the Galaxies. The phone also, notably, has an included S Pen, like its predecessor.
Being an Ultra, it's also Samsung's camera phone, with an upgraded 200 MP main camera sensor, and it still has the periscope zoom with 10x optical and up to 100x digital magnification. The battery life is close to the S22 Ultra's, as it's the same-sized 5,000 mAh cell. With fast charging for both wired and wireless charging, it's easy to keep the lights on throughout the day, even with heavy usage.
As a true contemporary flagship, it has a 120 Hz screen for buttery-smooth animations too. The
Galaxy S23 Ultra
is expected to compete for the crown of
best

Android phone
of 2023 for its plethora of software features, pen support, and camera system. It can please power users and casual fans alike. If you want to learn more, do check out our full
Samsung Galaxy S23 Ultra review
.
Click here for more Galaxy S23 Ultra deals
The most prominent foldable
PhoneArena Rating:
9.0/10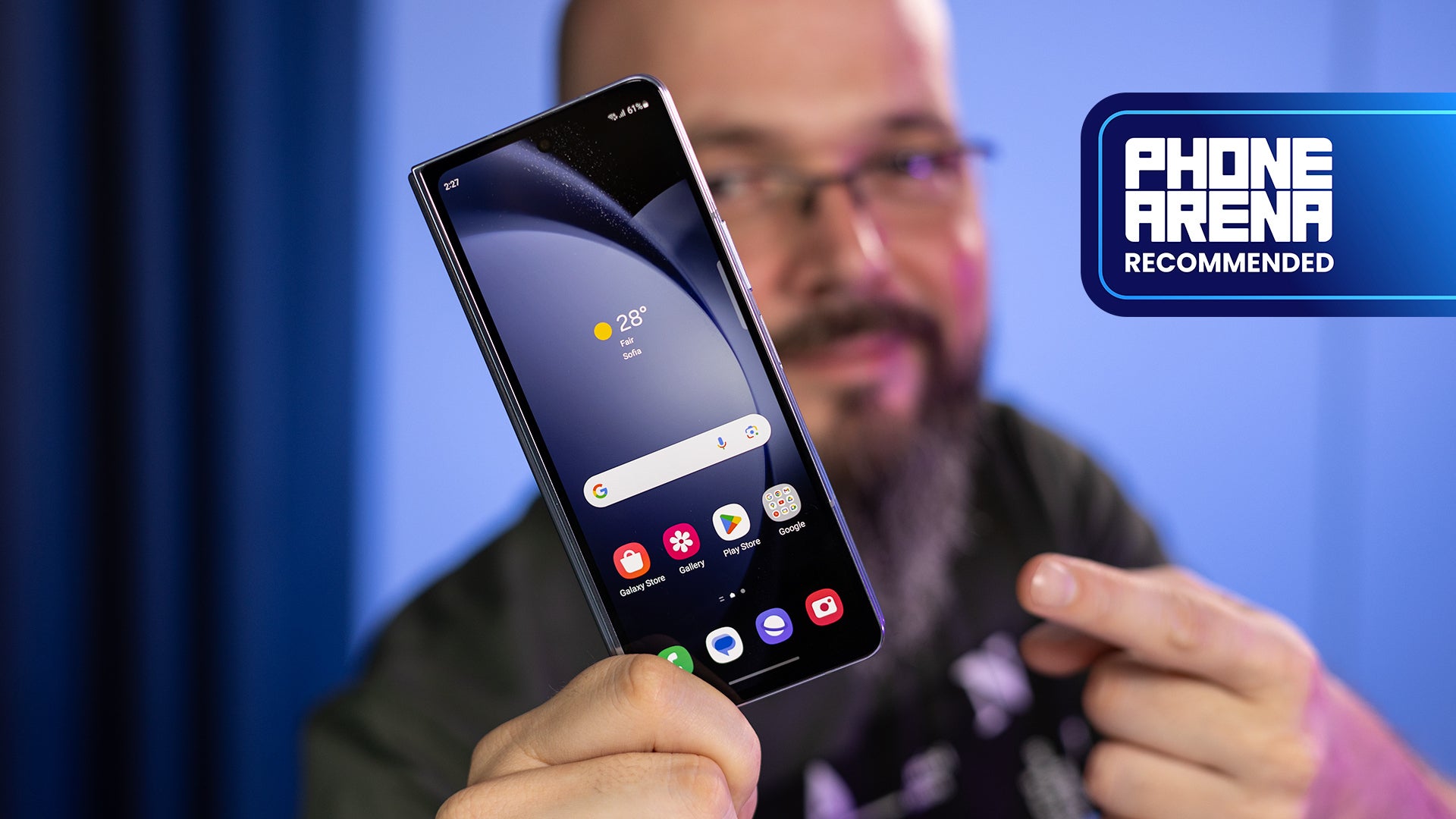 Image credit - PhoneArena
The foldable category is slowly taking off and while the
Google Pixel Fold
tries to deliver a wide external screen and an even wider internal one, Samsung continues to stick to its own formula of narrow on the outside, big on the inside.
The
Galaxy

Z Fold 5
has a redesigned hinge, which feels better than before and closes the flaps parralel to each other for the first time. The crease is shallower, yet still visible. The phone is super-powered with the Snapdragon 8 Gen 2 Made for Galaxy. And its new S Pen and dedicated S Pen case are slimmer and much easier to store and transport.
It is a multi-tasking machine and during our
Galaxy Z Fold 5 review
, we found that it's an excellent device for that. However, if you don't see yourself using it to its full potential, maybe it's better to shop for a more orthodox phone shape, since the Fold will be thick and chunky.
Google Pixel 8 Pro
The biggest, best, meanest, smartest phone Google can make right now
PhoneArena Rating:
7.9/10
(currently in transitional period for new review scoring system)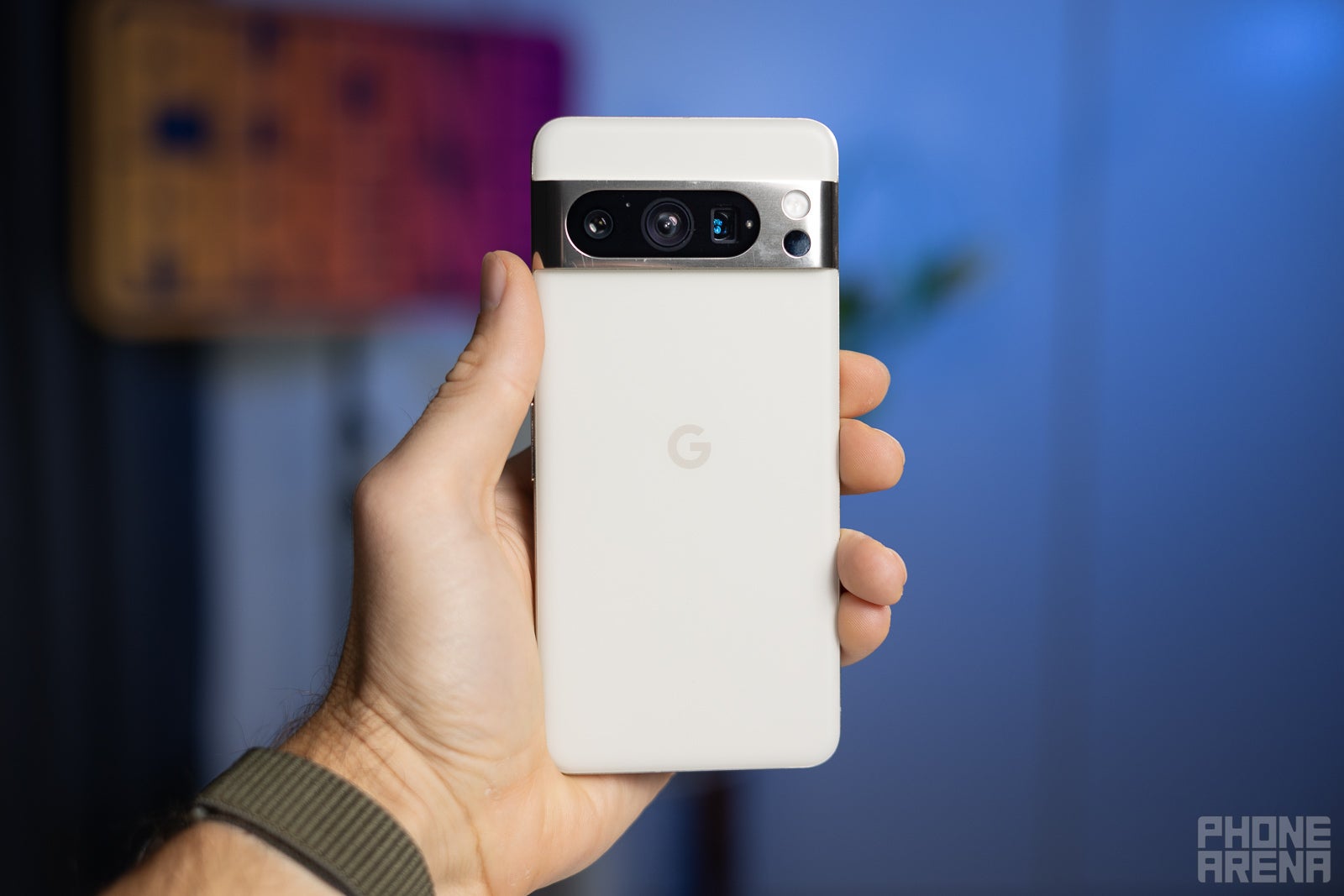 Image credit - PhoneArena
The
Pixel 8 Pro
is
the
Google flagship this year, carrying everything that Google believes an
Android phone
should be. The excellent camera system is backed by Google's famous algorithms and the
Tensor G3
's imaging pipeline to — again — give us some of the best photos that a smartphone is capable of. Combine this with lots of AI trickery and we go beyond photos, easily editing our images into the best version that they can be.
The phone also has a... hardware thermometer on its back, next to the cameras. And no, not for any magical photography reason, it really is... a thermometer for you to measure your temperature with. That's neither here nor there.
We have a new super-bright OLED screen on the front, 120 Hz of course. Google calls it Actual Display, proud of its qualities and capabilities to display HDR footage even under direct sunlight.
The
Pixel 8 Pro
also has a new face unlock system. It still uses the plain selfie camera for a 2D scan, which — in the past — was considered not secure enough. However, by leveraging AI, Google claims its new face unlock meets the highest security standards for Android biometric locks, and will be usable in banking apps.
Round that off with an excellent battery life and you've got yourself a winner!
More Google Pixel 7 deals here
Sony Xperia 1 V
Sony puts its DSLR expertise into a smartphone
PhoneArena Rating:
8.0/10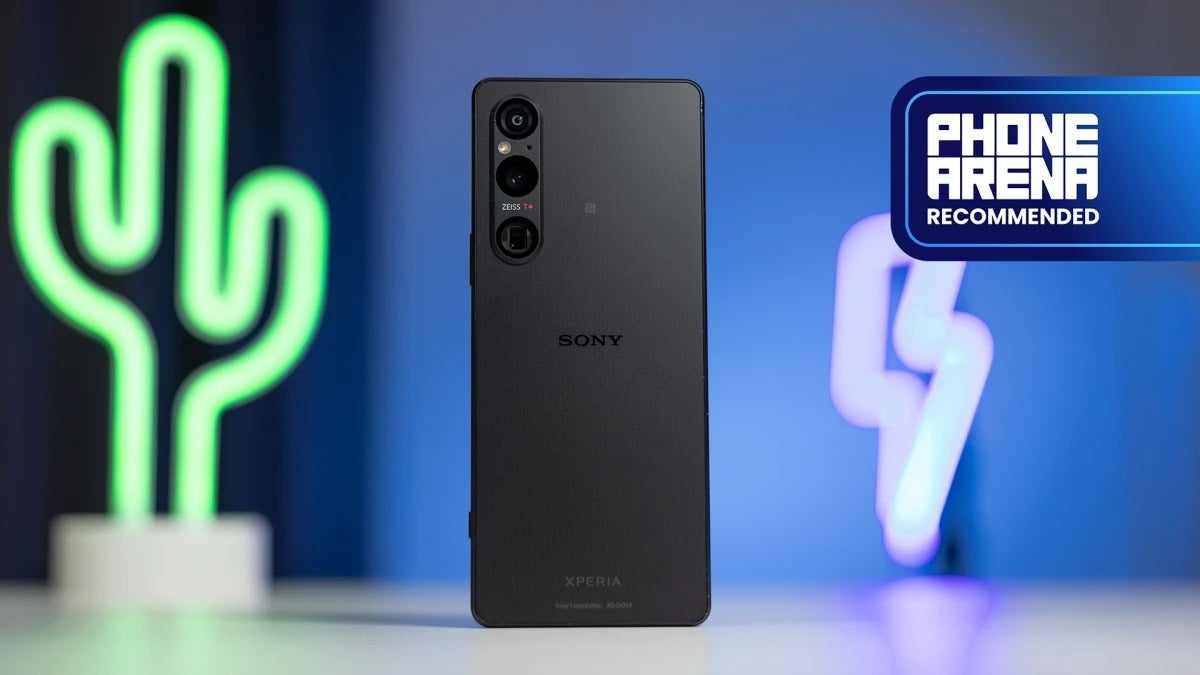 Image credit - PhoneArena
The Sony Xperia 1 V got a few much-needed upgrades, all fitted into a thin body with a familiar design. With the new Snapdragon 8 Gen 2 processor and, we assume, better optimizations, the Xperia 1 V does not suffer the overheating or throttling issues that plagued its predecessors.
In fact, it's quite a performer and it opens up entirely for your creative use — cinematic 4K video, or meticulously fine-tuned photos are at your fingertips with Sony's advanced camera apps (all three of them). In reality, it doesn't offer a vastly improved camera performance than other top-tier flagships on the market, but the way the experience is served will give photography fans something to play with.
To top it off, it has excellent stereo speakers, a headphone jack, and a microSD card — the latter two are a rare sight on a premium phone these days. During our time doing the
Xperia 1 V review
before the official release, we did encounter a couple of bugs, but nothing experience-breaking.
The Xperia 1 V will be out in late July, but pre-orders are open now:
Asus Zenfone 9
Probably the only compact Android flagship you can get
PhoneArena Rating:
9.1/10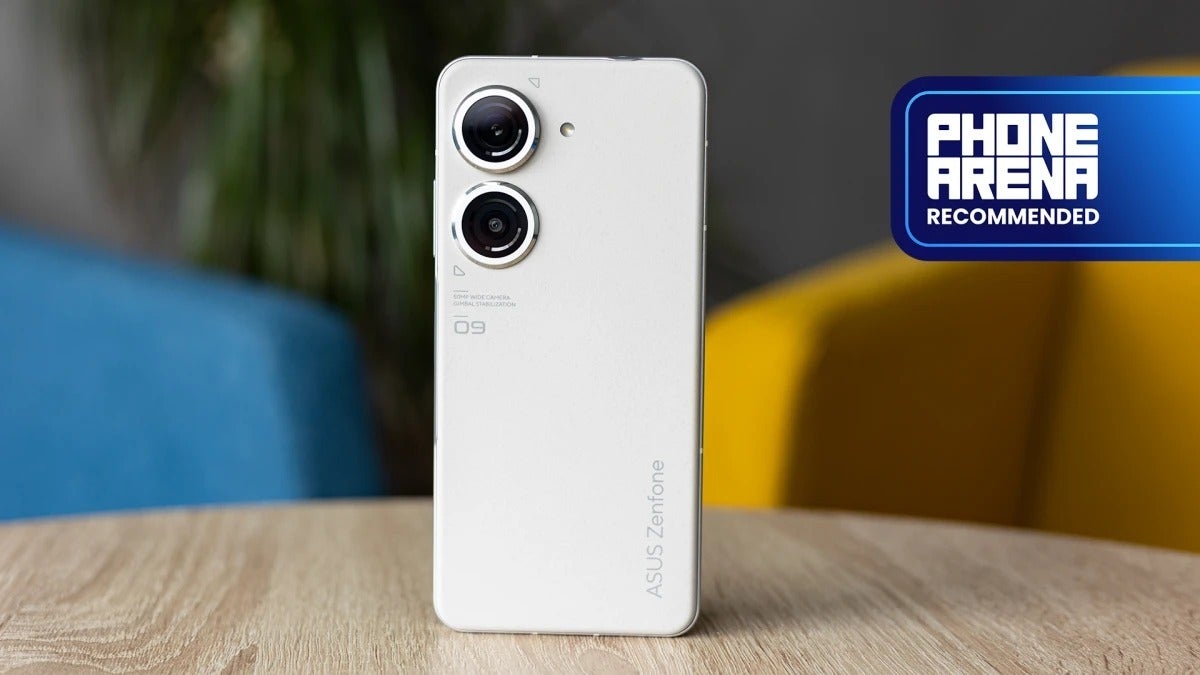 Image credit - PhoneArena
Note:

Zenfone 10 is about to launch at the end of June
The ZenFone 9 certainly got the tech industry rubbernecking when it landed. It's unique, it does its own thing, it looks... kind of posh?
The back is a soft texture that looks and feels special, unlike any of the finish or materials you can find on other phones right now. The camera bump is big, bold, and stylized, and its overall size is on the compact side — at least so far as
Android phones
are concerned.
As a pleasant surprise, it turned out to have a stellar battery life for a small phone, somehow managing to fit a 4,300 mAh cell under its hood. Unfortunately, there's no wireless charging, but we found the phone to juice up fast when on the wire and to last us quite a bit with Asus' excellent optimizations on board.
Speaking of Asus' software — it's pretty minimal, keeping the UI closer to that coveted vanilla
Android phone
experience that purists love. There are just a couple of bells and whistles on top that we mostly found improve the quality of life. No, it's not a Pixel phone, but it's a very good alternative and it looks stylish to boot.
All in all, we enjoyed our time doing the
Asus ZenFone 9 review
and it's our go-to choice when somebody asks about a small phone that doesn't make compromises in performance or camera.
Asus ROG Phone 7 Ultimate
The ultimate gaming smartphone
PhoneArena Rating:
9.0/10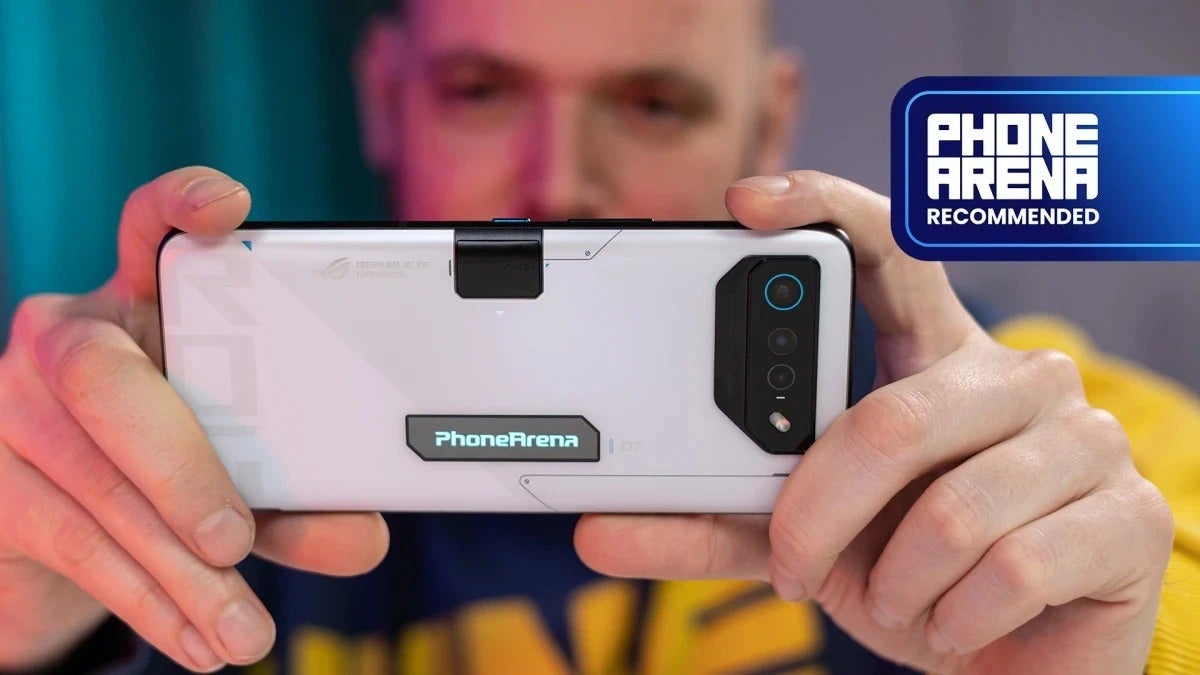 Image credit - PhoneArena
Asus is back to take the "Best
Gaming Phone
" title as it released the ROG Phone 7 and
ROG Phone 7 Ultimate
. But honestly, at this point — there's hardly a competition here, as Asus seems to be the only company out there launching super-specced, overtuned, massively over-the-
top phones
with mobile gamers in mind.
The ROG Phone 7 Ultimate has an aggressive-looking design, a tiny screen on the back whose sole purpose is to display custom logos, and 2 ultrasonic shoulder buttons for enhanced gaming. It wouldn't be a "gaming phone" if it didn't have absolutely silly specs, too, and the ROG Phone 7 Ultimate delivers. 16 GB of LPDDR5X RAM, a 165 Hz Samsung-made AMOLED screen and an external fan accessory that not only cools the device, but adds 4 hardware buttons and a chunky subwoofer in the mix.
And oh, the speakers sound so impressively huge and detailed — even if you are not using the subwoofer.
It's a niche phone, absolutely, but it's hard to keep it away from a "best" selection. Just with its specs and overclocking tuneups, it's probably the ultimate
Android phone
when it comes to raw power.
It also helps that Asus didn't stop at performance tuning — there are also plenty of battery optimization options to boost your battery life. Unfortunately, the ROG Phones don't support wireless charging, but you can top them up fast with the included fast charger and you can rest assured they will last for a long time.
Plus, it has a headphone jack, which is not something you see on just about every phone in the premium segment.
The camera has also gotten some improvements — photos taken with the ROG Phone 6 were already pretty good "for a
gaming phone
", and the ROG 7 just improves on that with new zoom algorithms and the ability to crop into the 50 MP sensor for "lossless zooming", thus emulating a 2x telephoto camera where there is none.
There is a non-Ultimate version available, too, which cuts down on a couple of the extreme features, but retains the excellent performance, battery life, and main camera. Plus, the regular model comes with an RGB logo instead of the secondary screen, which we know some people will prefer. The main difference between the two devices is that the Ultimate comes with the AeroActive Cooler accessory in the box, whereas the regular model doesn't.
Asus promises 2 years of Android updates for ROG phones, and 3 years of security patches which is on the lower end of update commitments. Which is a shame, seeing as how future-proof these devices are hardware-wise. We ran a lot of tests (and games) doing our
Asus ROG Phone 7 Ultimate review
and it was all fun... and games!
Excellent design and performance at a competitive price
PhoneArena Rating:
8.7/10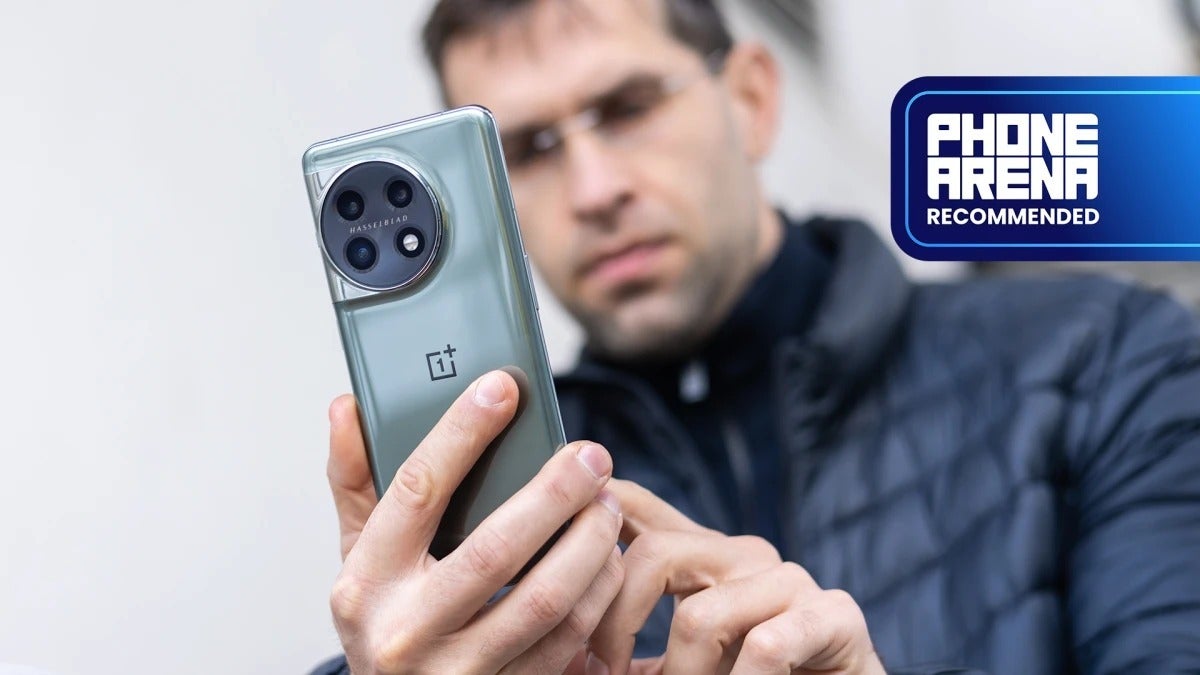 Image credit - PhoneArena
The OnePlus 11 marks a change of course for OnePlus, at least it seems to. You will notice that, in 2023, there's no "Pro and non-Pro" — there's only the OnePlus 11. The company stated that this is "the Pro", it just decided to not dilute its lineup by launching more than one device at the moment.
So, the OnePlus 11 has the fastest Snapdragon 8 Gen 2, upgrades to its Hasselblad-branded camera, and the same excellent design and snappy feel as before. We did note in our review that it's not great in terms of video recording and that it throttles a bit, but it feels great for just casual smartphone use and its pictures do not disappoint. And it has quite the distinctive looks, too, especially if you go for the shiny green color.
In general, it's an excellent phone hard to beat at the MSRP of $700, and you can read more about it and see camera samples in our
OnePlus 11 review
.
Clean Android, unique design, a promising startup
PhoneArena Rating:
8.5/10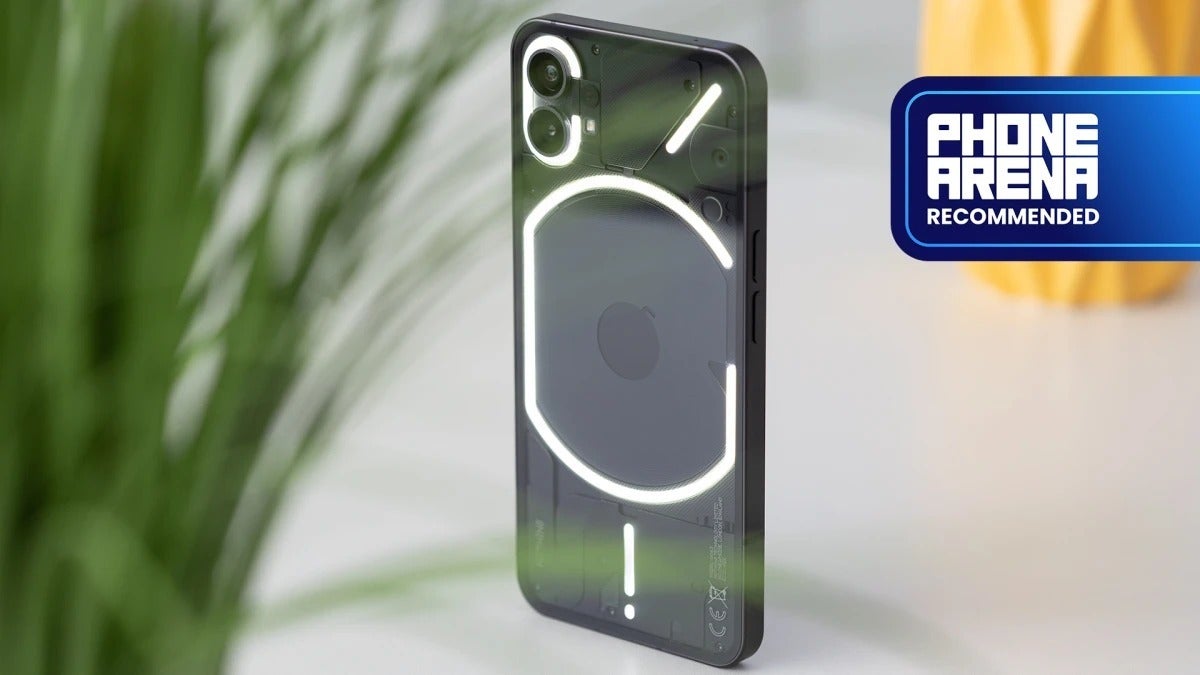 Image credit - PhoneArena
The company Nothing is still the "new kid on the block", but it's coming to the playground with poise and determination. It launched the Nothing Phone (1) to limited markets last year, and now we have the Nothing Phone (2), already available in the US.
It's a great phone in a unique, geeky, minimalistic style, with a light module on the back that can be customized to blink and glow in different patterns. The UI shines best when you use the Nothing theme with its icon pack, making everything black and white and sort of "taking company brands off of your homescreen", as Nothing would put it.

With a Snapdragon 8+ Gen 1, it's quite the performer, and we found its 120 Hz OLED screen to be pretty to look at, too. Our complaints with this one would be that its camera is not able to compete with other flagships out there and its speakers are a bit tinny-sounding.
Those things aside, it's an excellent alternative if you are hunting for a more niche device that's supported by a passionate manufacturer behind it. Nothing is currently in the upswing and while we have no idea what will happen in the future, the company is very determined to make a dent in the market.
Since it's still a small company, official units of the Phone (2) are only available for sale at Nothing's website.
Shop Nothing
Motorola Edge+ (2023)
Slim design, great style, tons of storage
PhoneArena Rating:
8.5/10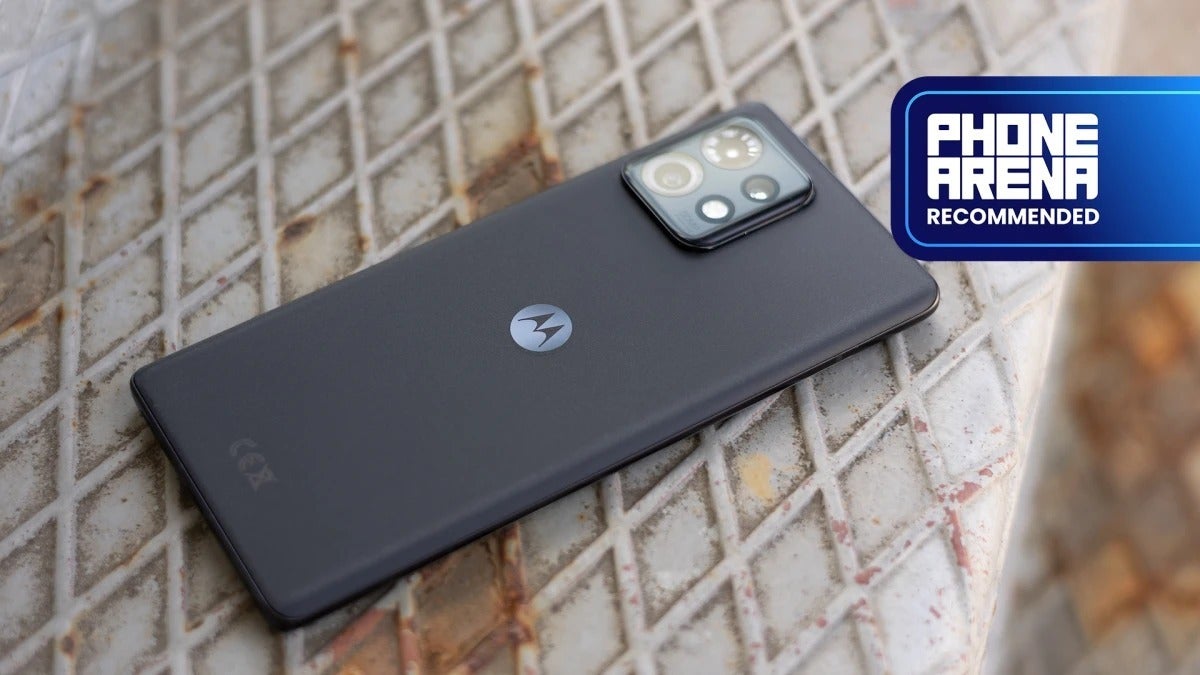 Image credit - PhoneArena
Motorola is typically known for dropping really well-made value-priced phones. The Moto G series have long been the poster boys for bargain smartphones. The Moto Edge series typically aims for the premium market, but usually with an "affordable" take.
Not this one, though. The Motorola Edge+ (known as Edge 40 Pro in international markets, which causes some confusion) goes all the way — with a 165 Hz screen, Qualcomm Snapdragon 8 Gen 2, attempted camera improvements, and insane 125 W fast charging.

The typical clean Motorola software here gives you an almost pure Android experience, and the signature gestures are still around. The cameras are not on par with the top-tier competitors, but we really liked its Portrait Mode shots as we were doing our
Motorola Edge Plus review
.
Motorola Razr+ (2023)
All-screen front, Motorola doubles down on the premium clamshell
PhoneArena Rating:
8.5/10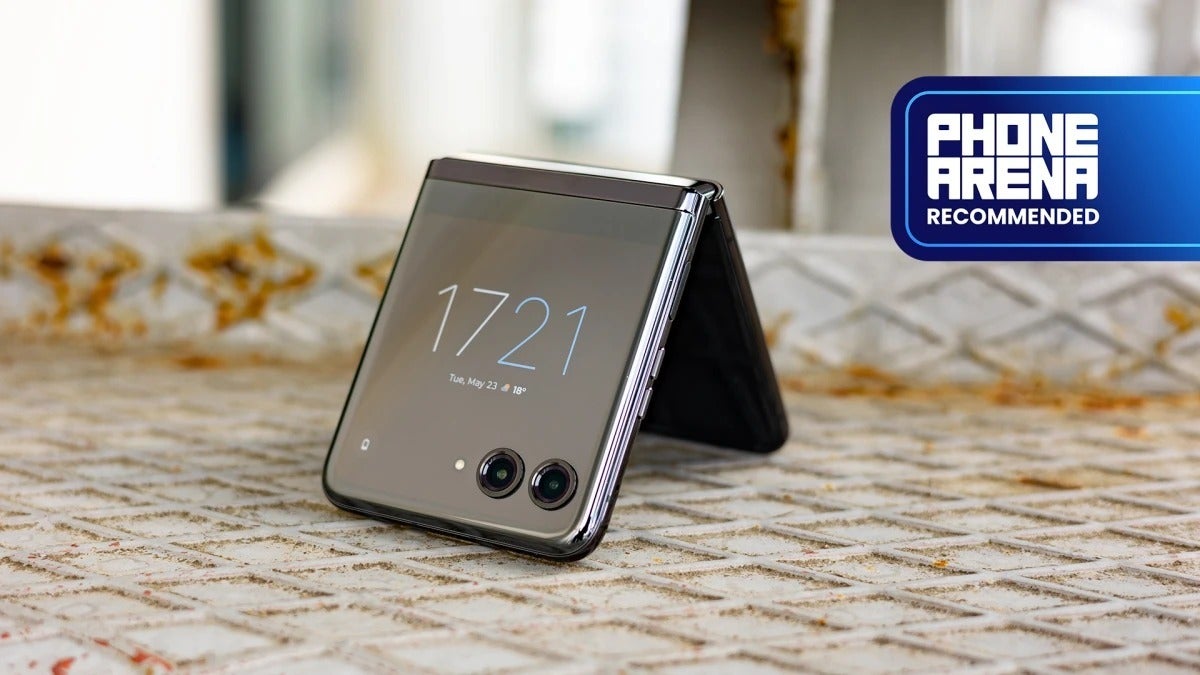 Image credit - PhoneArena
This year, Motorola gave us not one, but two foldable Razr phones. The Razr+ here (called Razr 40 Ultra internationally) is the more premium option, with an external screen that literally covers the entire top shell of the phone. It definitely looks expensive, but the feel doesn't match that look as the hinge is slightly wobbly at certain angles. To sandwich this with another positive, though — there's next to no crease on the internal screen, and not much of a gap between the shells when the phone is closed.
On the inside, it has last year's best Android chip — the Snapdragon 8+ Gen 1. Weird call by Motorola, probably some corners had to be cut for pricing reasons, but the Snapdragon 8+ Gen 1 is still a very good SoC. The fact that there's a Gen 2 out now doesn't take that away from it.
Its cameras are definitely above average, but they can't touch the quality of chocobar smartphones that have the room for better sensors and better lenses. We talk about this and a lot more in our
Motorola Razr+ review
.
Samsung's solid midranger
PhoneArena Rating:
8.5/10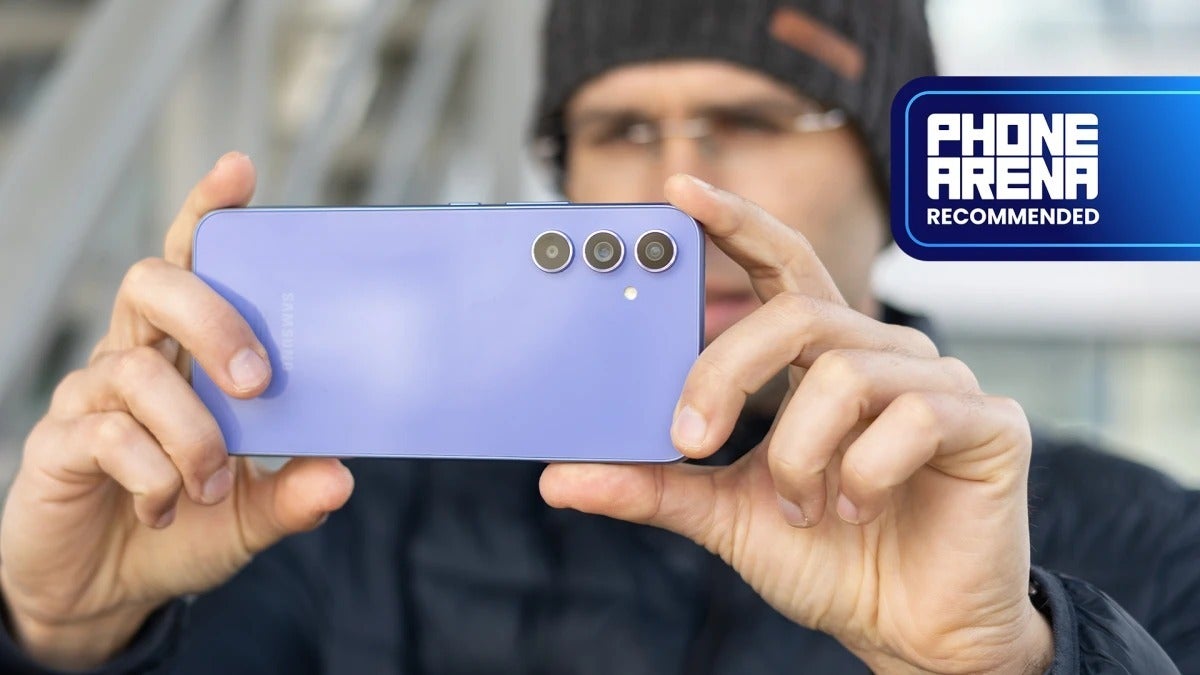 Image credit - PhoneArena
Samsung has been knocking it out of the park with its midrange A series over the past couple of years. The Galaxy A54 specs hit just right and the phone offers the full Samsung experience at a much lower price than the S series (well, minus an S Pen, we can't go that far). Unless top-of-the-line features and specs are absolutely needed, this is arguably the perfect
Android phone
for most people, as it should check the necessary boxes for all but the most hardcore Android users.
It sports a big, beautiful 120 Hz Super AMOLED display, a respectable camera setup with optical image stabilization, good stereo speakers, and good battery life. No zoom camera, and portraits are limited to wide-angle only, but corners needed to be cut.
But hey, Samsung will be keeping it to the latest Android version for four years post release, which is flagship treatment.
Its downsides are its somewhat bulky plastic build and, as is to be expected, its somewhat lower-tier (but still pretty stable) performance. Plenty of camera samples and performance benchmarks can be found in our
Galaxy A54 review
.
Browse the best Samsung Galaxy A54 here
Honorable mentions
With so many phones out there nowadays, how do you just pick 10 and call them "best"? You can't... that's why, we felt like a few still needed to be called out in a honorable mentions segment. These are in no way worse than the ones above, they are just not much different than others that already made the top 10.
Two sides of the same coin... well, one side is bigger
PhoneArena Rating:
8.5/10 - 9/10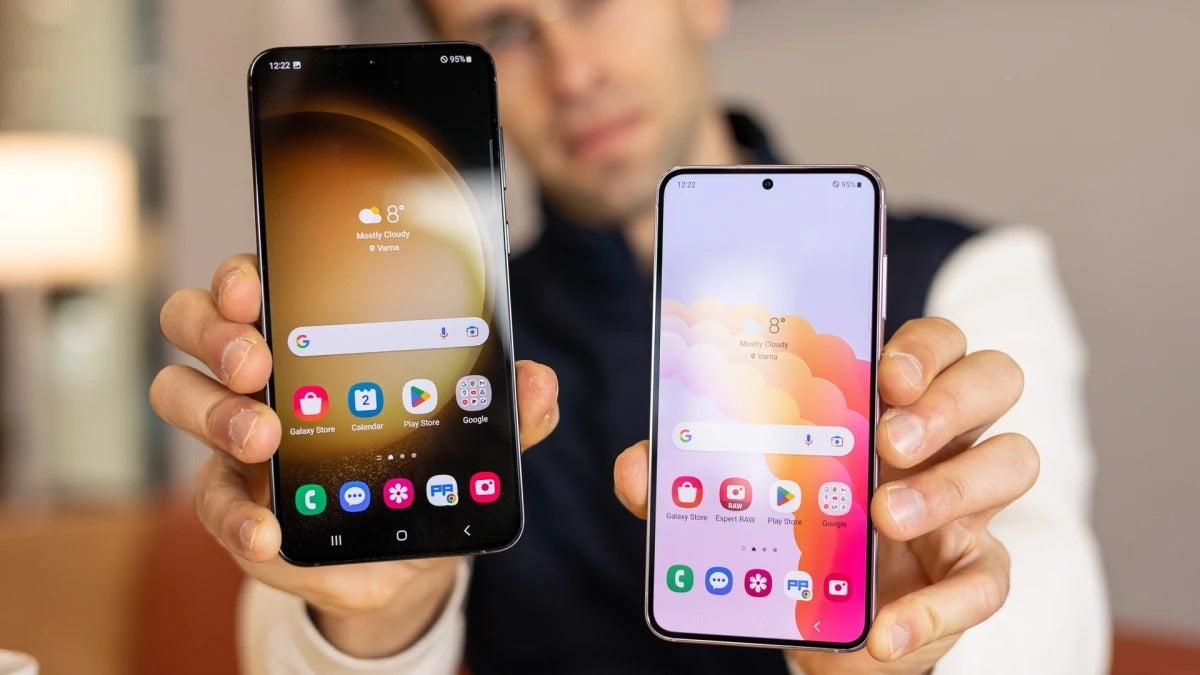 Image credit - PhoneArena
While the
Galaxy S23 Ultra
is a whole different beast, these two are almost the same phone. The S23 is there for those that prefer a more compact experience (though, it's not really small) or would like to save an extra buck. Otherwise it has mostly the same internals as the S23+ and S23 Ultra, as well as the same cameras as the S23+.
The one thing to be careful of is the base
Galaxy S23
with 128 GB storage — that's the only one that still has UFS 3.1, which is a slower storage chip than the new UFS 4.0 that all other Galaxies are using.
They don't have quite the camera performance and features of the Ultra, but they are not bad at all — in fact, they have excellent cameras in their own right. Since the
Galaxy S23
and
Galaxy S23+
are more accessible price-wise, it can be argued that they are Samsung's duo of flagship phones, while the Ultra is the enthusiast device.
The Plus version is slightly bigger — its screen size is almost as big as on the Ultra, so if you want that big
Samsung phone
experience but don't care for the insane 100x camera, this one is your next best bet.
As for design, they are often considered the most premium
Android phones
, due to their pristine build quality and beautiful AMOLED screens. We compared the
Galaxy S23+ vs the Galaxy S23
in-depth to help you choose the right one for you.
Google Pixel 7
Google's last year Pixel is still a lot of phone for the money
PhoneArena Rating:
8.8/10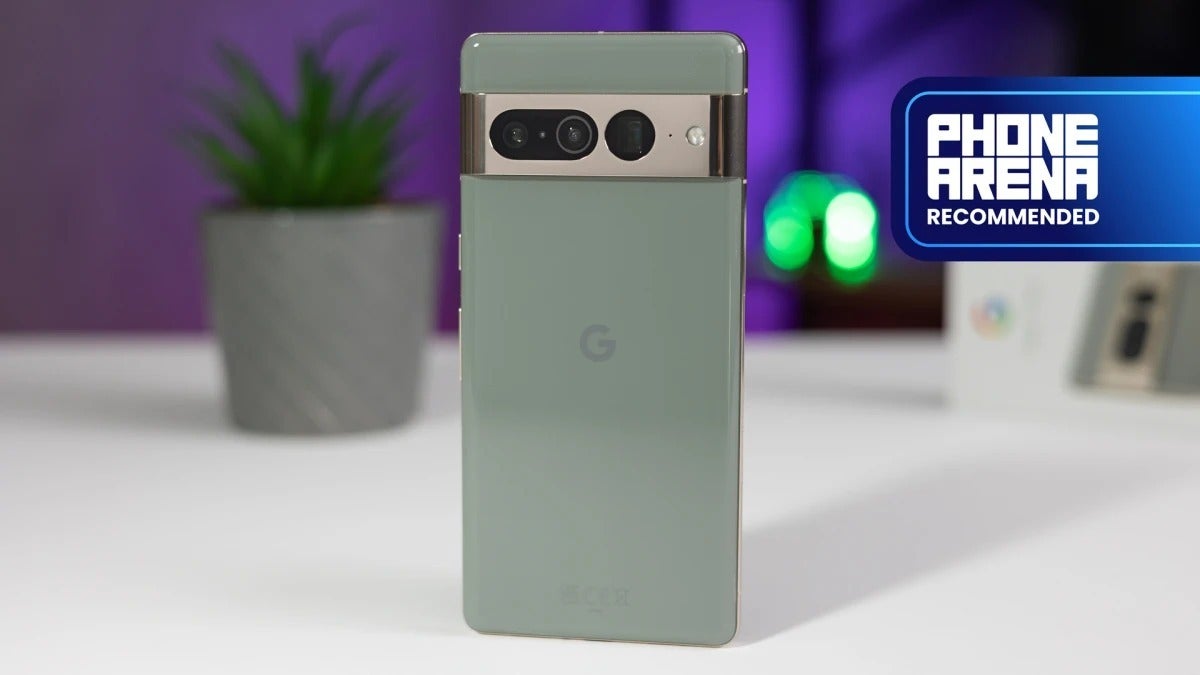 Don't get us wrong — the more expensive
Pixel 7 Pro
is an excellent flagship phone, shiny and fast, with a trio of excellent cameras. But we can not turn away from the amazing value that the base
Pixel 7
gives us. The same main camera as the Pro model is here, the same Tensor G2 chip hums under the hood, and the pretty AMOLED screen has a 90 Hz refresh rate, which is not as smooth as 120 Hz, but still feels like an improvement over the 60 Hz of days gone.
Furthermore, the
Pixel 7
gets the full suite of Google features — the text-to-speech, the Assistant screening calls from unknown numbers for you, the "Magic" photo editing features that allow you to erase objects or move them around a photo, unblurring old images, and others.
The
Pixel 7
launched for $599, which is already a great price for the value you get, but often gets discounts of up to $200 off, which basically makes it a deal and a steal. Do read more about it in our
Pixel 7 review
.
Best Android phones - benchmarks and test results
Of course, we have the raw numbers. All of these phones have been reviewed and ran through our regular benchmark tests. You can compare them below
Now moving to performance, let's see which one is the fastest out there.
And finally, the battery. A phone can be amazing on all fronts but if the battery dies prematurely, it's as good as a door stopper, right? Here are all the battery tests for the
best phones
you can get.
Best upcoming phones in 2023
Why should you trust this buying guide
The Author
Preslav Kateliev
has owned and used a large number of smartphones, ever since he got his 2008 Sony Xperia X1 (Remember Windows Mobile 6.1? Yeah, that was a thing). Naturally, his expertise has grown exponentially since he joined PhoneArena in 2014 and has reviewed multiple
Android phones
— from budget devices to the top-tier flagships.
The Publisher
PhoneArena was founded in 2001 with the sole purpose to demonstrate and compare the capabilities of mobile handsets from the get go. With 20-some years of experience, we serve an audience of over 5 million monthly US readers and continuously evolve our expertise to keep up with the trending technologies and evolving consumer needs.
The Approach
Since there isn't one "best
Android phone
", it's more important to consider which devices have strong selling points and negligible cons. However, even then, different users will prefer different features, designs, or price points. This is why, we point out the
best

Android phones
that are worth your consideration. The rest is up to you!
How to pick the best Android phone?
There are two ways to look at what makes the
best

Android phones
— is it the one that's jam-packed with all the bleeding edge features, or is it just the one that will do a great job at a reasonable cost.
Obviously, depending on your budget, "reasonable" is a variable that we can't identify.
But here's what we look for in a "decent"
Android phone
— battery life that can take you through a day with casual usage, without going under 20% and activating our low power phobia. A camera that doesn't need to best, but is capable of taking pretty photos in most common scenarios. And a performance that doesn't make us anxious with small stutters or long load times.
All of the phones we've listed here cover these basics. Of course, if you don't mind spending some extra cash, you will find the
best

Android phones
near or slightly north of that $1,000 threshold.
Then, you also want to consider aesthetic. We'd say all Android manufacturers have improved on the design front and are either looking to make a device that looks unique, or at the very least presents itself as a stylish accessory. It's up to you to decide which one you like most, of course. But all of the phones on this list defy the old stereotype that an
Android phone
can look like a flimsy plastic rectangle.
How we picked the phones in this list?
Of course, we can't talk about the
best

Android phones
without pointing out the heavy lifters and their insane specs — like the Galaxy S22 Ultra and the ROG Phone 6 Pro. And it's important to also consider what makes this
Android phone
special when compared to other phones.
But then, there are also the devices that don't break the bank, which are still perfectly good and have an unique spin of their own.
We run all phones through our proprietary battery life test, we measure their screen brightness and color accuracy, and we have them pass multiple perfomance benchmarks — not just to measure processor speed, but to see how it does when forced to throttle. On top of all of that, we also spend time with the phones, making sure how it actually feels and responds when being used for casual daily smartphone needs.
Also, it's important that a phone has some sort of future-proofing, so we made sure the brands have a good history of updating and customer support.
An outlier here is the Asus ROG Phone, as Asus still only promises 2 years of Android updates, when the industry leaders have moved to 3 years and beyond.
Each phone in this list has scored high in our reviews, where we consider phone features and performance and compare it to price before passing final judgment. If any model tickles your fancy, be sure to read the full review and make the best informed decision for your next purchase!
Recommended Stories