Apple iPhone 11 Pro and Pro Max Review
99+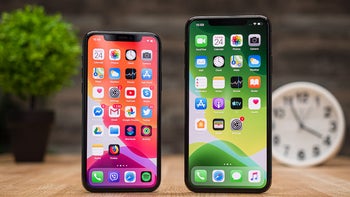 What would make you buy a new phone?
A better screen? Most phones have solved this with OLED display technology a few years ago. A faster processor? Sure, but all phones these days have ridiculously fast processors. A better camera? That's a big one for some people, memories do matter. But after living with the new
iPhone 11 Pro
series, the one thing we are impressed most with is actually quite simple: those iPhones won't die on you before you get home from work. Yes, they are slightly thicker (you probably won't even notice), but they last a LOT longer.
No more running around with a ridiculous battery case, no more trying to find that power outlet at the airport. And when you get low on juice, you have a fast charger in the box that would give you a 50% charge in just half an hour. Apple should have done this a long time ago.
As for all the rest, let's talk it up in the full review.
TL;DR
| Contents | Main takeaways |
| --- | --- |
| Design | Both new Pro iPhones feel premium with a solid construction and a polished stainless steel frame. The iPhone 11 Pro is pleasingly compact, while the Max is on the bigger side and it's also one of the heaviest big phones out there. |
| Display | The OLED screens are the main reason why you should buy these over the cheaper iPhone 11. Those screens look great with stunning colors. Pro features like higher refresh rates, however, are missing. |
| Camera | The new triple camera is the most versatile yet in an iPhone. Ultra-wide camera captures a lot more in a single shot. The big improvements, however, are not mentioned in specs: the main camera captures much sharper images, it supports night mode and video is the best you can capture on a phone. |
| Performance | The new A13 chip is much faster than the Snapdragon 855 on most Android rivals. It ensures buttery smooth performance in daily tasks and that speed is what allows iPhones to receive updates for much longer. |
| Battery Life | Arguably, the biggest upgrade from the XS series. The new iPhones have nearly 30% better battery life than the XS series. |
| Conclusion | These new iPhones are excellent. The battery life and better camera are the most noticeable improvements. The prices, however, are still a lot higher than the competition. |
What's inside the box:

iPhone
18-watt Fast Charger (Finally!)
USB-C to Lightning cable
Apple EarPods (with Lightning connector)
SIM tool
User Manuals
Apple decals
Design, Sizes and Colors
After using these iPhones for a while, I don't quite feel that naming them "Pro" does them justice. They are not "professional" in any obvious way, they can't do anything extraordinary that you cannot do on other phones, but what they feel like for sure is "Luxury". The stainless steel frame gives the Pro series a luxurious feel in the hand and it's a beautiful mirror-like finish that looks exquisite.
The other thing about the Pro iPhones is their size: the more affordable
iPhone 11
is a wide phone that is a bit too wide for a comfortable grip, while the 11 Pro is just the right compact size that you can operate with one hand. It's also one of the most compact phones that you can get today, and while we are obviously not getting an
iPhone SE
2, this is the closest you can get to it. The larger 11 Pro Max, on the other hand, is best for productivity and enjoying media on a larger screen.
And then, there are the colors: you have four color options this year. All Pros come with a frosted glass back, a change from the glossy glass on the XS series. The best thing about this finish is that you can't see fingerprint smudges on it and it just looks clean. I also find the matte finish more comforting to touch. The new colors all look a bit more muted and not quite as intense: the "Midnight Green" option is the new one, and it deserves its popularity, it's just a very nice seafoam, pastel shade of green that looks good from different angles. The gold option is not as gaudy as last year, although the shiny stainless steel frame still looks a bit too extravagant. The silver and space gray options are also available.
But these are better screens that get brighter than before, consume 15% less power, and have a higher contrast. The brightness goes up to 800 nits when you are outdoors, so you can better see the screens on a sunny day, and indoors, it can go up to 1200 nits when you watch a movie for a more vivid experience. We did not think this would be a big difference compared to last year's XS, but it is. When you look at the two side by side, the difference is easy to spot and this new screen truly takes things to the next level. And the difference is even more striking when you compare it against the LCD screen on the regular iPhone 11.
Portrait mode now works with both the main and the telephoto cameras on the 11 Pro series. Previously, you could only take portraits with the telephoto camera, which did not do a great job in low light, and we are happy that Apple now allows the main camera to be used for portraits for those more challenging shots.
Another key improvement in video recordings is the stabilization which now seems almost gimbal-like and allows you to shoot even in a fast moving car without too much jitter. Compared to rivals like the Galaxy series where you have the Super Steady mode, here you don't lose that much in terms of quality, so footage still looks extremely clean.
One complaint we have about the video app is that there is STILL no way to select different video resolutions in the camera app and you have to open settings and switch to 4K or 1080p or 720p from there, which is just annoying.
The new Apple A13 Bionic chip inside the iPhone 11 Pro is an absolute beast. This is the fastest chip you can get on any smartphone in late 2019, beating the Snapdragon 855 by a sizable margin.
The improvements are in both performance and power efficiency: you get a 20% boost in performance and up to 40% boost in efficiency for both the CPU and GPU. You can read a lot more in our detail dive in the A13, or you can check out the main highlights below.
Benchmarks
The base iPhone 11 Pro and Pro Max models both start at just 64GB of storage, with no microSD card slot available, so there is no way to expand the existing storage. Apple is the only company to ship a flagship phone with just 64GB of storage in late 2019 and this is not really okay: 64 gigs is enough in the beginning, but after a few months, photos and videos start to pile up and many users will find themselves in need of more space. If you are a "Pro" user as Apple suggests, it's very likely that you will need a lot more storage.
That is why we recommend getting the Pro phones with either 256GB or 512GB of storage. Apple, however, charges a huge amount of money for those models:
That's a lot of money for extra storage and we just feel like Apple is being a little cheap with the base 64 gig option it offers.
And when compared with the rest of the market, the "Pro" name is not quite justified: these iPhones lack a super-zoom camera that we have on Huawei phones, they lack the 90-hertz super fast refresh rate of the OnePlus, or the super fast charging rates that we get on other phones. Maybe semi-Pro? I guess that wouldn't sit all that well in an Apple Store.
And while they may not feature the most cutting-edge innovation, the iPhone 11 Pro series are beautifully conservative. These are not your first-gen products with pop-out cameras or folding screens that you are not sure will survive over the long term. These are a familiar product that you are comfortable with and not necessarily want to fundamentally change, just improve iteration after iteration.