iPhone 12 Pro Review
27
We may earn a commission if you make a purchase from the links on this page.
The iPhone 12 Pro is an interesting new iPhone that seems to bridge the gap between past and future. In a way, it reminds us of those classic and highly-esteemed iPhone 4 and 5 shapes, but at the same time, it's acknowledging the modern technological trends and boldly stepping into new territory, such as 5G networking.

In some ways, it's an iterative improvement over the 11 Pro, but in others, it's actually a rather significant, albeit subtly presented departure. Usually, such efforts are rewarded with success, but the key question is does the iPhone 12 Pro bring enough new things to the table to make users switch or upgrade, especially this year, when few can enjoy the luxury of certainty?
Here are the several big changes iPhone 12 Pro brings:
New design
Improved camera
5G
Who should consider buying the iPhone 12 Pro?
Now, in case you're one of the 2 enthusiasts out there who can't wait to get on a 5G network, the answer to the question above is quite simple: yes, you should probably get the iPhone 12 Pro.
For everyone else, things aren't so simple. Typically, upgrading to a new phone each year is a waste, so I would say if you're on the iPhone 11 Pro, stay there. Actually, the same goes for iPhone XS users, and even most iPhone X users, as these phones are still plenty fast and perfect for most use cases. If you tend to do stuff that is particularly demanding for the CPU or camera, whatever that may be, then maybe you should seriously consider jumping from the iPhone X to the iPhone 12 Pro.
The iPhone 12 Pro is a mostly safe upgrade if you're currently on an iPhone XR or an iPhone 11. Not because of any performance concerns, but only because of the screens, more versatile cameras and fancier design. If the larger panel of the XR or 11 was a driving factor, you'll be pleased to experience the same screen size with the iPhone 12 Pro, as it is now a bit bigger than what was found on the iPhone 11 Pro or previous generations.
Now, the iPhone 12 Pro is still ridiculously expensive, starting at $999 for 128 GB of storage (finally!), and then moving up to $1099 for 256 GB, and $1299 for 512 GB. Obviously, that's an insane amount to pay for a phone, so whoever we're addressing here, our advice would be to consider how intensely you're going to be using your phone and for what purposes, before taking the plunge.
iPhone 12 Pro design
After several generations of steady bulking, the iPhone has finally gone on a cutting diet. It's become a bit thinner and lighter than the 11th generation, but not by much. Overall, the footprint of the iPhone 12 Pro has been reduced in all dimensions, which is a welcome improvement.
The iPhone 12 Pro is one fine looking phone. I wouldn't say it's reminiscent of the iPhone 4 or 5 too much, even though it follows the same basic design ideas. The main change from before is the new flat metal frame, which is no longer rounded like in the previous generations. This makes the iPhone 12 Pro more practical in some aspects, and less so in others. For example, the more angular shape generally makes it easier to pick up and harder to drop, but it also doesn't feel as smooth and comfy in the hand.
It's almost impossible to make a definitive conclusion as to whether the iPhone 12 Pro design is better than that of the 11 Pro, XS or X, at least from an aesthetic point of view, but yes, it looks fresh. It feels more like a tool, a down-to-business version of its predecessors, which felt more like shiny, elegant pieces of technology. Again, both design directions have their pros and cons; the thing is I can't get myself to proclaim the iPhone 12 Pro's design as a definitive improvement, and that was unexpected.
Apple
tends to add a new color scheme with each generation, and we're glad the 12 Pro isn't an exception. Joining the black, silver/white and gold is Pacific Blue, which has a very classic navy blue tone to it. It's quite the timeless color in fashion and accessories, so we don't expect it to go out of style anytime soon. You can learn more about the
different iPhone 12 pro color models
here and make a better decision as to which one you should go for.
iPhone 12 Pro display
Not much has changed since last year's iPhone 11 Pro in the screen department. The iPhone 12 Pro keeps the Super Retina XDR OLED display technology with its outstanding color fidelity, contrast and brightness, but scales the real estate up from 5.8" to 6.1", and the resolution to 2532 x 1170 px for a superb PPI of 457. It is a gorgeous display, simple as that.
Thanks to the redesign done to the phone's body, the larger panel has been fitted into a phone that is just slightly bigger than last year's flagship. This isn't so much a function of thinner bezels, but the fact that the new, flat frame doesn't protrude as much as the rounded one of previous years.
Another big upgrade the screen has received is called Ceramic Shield. It doesn't change anything with regards to the viewing experience, but has to do with the durability of the protective glass.
Apple is quick to throw in a ton of heavy techno-marketing talk along with Ceramic Shield, such as "Nanoscale ceramic crystals" and "Dual ion-exchange process", but the bottom line is the protective glass should be about four times less likely to shatter after a drop. Which is a good bottom line.
Display measurements and quality
iPhone 12 Pro camera
There are some notable upgrades done to the triple-camera system of the iPhone 12 Pro. In fact, Apple is counting on the camera to be one of the main reasons why people would go for the 12 Pro rather than the 12.
The addition of the new LiDAR sensor is worth a mention, as this piece of technology will now allow you to take portrait mode photos even in low light with Night mode on. What LiDAR does is it shoots invisible light beams that help it build a 3D-aware map of the environment. This way the iPhone 12 Pro can easily collect depth information even in challenging situations. The LiDAR sensor could come in handy in certain fields of work, such as interior design, but so far it's clear that we're waiting for more consumer-level benefits to be discovered for this technology.
Moving on to more standard camera specs, the other main benefits this year come from a wider, f/1.6 aperture and a new, 7-element lens. These upgrades allow for 27% more light to reach the sensor and better overall image sharpness.
The hardware upgrades are accompanied by enhanced computational photography algorithms. The iPhone was already quite adept at boosting the brilliance of its photos using "Smart HDR", so now we're expecting even better results.
Photo quality
So some technical elements of the camera have been improved, but we challenge you to find any big gains from the 11 Pro. Photos from the iPhone 12 Pro camera turn out with the same basic characteristics, including the exposure, details and color profile. That is to say, they are great.
The difference against the iPhone XS generation is more dramatic, especially in some of the scenes, where the superior exposure and HDR techniques of the 12 Pro do impress. This also includes night scenes, where the iPhone 12 Pro benefits from Night Mode. Not only is the 12 Pro dramatically better than the XS and previous generations in low light, but it's also noticeably better than the iPhone 11 Pro, which has the first-gen Night Mode that's good, but not as refined as what we have here. It's quite disappointing that Apple won't make the improved Night Mode available at least on the 11 Pro, but it credits its new internals as the reason it was able to come up with the new Night Mode in the first place. What a convenient excuse!
The triple camera system works as before, you have an ultra-wide cam, a regular wide one, and telephoto. This combination gives you quite a bit of flexibility on how you'd like to approach a scene, and of course, the execution on Apple's part is quite spot on, thanks to fine touches like having all three cameras perfectly synced in terms of white balance and exposure, so that you don't experience weird differences in photo characteristics as you're switching between cameras.
Aside from the iPhone 12 Pro camera's impressive exposure abilities, we continue to notice Apple's trademark bias towards warm colors here. As usual, this is mostly a matter of taste, and we guess pumping out warm photos is what most users prefer. For the purists out there, you'll have to touch up your photos in post editing.


Speakers
As usual, the audio coming from the iPhone's stereo speakers is amazing (for a phone). If you're still using an old iPhone with just a bottom-firing speaker, you definitely should hear how an iPhone with stereo speakers sounds.
The iPhone 12 Pro again employs the familiar setup of a bottom-facing speaker and the powerful earpiece, and it works like a charm. The sound is as deep and bright as it gets on a phone, so if there's an enjoyable way to experience your YouTube videos on the go, this is it.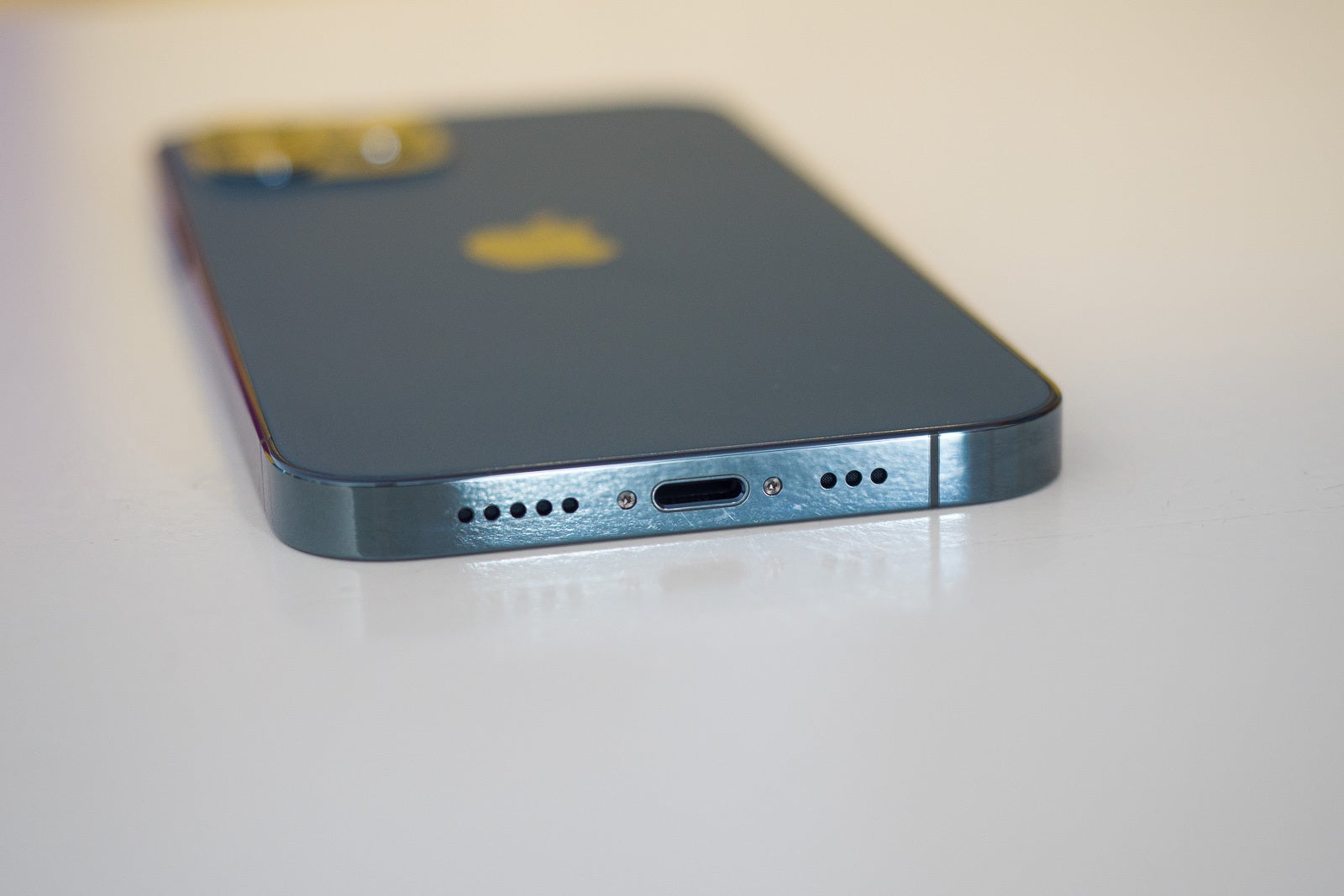 iPhone 12 Pro software & performance
New iPhone, new A-series chipset with record-breaking performance. We're at A14 Bionic now, for those who're still counting, and Apple promises up to 50% better CPU and GPU performance compared to last year.
The A14 Bionic is actually interesting for tech reasons, because it's the first mobile chipset built on the 5 nm process. That allows it to be faster and more power efficient, which are all good things. Even though the battery inside the iPhone 12 Pro is actually slightly smaller than that in the 11 Pro, battery life is still increased noticeably.
Of course, there's plenty of power inside the iPhone 12 Pro and iOS 14 runs flawlessly. Most of the time, you can't really notice any difference in performance between the iPhone 12 Pro and the XS (and even the X), but in certain special instances and screens, which seem to be more tasking, you can actually feel the extra power in the A14 Bionic.
iOS 14 brings a bunch of interesting things like widgets on the homescreen and a dedicated app drawer, none of which is in any way innovative, of course, as we've seen it in various shapes and forms on Android.
In recent years, Apple's grown accustomed to trying out new features and completely remodeling them based on the user engagement they get, so we wouldn't be surprised if both widgets and the app launcher get revised at some point in the future.
iPhone 12 Pro 5G connectivity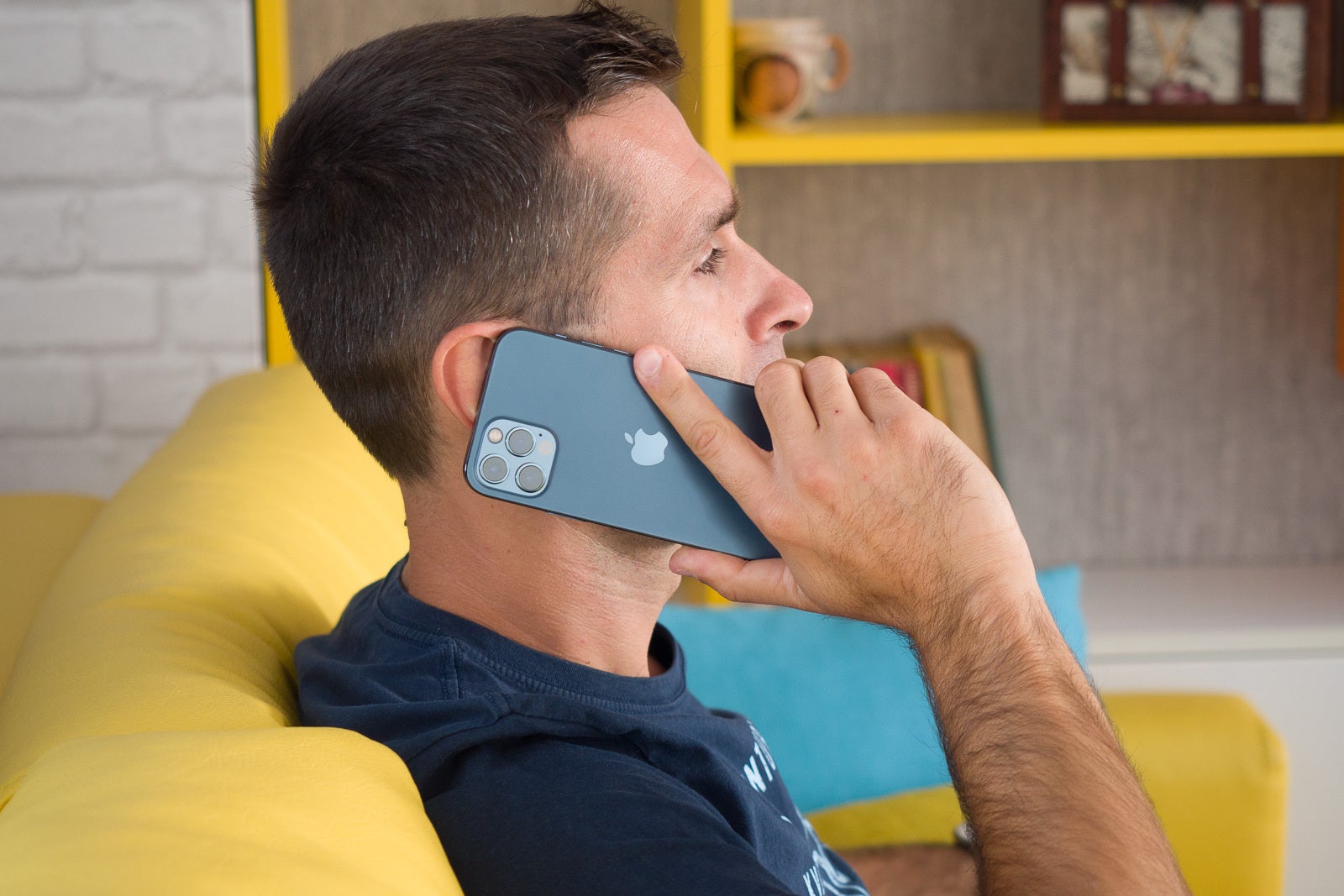 So, probably the biggest news on the iPhone 12 family is 5G support.
For the first time ever, 5G is coming to the iPhone, and the big question is… so what?
Well, all the basic benefits that you'd expect from a faster network connection are here, including faster download and streaming speeds, reduced lag and overall better performance while operating on a congested network.
The iPhone 12 Pro also covers an extensive number of bands, so you should be getting 5G just fine in most places around the world where 5G has been rolled out. You can
check all the iPhone 12 Pro 5G bands here
.
5G is expected to play a big role in our digital future, but at that point, as the networks are still being built, it's just mostly potential. Apple promises that all the tech benefits of 5G open up "amazing possibilities for the future of apps", but that is still more promise than anything else. In any case, if you are worried about harmful effects on the iPhone 12/Pro, or don't want the next-gen connectivity to knock off your battery life and/or data allotment, here's
how to turn off 5G on the iPhone 12 Pro
.
How to turn 5G off on iPhone 12 Pro
Of course, if 5G doesn't happen to be your thing, for whatever reason, maybe you don't want the extra toll it has on the battery, or maybe you don't want to be among the early adopters, you can turn it off. Just go to Settings -> Cellular -> Cellular Data Options -> Voice & Data, and switch from 5G to good-old 4G LTE.
iPhone 12 Pro battery life
Oops, this is where it gets tricky.
This year, Apple is reducing battery capacity across the board, which is always a downer, but that's been needed to acquire the slightly thinner profile of the phone. The 5nm chipset here works wonders, though! It consumes significantly less power for the same demand, it actually allows the iPhone 12 Pro to achieve better battery life than its predecessor. This is particularly impressive when you consider that it also has a bigger screen!
In other words, let's enjoy these 5nm chipsets now, because we don't know when we'll be able to make a jump to a smaller process again.
On our custom browsing battery test, the iPhone 12 Pro lasted for 12h 30 min, which is the same result as that of the iPhone 12. Makes sense, considering they have the same screens, chipsets and batteries. Now, hoping for full 2 days of battery life with moderate usage would be a bit of a stretch. You'll have to be quite modest with your use and the activities you put the phone through to get through 2 full days on a single charge, but a day and half is definitely attainable.
The question is, if you can safely get a day and a half, in most cases that still means it'd be best to leave your phone on the charger overnight, because why not. Such practice greatly reduces the risk of ending up in a sticky situation with dangerously low juice in the tank of the phone.
The power adapter
has sadly been left out this year, which means you'll be getting one separately, or just use one of your own. It'd be surprising if you don't have a charger of some sort at your house at that point. Actually, investing in a wireless charger would probably be the safest and most universal solution for charging your phones going forward. No fiddling with cables, and it works with all phones.
iPhone 12/12 Pro Charging Time using 20W Apple power adapter:
in 15 minutes - 27%
in 30 minutes - 55%
in 45 minutes - 74%
in 1 hours - 85%
in 1 hour and 30 minutes - 95%
FULL 100% CHARGE - 1 hour and 58 minutes

On that note, Apple's new MagSafe wireless charger is a fine product, but probably not the most convenient one if you're looking to charge different phones and devices with it, due to its small size. It's great for charging the iPhone 12 family, because of the cool magnetic alignment, but if you want a more universal and maybe even faster wireless solution, investing in a good third-party charger will be the way to go.