The Best Phones in 2021 (updated August)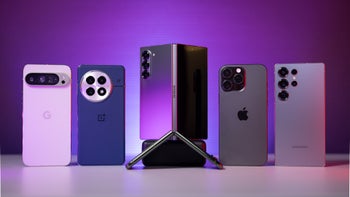 Which is the best phone to buy right now, in early 2021? Unsurprisingly, mostly 2020 phones, but not for long! The
Galaxy S21
series is now out, so are the new
OnePlus 9
models. You can confidently say that 2021 is already looking good for smartphones.
From great Android phones to the latest iPhones, plus a few different options for those who don't want to settle, we walk you through the very best handsets available on the market with all of their pros and cons.
You'll love these:
With no further ado, here are the best phones you can buy right now.
Best phones of 2021:
If money is no object and you want an iPhone, the Apple iPhone 12 Pro Max is the best one you can get. It features one of the best displays in its class: its 6.7-inch screen has excellent
pixel
density and color calibration, and peaks at a whopping 1200nits of brightness, making it easy to discern outdoors. It also has the fastest chip on any smartphone as of now.
The camera has also improved like every year and this time around one of the major new features is Dolby Vision HDR video. Apart from the professional-looking 4K video footage and the crazy-fast chip to process it, the iPhone 12 Pro Max is the first iPhone to use "sensor-shift" stabilization for taking photos, meaning images in low-light conditions are clearer. The iPhone 12 Pro Max comes with the familiar iOS interface and the beautiful Apple ecosystem, coupled with the typical for Apple 5 years of software updates, making sure the phone will remain fast even after years of use.
Samsung Galaxy S21 Ultra
The
Samsung Galaxy S21 Ultra
stands at the top of the Android food chain. It is equipped with the newest LTPO OLED display technology that allowed for both the record 1500 nits of peak brightness, 15% less battery consumption than what's on the S21/S21+, and the dynamically-allocated refresh rate that can go down to 10Hz when you are looking at static images, or go all the way up to 120Hz when you scroll.
If you thought that the camera system in the
Galaxy S20
Ultra was good, think again. The Galaxy S21 Ultra takes things further, or should we say brings them closer - thanks to the two dedicated zoom cameras you get the longest, cleanest zoom on a phone. The Galaxy S21 Ultra also comes equipped with the latest and most powerful chip by Qualcomm, the new Snapdragon 888.
The S21 Ultra is sporting the same 5000mAh battery piece as the S20 Ultra, and the same high display pixel density, but the variable display refresh rate alone results in a 15-20% diminished power draw. When you factor in the new and more efficient 5nm chipset, the end result is a phone with one of the longest battery endurance in its class. Last but not least, the Galaxy S21 Ultra supports the S-Pen, so Galaxy Note fans will feel at home with this phone.
Samsung Galaxy Note 20 Ultra
The
Galaxy Note 20 Ultra
is the new super-premium S Pen-wielding smartphone by
Samsung
. It's an extra large phone with a huge camera bump, plus it's heavier than before and it barely fits in a pocket. If you like a big phone, though, this one is among the best: it has a luxurious feel, and it features a new toughened glass that can theoretically survive a head-high drop. The 6.9-inch screen is class-leading and features a 120Hz refresh rate for a buttery smooth experience. Under the hood, the Note 20 Ultra is the equivalent of a muscle car: Snapdragon 865+ is perfect for gaming, and you have 12GB of RAM for effortless multitasking. Camera quality is also excellent and you have up to 50X zoom. Battery life, however, is just good, not quite great. You will need to charge it every night.
Last but not least, at $1,300 we feel the price is a bit too high, but Samsung often runs deals, and chances are that you will be able to get it for less. S Pen lovers won't be disappointed, but those looking for the best value-for-money or for a more compact phone might want to look elsewhere.
Asus ROG Phone 5 Ultimate
Gaming phones are a bit of a meme, but it's nice to see Asus fully embracing it. The ROG Phone 5 Ultimate has an aggressive-looking design, a tiny screen on the back whose sole purpose is to display custom logos, and 4 hardware pressure point buttons for enhanced gaming. It wouldn't be a "gaming phone" if it didn't have absolutely silly specs, too, and the ROG Phone 5 Ultimate delivers. 18 GB of RAM on a smartphone? 144 Hz screen? External cooler that you need to connect to the phone via a proprietary port? Yes, yes, and how else would you have it?
It's a niche phone, absolutely, but it's hard to keep it away from a "best" selection. After all, it is probably the (or among the) most powerful Android phones out on the market right now. Even if you don't need all the power — you definitely get the bragging rights.
If the ROG Phone 5 Ultimate is a bit too much for you, go for the non-Ultimate version. It's just as good, it just cuts back on all of that overhead that you may or may not need.
The OnePlus 9 is not as flashy as the Pro, but it has all the basics down — a super-snappy performance, powered by top-tier hardware, clean software experience, beautiful 120 Hz AMOLED screen, and a pretty good camera. What makes the OnePlus 9 a true contender is its price tag — $729.
Its drawbacks include a plastic frame and the fact that the camera is outperformed by the Galaxy S21, which is within the same price range. But the OnePlus 9 can still stand on its own two feet and is worth looking twice at.
The Apple iPhone 12 mini is the best compact phone that you can get right now. It features the iPhone 12's blazing-fast processor and camera system, and it comes at a reasonable starting price of $700. Its 5.4-inch display is OLED with excellent colors and brightness, and its thin and compact body makes it perfect to use with one hand and very easy to carry in most pockets.
If you want a compact phone with top-notch performance and an excellent camera system, the iPhone 12 mini is the one for you. Like any other iPhone, it comes with 5 years of software updates to make sure it's still fast after years of use.
Read more: Apple iPhone 12 mini review
Google Pixel 5
Google made the conscious decision of making its 2021 Pixel phone an upper-midranger that's easy to pocket. It doesn't have a top-shelf processor, but it still delivers that excellent Google camera experience and the cleanest version of Android you can get on a phone.
It's snappy, it's super-easy to use with one hand, its grippy texture is pretty cool, it's light and fun.
Samsung Galaxy A52
Samsung really pulled all the stops when refreshing its midrange Galaxy A series this year. The Galaxy A52 comes with a 90 Hz Super AMOLED screen, stereo speakers, which can sound quite nice, and a camera that's quite the performer. The main sensor has an optical image stabilizer-equipped module, which is rare to see on midrange phones. It comes in a few fun, fresh colors. On top of providing a core smartphone experience, it is also ready to welcome you to the Samsung ecosystem with the full featureset of the Samsung SmartThings app being available out of the box.
Motorola One 5G Ace
Motorola has always been the smartphone fans' sweetheart because it can really churn out some solid midrangers at pretty reasonable prices. The Moto One 5G Ace stays true to this formula and aims to bring 5G to the masses. It still has its signature snappy performance, competent camera, and great battery that Moto phones are known for. Its screen may not be a jewel, but for $350, the Moto One 5G Ace offers quite a bit of value.
Apple iPhone SE (2020)
The
Apple
iPhone SE (2020)
might look just like the
iPhone 8
and for that matter even the
iPhone 6
, but look under the hood, and it comes with an Apple A13 Bionic chip, more powerful than on Android flagships. It also comes with a single camera, but one that has been fine tuned to capture brilliant looking photos and 4K video recording quality is far above what you typically see in a $400 phone. Add to that the value of the iOS ecosystem, and you can understand while many users will be tempted by the new SE despite its lackluster battery life.
Read more:
Apple iPhone SE (2020) review
Google Pixel 4a
The
Google
Pixel 4a
follows up on the popularity of the affordable
Pixel 3a
, which brought most of Android best at a competitive price point. Last year's midrange 4a is still a great deal, with Google bringing a surprising amount of polish for just $350. Between its excellent camera, good display, and competent specs, the Pixel 4a is an incredible value and a triumphant addition to Google's smartphone legacy.