The Best Phones in 2022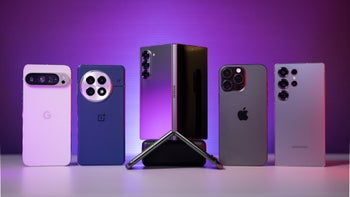 Well, it's the end of the year, and what a year it was. New foldables, upgraded cameras, faster-than-ever processors, and so much metal and glass! All that's left for us is to take a look back and admire the best phones. Then take a look forward and decide what to buy during the
Black Friday
wallet massacre event!
We are well into November, and it has been an exciting year!
Samsung
's new foldable phones are a fantastic upgrade on the concept,
Sony
has a new premium Xperia, and
Google
launched the bargain-priced
Pixel 7 line
.
Apple
's
iPhone 14 series
is predictably fantastic and brings about a more affordable big iPhone — the new
iPhone 14 Plus
.
OnePlus
dropped the 10T, which cuts some corners, but brings you a Snapdragon 8+ Gen 1 at a very aggressive price.
Motorola
's Edge Plus (2022) is another excellent phone with a premium chip that is often found at a great discount.
So, let's take a look — from great Android phones to the latest iPhones, plus a few different options for those who don't want to settle, we walk you through the very best handsets available on the market right now, with all of their pros and cons.
Best phones of 2022 - summarized list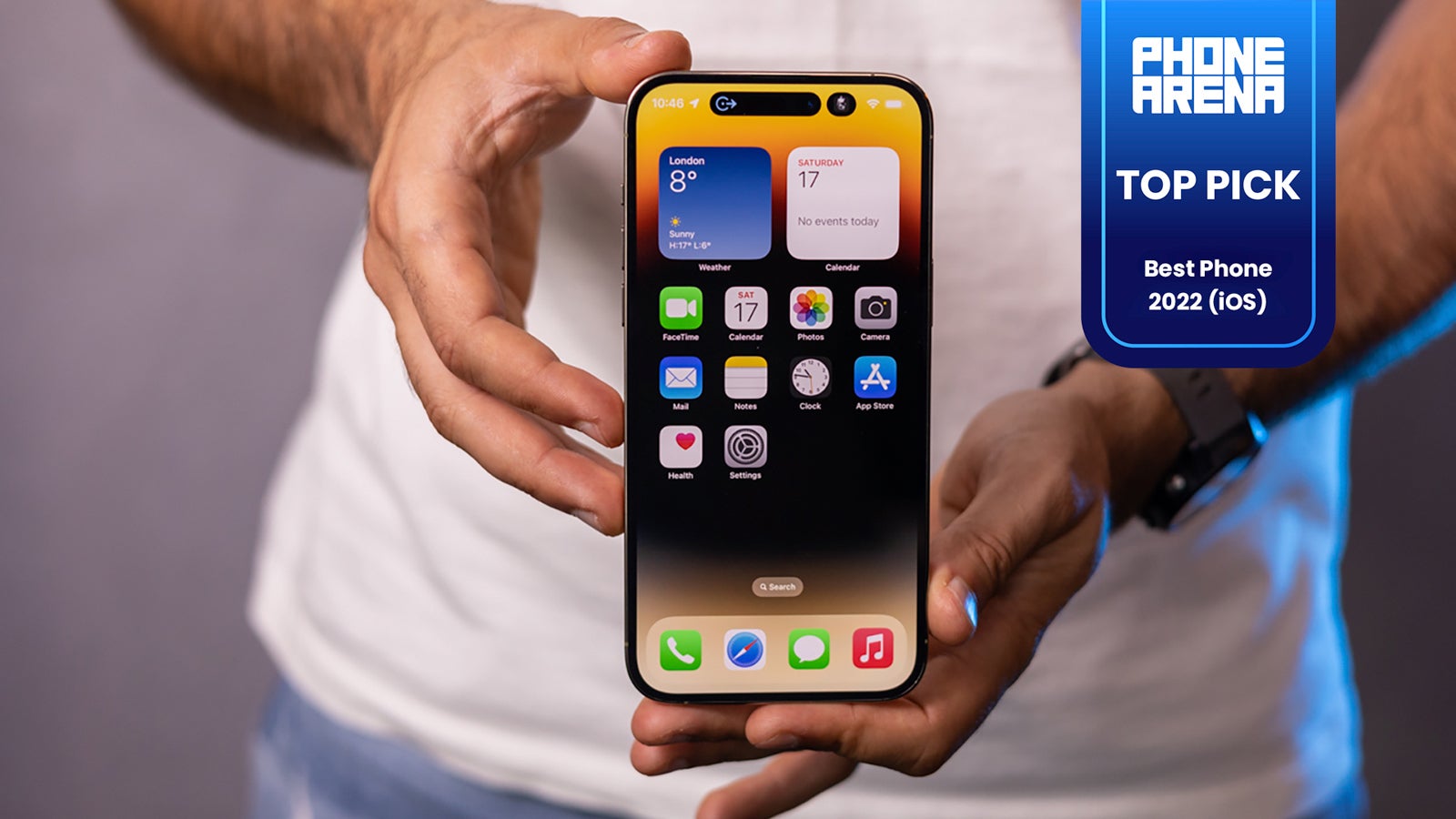 If money is no object and you want an iPhone, the Apple iPhone 14 Pro Max is the best one you can get. It features one of the best displays in its class: its 6.7-inch screen has excellent pixel density and color calibration, and super-high 2,000 nit (1,000 for typical content) peak brightness, making it easy to discern outdoors. It also has a 120 Hz refresh rate provided by an LTPO panel that can drop as low as 1 Hz to allow for a new Always-on Display feature without draining tons of battery. It all works to make iOS that much more buttery, responsive, and satisfying to use. The cherry on top (or what drives all of this underneath) is the Apple A16 Bionic inside — easily the fastest processor in a smartphone right now.
The camera has also improved, like every year, and this time around we have a bigger 48 MP sensor that can take super high-res photos if you choose to shoot in RAW. Apple also uses the 48 MP sensor to achieve better digital zooming, adding a 2x step in Portrait Mode to go between the 1x and 3x. Apart from the professional-looking 4K video footage and the crazy-fast chip to process it, we get slightly improved Cinematic Mode and a new Action Mode with insanely good stabilization.
The Notch is also gone, replaced by a Dynamic Island — this one is neither here nor there, but can be a nice upgrade for anyone that's sick and tired of the same old iPhone design.
Samsung Galaxy S22 Ultra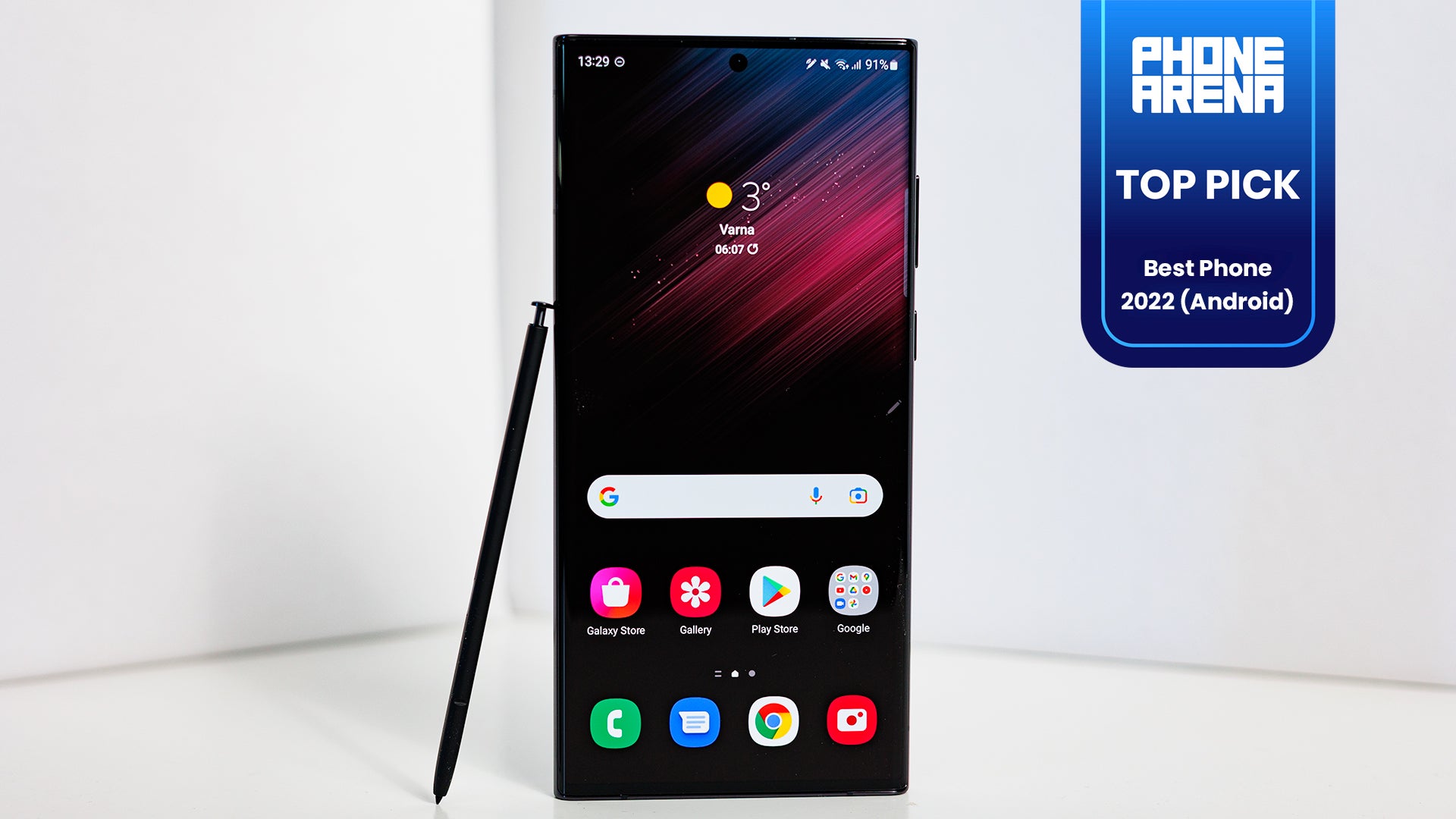 Equipped with an updated next-gen Dynamic OLED screen, the Galaxy S22 Ultra can hit a record 1750nits of peak brightness. It's a modern LTPO OLED that can actively go between 1 Hz and 120 Hz to conserve battery but still show you smooth animations when needed. Just like the iPhone 13 Pro Max, the Galaxy S22 Ultra is probably
the best Samsung phone you can get
.
If you thought that the camera system in the Galaxy S21 Ultra was good, just wait! The Galaxy S22 Ultra takes things further, or should we say brings them closer - thanks to the two dedicated zoom cameras you get the longest, cleanest zoom on a phone. That and updated night mode photography makes it a true contender for best camera phone in 2022. The Galaxy S22 Ultra also comes equipped with the latest and most powerful chip by Qualcomm, the new Snapdragon 8 Gen 1.
The S22 Ultra is sporting the same 5000mAh battery piece as the S21 Ultra, and the same 1440p resolution. We expect the same stellar battery life, considering the new Snapdragon chip should be more energy-efficient on paper and that the screen can drop to a slightly lower refresh, when needed.
Google Pixel 7 Pro
Google's Pixel 7 Pro comes with a triple camera with 5x optical zoom and tons of software tricks in the background to enhance the quality of your photos. Plus, the Google Assistant is at its best on a Google phone.
The individually calibrated Pixel 7 Pro camera set is now up with the best of them in wide and ultrawide camera quality, while the periscope zoom rivals the S22 Ultra quality at each zoom level, even 10+ ones. Well, OK, the Pixel taps out at 30x zoom, but it's still plenty of magnification on demand.
Google also managed to beat Samsung at its own display quality game by introducing one of the most color-balanced and accurate phone screens out there. And its battery life is no slouch either.
The Galaxy Z Fold 4 mostly retreads the Fold 3's steps, but that's not exactly bad. Last year's foldable was already very, very solid and it was kind of shocking how fast Samsung managed to make it a solid, durable, and fun product.
The Z Fold 4 clears up some more annoyances by making the external screen slightly wider and centered, the hinge slimmer, and the under-screen camera on the inside hidden a bit better. Also, the camera module has gotten a slight update to what the Galaxy S22 series has, so it's an excellent phone throughout. It also happens to unfold into a half-tablet as well.
Samsung Galaxy Z Flip 4
The Galaxy Z Flip definitely has its own pizzazz, with its sleek metal shell that folds through the middle to make it a sort of compact clamshell phone. And it doesn't compromise in anything, bringing you a Snapdragon 8+ Gen 1 and a pretty good camera at what is nowadays a "normal" flagship price — $999.
Sony Xperia 1 IV
Sony's Xperia 1 IV is the pinnacle of what Sony can do in 2022. It's a very camera-focused phone, with three different apps that can either turn it into a manual shooter, a vlogging camera, or a cinematic mini rig. It also has a very impressive telephoto lens that moves physically to offer true optical zoom between 3.5x and 5.2x (85 mm and 125 mm).
But it's a phone for heavy enthusiasts — Sony is selling the Xperia 1 IV for $1,599, which is a pretty big ask in a world where even the iPhone 14 Pro Max starts at $1,099. It's a fantastic phone to admire from afar. But maybe not the best one to actually spend money on.
Asus ROG Phone 6 Pro
Gaming phones are a bit of a meme, but it's nice to see Asus fully embracing it. The ROG Phone 6 Pro is, once again, deliciously over the top in every aspect. Starting with the aggressive design, the RGB on the back, the secondary screen that displays gamer-related little animations while the phone is active, and the new bulky AeroActive Cooler 6. It wouldn't be a "gaming phone" if it didn't have absolutely silly specs, too, and the ROG Phone 6 Pro delivers. 18 GB of RAM on a smartphone? 165 Hz screen? External cooler? Qualcomm Snapdragon 8+ Gen 1? Yes, yes, yes, and how else would you have it?
It's a niche phone, absolutely, but it's hard to keep it away from a "best" selection. After all, it is probably the (or among the) most powerful Android phone(s) out on the market right now. Even if you don't need all the power — you definitely get the bragging rights.
If the ROG Phone 6 Pro is a bit too much for you, go for the non-Pro version. It's just as good, it just cuts back on all of that overhead that you may or may not need, and brings the price down to a more reasonable level.
OnePlus 10 Pro
With a price matching the Google Pixel 6 Pro, the OnePlus 10 Pro is an alternative take on that "clean Android" experience. OnePlus did not switch to Oppo's Color OS, but did borrow some of its features for Oxygen OS 12.
What does that all mean? It's a snappy phone with a few extra quirky quality of life features that we happen to love. Its camera is not the best, but it's certainly above average. Its design is unique and recognizable, its screen is spectacular, and its haptics are on point. Our one gripe with the OnePlus 10 Pro is its battery life — we wonder if an update down the line might fix that. Keep an eye out!
The OnePlus 10T came out after the OnePlus 10 Pro, so it managed to launch with the super-powered Snapdragon 8+ Gen 1. However, the 10T also aims to be the cheaper model, so it cuts some corners, especially in the camera department.
So, it's a bit of a back and forth — it's faster than the 10 Pro, yet it's not the better overall package. Of course, if raw power is all you want from a smartphone, you will be happy with the OnePlus 10T, its processor, pretty screen, and insanely fast 150 W charger.
The
Apple iPhone 12 mini
was pretty good and all, but it kind of lacked in the battery department. The 13 series remedied that issue. So the iPhone 13 mini has the same powerful processor as the 13 Pro, but is a tiny little phone that stays out of the way most of the time. And, for $600, it's pretty hard to beat — a 5.4-inch display is OLED with excellent colors and brightness, a thin and compact body, superb performance, and pretty respectable cameras.
If you tend to two-thumb type on your phone often, the 13 mini is probably not your cup of tea. If you want a phone that can fit any pocket and can bring the power and performance if you happen to need it throughout your day — that's the contender right here.
Google Pixel 7
The Google Pixel 7 is short of a few bells and whistles that the Pro has, but it's still powered by the Tensor chip. This means, you get all that on-device speech recognition, the Google Assistant smarts, and the awesome main camera performance that the Pixel 6 Pro has.
Now, the Pixel 6 cuts back on the selfie camera and has absolutely no optical zoom camera. Also, its design is a bit flatter and doesn't look as pristine or futuristic as the Pixel 6 Pro. But, at the end of the day, it starts at $600 and it's a lot of phone for that price!
Samsung Galaxy A53 5G
The Galaxy A53 comes with a 120 Hz Super AMOLED screen, stereo speakers, which can sound quite nice, and a camera that's quite the performer. The main sensor has an optical image stabilizer-equipped module, which is rare to see on midrange phones. It comes in a few fun, fresh colors. On top of providing a core smartphone experience, it is also ready to welcome you to the Samsung ecosystem with the full featureset of the Samsung SmartThings app being available out of the box.
This Samsung mid-range phone is one of
the best budget 5G phones you can buy in 2022
. That's because it doesn't really make you compromise with anything. The Galaxy A53 is a great value-for-money device, and that's why it is even Samsung's best selling phone worldwide.
Motorola Edge 30 Fusion
Motorola is the darling of Android fans worldwide for always delivering a phone that cuts all the bells and whistles and delivers a solid core experience at an affordable price. The Edge 30 Fusion is kind of a weird break away from that formula, with a curved screen and a 144 Hz refresh rate — something that only gaming phones dare touch.
To save up on costs, its powered by last year's Snadpragon 888+, but that CPU is far from being slow or obsolete — just the opposite. The camera system is also very decent and even includes an auto Macro Mode for the ultra-wide lens — like the iPhone Pros and the Pixel 7 Pro do.

Overall, not a bad phone for not a lot of money. It looks shiny, it has a snappy Android build, and just a few small Motorola features slapped on top — like gestures and small customization options.
Apple iPhone SE (2022)
The
Apple iPhone SE (2022)
reiterates the design of the
iPhone SE 2
before it and the
iPhone 8
before that. Apple just updated the line with the latest Apple A15 silicon — the same chip that powers the iPhone 13 line. So, the iPhone SE (2022) is an affordable but hot device, with a powerful heart inside. The camera wasn't updated much, but the new processor allows for enhanced image processing, Apple's Deep Fusion (improved details and dynamics) as well as the new Photographic Styles. And, of course, the SE is now 5G capable.
All of that for $429 and you can understand while many users will be tempted by the new SE. The only thing we are worried about is how the battery will hold. The SE (2020) wasn't that great in the department, but Apple claimed new battery improvements. So, we will see.

How to choose the best phone for you in 2022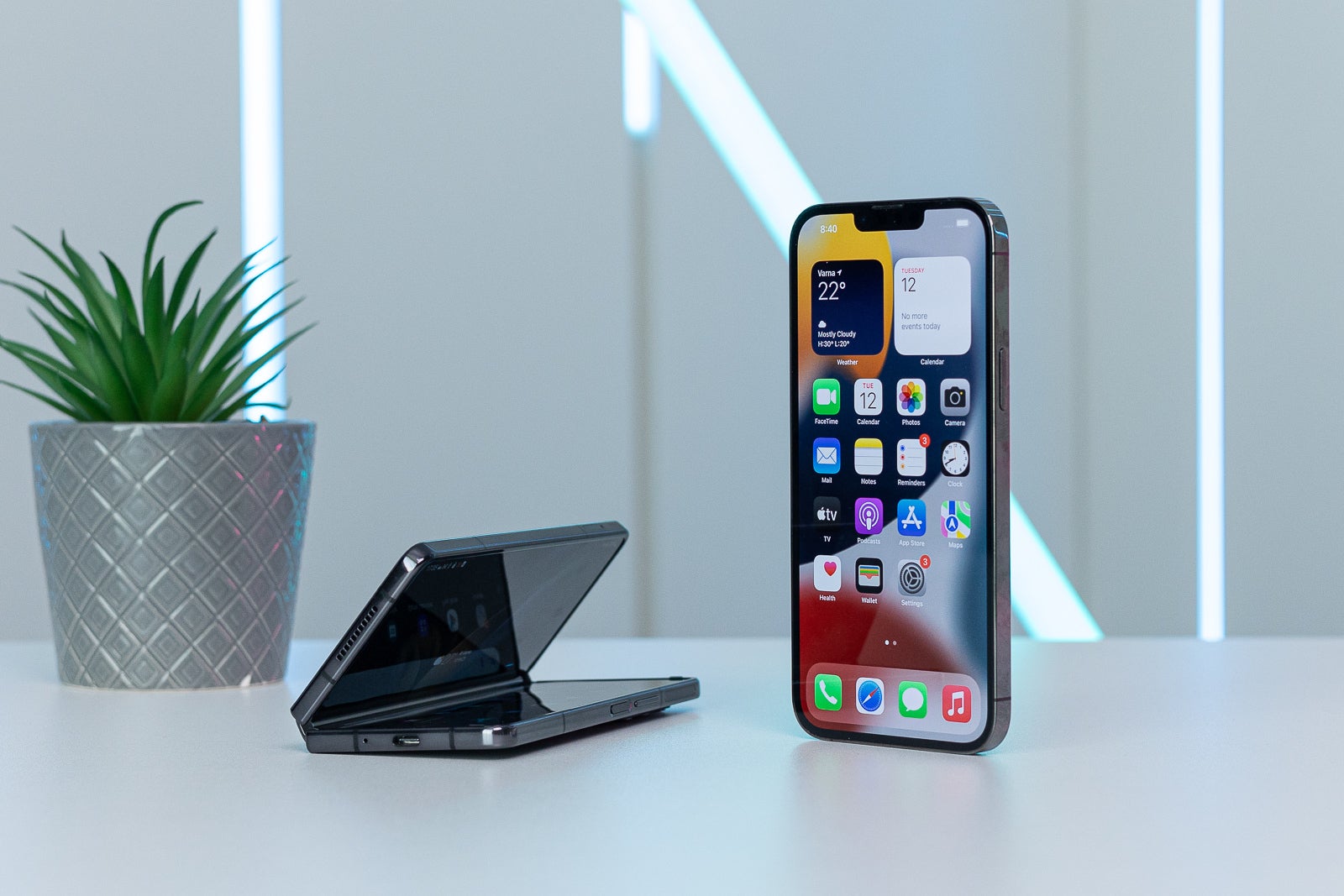 After all of the devices you've seen on these list, you're probably wondering how do you pick the best one for you? Well, as you should know, everyone has different needs from their smartphones. Some are into photography and need the best camera smartphone there is. Some want the best screen and performance. And some are more modest and want a more affordable, yet all around good and reliable smartphone. On this list there are great camera phones, like the Galaxy S22 Ultra, the iPhone 13 Pro Max, and the Sony Xperia Pro-I. The best performance and screens are once again found in the Samsung and Apple, but also in OnePlus' 10 Pro.
When it comes to functionality or quirkiness, you will find it in Samsung's foldable Z Fold 4 and Z Flip 4 phones. Example of an affordable, yet good smartphone, are the Galaxy A53 5G, the iPhone 13 mini, and the OnePlus 10T. The 13 mini is one of the few compact phones left, and it is actually an excellent device to have, as long as you're not looking for a battery champ.
Consider all we've spoken about in this list carefully, and when you're wondering which phone to pick, ask yourself what are the main features I need daily. That mentality should make your decision a lot easier.
How we test the best phones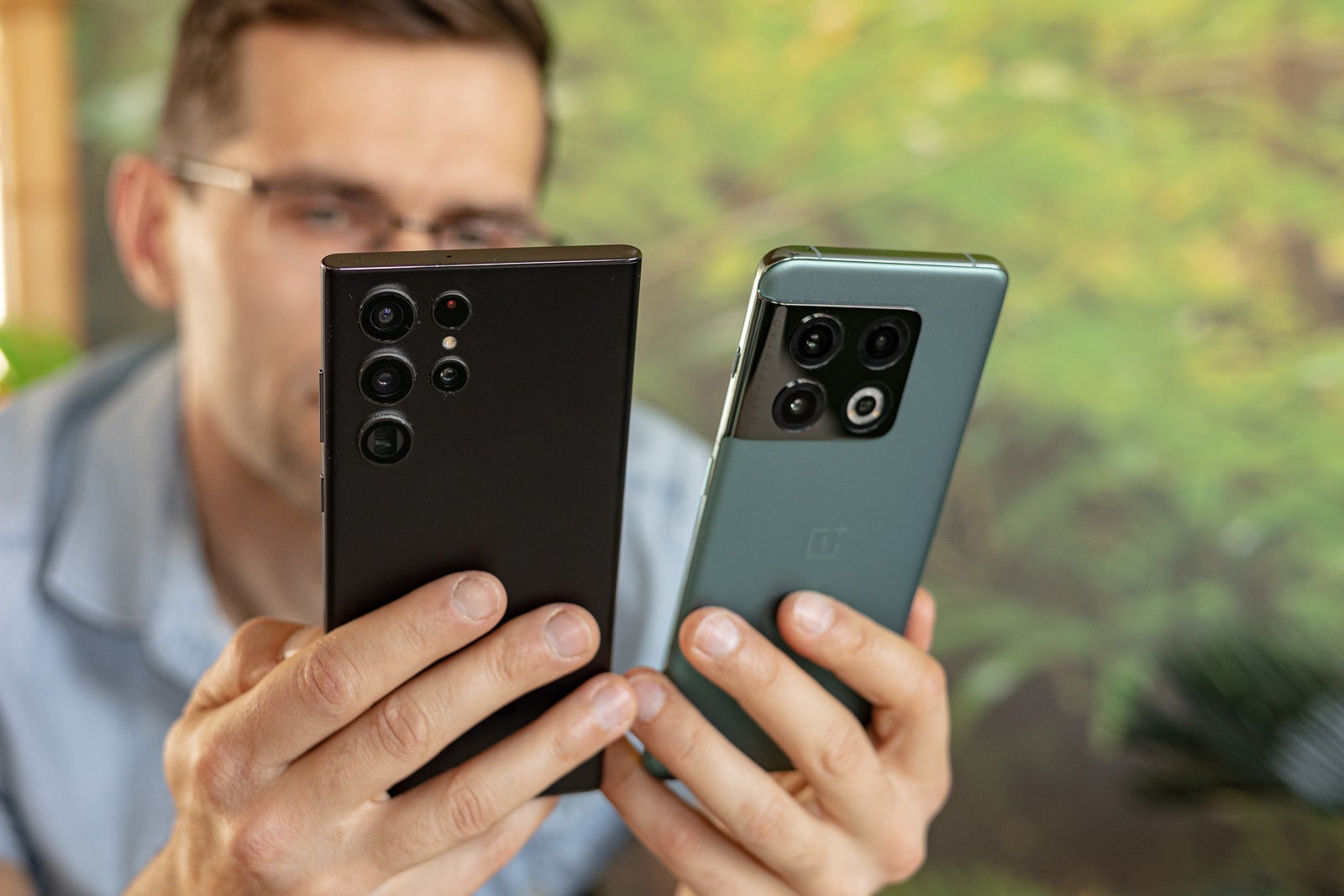 We won't lie, we're putting our review phones through many, many tests. The include display, performance, and battery life tests, among others. We are checking every screen's color temperatures, brightness, we are checking the performance of its processor and memory, and we are running days worth of tests to determine how much the battery lasts in different conditions.
Still, real-life conditions are just as, if not even more important. That's why we make sure that we always spend enough time with the devices we review so we can say with certainty what are their strengths and weaknesses. Cameras are very important in phones too, so we put these to the test in many conditions in our goal to determine which one wins and which one is still behind in the smartphone photography race.
Should you go for Android or iOS when choosing the best phone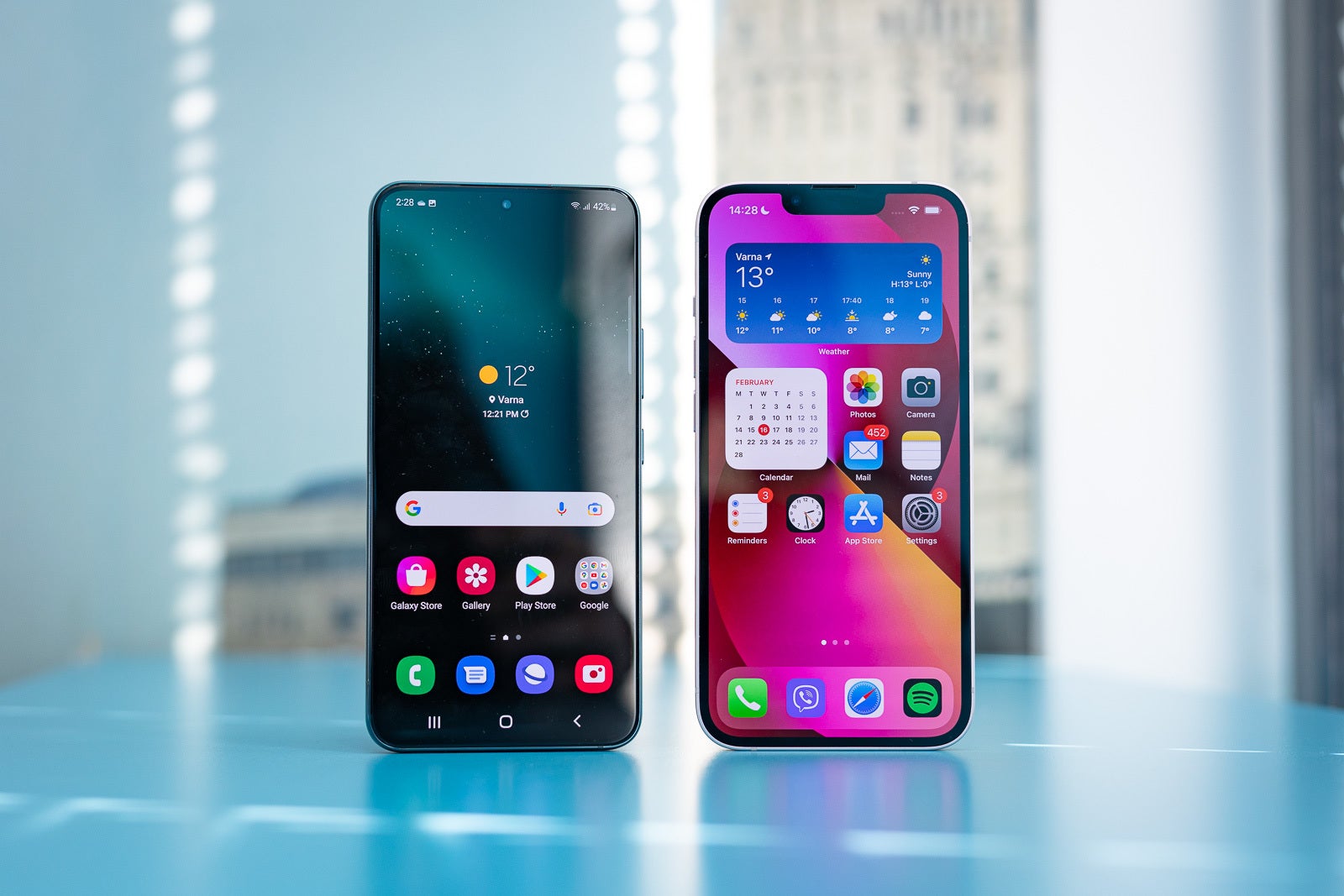 The safe answer to this question is to go for a platform that is familiar to you. For example, if you've been using an Android phone your whole life, an iPhone will be quite an adjustment, and vice versa. Still, you should consider what phones your close friends and family, the people that you're going to text and share files with, are using. If most of them are using an iPhone, AirDrop will be a very missed feature once you switch to Android. If you have a MacBook or an iPad, getting an iPhone is the most logical thing, as it will allow you to stay in the 'ecosystem'. But Apple's iOS doesn't let you share files via Bluetooth-only to any device, so if that's a feature you use often, then an iPhone is a no no.
When it comes to customization and freedom, Android was and still is king.
iOS 16
is set to allow for more iPhone customization by the user, but we doubt it will go to the lengths Android has gone. Android also allows you to download and open files more easily, and supports more types of these. That's another important feature if you're either a gaming or app enthusiast.
But the elephant in the room is the fact that iPhone users tend to hold onto their phones much longer than people with Android phones. That's mainly because the long-term software optimization of iOS phones is superior to Android phones. Also, iPhones get major OS updates for many years, while most Android brands only give you two to three years of software updates. Apple's phones also tend to stay fast and unproblematic for longer, which as you may have heard isn't the case with most Android-running phones.
However, you should also consider what you get for the money you spend. Here, the mid-range Android phone market is offering you phones with many flagship features for much cheaper than Apple. That's a fact that shouldn't be overlooked. Of course there's also a downside to this lower class and lower price tag type of phones. These tend to loose their value with time much quicker than iPhones.