Apple iPhone 12 vs Google Pixel 5
12
We may earn a commission if you make a purchase from the links on this page.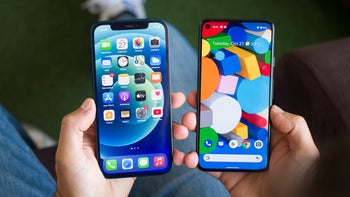 Apple's iPhone 12 is supposed to be "the people's iPhone" — packed with all the essential features and all the power of the iPhone 12 Pro, but with a few corners cut, so you don't need to go out and pay $1,000 for it.
The
Pixel 5
follows sort of the same concept. Google opted out of the hardware race and decided to build a phone that's sort of tame, but still reliable and capable enough for the general user's needs. In turn, it's cheaper than your regular 2020 flagship.
So, the iPhone 12 will cost you $799 ($829 without contract) and the Pixel 5 will set you back $699. The latter is definitely worth a second look — it may be $100 cheaper, but the Pixel 5 offers superb camera quality, solid performance, and a pretty compact design for its large screen. Google's Android experience is fast and snappy, especially on Pixel phones.
The iPhone 12 has a fancy Face ID unlock, as opposed to a back-mounted fingerprint scanner, a cool new boxy design and opens the door into the iOS ecosystem. When it comes to raw performance, with its A14 chip, it definitely beats the Pixel 5's Snapdragon 765G.
As for future-proofing, we'd wager that the iPhone can serve you well for the next 5 years, and Apple's track record says that you will probably be getting that many iOS updates. Google, on the other hand, promises 3 years of major Android updates, so the Pixel 5 has a slightly shorter expected lifespan.
iPhone 12 vs Pixel 5 in a nutshell
Pixel 5 is slightly smaller, lighter
iPhone 12 has an all-new boxy design, more colors to pick from
Both have outstanding cameras
Face ID vs rear-mounted finger scanner
iPhone has more powerful hardware
iPhone 12 vs Pixel 5 design
Both the iPhone 12 and Pixel 5 have tiny bodies with huge displays up front. The slim bezels give us that "all-screen front" feel with both phones. Of course, the iPhone does have that divisive notch on its forehead — same as ever. The Pixel 5, on the other hand, only has a single camera hole on the top-left of its display.
We've got OLED screens on both and they look fantastic — deep blacks, vibrant and accurate colors, with the iPhone going slightly into yellowish hues and the Pixel 5 leaning slightly towards a colder blue. But don't let that nitpicking fool you — they are excellent displays none the less.
Of course, the Pixel 5 has the benefit of a higher refresh rate — it "only" goes up to 90 Hz, but that is just enough to make animations feel noticeably smoother and reaction time — faster. The iPhone's powerful processor and smooth iOS functionality does also provide for great, snappy performance, but the fact that it's locked down to 60 Hz is evident to this spoiled reviewer's eyes.
Both screens are very sharp with a pixel-per-inch density of well above 400 and consuming media on them is equally pleasing.
Display measurements and quality
On the design side, we have two very distinct devices that feel pleasantly in the hand in their own way. The iPhone 12 has that new boxy design, which reminds us of the old iPhones and also makes it look more in line with the iPad and MacBook products. Its aluminum sides feel cool as ever, but the glossy glass on the back — of course — attracts fingerprints like there's no tomorrow.
Google surprised us with the Pixel 5's build materials. It's an all-aluminum phone, yet it supports wireless charging. That's because its back is coated in a layer of material that allows for electrical conduction to pass through. Its finish feels almost like sandpaper, but its super-fine and very pleasant to the touch. The phone's rounded back makes it fit so well in the hand, and its compact shape feels incredibly comfortable.
So, both phones feel good for their own reasons. The iPhone 12's angular sides make it super grippy, though I am no fan of the fingerprint-collecting glossy back. The Pixel 5 feels like a pebble with a vivid screen on its front.
The MagSafe system on the iPhone 12 is certainly interesting and we are sure to see some interesting accessories made for it in the near future. It's low-key exciting, in fact.
iPhone 12 vs Pixel 5 camera
We've got two phones with dual cameras on their backs — both the iPhone 12 and Pixel 5 have a main wide-angle and an ultra-wide-angle lens in their arsenal. The main cameras have 12 MP sensors, but both Apple and Google also employ impressive software algorithms to enhance their photography. Apple has Smart HDR 3 and Deep Fusion, Google keeps working on its HDR+.
You can see a distinct difference in how each phone handles its photos. Apple's iPhones prefer to go with bright, striking, and warm images. These make them instantly shareable for social media as they are sure to capture attention, but sometimes the saturation or yellow cast might be much.
Google's Pixel 5 puts a priority on dynamics and handles them exceptionally well. However, its photos sometimes have a cold cast over them or end up just a bit underexposed.
The good news is that the images from both phones give you plenty of information to work with and fine-tune them to taste. And both phones have photo-editing suites onboard, with an auto-adjust tool that will do the heavy lifting for you if you are not into tweaking.
In any case, the photo samples you see here have been completely unedited, so you can see exactly what you get by simply pressing the shutter button.
On the front, we have an 8 MP shooter on the Pixel 5 and another 12 MP camera on the iPhone 12. The selfies from the phones follow the same rules — bright and vibrant from the iPhone, balanced but a bit cold from the Pixel 5.
Both phones offer Portrait Modes of their own, but the Pixel will crop in digitally to emulate a bit of a "telephoto" effect. The iPhone 12 just proudly shoots wide-angle portraits and that's it.
And while both can record 4K video at 60 FPS, the iPhone 12 does support the new Dolby Vision HDR format for its videos, but only at 30 FPS. My opinion? It's nothing to fret about — the HDR clips are only ever so slightly better than your regular videos.
iPhone 12 vs Pixel 5 speakers and audio
The iPhone 12 has the familiar old stereo speaker setup — bottom boomer with amped earpiece. It sounds spacious and detailed, and can get loud. But it does overcompress music at louder volumes.
The Pixel 5, frankly, sounds bad. Google ditched the stereo setup for it, so it only has a bottom-firing speaker. It's loud and thumpy, but mid-heavy and lacks any clarity. Not really something you will be listening to music through, and YouTube videos are not very enjoyable with it.
iPhone 12 vs Pixel 5 performance
The iPhone 12 is powered by a pretty powerful mobile chip — the Apple A14 Bionic built on a 5 nm process is a paragon of efficiency and performance. Combine that with iOS 14 — made by Apple for Apple — and we've got a top-tier smartphone that'll be fast for years to come. If history is anything to go by, that is.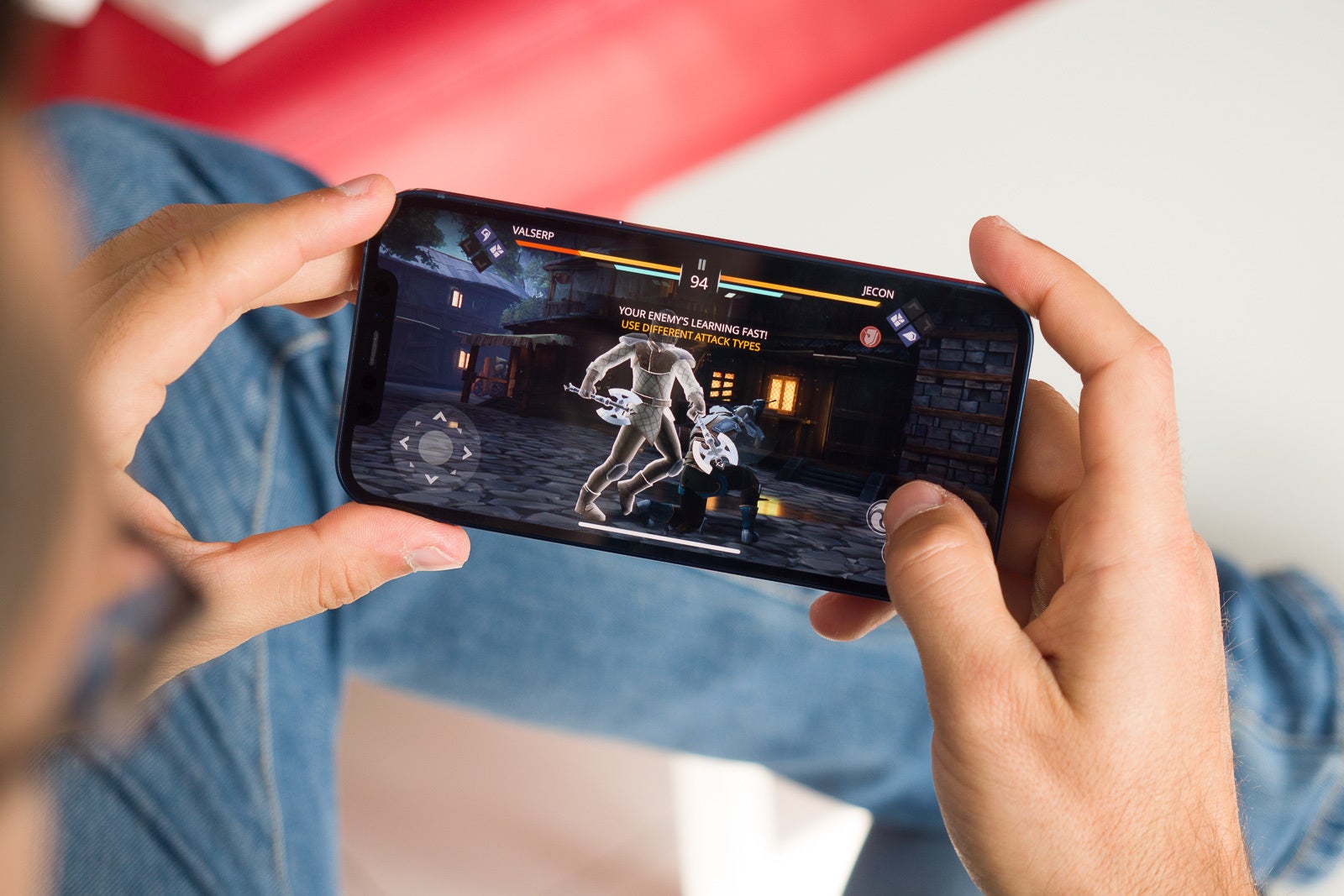 The Pixel 5 doesn't have a top-shelf processor this year. Instead, it has an upper-midrange Qualcomm Snapdragon 765G. In our experience, however, it still performs very, very well in the Pixel. After all, Google is the maker of Android and it'd be kind of awkward if it wasn't able to optimize its own software to run on its chosen hardware. While we don't know how well the Pixel 5 will perform over time, we do know that it will get 3 years' worth of Android updates. So, we are hoping that Google plans to keep that performance optimized in the long run.
Of course, being a Pixel, the Google Assistant will have all of its perks, bells, and whistles, including the creepy ones, like having the Assistant take calls or make reservations for you, understand context-based prompts, and answer conversational-style requests. In comparison, Siri is… in kindergarten still. Whether that's good or bad is up to you and how much you believe in SkyNet.
The benchmark scores underline a huge difference in performance in favor of the iPhone. Of course, don't expect this to manifest all that much in real life use where you are just scrolling around, but it will be noticeable if you push your phone to its limits and multitask a lot.
Sustained Performance in gaming
When it comes to the gaming performance of these two, it's really not a fair comparison. In the 3D Mark Wildlife Stress test, the only thing the Pixel has got going for it is sustained performance as it's able to retain a solid score throughout the whole 20 minutes of this test.
However, that is not a great score to begin with: the phone hovers at around 6-7fps, making the whole test appear super choppy and basically if this was a real game: unplayable. The iPhone runs at a perfectly smooth average of around 40fps. That is a world of a difference!
One note-worthy thing happening with the iPhone is that it's capable of super high burst performance as evidenced by the very first run. After that, the A14 on the iPhone 12 throttles a bit and falls back to its prolonged working temperatures, but that is still very high and well sustained throughout the whole test.
iPhone 12 vs Pixel 5 battery life
We have two phones that can last for quite a while when doing ordinary tasks — communication, web surfing, your typical smartphone tasks. These will last you a day and more, for sure.
Though, the iPhone's powerful chip does take a toll when using it for heavy tasks — like gaming. Yes, games run great and look fantastic. But boy, do they drain the battery.
The Pixel might not be a top performer, but at least it balances power drain with power output.
The Pixel 5 ships with an 18 W charger, while the iPhone 12 supports
bricks of up to 20 W
(yes, this wording means that you don't get a charger in the iPhone 12 box). Not the fastest chargers on the block, for sure, but you can definitely get a decent amount of juice for 30 minutes hooked to the power outlet — with both phones.
iPhone 12 pros
Top-tier processor and performance
Face ID is quick and reliable (if you are not wearing a face mask)
Same shape as iPhone 12 Pro, will take Pro accessories
MagSafe is an interesting
Better speakers
Gateway into Apple ecosystem
Pixel 5 pros
Unique-feeling body, ergonomic design
Brilliant edge-to-edge screen
90 Hz refresh rate is noticeably smoother
The full Google Android experience, Assistant included
Cheaper, still has a charger in the box
Better battery performance with some tasks