Best iPhone 12 and iPhone 12 Pro screen protectors
3
We may earn a commission if you make a purchase from the links on this page.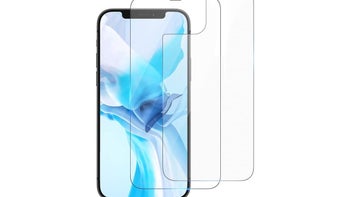 Apple
has finally entered the 5G era with both feet with its new
iPhone 12
lineup. The company unveiled four new iPhones last year and there's a model for every taste and need. If you're looking for a compact phone but you don't want to sacrifice performance, the
iPhone 12 mini
will put a smile on your face. Apple's top models - the
iPhone 12 Pro
and
iPhone 12 Pro Max
come with fancy LiDAR systems, while the regular iPhone 12 is still "the iPhone to buy", offering amazing value for the money.
*Keep in mind that as Amazon Prime Day is coming closer now, some of the best cases for the iPhone 12 could get a discount. You can check out best Prime Day deals post to stay in the loop.
ALSO Read:
iPhone 13: price, release date, features, and specs
Apple has used something called Ceramic Shield in iPhone 12 series' displays - it's a new material that consists of nano ceramic crystals embedded in the glass matrix. They are smaller than the wavelength of visible light so they don't obstruct it and appear transparent. The real-life results of this solution are yet to be observed but it wouldn't hurt to slap a screen protector on, you know, just in case. We've compiled a list of the best iPhone 12 screen protectors you can buy right now.
Do iPhone 12 screen protectors fit the iPhone 12 pro?
The short answer to this question is yes. The screens of the iPhone 12 and the iPhone 12 Pro are identical in size and the notches are also the same. You can safely install an iPhone 12 screen protector on an iPhone 12 Pro and most manufacturers include both models in the description of their screen protectors anyway. So, one less thing to worry about when browsing for a screen protector for your iPhone 12 or iPhone 12 Pro.
Will an iPhone 11 screen protector fit iPhone 12?
Unfortunately, this one's more complicated. While the notch is roughly the same size in both devices, the screen of the iPhone 11 has curved edges while the iPhone 12 has a flat screen. That's why we don't advice putting an iPhone 11 screen protector on the iPhone 12 or 12 Pro.
iPhone 12 and iPhone 12 Pro screen protectors:
Best iPhone 12 and 12 Pro screen protector overall
ZAGG Glass Elite VisionGuard+ iPhone 12/12 Pro screen protector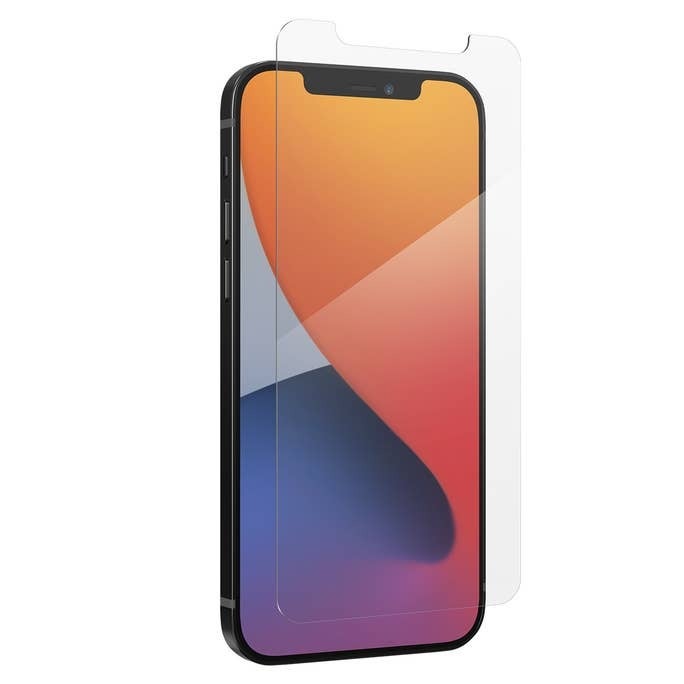 ZAGG offers one of the most complete screen protection solutions available. The Glass Elite series uses aluminosilicate glass that's tempered via a special ion-exchange process which increases the surface tension of the glass making it stronger and more scratch-resistant. The edges of this screen protector are also reinforced, as they are the most vulnerable area.
The Glass Elite VisionGuard+ iPhone 12 screen protector offers an antimicrobial technology that kills up to 95% of human coronavirus and up to 99.9% of Staph and E. coli surface bacteria on your screen. There's also a special Eyesafe layer that filters harmful high-energy visible (HEV) light and protects your eyes.
Best iPhone 12 and 12 Pro Privacy screen protectors
ZAGG Glass Elite Privacy+ iPhone 12 and 12 Pro screen protector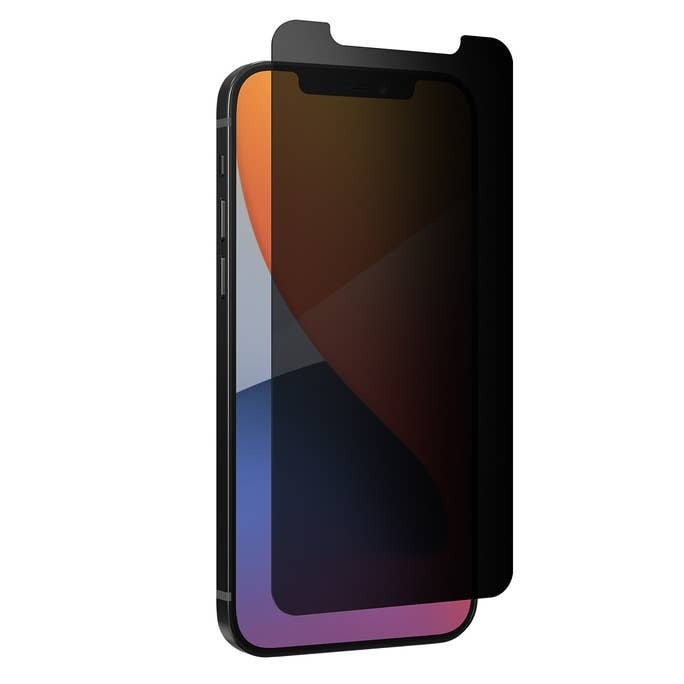 This one is really cool. The Glass Elite Privacy+ iPhone 12 and 12 Pro screen protector offers all the benefits of a normal ZAGG product but with the added bonus of a special polarization that makes the display unreadable when viewed from a certain angle. It's a great solution if you operate with sensitive data on your iPhone and don't want prying eyes around it. Of course, this screen protector also offers shatter protection and scratch prevention, reinforced edges, and antimicrobial treatment for a full protection suite.
Insignia Privacy Glass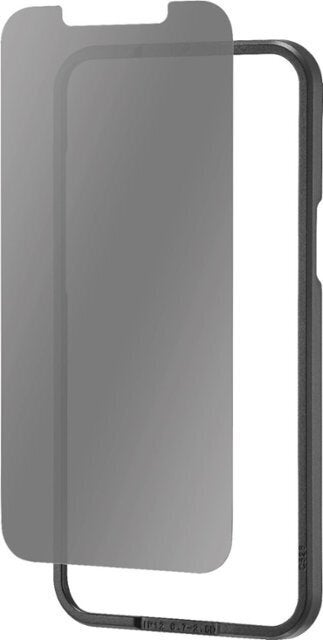 If you liked the Privacy+ screen protector but $45 seems like too steep of a price for you, there is another option. Insignia offers another take on the same technology at a more affordable price. This privacy glass Apple iPhone 12 and 12 Pro screen protector gives you a crystal-clear view while looking straight at your phone, but anyone viewing from an angle sees only a black screen. This feature is just an addition to the usual protection suite. The Insignia Privacy Glass sports a 9H hardness rating, includes a frame for an easy installation, and is friendly with most phone cases.
Belkin Tempered Glass Privacy iPhone 12 Pro/iPhone 12 Screen Protector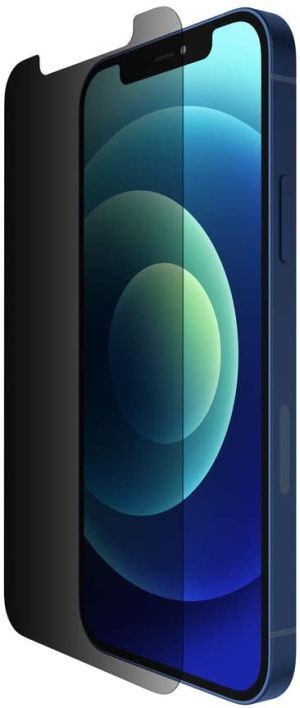 There's another option if you value your privacy and don't mind the somewhat limited viewing angles of these polarized screen protectors. The Belkin Tempered Glass Privacy iPhone 12 Pro/iPhone 12 Screen Protector not only offers the same protection against prying eyes, but comes with an anti-microbial coating that reduces growth of bacteria on your screen up to 99%. The usual scratch resistance is present, and there's an alignment tool in the retail box for easy installation.
Best iPhone 12 and 12 Pro tempered glass screen protectors
Spigen Tempered Glass Screen Protector for iPhone 12 and iPhone 12 Pro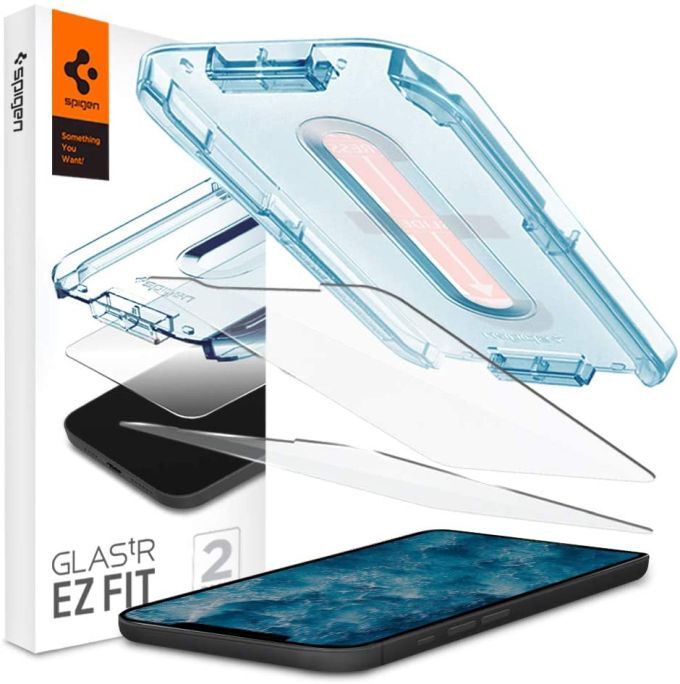 Spigen offers another solid option when it comes to screen protection. The Spigen Tempered Glass Screen Protector for iPhone 12 and iPhone 12 Pro is rated at 9H hardness, offers an oleophobic coating for daily fingerprint resistance, and is compatible with all Spigen iPhone 12 cases. The kit also includes a special auto-alignment installation frame for effortless application. The price is also very attractive and you get two slates of tempered glass in the kit.
OtterBox Performance Glass Series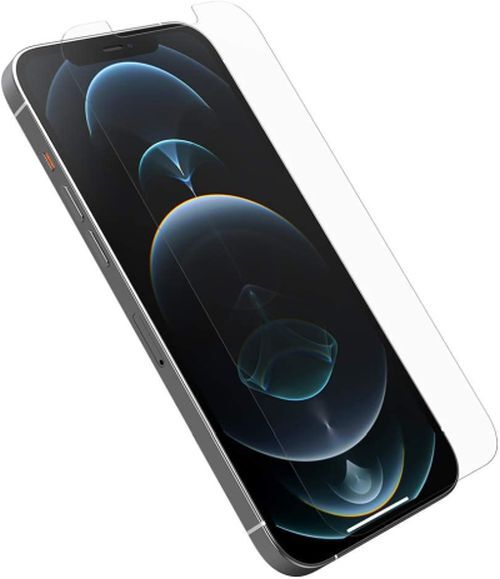 OtterBox is a well-known brand when it comes to cases but it makes some great screen protectors as well. We present you the Performance Glass. This model is fortified, shatter-resistant and will keep scratches and splinters away from you phone. The glass itself is very thin, so you won't even notice it's there. Plus, it's fingerprint resistant, so you can touch, tap and swipe while your screen stays smudge-free. There are tools for easy installation included in the retail box and if you pair this protector with a case from OtterBox, you'll get the complete protection suite.
Belkin UltraGlass Screen Protector

Belkin UltraGlass is designed with German-engineered technology and delivers the next generation of screen protection for iPhone. This screen protector is chemically strengthened by double ion-exchange and is up to 2X stronger than regular tempered glass protectors. It is also very slim at just 0.29mm, so you hardly notice it on you iPhone. Being so thing means that you won't have any touch sensitivity problems - every touch will be transferred accurately for the best touchscreen experience.

Caseology Tempered Glass for iPhone 12 Pro for iPhone 12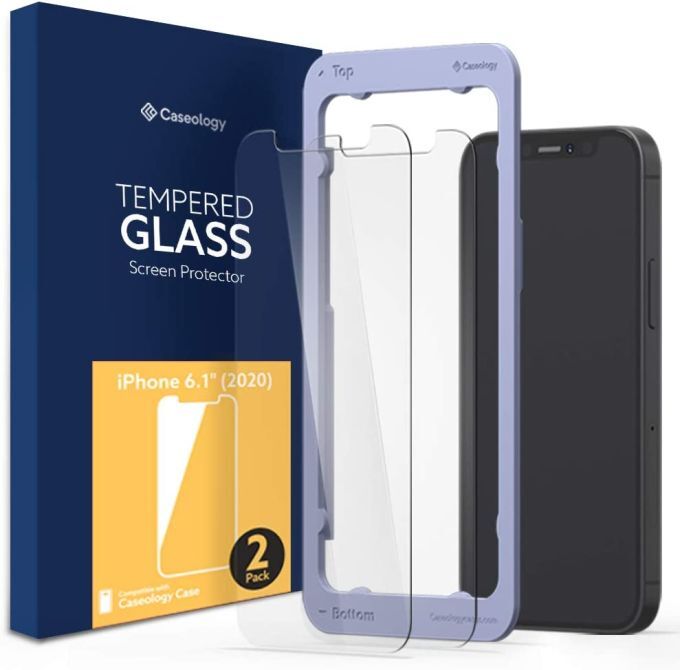 If you want a more affordable solution there's the Caseology Tempered Glass screen protector for iPhone 12 Pro for iPhone 12. It's made from ultra-clear tempered glass with an oleophobic coating to prevent smudges. The black edge offers seamless edge-to-edge protection, without ever compromising your phone's natural feel, and the tempered glass is very thin and low profile. You get a special installation kit for easy application and the package also contains two glass slates.
Best affordable iPhone 12 and 12 Pro screen protectors
UniqueMe Screen Protector for iPhone 12/iPhone 12 Pro 5G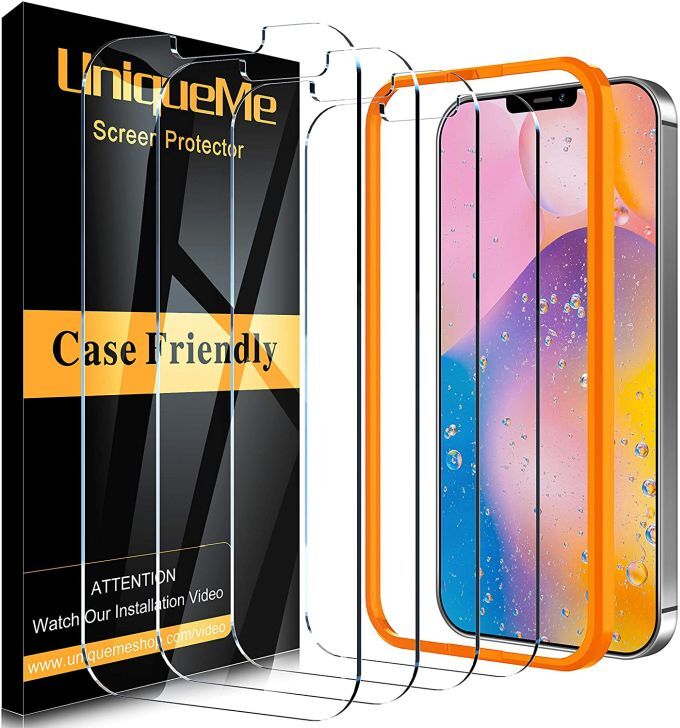 Speaking of affordability we just can't skip the UniqueMe pack of 4 tempered glass iPhone 12 and iPhone 12 Pro screen protectors. These are only 0.03mm thick, case friendly designed with 99.99% transparency that preserves the original screen or picture brightness. You get the mandatory oleophobic coating, along with a 9H rating on the pencil lead hardness scale. There's also an installation frame in the pack so you don't have to worry about aligning the glass sheets perfectly. The UniqueMe Screen Protector for iPhone 12/iPhone 12 Pro 5G offers extreme bang for your buck.
ESR Tempered-Glass Screen Protector for iPhone 12/iPhone 12 Pro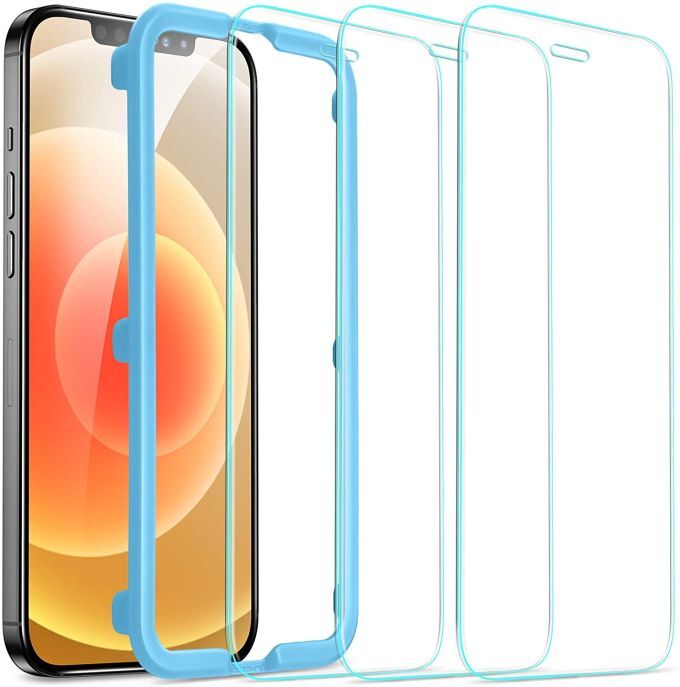 The ESR tempered glass screen protector is designed specifically for the iPhone 12/iPhone 12 pro. There's a cleaning kit & installation frame in the retail box that makes putting it on your iPhone 12/iPhone 12 pro a breeze. Don't let the low price fool you, this screen protector is tempered to withstand up to 5 kg of pressure for serious protection. You're getting a pack of three glass slates at a crazy price. One of the best affordable solutions for your iPhone.