iPads 2022 buying guide: choose the best iPad for you (Updated: July)
40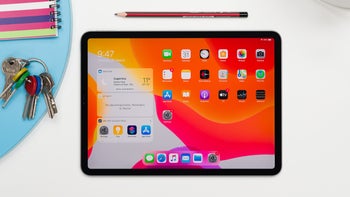 Apple's latest lineup of iPads may be a bit confusing, or a bit infuriating. If the iPad Air is the iPar Pro killer, then is the new iPad 10th gen an iPad Air killer? Or do half of these products only exist to nudge us towards buying the more expensive models?
Let's try to make sense of the latest iPad lineup and try to help you make the right choice for you.
You will notice that the newest M2 models are missing from our selection here. That's because we are in holiday shopping season and we truly believe that you can get an awesome deal on an M1 iPad right now, as the upgraded models just don't seem to offer that much improvement. Meanwhile, the 2021 models are currently being cleared and you can nab an awesome iPad Pro with plenty of horse power at a discount.
So... what's the best iPad to buy right now?
iPad Air (2020)
— available at clearance prices, good deal instead of getting the iPad 10th gen!
iPad mini (2021)
— not a good price/value ratio, but your only choice if you are looking for a small iPad
iPad Air (2022)
Apple launched the
iPad Air (2022)
early this year and it's very hard to not recommend this one as the absolute best balance between performance and cost. The new iPad Air 5 comes with an M1 chip — the same processor that powered the 2021 iPad Pro line (and Mac mini, MacBook Air, and base MacBook Pro for that matter). Yet, the new Air starts at $200 cheaper than the base level iPad Pro 11".
So, you get a 10.9" screen, USB Type-C, compatibility with the Magic Keyboard, Apple Pencil 2, Smart Keyboard folio, and you still get landscape stereo speakers — not quad speakers, but two that still sound quite good.
Even more, the iPad Air supports the new Stage Manager multitasking feature of iPadOS 16, which really shines when you connect an external monitor. No more screen mirroring — you actually get a second environment to work in.
What do you lose? The 120 Hz ProMotion display, which is still being held hostage by the iPad Pro line. And, the USB Type-C of the iPad Air is slower, as it's not a Thunderbolt port as on the Pros.
If you don't insist on the smooth animations of 120 Hz, the iPad Air 5 can be an absolute bargain for you — and we suspect a lot of people will be flocking to that one instead the pricy iPad Pro line. Plus, you get a choice of some fun colors instead of the more boring "dark gray or light gray".
Our recommendation:
for $600, you get the base iPad Air (2022) with 64 GB of storage. That's a bit stingy in 2022, but you can definitely make it work if you do a lot of file maintenance when you are done with big projects. Plus, you can use external storage options thanks to the USB Type-C port. If you want to spread your wings a bit more — the 256 GB storage option costs $750. At this point, we would seriously consider looking for an older iPad Pro 11" (2021). These start with 128 GB at the base level and were just replaced by the new 2022 edition, so you may be able to find one at a bargain.
iPad Pro (2021)
Now is the time to buy an iPad Pro (2021)! We seriously can't recommend the new M2 models when the old M1 ones are currently being cleared from store shelves at great discounts.
iPadOS 16 is still not demanding enough to even need a new processor and the M1 is still overkill. You get Stage Manager with proper external display support, plus 120 Hz screens, quad speaker setups, and plenty more years of software support left.
The base iPad Pros start at 128 GB and we are already seeing the 11" model down to $699 — that's a lot of money, but if you intend to spend a lot of time on that tablet, it is worth it.
The iPad Pro 12.9" (2021) still starts at $999, which will hurt your wallet, but will give you access to that miniLED screen. It does look amazingly sharp, but you have to be really dedicated to using an iPad for work if you agree to lug around this 12.9-inch beast after dropping a grand on it.
Our recommendation:
as we mentioned above, if you can stretch your budget to shoot for an iPad Pro (2021) instead of an iPad Air — it's definitely a good investment. Even the base 128 GB storage tier will serve most people nicely, plus you get ultra-fast Thunderbolt speeds with the USB C port here. A better screen and better sound experience round off a package that will serve you for many years to come.
iPad Air (2020)
The
iPad Air 4
landed in 2020 and it was pretty hard to ignore. In fact, it was an amazing middle-of-the-road solution, supporting the pro-grade accessories of the iPad Pro — the Magic Keyboard and the Pencil 2nd gen — but at a lower price. Now that the
iPad Air 5 (2022)
has launched, the Air 4 has almost gone extinct.
However, a few of them are still available at clearance with various retailers. And we do think that the iPad Air 4 is a better deal than the new iPad 10th gen. Mostly because you get the better screen and you get support for the Magic Keyboard and Apple Pencil gen 2.
Keep in mind, this older iPad Air does not support Stage Manager on iPadOS 16. So, powerusers should back away from this model and look above. However, if you just want a solid tablet experience — the Air 4 is still perfectly fine with its landscape stereo speakers and laminated screen (still, only 60 Hz though).
Our recommendation:
The iPad Air 4 can be found at abour $460 for the 64 GB variant. That's almost the same price as the new iPad 10th gen. They have the same processors, but the Air supports an Apple Pencil gen 2, a Magic Keyboard (instead of the awkward Magic Folio of the iPad 10), and has a better screen.
iPad (2021)
Yes, we are skipping the 2022 iPad 10 and instead going for the iPad 9th gen. As mentioned above, at the current time, it's much better to look for an old iPad Air than buying the iPad 10th gen.
However, if you simply want the cheapest Apple tablet — then the iPad 9th gen is the one to look at. Its MSRP is $329, but it regularly drops to $299 — even if there's no sales event going on at the moment. Its base storage is still 64 GB, which should be enough for basic tablet usage. Maybe remember to do some file housekeeping now and again.
The iPad (2021) supports the Apple Pencil gen 1 and a Smart Keyboard folio, though we don't recommend the latter — it's not a great keyboard experience, yet it's kind of expensive. We do love the Magic Keyboard for the more expensive Apple models, but the Smart folio is a disappontment.
Our recommendation:
For $330, this model gives you a lot more bang for your buck than the new iPad 10th gen. Yes, this one doesn't look as fancy and still has thicker bezels and a home button, plus its speakers are not in a stereo setup. But if we are to assume that you are looking for a budget tablet with the most juice for your money — we'd say it's a way better deal, even with the compromise in design.
Read more:
Apple iPad (2021) review
iPad mini (2021)
The new iPad mini 6 generation looks and behaves like a tiny iPad Air. It's got the new all-screen front look, it has a Touch ID sensor in its oversized power button, it even has stereo speakers in landscape orientation, and it supports the 2nd generation Apple Pencil. There's no Magic Keyboard support here — the mini is too tiny for that.
The iPad mini has some quirks — like a very noticeable "jello" effect when scrolling the screen. It's obviously going to remain this way, too, as Apple's response to it was basically "Well, that's what LCD screens do". But, if you can get past that, it's a perfectly good tablet for reading, surfing, and maybe even binging YouTube.
It's powered by the Apple A15 Bionic chip, which is quite overkill and has plenty of overhead for the coming years. We assume the iPad mini will be getting a lot more iPadOS updates. However, don't even hope for Stage Manager or a desktop environment on an external monitor. The iPad mini can still connect to a big display, but you just get screen mirroring, not the work environment that the iPad Pros and iPad Air M1 get.
Our recommendation:
Starting at $499 for the 64 GB Wi-Fi only model, this tablet is not meant for those looking for a bang-for-buck deal. If you want a good iPad experience for a bargain — go back to the base iPad 10.2 (2021). The mini is meant for a specific type of customer that wants that small device — maybe fans that are looking for a backup iPad for situations where the Pro is just too big.