iPads 2021 buying guide: choose the best iPad for you (Updated: October 2021)
39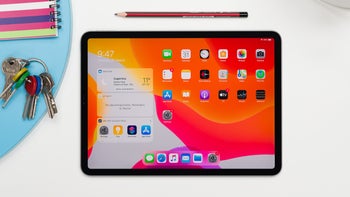 Since
Apple
's restructuring, which began back in 1997, the company's product philosophy has been this — make only one product per category, but do it right. Since then, however, Apple's portfolio has been growing. Slowly, sure, but steadily. So, back in
iPhone 4s
days, we only had the choice between a white iPhone and a black iPhone, and only one iPad model. Nowadays, the choice is so vast, it could make your head spin.
No fear — here's our comprehensive buying guide on Apple iPads for 2020, which will help you find the best slate for you or that special person you are buying it for.
iPad mini (2021)
— not a good price/value ratio, but your only choice if you are looking for a small iPad
iPad Pro 12.9 (2021)
When Apple announced that the new iPad Pros for 2021 will have an M1 chip inside, our jaws dropped. A quick reminder — M1 is the new Apple silicon, which was introduced in late 2020 as a new processor for the MacBook Air, MacBook Pro, and Mac mini. In early 2021, M1 made its way to a new iMac model (which is also worth drooling over) and the iPad Pro (2021) models.

What's the big deal? M1 is very, very energy-efficient and quite powerful. The new iPad Pros are pretty much on-par with a high-class business laptop in terms of performance.
The 12.9-inch iPad Pro (2021) in particular also sets itself apart with a new screen — the Liquid Retina XDR screen. Long story short — it's the same high-quality display as the Apple Pro Display XDR that has everyone ranting and raging.
Of course, it fully supports a wireless mouse and keyboard or the Magic Keyboard accessory, which basically turns the iPad Pro into a laptop-tablet hybrid. Yeah, iPadOS still holds it back from being a multi-tasking machine, but this may change in the future.
The iPad Pro (2021) has a USB Type-C port on the bottom, just like the 2020 line, but — there's a huge but here — it's actually a Thunderbolt port. Which means super-fast data transfer — either for files from and to external sources, or for an external high-res display.
Our recommendation:
the iPad Pro 12.9 starts at $1100 for the 128 GB model with 8 GB of RAM. If you are willing to drop that amount of money on a huge tablet with pro specs, it's probably a good idea to splurge the extra $100 and pay $1200 for a 256 GB model — this will give you some breathing room for your projects further down the road. If you want an iPad with 16 GB of RAM, you will have to pay a minimum of $1800 for the 1 TB model. At this point, you probably know exactly what you are looking for. Either that, or you have money to burn.
iPad Air (2020)
The
iPad Air 4
landed last year and it's pretty hard to ignore. In fact, it's an amazing middle-of-the-road solution. It supports the pro-grade accessories of the iPad Pro — the Magic Keyboard and the Pencil 2nd gen — but it's $200 cheaper than the entry level iPad Pro. The only major drawback of the iPad Air 4 is that it doesn't have a 120 Hz ProMotion display. Other cut corners include the lack of a Face ID sensor (it uses a Touch ID scanner in the power button) and the disappearance of the LiDAR camera.
The iPad Air 4th gen is powered by the Apple A14 chip, built on a 5 nm process. It's a pretty potent system, which may not be as powerful as the brand-new M1 chips, but it still has plenty of juice. In fact, if you are not strictly looking for a Pro machine, the iPad Air 4 will pretty much do everything you need from a modern tablet.
Our recommendation:
The iPad Air 4 starts at $600 for the 64 GB variant. That's plenty of storage for your moderate iPad user and you can use the money you saved towards a nice keyboard case to have yourself an iPadOS-powered laptop. If you think that 64 GB won't suit you — don't look at the next tier iPad Air. The next step up is a 256 GB model, which will cost you $750. We think that, at this point, it's better to buy an iPad Pro 11 (2021), which starts at $800 and has 128 GB of storage and 8 GB of RAM on its base tier.
iPad Pro 11 (2021)
The iPad Pro 11 (2021) is in a bit of an awkward position right now. Yes, it has the same M1 chip, which we are ranting and raving about. It also has a Thunderbolt USB C at the bottom, so cool. But it doesn't have the new XDR screen as the 12.9-incher — it's the good old 120 Hz Liquid Retina LCD here.
And make no mistake — that M1 will definitely outperform the previous Apple A12Z chips that are in the 2020 line. So, if you want lots of performance headroom and future-proofing, but don't want the gynormous 12.9-inch iPad Pro — the iPad Pro 11 is certainly a good buy.
On the other hand, iPadOS hardly packs enough features right now to make use of all the power the M1 has on tap. So, the iPad Pro 11 (2021) is not a "definite must buy" yet — the iPad Pro (2020) might start looking mighty tempting now, as retailers will surely start selling it off at discounted rates.
Our recommendation:
Even at the base $800 price tier, the iPad Pro 11 can give you quite a bit to work with. 128 GB of storage is not very generous, but it also doesn't feel very constraining on a mobile operating system. If you feel like you'd rather have the breathing room — an extra $100 will get you 256 GB of storage, which should be more than enough for most users for a few years to come. Anything above that becomes seriously pricey. Keep in mind that, through its USB port, the iPad Pro line now supports external card readers and hard disks with no issue. Anyone looking at the storage options of 512 GB and above is probably a serious pro who also needs the portability of an 11-incher.
iPad Pro 11 (2020)
The iPad Pro 11 (2020) is still a very, very good tablet. The Apple A12Z Bionic chip is nothing to sneeze at, as it still makes laps around most "thin laptops" out there. Yes, the A12Z is seriously outperformed by the new M1, but knowing Apple — iPadOS updates will still come to and work well on 2020 iPads for years to come.
The new models will start shipping in May and Apple has already delisted the iPad Pro (2020) from its official store. Which means that retailers will now begin selling off iPad Pro (2020) units at discounts, refurbished models will start popping up, and early adopters will start selling off their iPad Pro +
Apple Pencil
+ Magic Keyboard combos on auction websites.
Absolutely don't be shy to jump on a deal if you find one. The iPad Pro 11 (2020) has a beautiful screen with 120 Hz refresh rate, a fantastic-sounding quad-speaker setup, and a lot of power under its thin aluminum hood.
Our recommendation:
the base version of the iPad Pro 11 (2020) comes with 128 GB of storage, which is plenty enough for medium tablet usage — some productive apps, some games, and some storage management with the help of iCloud.
iPad (2021)
Apple's budget iPad was upgraded yet again in 2021. It has a comfortably large 10.2-inch screen and the old style body — thick bezels to hold on to and Touch ID on the bottom.
The biggest upgrade here is to the base storage capacity — you now get 64 GB for the $330 model, which was quite needed and a very welcome refresher. Additionally, we get the Apple A13 Bionic chip inside — it's a couple of years old, it was first introduced with the
iPhone 11
. Still, it's more powerful than anything on the Android side and it has — at the very least — 3 more years of peak performance in it. Updates to the iPadOS will probably keep rolling for at least 5 years, too.
Apple's cheapest iPad on offer has Smart Keyboard support, bringing it that much closer to the much more expensive iPad Pro lines. Couple that with support for an Apple Pencil (gen 1) and you've got a machine that's meant for play
and
work... depending on your field, of course.
It's had some corners cut, of course. No laminated display here, so the screen has that cheap-ish look to it. Its two speakers are placed right next to each other, on the bottom side of the tablet, so there's no true stereo.
Our recommendation:
the base $330 variant comes with 64 GB of storage, which can definitely work for most users. You might have to do some files maintenance and storage housekeeping a few months down the line, but it's not unmanageable. The other storage tier is 256 GB for $480, which is a bit much for the base level iPad. At that point, it might be wise to look around for a refurbished iPad Air (2020) with 128 GB or an old iPad Pro 11" with 128 GB.
iPad mini (2021)
It has finally happened — Apple has updated the iPad mini line! The new iPad mini 6 generation looks and behaves like a tiny iPad Air (2020). It's got the new all-screen front look, it has a Touch ID sensor in its oversized power button, it even has stereo speakers in landscape orientation, and it supports the 2nd generation Apple Pencil. There's no Smart Keyboard support here — the mini is too tiny for that, or so Apple has decided.
It's powered by the new Apple A15 Bionic chip, which paradoxically makes it more powerful than the currently-available iPad Air. But don't get an iPad mini because of its price — it's a cool little munchkin, but at $500, you get a really small screen to work with. It kind of makes iPadOS features like Slide Over and Split View a bit useless on the small canvas.
Our recommendation:
Starting at $499 for the 64 GB Wi-Fi only model, this tablet is not meant for those looking for a bang-for-buck deal. If you want a good iPad experience for a bargain — go back to the base iPad 10.2 (2021). The mini is meant for a specific type of customer that wants that small device experience — maybe fans that are looking for a backup iPad for situations where the Pro is just too big.