Black Friday phone deals: recap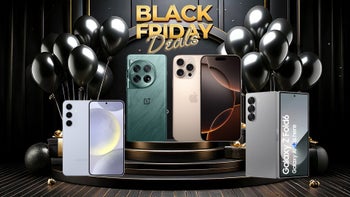 Black Friday 2022 came and went, and what a shopping event it was. It not only came early, but lasted quite a bit longer after the actual, official day it is on - November 24. If you're interested in learning which phones got discounted this year, and what to expect during Black Friday 2023 based on its predecessor - you're in the right place!
Black Friday 2022: what were the best deals?
A few weeks before Black Friday, Best Buy came in with the early deals, which included some solid discounts on many smartphones, most notably Samsung's Galaxy series. The top tier flagship Galaxy S22 Ultra went on to become up to $200 cheaper than its usual price at Best Buy. Speaking of which, it was also up to $348 off on Amazon too, when the big shopping event's date actually came!
Just the Galaxy S22 Ultra alone was up to $825 off at Samsung.com (with trade-in), up to $200 at Best Buy with no strings attached, and again - also up to $348 off on Amazon. Crazy!
After Best Buy, Samsung was also quick to come in with the early Black Friday deals, offering particularly huge discounts on all of its phones, with one caveat, though - trade-in. Samsung's Black Friday deals truly did include all Samsung phones, though, from the aforementioned flagship, to its mid-rangers like the Galaxy S21 FE, which was up to $450 off with trade-in.
As the Black Friday event came around, we saw all other stores join in on the fun, most notably including Amazon, Walmart, plus the major carriers like T-Mobile, AT&T and Verizon.
Those looking for affordable phones had options too, like Samsung's Galaxy A53 5G, which was notably $100 off on Amazon, making it just $349.99.
Of course, on the other side of the spectrum, Samsung's cutting-edge, expensive foldable phones, like the Galaxy Z Fold 4 and Galaxy Z Flip 4 were also discounted for Black Friday. Even better, they were among the first phones from those early deals to actually drop in price significantly.
Eventually the foldable Z Fold 4 got up to $1350 cheaper at Samsung's website (with trade-in), while the Z Flip 4 - up to $750 off (71%)! So Black Friday is by far the best time to get a foldable, no argument there! So if you're interested - be sure to stick around for Black Friday 2023, when we're surely going to get similar, if not better deals! Just prepare a trade-in device, if you're planning to buy from Samsung.com in particular (and get the sweetest deal in return).
Are Black Friday 2022 deals still available?
Black Friday 2022 is long gone, and its deals eventually all expired, but that doesn't mean there are no deals available right now, unrelated to that particular shopping event. Indeed, great phone deals pop up all the time, at any time of the year, so stay tuned to PhoneArena.com, as we often notify our readers of such. You can also scroll down for a list of the latest available phone deals, and deals on general tech, that we've discovered most recently.
When is Black Friday 2023?
| Black Friday 2023 start date | Black Friday 2023 end date |
| --- | --- |
| Friday, November 24, 2023 | Friday, November 26 |
Black Friday 2023 will technically be on Friday, November 24, 2023. However, as always, we can expect early Black Friday 2023 deals to start popping up weeks prior to the event, so stay tuned!
When do Black Friday deals start?
The next Black Friday event starts on November 24, 2023 - the day after Thanksgiving. But as always, many retailers will begin promoting the event days and even weeks prior to that day. Similarly, we'll have remaining discounts offered well into the following weekend and week, past the day of the event, so even if you're late, you'll likely be able to catch a good phone deal.
Normally Black Friday deals start showing up weeks before the actual event, usually with Best Buy and Samsung launching the earliest good offers. Last time around we saw those two launch a huge number of great early deals, and popular stores such as Target, BestBuy and Walmart followed shortly after. But of course, the top deals with the biggest price cuts will launch on the day of the Black Friday event – November 24.
Did you miss the Black Friday event?
We find and share tech deals and discounts through the entire year, so you can always catch something good! See the latest deals here: