The best mid-range phones to buy in 2023: our top list
2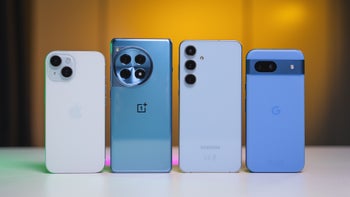 Mid-range phones
have become increasingly popular and more impressive throughout the last half of the decade. The main objective of a mid-ranger is to offer premium feel and performance for a price that is considerably lower than that of the current flagship options on the market.
Now, of course, price is a very subjective topic, but if we take a look at the high-end and then the
budget phones
, we can assume the middle range fits somewhere between the $400 and $700 mark. So, keeping that in mind, here are our top contenders for the
best

mid-range phone
s in 2023.
Which is the best mid-range on the market?
Google

Pixel 6a
One of the best bang-for-your-buck options
Even though the
Pixel 7a
is now out,
Google
is still selling the
Pixel 6a
from 2022, but at a much lower price of $349, which is $100 less than what the phone cost during its launch. Now, the 6a does not come with the new camera hardware that its successor has, but given its much lower price it is still rocking arguably the best camera system compared to its competitors.
Besides the camera prowess, the
Pixel 6a
offers a nice FHD+ 6.1-inch OLED display, Google's Tensor, 6GB of RAM, and a battery that would last a full day for most users. A couple of things to keep in mind are that the 6a is not the
best phone
as far as gaming goes, and you might find its under-display fingerprint reader a bit slow.
Flagship-level camera in a $500 phone
Coming in at $499 ($50 more than the
Pixel 6a
's price at launch), the
Pixel 7a
might not be as good of a deal as its predecessor was, but it comes with significant improvements, especially in some key areas.
First of all, what is usually a Pixel phone's strongest aspect, its cameras system, now features three new image sensors including a 64MP one for the main shooter, a 13MP one for the ultra-wide, and a another 13MP for the selfie. This set of cameras might not be the same as the more expensive
Pixel 7
, but they offer almost the same level of performance and image quality as Google's latest flagship duo (minus the zoom capabilities).
Additionally, you get an increase in RAM from 6GB to 8GB, which should make the phone more responsive when it comes to multitasking. One very welcome upgrade is the 90Hz display refresh rate, which is something the 6a was lacking. Also, you get the Tensor G2 chipset, which is also powering the
Pixel 7
and 7 Pro.
Samsung Galaxy A54 5G
Samsung's great camera handset with a vivid display
Samsung's A series has been really successful in the last couple of years, and this success speaks volumes when it comes to how good these
Samsung
phones are. The fresh Samsung Galaxy A54 5G is no exception to this rule, and it is also one of the
best phones in 2023
.
The phone has almost the same look as Samsung's flagship series, a great 6.4-inch 120Hz AMOLED display with an FHD+ resolution, and an efficient Exynos 1380 processor with 5G connectivity. The Galaxy A54 5G comes with either 6 or 8GB of RAM and 128 or 256GB of storage (with the option to expand via a microSD card).
Camera-wise this handset doesn't disappoint, with its great tripple-camera system with a 50MP main shooter, 8MP ultrawide, and 5MP macro. The selfie camera is a 32MP punch-hole unit that takes great selfies with lots of detail. No need to worry about battery life with this one, as its 5,000mAh battery with 25W fast wired charging will easily get you through the day.
Read more:
Samsung Galaxy A54 Review
Apple

iPhone 13
The best balance between price and user experience from an Apple phone right now
The base 128GB storage version of the
iPhone 13
will cost you $599 brand new at Apple right now, and it is arguably one of the best bargain there has ever been for an iPhone. Why do we say that? Because the
iPhone 13
is regarded as one of the best generations, thanks to its massive jump in battery life that continues to be impressive and even beat (in some cases) newer generations.
There is also the absolute solid camera performance, especially when it comes to video, as well as the (still) very powerful A15 Bionic, which will handle games much better than most of the other phones on this list. All in all this is a no-brainer choice if you are coming from an older iPhone but don't want to spend massive amounts of cash for a new one.
The $599 price Apple is asking is pretty good, but we would recommend you find yourself a second hand
iPhone 13
that is in good condition. That way you can save even more, and contribute to slowing down the e-waste that accumulates from mobile phones.
OnePlus 10T
The current mid-range offering from the OG flagship killer company
Since a
mid-range phone
(especially the higher-tiered ones) is meant to be basically an affordable flagship, we also sometimes call them "flagship killers," which is a term that first originated from OnePlus.
Well, many years later the company no longer lives by these words, but that doesn't mean there are no flagship-killers among its phone lineup. The OnePlus 10T is a bit of a mixed bag — as long as you are not too prone to use your phone's cameras, you will probably be quite happy with your purchase.
You get a clean software, awesome 150W wired fast charging, and powerful gaming performance thanks to the Snadragon 8+ Gen 1. The OnePlus 10T has also some of the best heat dissipation on the market, even today, so you can rest assured that performance will stay smooth in prolonged periods of use.
Motorola G Stylus 5G (2023)
Your best shot at an affordable phone with a stylus
There are not many phones out there that come with an integrated stylus, and there are even less that come with a somewhat affordable price. The Motorola G Stylus 5G which came out in the beginning of June is one of the company's
best

mid-range phone
s.
Besides the stylus that makes a more unique option, it also has a big 6.6" display with a resolution of 2400 x 1080 and a maximum refresh rate of 120Hz. You also get the Snapdragon 6 Gen 1 chipset from Qualcomm, meaning the phone should be plenty smooth and capable.
The Motorola G Stylus 5G (2023) will cost you $399 for its base version, going up depending on the storage option you choose.
Nothing Phone (2)
Most unique mid-range phone
Nothing made a solid entrance with its Nothing Phone (1) last year, so the company decided to stick to its guns and play it safe with the Nothing Phone (2). Its higher price was a bit of a controversial topic because of the rather hefty increase in price (from $299 to $599), but in return the second generation came with a much more capable chipset, the Snapdragon 8+ Gen 1.
The company also doubled down on the iconic Glyph system that the Nothing Phone is so well known for, making it more customizable by adding more LED lights. Now users can track things like a timer or delivery with one of the lights functioning as a progress bar, or assign a very specific notification to be presented via one of the Glyph LEDs on the back.
The third part that makes the Nothing Phone (2) stand out from other mid-rangers is its software support. Nothing has promised 3 years of major OS updates and 4 years of security patches. Nothing OS, which is what the Nothing Phones run on, is almost as unique as the phone's hardware, and it is bound to improve much more in the coming years given how early in its development it still is.
How to choose the best

mid-range phone

?
Even though they try to steal the thunder from the more premium flagship models,
mid-range phones
still need to make some sacrifices in order to achieve the lower price tags they come with. In other words, there usually is some areas that they are best at and others that have room for improvement, so you would have to really pinpoint what you want from your new phone.
If you're looking for the best battery life in a mid-ranger
If battery life is the most important thing for you, you may want to think about the Moto G Stylus. In our extensive battery tests, the phone fares really good compared to the other handsets in the list. The
Pixel 7a
(and for that matter, the
Pixel 6a
as well) is also a solid contender here, and so is the
Galaxy A53
. Check out the results for yourself in the table below.
If camera quality is your thing
Pixels are really popular with their incredible image processing software and the fact that these devices are rarely challenged by lighting conditions. If you're looking for a great camera, going for the
Pixel 7a
will likely leave you pretty happy. Alternatively, the
iPhone 12
is also great for camera quality, and also shoots epic videos.
If you want to play games
A good gaming experience on a smartphone is determined by three main aspects: battery life, display, responsiveness/performance/raw power. Although none of the handsets above are dedicated gamer phones, you can still enjoy great gaming on some of them. One such example is the
iPhone 12
, given the fact that it has a very powerful and fast chipset and any game you'd like to play on it is bound to run smoothly.
The OnePlus 10 Pro is another really good way to go here, as it has a very powerful chipset and handles heat excellently, meaning its level of performance stays consistent throughout prolonged gaming sessions.
If you're looking for solid audio performance
Go for the iPhone. After all, the
iPhone 12
is a flagship smartphone and Apple tends to make its flagship devices rock audio tests. Also, you will be able to benefit from things like Spatial Audio (and if you get AirPods Pro or AirPods 3-rd gen the experience is even better) - the handset supports Dolby Atmos. Alternatively, the
Pixel 6
or 6a are also quite good in this department.
What software support do mid-range phones get?
It depends on the maker. For example, Apple devices get at least five years of software updates - including iOS updates. As for the
Android phones
- the Galaxy A54 gets four years of OS updates and five years of security patches.
Pixel 6a
and 7a, on the other hand, get only 3 years of updates from Google and 4 years of security patches, which is the same for the OnePlus 10 Pro.
In conclusion

All the mid-rangers we talked about above are great phones and choices. No matter which one you go for, it would offer you a pleasant user experience. The question is which one fits your needs and tastes more? Only you can answer that question.
Best way to start is by figuring out how much cash you are willing to spend on a so-called "mid-range" phone. If you know your budget, then all that is left is to weigh in your personal pros and cons for each device. Are you looking for long battery life? Or maybe it is maximum performance?
Recommended Stories