The best mid-range phones to buy - updated August 2022
2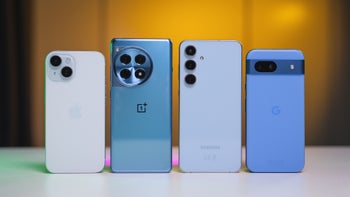 Soon after the smartphone revolution began with the original iPhone, a wide range of similar devices appeared. This range only grew with time, creating a bunch of different price categories in the smartphone world. Mid-range phones are one of those categories. These devices try to bring the flagship experience at a lower price point, and these days they often succeed. There are plenty of excellent mid-range phones in the $400 to $700 price range, and you will find the best of them on this list.
These are the best mid-range phones
Pixel 6a
— stock Android experience with great camera performance
Galaxy A53 5G
— Samsung's great camera phone with a vivid display
OnePlus 9
— a year-old flagship with modern design and fast performance
iPhone 12
— Apple's best affordable iPhone
TCL 20 Pro
— TCL's 2021 mid-range proposition with a stand out design
Motorola G Stylus 5G
— a phone that offers good value and a stylus


Google Pixel 6a
Google's affordable phone has an OLED, 6.1-inch display with an FHD+ resolution. Its refresh rate is only 60Hz, but this isn't very concerning, as its clean Android software is fluid enough for most. This fact is helped by its fast and very efficient Google Tensor processor, coupled with 6GB of RAM and 128GB of storage.
Like every Pixel phone, this one performs exceptionally well in the camera department too. It has a dual-camera system consisting of a 12.2MP main shooter and a 12MP ultra-wide one. The front camera is an 8MP punch-hole unit. The Pixel 6a has a good battery life, thanks to its 4,410mAh battery. Its fingerprint scanner is located under the display, which is a very welcome upgrade over its predecessor's regular scanner that was found on its back. You can count on receiving upcoming Android software first and for years to come, which is very important.
Read more:
Google Pixel 6a review
Samsung Galaxy A53 5G
Samsung's A series has been really successful in the last couple of years, and this success speaks volumes when it comes to how good these phones are. The fresh Samsung Galaxy A53 5G is no exception to this rule. This phone has a modern design, a great 6.5-inch 120Hz AMOLED display with an FHD+ resolution, and an efficient Exynos 1280 processor with 5G connectivity. The Galaxy A53 5G comes with either 6 or 8GB of RAM and 128 or 256GB of storage.
Camera-wise this phone doesn't disappoint, with its great quad-camera system with a 64MP main camera and a 12MP ultrawide shooter. The front camera is a 32MP punch-hole unit that takes great selfies with lots of detail. No need to worry about battery life with this one, as its 5,000mAh battery with 25W fast wired charging will easily get you through the day.
Read more:
Samsung Galaxy A53 Review
OnePlus 9
This phone was released more than a year ago, but it is still one of the best choices you can make when it comes to affordable flagships. While when released this phone had a flagship price, now it is sold for about $500, which takes it straight into mid-range territory. When it comes to specs, the OnePlus 9 is still pretty modern. This phone is powered by Snapdragon's still very snappy 888 chip coupled with 8GB of RAM and 128GB of storage.
The camera system of the OnePlus 9 is also pretty good. It uses a 48MP main sensor and a 50MP ultra-wide shooter, as well as a 2MP monochrome camera. All of this results in very nice-looking pictures and great videos in up to 8K resolution. The 16MP front camera is also good. The 6.55-inch 120Hz AMOLED panel of the OnePlus 9 is also among the best in this price range. Battery life is decent, and when you run out of juice you can recharge very quickly thanks to this phone's 65W fast-wired charging capabilities.
Read more:
OnePlus 9 review
Apple iPhone 12
Yes, you might be surprised to see an iPhone in a mid-range phones list, but hear me out. Even though this phone was never really in the mid-range segment, Apple started offering it as one since the iPhone 13 release, and it sells like hotcakes. Wonder why? Well, this phone is a great iOS device to have, especially considering its price has dropped to $699.
The iPhone 12 has an excellent 6.1-inch OLED screen with relatively tiny bezels. The A14 processor which powers the phone is still plenty fast, and with Apple's software optimization, it will stay that way for years. The iPhone 12 is still competitive in the camera segment as well, being capable of taking very nice pictures and videos. So what's not to like about the iPhone 12? After all, it is what a mid-range phone should be - a device with flagship-grade features and quality at an affordable price.
Of course, if you wanna save some more, you can also go for the iPhone 12 mini. This phone is $100 cheaper, but there's a catch. The 12 mini doesn't impress in terms of battery life. If you're a light user you should be fine, with this phone getting you trough the day no problem, but if you spend four or five hours on your phone daily, we don't think it's your best choice.
Read more:
Apple iPhone 12 review
Google Pixel 6
The Google Pixel 6 is one of the best affordable flagships you can currently buy. It has a great 6.4-inch 90Hz AMOLED display and a smart and efficient Google Tensor processor. It also comes with stock Android 12 and guaranteed updates for many years. It isn't the prettiest, but its design is charming to many. Especially with its camera module reminiscent of the Nexus 6P.
Speaking of cameras, the Pixel 6 features a dual-camera system which is capable of producing one of the best photos and videos in the industry. It has stereo speakers and a 4,614mAh battery that's going to last you at least a day.
Read more:
Google Pixel 6 Review
Motorola Edge (2021)
The OG Motorola Edge was a great almost-flagship phone, and this year its successor brings even more value to the table. The Edge (2021) rocks a big 144Hz LCD display which is very good for gaming enthusiasts. This phone also has a large battery, which means it can last up to two days on a single charge. The main camera is a 108MP sensor capable of taking some great photos.
Unfortunately, to make it affordable, Motorola had to cut some corners. The second camera is an 8MP ultrawide shooter, and the third is a 2MP depth sensor. Motorola also saved on the fingerprint sensor, which is side-mounted instead of an in-display one. The Motorola Edge (2021) is powered by a Snapdragon 778G processor coupled with more than enough RAM and storage.
Read more:
Motorola Edge (2021) is official
OnePlus 9
The OnePlus 9 is almost a year old, which means it often sees discounts. Currently, the beast of a phone retails for $729. It is powered by a fast Snapdragon 888 processor, which makes it one of the best phones in terms of performance on this list. The OnePlus 9 has a very good 120Hz AMOLED display, blazing fast wired charging, and a good camera system.
We definitely recommend this phone for Android enthusiasts. It has a clean and simple user interface which lacks unnecessary bloatware. Its battery is large too, and it provides a better than average battery life. It is also a good-looking phone, and all of that makes it very easy to recommend.
Read more:
OnePlus 9 review
Samsung Galaxy S21 FE
The Galaxy S21 FE, just like its predecessor, is very popular across the Android community. The 'FE' itself stands for 'Fan Edition'. The reason for that is simple, this phone offers flagship performance and quality at a more affordable price.
Samsung's Galaxy S21 FE has an excellent 6.4-inch 120Hz AMOLED display with tiny bezels and a very capable triple-camera system. This phone's Snapdragon 888 processor is still a beast of a performer, and it also comes with 5G connectivity. The battery is a 4,500mAh one, which means the S21 FE will get you trough the day easily.
TCL 20 Pro 5G
TCL recently released its new 20 series smartphone, and the high-end model is the 20 Pro 5G. The company has done a great job with this phone. It has a pretty design that stands out from the crowd and a nice 6.67-inch AMOLED display with an FHD+ resolution. It surprisingly also has a headphone jack and a MicroSD card slot. Yes, the screen is only 60Hz, but if you don't care about refresh rates this is a pretty good mid-range phone.
The TCL 20 Pro 5G is powerful too, with its Snapdragon 750G processor coupled with 6GB of RAM and 256GB of storage. This device has 5G connectivity and a 4,500mAh battery. The cameras aren't bad either, with the 20 Pro 5G having a 48MP main camera and a 16MP ultrawide shooter. Like every TCL phone, this one's price is pretty appealing, so you should definitely consider it.
Read more:
TCL 20 series released in the US
Motorola Moto G Stylus 5G (2022)
This Motorola device is pretty much everything one should expect from a good mid-range phone. The newest Moto G Stylus checks almost all the boxes, with its 6.8-inch 120Hz LCD display with FHD+ resolution, decent Snapdragon 695 processor, and a beefy 5,000mAh battery. Design-wise it isn't bad either. This phone comes with 6 or 8GB of RAM and 128 or 256GB of expandable storage. Yes, this phone does have a microSD card slot. It features a headphone jack too!
As for the camera department, the Moto G Stylus 5G rocks a 50MP main camera and a 8MP ultrawide shooter. The phone has a third 2MP depth sensor for better portrait shots. Unfortunately, this phone can shoot a video only in 1080p with either 30fps or 60fps. The stylus of this phone is no S Pen, but it does give you more functionality and features. The Motorola Moto G Stylus 5G is an excellent choice for a company phone or a phone for someone who often struggles to hit the right buttons with their fingers and can make use of the stylus. It could also make a good main phone for business oriented people who change phones every one or two years.
Read more:
Motorola Moto G Stylus 5G (2022) review
In conclusion

The day has come when there is no need to spend all that extra money on a flagship phone. Mid-range phones have become more than enough for almost everyone's needs. Examples for that are found in this article in the form of devices like the Google Pixel 6a and Pixel 6, the Samsung Galaxy A53 5G, and the Motorola Edge (2021). These are all phones with which you don't have to compromise when it comes to the important stuff.




The slowing innovation in smartphones has enabled affordable phones to catch up to their premium cousins, and that's great news for any buyer. Of course, if you wanna have the best of the best, you can always go for a flagship device, but at least now you know the truth - you don't really need to.