Preslav Kateliev - Mobile Tech Reviewer and Video Host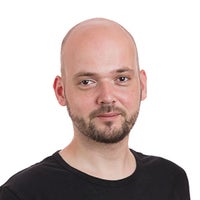 [email protected]
Preslav has been with PhoneArena since 2014. His first foray into mobile technologies was with the Samsung Galaxy devices and he spent way too much time with an S Pen in his hand, jotting down his ideas on a Galaxy Note — his favorite being the Galaxy Note Edge, which is sadly now too old to be competent in this day and age.

Over the years, he became fascinated with anything and everything mobile that can be incorporated into his existing hobbies or work. He likes to tinker with "small technology" and make it work for him in fields where portability is a prime benefit.

You can often spot him writing articles, recording guitars, or editing videos on an iPad Pro. Or using an action camera to record training sessions with his dog (Anyone remember the Samsung Gear 360?). He will often pick up more than one phone from the office to record a band rehearsal or live gig and try to test those "pro microphone" claims that manufacturers keep throwing at us.

But, out of all of them, gaming is his biggest timesink. And, while mobile games themselves aren't much to Preslav's taste, he still holds hope that services like GeForce Now and Steam Link will be up to par for some true competitive gaming in the near future. Though, he fears that this would be the day that his article output drops significantly.

Having been through both an "Android is king" stage and an "iPhone is best" period, Preslav is now much more laid back on what type of phone he has in his hands. As long as the performance is there, the camera is good, and the user interface is pretty, thoughtful, and experience-oriented, he is happy with it.

You will often see him making arguments for both the pros and cons of a device, which does drive him a bit insane — he still can't decide whether he likes or hates the Galaxy Fold experience.
Recent articles by Preslav