Best Motorola phones - updated May 2022
2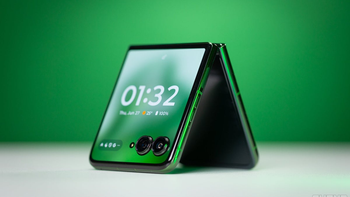 Motorola, although not being a market leader as
Samsung
or even
Xiaomi
, has been around on the global smartphone market for quite some time. Quite understandably, the company has acquired experience on offering the best phones they can to match the growing demands of users.
Among
Motorola
's phones you can find a lot of great options for quite reasonable prices: whether budget-friendly,
5G
-capable, or even flagship-grade performing, Motorola most probably has an option for you. That also means there are a lot of options available and you might be wondering which is the best Motorola phone for you in 2021. If that's the case, this article is for you: we explore the best Motorola phones out there to help you determine which one to get.
So, without further ado, let's dive into the list.
Best Motorola phones right now in 2022:
Motorola Edge 30 Pro: polished flagship experience
Motorola is getting better now at competing on the flagship market with its most recent flagship phone, the Motorola Edge 30 Pro. At the price of $999 (matching other flagship phones), this Moto comes with blazing-fast performance thanks to the Snapdragon 8 Gen 1 processor and a very capable and beautiful 6.7-inch 144Hz P-OLED screen. Keep in mind that it is marketed with the Edge 30 Pro name in Europe, and in the USA, it is called the Motorola Edge Plus (2022).

The phone is also sporting improved camera system with a brand new 50MP main sensor. The photo quality is nice both during the day and night, and the front camera is among the best in the market.

Motorola Moto G200 5G:

flagship performance on a budget



The Moto G200 costs only $499, but it comes powered by the fast Snapdragon 888+ chip, and packs 5G connectivity, and a big, 144Hz screen. It has a more trendy design and is not as boxy as other models from the company, with the camera island design being its main advantage in terms of looks. The Moto G200 5G comes with a 6.8-inch LCD display (which, of course, lacks the AMOLED deep blacks and rich colors), but this has been done to keep the cost down. The display ensures good maximum and minimum brightness and nice-looking colors, complemented with 144Hz refresh rate.

The Motorola Moto G200 has one of the best processors currently available, the Snapdragon 888+. This processor offers flagship performance and handles anything you throw at it with ease. There are pretty much no phones at this price point powered by this processor, so keep that in mind.
Motorola Edge 20: good performance, upper mid-range chip
The Motorola Edge 20 is the long-awaited successor to the original Motorola Edge phone. This phone combines modern-looking design, quality build materials, and a big, gorgeous display at a very reasonable price. This way, the Motorola Edge 20 positions itself among well-known devices like the Galaxy A52 5G and the OnePlus Nord 2, and is indeed capable of being good competition to them.

The Motorola Edge 20 has a powerful Snapdragon 778G processor coupled with 8GB of RAM and a 108MP main camera. These are pretty solid specs for a phone at its price range. On top of the great specs, the Edge 20 delivers smooth and non-problematic performance, great main camera, amazing display, and fresh design. All of this fulfills the recipe for the successful 2021 mid-range smartphone.
Motorola Edge 20 Lite: cheap Motorola phone with 108MP main camera
The Motorola Edge 20 Lite is an appealing choice for those of you looking for a budget-friendly phone with many positive aspects of it. Of course, as any phone on the more budget-friendly sides, it has its negative aspects, but its pros are outweighing the cons. It has a modern look and a 6.7-inch display with 90Hz display refresh rate.
In terms of images that this phone produces, the main camera delivers satisfactory results. In good lighting conditions it delivers sharp images, and HDR seems to do a pretty good job as long as you don't push it too much. Color reproduction is also good, even with colors like pink, for example, which is often a problematic one with smartphone cameras.
Motorola Moto G Stylus (2021): stylus-wielding power
The Moto G Stylus 2021 introduces some improvements over the Moto G Stylus from 2020 and successfully marks one of the best budget-friendly Android phones with a Stylus. It has a sleek build and despite its plastic back, feels solid and sturdy. Motorola also boosted the G Stylus' performance in the camera department, adding an 8MP wide-angle lens to complement the 48MP main camera. The cameras deliver sharp images in a variety of photo-taking situations.

The phone handles multitasking well despite its modest 4GB of RAM for your everyday usage, while its 4,000mAh battery offers a day and a half on a single charge with regular usage.
What makes this phone one of the best Motorola phones for 2021 is in fact the Stylus it wields, while at the same time ensuring a good user experience. The Stylus of the Moto G Stylus isn't quite on the level of Samsung's S Pen, but at the same time, it's quite convenient for a quick note or a drawing for those of you on the artistic side. It's fun and convenient to use.

Motorola One 5G Ace: budget-friendly 5G
The Motorola One 5G Ace makes 5G more accessible, without compromising too much on the quality of the phone. For under $400, it delivers snappy performance, good cameras, great battery life, and a beautiful 6.7-inch display. It's, in fact, among the most affordable phones with 5G as of now, and one of the best Motorola phones for cheap that come with 5G support.

It features a triple-camera system with a 48MP main sensor, an 8MP ultra-wide camera, and a 2MP dedicated macro camera. The Ace's cameras delivers good level of detail on photos, and a great dynamic range. Although it does not have a flagship-grade camera, it manages to produce satisfactory results in most situations and use case scenarios.
On top of that, it has a solid battery, as most of the best Motorola phones tend to do. You can get up to two full days of use with the 5,000mAh battery that the Motorola One 5G Ace sports, and this eliminates that dreaded battery life anxiety.

Moto G Power 2022: best battery life on a Motorola phone
The awesome thing about this phone is the battery life (as you can tell from its name). The G Power series are budget phones with batteries that last on and on and on. This phone is a bit slow on the performance, but if battery life is the most important for you and you want a cheap phone, the Moto G Power 2022 is a good contender for your attention.

In our testing, this phone easily got 2 days on a single charge, something that even more expensive phones can't brag about. Motorola officially says that you can stretch this to a full 3 days, and this is definitely possible if you're a light user.
Motorola One Fusion+: great quality-price ratio
The Motorola One Fusion+ is the best Motorola phone for you if you're on a budget, but you still want to benefit from modern day smartphone features. The phone comes with a versatile camera system, a large screen, a great-sounding speaker, and solid battery life. Its 6.5-inch IPS LCD display sports a Full HD+ resolution and is impressively sharp for this price range, and despite being an LCD screen instead of an OLED one.

On top of that, it doesn't have a punch-hole for the selfie camera to obstruct your viewing experience. It has a motorized pop-up selfie camera, which supports portrait mode, beauty effects, group selfies, and Night Vision. The phone has 4 cameras on its back, with a main 64MP sensor. Its strong mid-range processor, the Snapdragon 730 coupled with 6GB of RAM ensures a good-performing phone. With moderate and heavy usage, its 5,000mAh battery can last you at least two days on a single charge. Overall, the One Fusion+ is the phone to go for if you want the best quality-price ratio from a Motorola phone.
Moto G9 Plus: a big, big phone
The Moto G9 Plus is for people who like a sturdy and big phone (keep in mind, it is indeed quite heavy). Its big 6.8-inch display is good in terms of sharpness and color reproduction, although it's not as punchy as an OLED screen.
The phone features a Snapdragon 730G chip, which manages everyday tasks with ease, despite being a mid-range phone instead of a flagship. If you want a big display with solid battery life, and at a budget-friendly price, the Moto G9 Plus will not disappoint you. Its 5,000mAh battery can withstand two days of heavy usage. For its price range, it delivers great and realistic photos with good detail and dynamic range.
Keep in mind, though, that this phone is not available in the States, so if you live in the US, you might want to check our other recommendations for the best Motorola phones above.
Motorola excels in the price-quality game
In recent years, Motorola had struggled to produce a real flagship phone, but in 2020, it finally launched the Motorola Edge Plus, a great phone for those of you who want the best performance Motorola can give you. However, Motorola phones are generally more budget-friendly phones, and the best Motorola phones in 2021 tend to be the ones with the best price-quality ratio, instead of just the best in sheer power.

The good thing is that many users want to get a reasonably priced smartphone that performs well on everyday tasks and is reliable. And Motorola is offering just that – great budget-friendly and mid-range phones with good performance and very reasonable prices. If you've been searching for a phone like this, Motorola has got it for you.