Best Motorola phones in 2023
4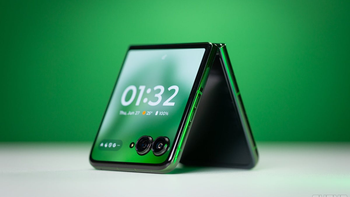 Motorola, although not a market leader as
Samsung
or even
Xiaomi
, has been around on the global smartphone market for quite some time. Quite understandably, the company has acquired experience on offering the
best phones
they can to match the growing demands of users.
Among
Motorola
's phones you can find a lot of great options for quite reasonable prices: whether budget-friendly, 5G-capable, or even flagship-grade performing, Motorola most probably has an option for you. That also means there are a lot of options available, which may find it challenging to find the best Motorola phone for you in 2023. If that's the case, this article is for you: we explore the best Motorola phones out there to help you determine which one to get.
So, without further ado, let's dive into the list.
Best Motorola phones right now in 2023:
Motorola Razr Plus (2023): Motorola's foldable perfection
This clamshell foldable phone by Motorola folds in half to easily fit into your pocket. Unlike its main competitors on the market, it closes neatly with almost no visible hinge, and it also has the largest cover screen on a foldable phone – 3.6-inch OLED display with a snappy 165Hz refresh rate. Motorola didn't leave things to chance when designing this smartphone, too. It looks incredibly stylish and elegant, and it's also available in several colors.
At the price of $999.99, this smartphone obviously isn't all about the looks. It's designed to provide fast and snappy performance, and that's exactly what it delivers, thanks to the integrated Snapdragon 8+ Gen 1 SoC. The camera of this Moto device won't miss out on details, giving you vivid and beautiful photos. As for the battery and charging, the Razr Plus (2023), also known internationally as Razr 40 Ultra, sports a 3,800mAh battery which can be fast charged at 30W charging speeds.
Motorola Razr 40: snappy phone with a sleek design
This is the vanilla version of the Motorola 40 Ultra and is known also as Motorola Razr (2023). Unlike other smartphones in the flip category, this one sports a much lighter price tag. Although it may be somewhat cheaper, it doesn't lag or stumble, quite the contrary. Motorola added the Snapdragon 7 Gen 1 chipset on deck, which may not be the latest and most powerful SoC we've seen, but it's still good enough to handle various tasks with ease.
In a world where glass, aluminum, and plastics are typical smartphone covers, this one comes with vegan leather on the back, which fills up the space under the cover screen and "dresses" the whole bottom half of the phone. Some people may not appreciate it, but it's certainly original nonetheless. The phone has two main cameras in its camera strip and has a 4,200mAh battery that's decidedly impressive. Currently, this smartphone isn't available in the USA.
Motorola Edge Plus (2023): blazing-fast performance
This year's Motorola Edge Plus (2023) is an incredible flagship. It looks stylish and elegant but also packs some serious power. At $799.99, the Moto smartphone provides lighting performance facilitated by the latest Snapdragon 8 Gen 2. You also have a 6.7-inch pOLED display with a blazing-fast 165Hz refresh rate. Anything you do feels buttery-smooth and snappy on this phone. There's also a great camera setup with a 50MP primary camera. It captures detailed images in bright and vivid colors day and night.
The device supports charging speeds of 68W and wireless charging, so you can be sure it'll stay with you longer. Incredibly, you even get a TurboPower charger in the box, a luxury few other flagship phones have nowadays. Don't forget that the device goes by a different name in Europe – Motorola Edge 40 Pro.
Motorola Edge Plus (2022): polished flagship experience
Motorola is getting better now at competing on the flagship market with its most recent flagship phone, the Motorola Edge Plus (2022). At the price of $999 (matching other flagship phones), this Moto comes with blazing-fast performance thanks to the Snapdragon 8 Gen 1 processor and a very capable and beautiful 6.7-inch 144Hz P-OLED screen. Keep in mind that it is marketed with the Edge 30 Pro name in Europe, and in the USA, it is called the Motorola Edge Plus (2022).

The phone is also sporting a camera system with a brand new 50MP main sensor. The photo quality is good both during the day and night, and the front camera is among the best in the market. Battery life is also very decent, and the phone is capable of charging with speeds of up to 65W.

Motorola Edge 30 Ultra: the highest-end Motorola ever made
Finally, Motorola has given us a fully-realized flagship phone that can rival even the
Galaxy S22 Ultra
and the
iPhone 14 Pro Max
. With the Edge 30 Ultra you get the latest and greatest from Snapdragon, an 8+ Gen 1 chip, coupled with 8GB or 12GB of RAM. This combined with its large 144Hz refresh rate OLED screen makes the phone blazing-fast in every scenario. This phone is also easily one of the most beautiful released this year.
But the most impressive thing about the Motorola Edge 30 Ultra is its camera system. This phone rocks a massive 200MP main sensor capable of producing professional-looking photos both during day and night. The 50MP ultra-wide shooter is also very good, and the 12MP 2x optical zoom telephoto sensor completes one of the best camera systems you can get in a smartphone in 2022.
Charging on the Edge 30 Ultra is incredible as well. This phone can charge its 4,600mAh battery from 0 to 100% in less than 30 minutes. This is thanks to its amazing 125W fast wired charging and the best thing is this charger comes in the box. Wireless charging is very impressive too, as it is 50W. You might be wondering what's the catch? Well, there is one. This device is available only in Europe and Asia, which means the USA is stuck with the less-polished Edge Plus (2022). What a shame.
Motorola Edge 30 Fusion: flagship chip on a budget
This is yet another amazing Motorola phone. The Edge 30 Fusion rocks a very good 50MP triple camera system and a beautiful 6.55-inch OLED screen with curved edges and a 144Hz refresh rate. The best thing about this phone is its processor, which is the still very capable Snapdragon 888+ and was the best Qualcomm processor to come out last year.
The Motorola Edge 30 Fusion, just like the Edge 30 Ultra, is also very easy on the eyes. Its 4,400mAh battery will easily get you trough the day, and when you finally need to charge this phone, you can count on its very fast 68W wired charging capabilities. The Edge 30 Fusion also comes in four very nice-looking color options, which is two more than even the Ultra model.
Motorola Edge 30: the mid-range king
The Motorola Edge 30 is the successor to the very successful Motorola Edge 20 phone. This phone combines modern-looking and very slim design, quality build materials, a not-so-big, gorgeous display at a very reasonable price. This way, the Motorola Edge 30 positions itself among well-known devices like the
Galaxy A53
5G and the OnePlus Nord 2T, and is indeed capable of being more than good competition to them. It is also very similar in size, which makes it more compact compared to its predecessor and the more high-end Edge Plus (2022).
The Motorola Edge 30 has a powerful Snapdragon 778G+ processor coupled with 8GB of RAM and a 50MP main camera. These are pretty solid specs for a phone at its price range. On top of the great specs, the Edge 30 delivers smooth and non-problematic performance, good main camera, amazing 120Hz AMOLED display, and fresh design. All of this fulfills the recipe for the successful 2022 mid-range smartphone.
Motorola Moto G Stylus 5G (2023): stylus-wielding power
The Moto G Stylus 5G of this year comes with, you guessed it, a Stylus. That makes it one of the best 5G-ready phones with a stylus and an affordable price. Motorola opted for a smaller size compared to last year's model, so you get a 6.6-inch display, 0.2 inches less than what you have on last year's stylus-wielding device. Even though this iteration of the Moto G Stylus series is slightly smaller, Motorola managed to squeeze in the same 5,000mAh battery and even upgraded its charging speeds to 20W.
We see some changes in the camera department as well. Unlike last year's model, which features an extra depth sensor, the 2023 model has an ultrawide snapper. Aside from that, you get a 50MP main sensor, just like last year's stylus-wielding Motorola phone. The Moto G Stylus 5G runs on a newer Android version than its predecessor, too.
Moto G Power 5G (2023): best battery life on a Motorola phone
This year's Moto G Power 5G (2023) may not be just as durable as last year's model, but it comes with several exciting upgrades. For starters, Motorola allows you to extend the available storage space to as much as 1TB, which is massive for a $299.99 phone.
The Moto G Power 5G's display also received some improvements. Even though the display uses the same IPS LCD technology has an identical size to last year's model, it's clocked at a higher refresh rate of 120Hz. The smartphone also comes with the MediaTek Dimensity 930 chipset on board.
Given the added improvements on deck, this year's model naturally doesn't sport the same official 3-day battery life. However, it's advertised to last about two days on a single charge, which is still impressive.
Motorola excels in the price-quality game
In recent years, Motorola had struggled to produce a real flagship phone, but in 2020, it finally launched the Motorola Edge Plus, a great phone for those of you who want the best performance Motorola can give you. However, Motorola phones are generally more budget-friendly phones, and the best Motorola phones in 2023 tend to be the ones with the best price-quality ratio, instead of just the best in sheer power.

The good thing is that many users want to get a reasonably priced smartphone that performs well on everyday tasks and is reliable. And Motorola is offering just that – great budget-friendly and mid-range phones with good performance and very reasonable prices. If you've been searching for a phone like this, Motorola has got it for you.
Recommended Stories