Samsung Galaxy S21 vs Apple iPhone 12
10
We may earn a commission if you make a purchase from the links on this page.
Samsung's
Galaxy S21
is Samsung's answer to the
Apple iPhone 12
. It's not "crazy expensive" by today's standards, but it cuts some corners to give room to the S21+ and the S21 Ultra to shine. So, at $800 MSRP, does the Galaxy S21 have the chops to rival Apple's mainstream phone? Well… yeah.
The Galaxy S21's main camera module has 3 lenses — main, ultra-wide, zoom, and a ton of software camera features to play with, it has a super-smooth 120 Hz screen, its starting storage tier is 128 GB vs 64 GB on the iPhone 12, and it has a design, which I find better and more ergonomic. Its drawbacks are a plastic back and a UI, which is riddled with so many features and options that you can get lost. Though its look is... an acquired taste, I suppose.
The iPhone 12 has a main and ultra-wide camera on the back, nixing that telephoto camera to save some cash. iOS is slimmer on features, bells, whistles, and toggles but it's so dependable and easy to navigate that it borders on boring. The iPhone's blocky design is a matter of taste — personally, I like the ergonomics of the Galaxy S21 more.
Galaxy S21 vs iPhone 12 display and design
We've got very similar displays here — OLED panels, made by Samsung. Of course, on the iPhone, the calibration is made to Apple's spec — it's color-accurate, albeit with a persistent yellow-ish hue (
How to get rid of the yellow hue on an iPhone display?
). Samsung's screen offers a couple of pre-set modes for you — you can go for super punchy OLED colors, or subdued and realistic, both of which are great for their respective audiences (I am on the side of basic and subdued).
In terms of size, they are comparable, though the Galaxy S21 is slightly bigger. Though, the difference is not grand enough to sway you in either direction.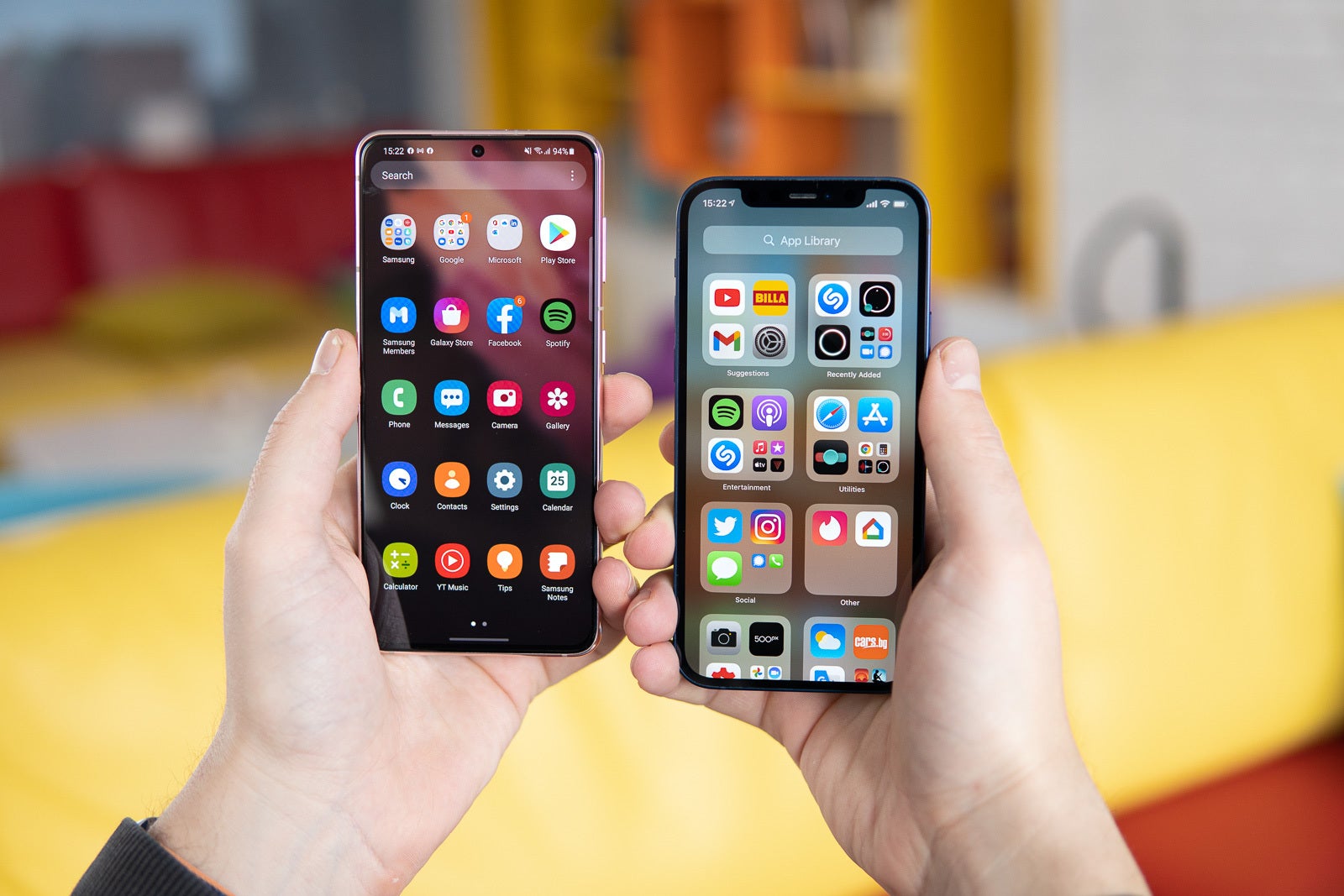 What is a big deal, however, is the Galaxy S21's Dynamic AMOLED screen — that thing has a refresh rate of 120 Hz, making all animations and interactions with the device feel super-smooth. The iPhone 12 stays locked down to 60 Hz, and while iOS' smoothness alleviates a bit of it, you can definitely feel a difference there.
Display measurements and quality
In terms of design, the Galaxy S21 just nails it for me — the camera bump blending into the phone's frame was a genius decision, and the curved back of the device provides a very comfortable fit in the palm. The iPhone's square-ish design is an acquired taste — it kind of jabs against your hand and there's a lot of that glossy frame pressing against your fingers. I felt like the iPhone 12 redesign worked great for the
iPhone 12 mini
, but less so for the bigger models.
But I do have to deduct some points from the Galaxy S21 for its plastic back. I know, it's a minor gripe, but it's a downer to have a $800 phone have that warm touch and clacky feel of plastic, even though it's a nice, soft, matte finish.
The iPhone 12's soft glass on the back feels great and I am low-key excited for the MagSafe accessories that you can slap on via its magnetic connection, too (like that wallet that doubles as a magnetic stand).
Galaxy S21 vs iPhone 12 specs
Oh, boy — comparing specs of Android phones versus iPhones is always a bit of an apples-to-oranges situation. Mostly because how Android and iOS function and play off of their hardware. In any case, here are the raw numbers:
The Galaxy S21 has a Snapdragon 888 (or Exynos 2100) processor humming between the hood — a 2.84 GHz octa-core chip built on a 5 nm process. It is complemented by 8 GB of RAM for all your multi-tasking needs.
What does all of that noise mean, though? Well it's fast… it's very, very fast and probably the most powerful Android phone you can buy at the time of writing this. In fact, it inexplicably blazes through the Manhattan 3.1 graphics test in the benchmarks section, and we can't figure out how that's happening just yet.
But the Apple A14 Bionic processor inside the iPhone 12 still edges it out. It's Apple's own 5 nm chip, with 6 cores and a top speed of 2.99 GHz. The A14 pretty much smashed through the competition when released in late 2020 and it's still just very slightly ahead of the Snapdragon 888.
The iPhone 12 does "only" have 4 GB of RAM, but that's not a huge issue due to how iOS functions — it tends to freeze background apps pretty much instantly and provides an "illusion" of multi-tasking by having you switch between snapshots of the actual apps.
When it comes to storage, we are looking at two phones that do not offer any storage expansion via a microSD card, so it's recommended you pick the right amount of storage at purchase. The iPhone 12 starts at 64 GB ($830) and offers upgrade tiers to 128 GB ($880) and 256 GB ($980).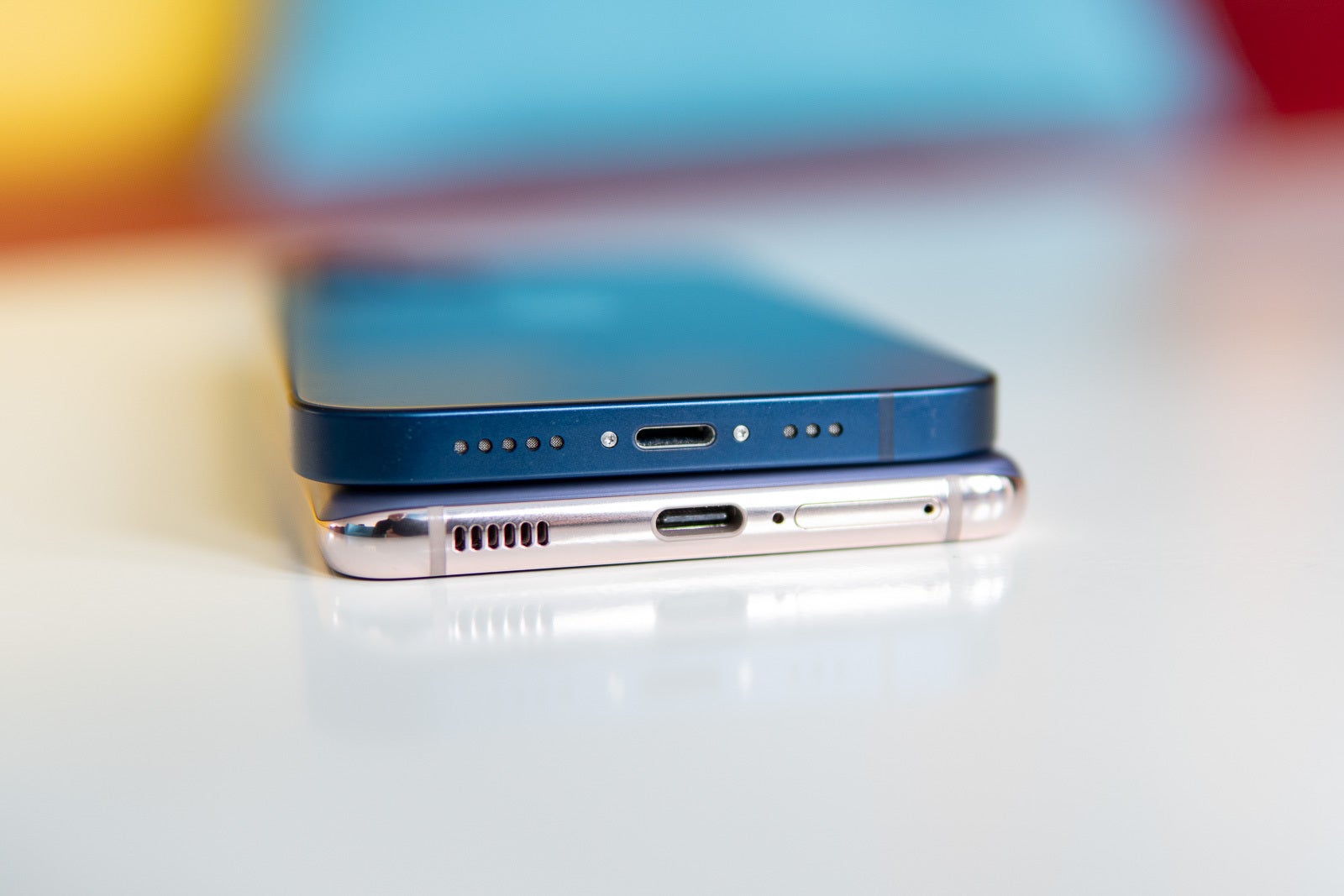 Yep, it is a bit stingy, and while 64 GB may be enough for most casual users out there, it will feel a bit constraining if you enjoy that camera a bit too much or if you like to have a lot of games on your phone. Especially after a couple of years roll by and files stack up.
The Galaxy S21 starts out at 128 GB ($800), which allows a lot more room to play around in from the get-go. Then, you have a 256 GB tier for $850, which just feels like a very generous offer in comparison to the iPhone 12.
Bottom line, though — both of these phones are absolute powerhouses and I can't say that one definitely outperforms the other by a huge margin. You may notice some games having better graphics on the iPhone than the Galaxy, but that's due to a lot of other background stuff, like developer tools, APIs, and ecosystems, which is not an inherent fault of the hardware.
We notice a big advantage for the iPhone 12 over the Galaxy S21 in CPU benchmarks. In Geekbench, a popular cross-platform CPU test, the iPhone scores nearly 50% higher in single-core performance and has a roughly 25% lead over the Exynos powered S21 in multi-core performance.
Sustained Gaming performance
Gamers will also be better off with the iPhone 12 when it comes to performance speeds. We run the 20-minute 3D Mark Wildlife stress test that shows not just the initial burst in performance but a realistic picture of how the processor performs after it has hit some limits and some throttling occurs.
The iPhone 12 once again smokes the Galaxy S21 in this test. After about 3 or 4 minutes, the Galaxy throttles and drops down to an average of 20fps, which already makes for choppy gaming, while the iPhone also has an initial performance peek that drops after 2 minutes, but the average it can maintain after that is nearly double that of the Galaxy as the iPhone runs at average frame rates above 30fps, which makes for a smooth gameplay experience.
Loudspeaker Quality
Both the Galaxy and the iPhone come with a dual speaker system with the main speaker firing from the bottom of the phone, and then you have a secondary speaker located in the in-call speaker. And as for the iPhone it's not a big change from previous iPhones, meaning that it has quite a pleasing sound with a bit more bass than your typical phone and overall it doesn't get crazy loud, but it does provide relatively rich sound for a phone. The Galaxy on the other hand disappointed us a bit with a loudspeaker that sounds a bit harsh and that lacks almost completely in bass. Sure, it gets the job done for watching the YouTube video here and there, but it's definitely not as good as you would expect the loudspeaker on a modern smartphone to sound.
Galaxy S21 vs iPhone 12 camera
The Samsung Galaxy S21 proudly flaunts a trio of lenses on its back — there's the regular 12 MP camera, an ultra-wide 12 MP camera, and a 64 MP zoom camera. The latter doesn't have a telephoto lens, but actually uses a cropped portion of that 64 MP sensor to provide a "hybrid" 3x zoom and simulate the telephoto effect.
The iPhone 12, on the other hand, only sports a duo of cameras on the back — your regular wide-angle and the ultra-wide angle.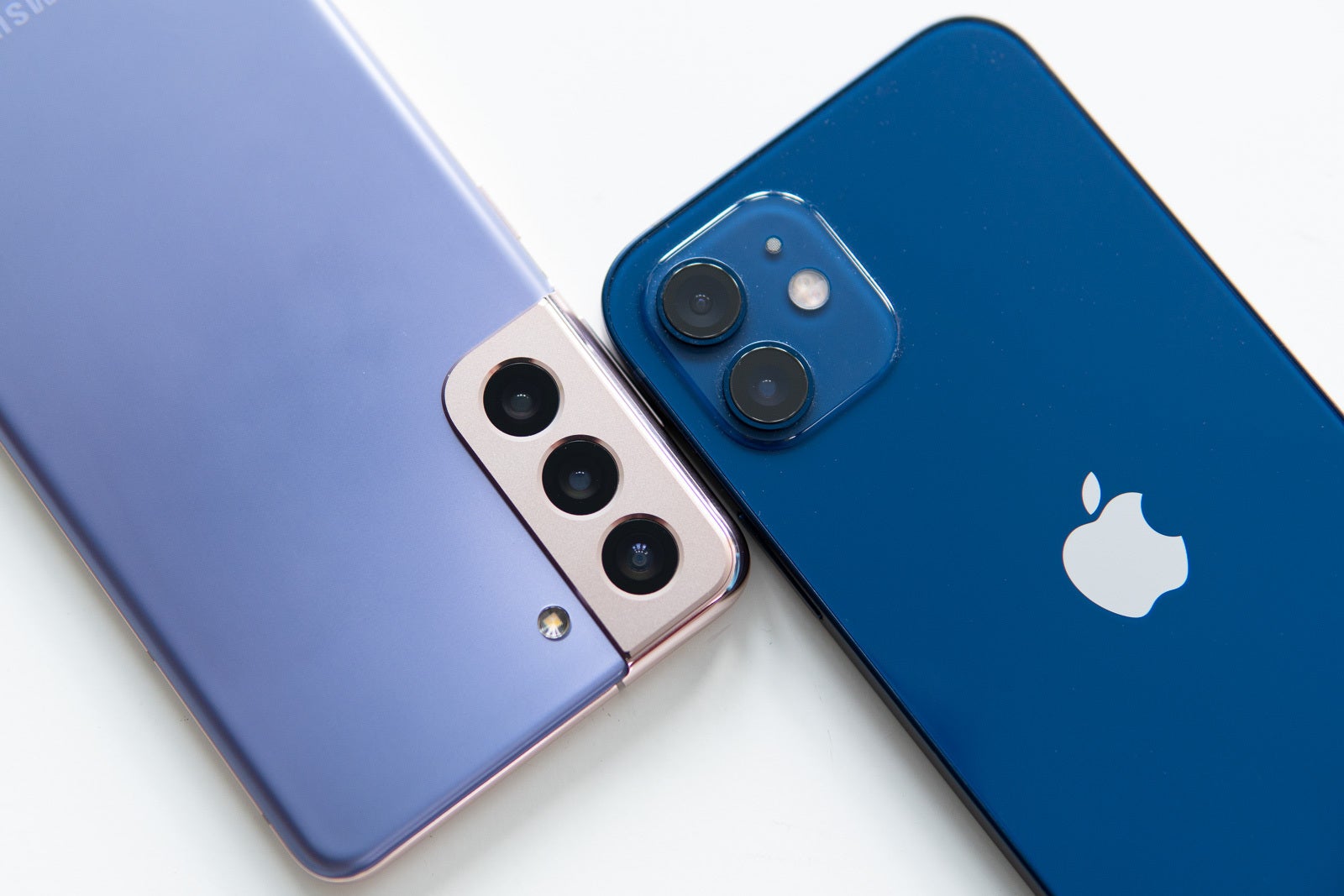 How do they perform, then?
Well, the main cameras go punch for punch in terms of dynamics and sharpness. The iPhone does favor brighter exposure, even at the risk of burning out some highlights, while the Galaxy S21 tries its best to keep the skies blue, even if it risks underexposure.
You will notice that their color calibrations are very different, too, with the iPhone sticking to its signature yellow-ish cast, while the Galaxy S21 prefers some magenta. More often than not, the S21 photos look closer to what I was seeing in real life while taking these.
The ultra-wide lenses are useful for landscape or artistic shots and you will get more out of the Galaxy S21's ultra-wide camera — it supposedly has autofocus, though I couldn't get it to make a dramatic difference. Both the S21's and the iPhone 12's ultra-wide cameras are noticeably soft and have their ups and downs. In this specific sample, I'd say the iPhone came up a bit sharper, but also a bit noisier.
Then there is the question of the zoom camera — is it worth having it on the Galaxy S21? Well, it's technically digital zoom, and I can't say I am super impressed with the results. It's still slightly better than the iPhone's 3x digital zoom. And it's worth noting that the iPhone 12 taps out at 5x zoom, no more, while the Galaxy S21 can go all the way up to 30x. Yeah, it doesn't look amazing, but the zoom on tap is there.
But it's kind of a big deal that you can take portrait shots at 2x zoom with the Galaxy S21 — the iPhone 12 does have Portrait Mode, but it only does wide-angle (1x zoom) portraits.
On the selfie side, we — again — have very similar performance. Sharp, honest details, superb dynamics range on both phones. The iPhone 12 kind of struggles with skin tone in some specific sunlit conditions — the HDR just goes crazy there. The Galaxy S21 keeps it together better and is more consistent when it comes to selfies.
Galaxy S21 vs iPhone 12 battery life

We've got two phones with 5 nm processors, which promised us superior energy efficiency, compared to last gen's hardware. However, none of them will give you a major boost in battery life. In fact, not much has changed — probably because the new processors, energy-efficient as they may be, are also more powerful and need some extra juice after all.

In any case, both the Galaxy S21 and iPhone 12 are dependable and will last you a day easy, maybe a day and a half. It's worth noting that gaming, specifically, is the bane of iPhone battery — it has been this way for years. If you are a heavy gamer, you may want to consider an Android phone. On the other hand, though, iOS has a library of exclusive games to draw you in, so that's a tough call!