Best water-resistant smartphones (2015 edition)
12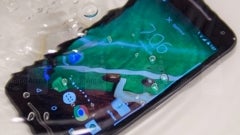 Since water resistance
is a popular feature
among smartphone users, it's no wonder that more and more manufacturers have added various water-resistant handsets to their line-ups.
One year ago, we made a selection of
the best water-resistant smartphones available back then
, and now it's time for a new list - obviously including the best models that have been introduced since early 2015.
Of course, more water-resistant handsets will certainly be launched before the year's end, so we'll update this article when necessary. Until then, go ahead and check out the water-resistant smartphones that have been announced thus far. In alphabetical order:
The
Alcatel OneTouch Conquest
is one of the newest water-resistant smartphones released in the US. It's far from being a high-end device, but it's also quite cheap (the cheapest on our list): it's sold by Boost Mobile for just $129.99, no contract required. The OneTouch Conquest runs Android 5.0 Lollipop, sports a 5-inch 720p display, and is powered by a quad-core Snapdragon 410 processor. Its IP67 certification means that it's dust-proof, and can be submerged in up to 1 meter of water for 30 minutes. The handset also features LTE, 1 GB of RAM, 8 GB of expandable storage space, a 2500 mAh battery, 2 MP front-facing camera, and a 5 MP rear camera. All in all, if you need a sub-$150 water-resistant smartphone, and you don't mind buying it from Boost Mobile, the Alcatel OneTouch Conquest should be your first choice.
CAT-branded mobile phones have been around for quite a while. The latest model, the CAT S40, is an Android 5.1 Lollipop smartphone that's presented as "the toughest" in CAT's portfolio to date. The S40 looks pretty good for a rugged device, and is IP68-cerified - meaning it's dust-proof, and can be submerged in water up to 1.5 meters. Moreover, the handset can be dropped onto concrete from up to 1.8 meters without being damaged. Other features include a 4.7-inch IPS display with 540 x 960 pixels, 8 MP rear camera, 2 MP front-facing camera, a quad-core Snapdragon 210 processor, 1 GB of RAM, 16 GB of expandable internal memory, and a 3000 mAh battery. The CAT S40 will be available to buy starting August for $439.
Officially announced and launched earlier this week, the third-generation Motorola Moto G is the first in the series to offer protection against water. The handset is IPx7-certified, so it can survive for 30 minutes underwater (up to 1 meter). The new Moto G isn't dust-proof, though.
The Moto G (2015) can be purchased unlocked starting at $179.99. This gets you the handset's entry-level variant, which offers 1 GB of RAM and 8 GB of expandable storage space. The model with 2 GB of RAM and 16 GB of storage space (also expandable) costs $229.99. Both run Android 5.1 Lollipop, are customizable via Moto Maker, and share most of their features: 5-inch 720p display, LTE, 13 MP rear camera, 5 MP front-facing camera, 2470 mAh battery, etc.
Since it's based on the regular Galaxy S6, the Samsung Galaxy S6 Active is one of Samsung's most advanced smartphones to date. The S6 Active offers most of the features that the original S6 has (including a 5.1-inch Quad HD display, a powerful octa-core Exynos 7420 processor, 3 GB of RAM, and a 16 MP rear camera), plus some nice extras. The smartphone is shock-resistant (drops from up to 1.2 meters shouldn't damage it) and IP68-certified, and has a beefy 3500 mAh battery. The Galaxy S6 Active is currently available only via AT&T, costing $199.99 on contract, or $694.99 outright.
No images
Following in the footsteps of the Xperia Z3 from last year, the Sony Xperia Z3+ is the thinnest water-resistant smartphone currently on the market (6.9 mm). Like Samsung's S6 Active and CAT's S40, the Xperia Z3+ is IP68-certified. The handset's features include a 5.2-inch 1080p display, an octa-core Snapdragon 810 processor, 3 GB of RAM, 32 GB of expandable internal memory, a 21 MP rear camera, and a 2930 mAh battery that can last up to two days. The Xperia Z3+ can currently be bought unlocked for around $600 via Amazon.
An upgraded version of the Z3+ will soon be available in the US as the
Xperia Z4v
. Expected to be sold by Verizon Wireless before the summer's end, the Z4v sports a 5.2-inch Quad HD (1440 x 2560 pixels) display, and is a bit thicker than the Z3+ (8.6 mm).