Galaxy S24 Ultra: news, rumors, expectations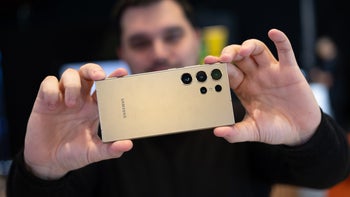 Make no mistake, albeit a distant speck on the horizon, the Galaxy S24 Ultra is definitely coming our way.

Samsung's smash-hit success is most definitely landing on the Android scene sometimes in early 2024, likely in late January or early February, with a market release most certainly two or three weeks later. Of course, the Galaxy S24 Ultra will come alongside the
Galaxy S24 Plus and the Galaxy S24
, which are more affordable but also less intriguing devices.
What would make the Galaxy S24 Ultra a great improvement over its predecessors? It seems like Samsung has found its groove with the
Galaxy S22 Ultra
and the
Galaxy S23 Ultra
, so we probably shouldn't expect any major changes both in the hardware and in the functionality departments. Yet, we expect more of the same, namely key improvements in all essential areas.
In this article we'll be summarizing everything there is to know about the Galaxy S24 which we'd continuously update with new information,

Latest Galaxy S24 Ultra news
Galaxy S24 Ultra rumored release date
The Samsung Galaxy S24 series will most likely be unveiled by Samsung sometime in late January or early February 2024, which is based on previous Galaxy flagship announcements that happened at that time of the year. Samsung currently prefers to showcase its new flagships in late January or early February, based on the majority of prior Galaxy flagship launches, giving the company a nice head start in comparison with its main rivals.
For now, we don't anticipate Samsung to veer from this path and announce the premium flagship earlier or later than this period. So, make sure to circle all the dates in late January or early February 2024, as this is the most likely time when we're going to see the Galaxy S24 Ultra announced. Two or three weeks later, the next Galaxy should hit the market, either in late February or perhaps early March 2024.
| Device family | Announcement | Market release |
| --- | --- | --- |
| Galaxy S24 | February, 2024 (rumored announcement period) | February/March, 2024 (rumored release period) |
| Galaxy S23 | February 1, 2023 | February 17, 2023 |
| Galaxy S22 | February 7, 2022 | February 25, 2023 |
| Galaxy S21 | January 14, 2021 | January 29, 2021 |
| Galaxy S20 | February 11, 2020 | March 6, 2020 |
Galaxy S24 Ultra expected price
We don't expect Samsung to raise prices and sell a more expensive Galaxy S24 Ultra. The starting price will likely start at $1,199 for the 256GB version, $1,299 for the 512GB one, and $1,619 for the range-topping and super-premium 1TB version of the flagship. That was the pricing of the Galaxy S23 Ultra, and we are hopeful that those price tags will remain set in stone.
| Phone model | 256GB of storage | 512GB of storage | 1TB of storage |
| --- | --- | --- | --- |
| Galaxy S24 Ultra | $1199 (rumored price) | $1299 (rumored price) | $1619 (rumored price) |
| Galaxy S23 Ultra | $1199 | $1299 | $1619 |
Galaxy S24 Ultra anticipated camera features and specs

The Galaxy S24 Ultra will likely use a quad-camera setup once again, just like its predecessor. The main camera will certainly join forces with a ultra-wide and two telephoto lenses, one of them a periscope, for the ultimate versatility in the Android top flagship space.
Moreover, the 200MP camera sensor that debuted with the Galaxy S23 Ultra is definitely making a comeback. Why? It's just a very unexplored platform that has a lot more to give in the coming years, and with all the hardware, software, and image processing improvements that Samsung will likely introduce, this camera has the potential to become a super-performer.
There's just so much untapped potential on this custom 200MP 1/1.13" ISOCELL HP2 sensor, with an f/1.7 aperture, OIS, 85-degree field of view, and Quad PD autofocus, that we are certain Samsung will rely on it for multiple upcoming flagship generations.

Aside from that, we haven't actually heard anything specific about the camera layout of this flagship yet, but we don't really expect any major changes either.

Galaxy S24 Ultra rumored storage options

A proper flagship should have lots of storage, even in the base version. The Galaxy S24 Ultra would most likely start at 256GB of internal storage, just as much as the Galaxy S23 Ultra has, and also offer 512GB of the stuff, as well as a range-topping version with the whopping 1TB of storage. Of course, the latter is quite expensive, but could definitely fit all the photos and videos you're going to take with the phone.

Galaxy S24 Ultra rumored storage capacity:
Galaxy S24 Ultra design rumors

Is Samsung gearing towards a major design refresh with the Galaxy S24 Ultra? We wouldn't expect such a thing to happen, but you never know. The rumors mill is still quiet on the design front, and while it's safe to assume some slight alterations and touch-ups, the Galaxy S24 Ultra will most certainly carry a lot of resemblance with the previous Galaxy S23 Ultra and Galaxy S22 Ultra.
So, expect a super-premium Armor Aluminum and Gorilla Glass Victus 2 flagship with an S Pen on deck and a mostly flat design. We don't anticipate any changes in the overall size of the phone, as the 6.8-inch Dynamic AMOLED display is unlikely to grow in size or shrink to a smaller footprint.
In 2023, the news broke that Samsung has head-hunted the
Chief Design Officer of Mercedes-Benz China, Hubert H. Lee
, who will be head of Mobile Experience at Samsung and could theoretically introduce design changes to the flagship. However, we don't expect a totally revamped design, as it feels like Samsung has definitely found its groove as far as its most advanced flagships look and feel like.
Galaxy S24 Ultra

expected display features and specs

As already mentioned, the Galaxy S24 Ultra will most likely come with a 6.8-inch Dynamic AMOLED display, similar to its predecessors. What's more, the Galaxy S23 Ultra and Galaxy S22 Ultra used the same general display panel, so we kind of expect an upgrade with the Galaxy S24 Ultra.





Samsung Display's best OLED panels are used by Apple in its latest iPhones, but not on the Galaxy S Ultra, which is definitely weird and counter-intuitive to see. Those panels offer exceptional brightness and efficiency; hopefully, we will see a much more capable Galaxy S24 Ultra display.





Aside from that, one could assume that the Galaxy S24 Ultra will be outfitted with a 3080 x 1440-pixel panel with a rather decent 500ppi sharpness, Gorilla Glass Victus 2, and the class-leading contrast, vibrancy, and overall color rendition that Samsung's flagship phone displays are usually known for.




One recent rumor calls for a display refresh rate upgrade - it seems that the

Galaxy S24 Ultra might score an even smoother 144Hz display,

unlike its predecessor's 120Hz one. While this might sound like a big improvement, you might not be able to detect a very big difference. While the difference in smoothness between 60Hz and 120Hz can be easily detected, this isn't necessarily true for the minor jump from 120 to 144Hz, as any gamer might tell you. Thus, you might have a hard time picking out which one's which.




Although Samsung has phones with an under-display selfie camera, we don't expect to see that one on the Galaxy S24 Ultra, as the image quality simply isn't comparable to regular selfie cameras just yet. Thus, we expect a punch-hole to grace the front of the Galaxy S24 Ultra, facilitating a front-facing camera. Another important element that will be attributed with the display is the under-display ultrasonic fingerprint scanner, which has been a staple of Samsung flagships for years and is now finally super-fast and accurate.




Galaxy S24 Ultra battery and charging rumors

Is there a possibility for a larger battery on the Galaxy S24 Ultra in comparison with the 5,000mAh unit that's found on the Galaxy S23 Ultra? Sure thing, though it's a bit unlikely if the design is kept the same and phone doesn't grow in thickness. Of course, Samsung could resort to a battery cell with denser chemistry, but the manufacturer is probably already pushing it as far as possible.

Samsung has been working on solid-state batteries with improved energy efficiency for a decade now, but nothing feasible has seemingly come out of this undertaking. What about graphene, the wondrous material that's touted as the end-game for batteries? We've been hearing wondrous claims about those as well, but we wouldn't bet on the Galaxy S24 Ultra rocking one of those either.
For all intents and purposes, for now we'll assume that the Galaxy S24 Ultra will also arrive with a 5,000mAh battery. Hopefully, the charging will get improved past the 45W fast charging solution that has been used by Samsung on a few flagship generations.
Galaxy S24 Ultra anticipated software features
We expect that the Galaxy S24 Ultra will come with One UI 6 or One UI 6.x based on
Android 14
, which will get released in late summer 2023. So far, we don't know what feature will make it inside; we will keep you posted once we have more
Galaxy S24 Ultra rumored hardware and specs
Since reports about the potential Qualcomm Snapdragon 8 Gen 3 processor that will be making the rounds in the next Galaxy flagship are already starting to accumulate, it appears that Samsung and Qualcomm will maintain their exclusive partnership for the upcoming Galaxy top flagship as well.
Fortunately, there might not be an Exynos version of that one, which spells good news for all Exynos-naysayers out there. The chipset that will be exclusively powering the Galaxy S24 Ultra will be the Snapdragon 8 Gen 3. However, we expect Samsung to once again get the VIP treatment and score an exclusive and slightly overclocked version of that chipset, which will most likely have a slightly better performance than the "vanilla" version.
The jury is still out about the Snapdragon 8 Gen 3's configuration, with some reports claiming that a new layout could be adopted, one consisting of a single prime core, five performance cores, and two efficiency ones, which might improve performance in comparison with the Snapdragon 8 Gen 2. Other reports claim that the Snapdragon 8 Gen 3 and the Snapdragon 8 Gen 2 will have a common core layout, with a single prime, four performance, and three efficiency cores.

On the topic of RAM and storage, we are likely getting two versions as well, with either 8 or 12GB of RAM depending on the storage version. The starting 256GB version of the phone will likely arrive with 8GB of memory, while the 512GB and 1TB versions might come with at least 12GB of RAM for all the multi-tasking needs one might have.
Should I wait for the Samsung Galaxy S24 Ultra?
You should wait for the Galaxy S24 Ultra if

you have kept yourself from upgrading to the Galaxy S22 Ultra/Galaxy S23 Ultra and are rocking an aging Galaxy flagship. Think Galaxy Note 9, Galaxy Note 10, Galaxy S10 Plus, and Galaxy S20 Ultra. Upgrading to the Galaxy S24 Ultra from any of those will almost certainly give you insane value and a vast improvement of your overall phone experience.

You should not wait for the Galaxy S24 Ultra if

you've just scored a flagship in the last two years and have no qualms about it. As flagship smartphones have peaked long ago and the overall new tech adoption has somewhat slowed down, upgrading every two years is no longer necessary. Thus, if you have a fairly recent phone that does the job for you just fine, it's somewhat unlikely that the Galaxy S24 Ultra will be the second coming of the Christ.