Samsung Galaxy Note 20 Ultra Review
55
We may earn a commission if you make a purchase from the links on this page.
The
Galaxy Note 20 Ultra
is the new super-premium S Pen-wielding smartphone by
Samsung
. It's an extra large phone with a huge camera bump, plus it's heavier than before and it barely fits in a pocket. If you like a big phone, though, this one is among the best: it has a luxurious feel, and it features a new toughened glass that can theoretically survive a head-high drop.
The 6.9-inch screen is class-leading and features a 120Hz refresh rate for a buttery smooth experience. Under the hood, the Note 20 Ultra is the equivalent of a muscle car: Snapdragon 865+ is perfect for gaming, and you have 12GB of RAM for effortless multitasking. Camera quality is also excellent and you have up to 50X zoom. Battery life, however, is just good, not quite great. You will need to charge it every night.
Last but not least, at $1,300 we feel the price is a bit too high, but Samsung often runs deals, and chances are that you will be able to get it for less. S Pen lovers won't be disappointed, but those looking for the best value-for-money or for a more compact phone might want to look elsewhere.
Galaxy Note 20 Ultra vs Note 10+ comparison
Design and Size
There are two things that you notice when you see and use the Note 20 Ultra: the first one is that it's such a beauty, and the second one, is... oh my god this phone is big! The size thing is particularly bothersome this year as there is no smaller-sized Note around, and this thing barely fits in a pocket.
If a large phone is exactly what you are looking for, however, you will love the Note 20 Ultra. We love that the Note looks different too: it features a boxy, rectangular body that makes it instantly recognizable and sets it apart from all other phones that usually come with rounded corners.
You have three colors to choose from. We have the Mystic Bronze one which comes with a frosted, matte finish, while the other two, a Mystic White and a Mystic Black version feature a glossy finish that attracts more fingerprints. The Bronze color was a bit of a surprise for us: we expected to see… well, bronze, but instead in reality the color is pinkish and actually quite similar to Rose Gold iPhones of the past.
The device is also meticulously well crafted: the frame is made of stainless steel, while the front and back are glass. This is not just any kind of glass: the Note uses the newest Gorilla Glass Victus, which is more resistant to scratches and can theoretically survive a head-high drop. The usual IP68 water protection is also present.
S Pen
The S Pen is the bread and butter of the Galaxy Note series, and if you use the S Pen a lot, we have good news for you: this might just be the biggest improvement to the experience since the very first Note. That improvement comes thanks to the reduced latency: it is now just 9 milliseconds, around four times faster than last year. What this means is that you have a true pen-to-paper feel while using the S Pen, there is practically no delay.
And this is awesome, especially for folks who use the S Pen to the fullest: artists who draw, architects, creatives, people who sign a ton of documents, this is just a short list of people who will really appreciate it. For common folks that just use the S Pen to jot down notes? Well, it's a welcome new feature for sure, but it probably won't be fully appreciated.
The S Pen also gets 5 new air gestures, but quite frankly, those seem like a gimmick and getting them to work is extremely difficult. The idea behind these new gestures is to use the S Pen to remotely control the phone: hold the button on the pen and flick it left or right to go back and forward in menus, for example. The problem is again that we just could not get that to work on the first or even second try. The only one that did work well was drawing a squiggly line to take a screenshot.
Display
The Galaxy Note 20 Ultra features a gigantic, 6.9 inch Dynamic AMOLED screen that looks absolutely stunning. The S20 Ultra also features the same screen size on paper, but the display on that phone is narrower, while on the Note you have a wider screen that feels more spacious, especially for reading and browsing the web.
The screen also tapers towards the edges very slightly, so it's not a flat screen (the regular Note 20, however, does have a non-curvy screen). Some people prefer that, others swear by flat screens. Our take is that a curved display makes swiping from the side a bit easier, but also distorts content a bit when you watch in full screen.
Colors here look gorgeous: deep blacks, very high brightness, excellent viewing angles, this screen is just a joy to look at. You can fine tune the way colors appear too: in display settings, you can pick between more saturated or more toned down colors.
The star of the show, however, has to be the new 120Hz refresh rate option. It's dynamic, or variable, meaning that the phone will use it only when it makes sense while browsing the web or playing compatible games for example, but not when watching videos which are typically shot at a lower frame rate.
Plus, the screen supports Quad HD resolution, but not if you use the 120Hz refresh rate option. Then, the maximum resolution is 1080p. For us, this was an easy choice: the higher refresh rate is a much more noticeable improvement.
Display measurements and quality
Biometrics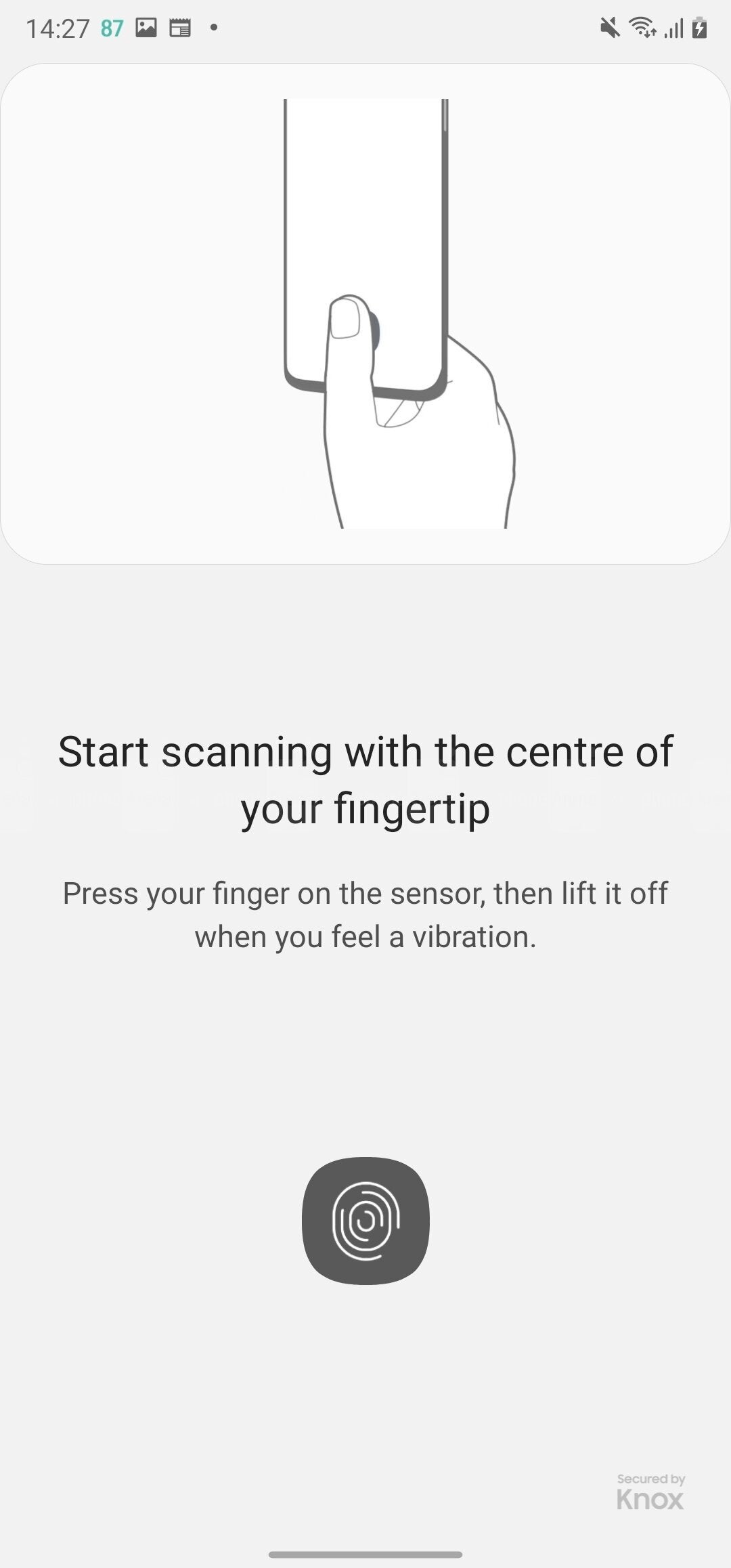 One thing that Samsung keeps getting criticized for yet never changes is the fingerprint scanner. And guess what? It hasn't changed on the Note 20 Ultra either.
The phone uses the same ultrasonic fingerprint scanner built inside the screen. It gets the job done, but is not quite as fast and accurate as the optical fingerprint scanners used in most other Android phones. Not a dealbreaker in itself, but still a little annoyance that you will bump into every single day of using the phone.
You also have face recognition on board. It uses a photograph so it's not as secure as 3D face scans like you get on an iPhone, but we do appreciate having this for the added convenience.
Performance
Under the hood, the Note 20 Ultra is powered by the Snapdragon 865 Plus paired with 12GB of RAM. The Plus version of the processor comes with 3 key improvements over the regular version: first, the processor runs at a clock speed of up to 3.1GHz, 10% faster; second, the Adreno 650 GPU features 10% faster rendering for graphics; and finally, the chip also supports faster Wi-Fi. And then having 12GB of RAM also means that you can keep dozens of apps open in the background and multitask more efficiently.
The base US version of the Note 20 Ultra comes with 128GB of storage, a bit of a surprise considering that last year's Note started at 256GB of native storage. The type of storage used here, however, is newer is the newer UFS 3.1 which ensures faster speeds, and contributes to the overall snappiness of the phone. If you buy the phone unlocked, Samsung is also offering a model with 512GB of native storage. And on both models, you also have support for expandable storage via microSD cards.
New Features: Wireless DeX, Nearby Sharing
The Note 20 Ultra debuts the newest Samsung One UI version 2.5, but if you are looking for any major differences in the software between this new Note and the S20 series… well, there aren't any.
What's new are two features that you should know about: Wireless DeX and Nearby Sharing.
DeX is the Samsung solution to easily connect your phone to a computer or a TV screen. While you still need a cable to connect the Note to a computer, you now can mirror its screen to a TV set completely wirelessly. If you have a Samsung TV made in 2019 or later, chances are that you can use this feature. You start DeX by tapping on its icon in the notification dropdown, and once you mirror your phone screen to a TV, you can then use the phone as a sort of a touchpad to navigate your way around.
The other new feature is Nearby Sharing which is Samsung's alternative to Apple's AirDrop and it allows you to quickly transfer large files.
5G Connectivity
As you would expect from an ultra-premium flagship, the Note 20 Ultra has full support for the latest 5G networks.
5G networks are different even here in the United States (Verizon and AT&T have deployed mmWave in a big way, while T-Mobile uses low- and mid-band spectrum). The Note does support all three flavors of 5G, it will run on low-, mid- and high-band frequencies, and on Verizon, for example, it supports bands n260 and n261, so you can get those mind-boggling 1Gbps and higher speeds in select urban areas.
Camera
With a huge camera bump and with those distinctive rings around the camera, you would think that the Note 20 Ultra is a big league camera phone and you won't be wrong.
There are three lenses on the back of the phone:
A 108-megapixel f/1.8 main sensor with optical image stabilization (OIS)
A 12MP ultra-wide f/2.2 lens
A 12MP 5X zoom periscope telephoto lens with f/3.0 aperture and OIS
No gimmicky macro lenses, color filters or anything else excessive.
So what about the actual image quality?
After taking hundreds of photos with the Note 20 Ultra and comparing them against the S20 Ultra, we can say that there is very little actual difference between the two. Both phones capture photos that have saturated, vivid colors that look punchy and memorable, a bit "better than reality". We don't mind that look at all, images are usually ready to be shared on social media without the need for any editing.
The camera also feels very fast. You can double click the power button to quickly start the camera, but then it also focuses extremely fast thanks to a new laser focusing system that replaces the somewhat wonky autofocus on the S20 series.
If you like taking pictures of people, however, you might be a bit disappointed with the "Live Focus" portrait mode here. For those shots, the main camera usually is a bit too wide and something like a 2X zoom lens would have been perfect. Since there is no such lens on the Note, however, it uses a digital crop for those portrait shots and they come out with lesser detail and not quite as super sharp as say on an iPhone.
In low light and at night, the Note is also able to capture images that look good. Samsung's Scene Optimizer which is turned on by default will automatically know when you shoot in extreme darkness and will capture a "night mode" photo with a slightly longer exposure. We noticed that photos at night looked a little bit sharper and with better controlled colors compared to the S20 Ultra, a very slight difference but one worth mentioning.
The killer feature here, however, has got to be the long-range zoom. The Note 20 Ultra has a 5X native zoom lens and images at 5X to 10X zoom just look impressively sharp and clean. Go over 10X zoom and you start noticing the drop in quality a lot more. You can zoom all the way to 50X times, but of course those extremely close-up shots don't look particularly good. We certainly don't miss the 100X zoom option that was available on the S20 Ultra. At that extreme range, photos just looked like one blurry mess that you would hardly ever want to share with someone.
Audio Quality
One thing you don't get on the Note 20 Ultra is a headphone jack, but you expected that, didn't you? What comes as a bit of a surprise is that there are no headphones included in the box either (at least in the United States). Samsung says that's because most people are already using wireless headphones, but interestingly, the company also says that if you really need a pair of USB-C headphones, you can send a request to Samsung USA and it will send you a free pair. At least there's a charger in the box!
As for audio quality via the loudspeakers, it's excellent. The phone comes with a stereo speaker setup: there is a bottom-firing main speaker and an additional loudspeaker in the earpiece. The phone can get quite loud and boomy without much of a distortion even at higher volume levels. Good job on this, Samsung!
Battery life
The Note 20 Ultra features a 4,500mAh battery, a slightly bigger size compared to last year's Note which shipped with a 4,300mAh cell.
In real life, using the phone with the 120Hz screen enabled, we are getting a full day of use even with heavier usage. The Note, however, is not breaking any battery life records and you will still need to charge it overnight.
We also put the Note 20 Ultra through our extensive suite of battery tests. On our browsing test, it scored nearly 12 hours of continuous use if set to 60 Hertz. That puts it among the better performers out there. If the 120Hz option is enabled, however, battery life drops significantly down to around 9 hours and a half. All of this goes to show that using the phone at 120Hz will result in a very noticeable drop in battery life, especially if you are browsing the web a lot where the 120Hz option seems to be constantly in use.
For YouTube video playback, the phone scored surprisingly poorly at just 7 hours, while for 3D gaming the result was also below other phones of the same caliber. Interestingly, the Note 20 Ultra seemed to last significantly less than the S20 Ultra.
120Hz vs 60Hz battery life

So what's the exact effect the new 120Hz refresh mode has on battery life? Quite significant actually. We measured the battery life of the phone in 120Hz mode vs 60Hz mode and here is the difference:
| Note 20 Ultra | 60Hz | 120Hz (Auto) |
| --- | --- | --- |
| Web Browsing Test | 11:57 | 9:33 |
| 3D Gaming Test | 7:17 | 5:09 |
Charging Speeds
Thankfully, the Note 20 Ultra comes with a 25W fast charger in the box, which takes just a bit over an hour to fully refill that 4,500mAh battery. Keep in mind that if you use your phone while it's charging, that time will be longer.
Here is how long it takes to charge up the Note 20 Ultra:
in 15 minutes - 29% recharge
in 30 minutes - 58%
in 45 minutes - 80%
1 hour and 8 minutes for a FULL 100% CHARGE
The Note also supports wireless charging at speeds of up to 15W, and it can also wirelessly charge other devices via the reverse wireless charging feature. For example, you can place your Galaxy Watch or Galaxy Buds Live on the back of the Note and give them a quick top up.
Alternatives
The Note 20 Ultra is indeed the ultimate phone: it features a large screen, the S Pen and top-notch performance.
However, its $1,300 price might be a bit too high for some people.
So here are some alternatives.
First, if you want the S Pen at a lower price, last year's
Note 10 Plus
is now available for a far lower price and is still an absolutely stellar device.
And if you just want a great Samsung phone and don't care about the S Pen, the
Galaxy S20 Plus
is a great choice.
Finally, if you are looking for a flagship Android phone that doesn't cost an arm and a leg, we recommend considering the
OnePlus 8
, usually available for around $700.