Google Pixel 4a Review: Midrange Magic
36
The
Pixel 4a
follows up on the popularity of the affordable Pixel 3a, which brought most of Android best at a competitive price point. This year's midrange 4a is an even better deal, with
Google
bringing a surprising amount of polish for just $350. Between its excellent camera, good display, and competent specs, the Pixel 4a is an incredible value and a triumphant addition to Google's smartphone legacy.
Design
The design of the Pixel 4a's body follows the overall style of Google's recent handsets, with a square camera bump and gently curved sides. Like last year's Pixel 3a, the latest Pixel 4a eschews the matte glass of flagship Pixels for a lightweight, black polycarbonate shell. The phone's compact footprint and friendly matte finish help it sit comfortably in the hand, and the device manages to look and feel stylish and decently sturdy as opposed to tacky or cheap.
Across the front, the Pixel 4a sports thin bezels and a hole-punch selfie shooter, without the flagship Pixel 4's distinctive forehead taking up space above the display. Along the sides, the phone has a mint-green power button and volume rocker, as well as a mic, a 3.5mm headphone jack, dual bottom-firing speakers, and a USB-C port. The Pixel 4a doesn't make any adventurous design choices, and the result is a sensible and pleasing aesthetic.
Ditching the 3D face unlock on the Pixel 4, the 4a opts for a classic capacitive fingerprint reader indented into the back. It verges on cramped, but it's accurate and fast. I initially had severe issues with accuracy, but they've vanished after deleting and re-registering my fingerprint, so I may have simply been too hasty during initial setup.
Display
The Pixel 4a's display is a 5.8-inch OLED panel with Full HD resolution, and it's quite good. The display offers great contrast levels, sharp details, and natural-but-vibrant saturation for a solid viewing experience. The brightness levels are also surprisingly high, reaching great legibility even in direct sunlight.
That's not to say it couldn't be better. The 4a is lacking a super-high-res panel or the increasingly common 90Hz smooth refresh rate, and it's also made of older Gorilla Glass 3 as opposed to newer materials like Gorilla Glass 6 or the latest Victus glass. But in real life, the display is more than fine for both casual use and media consumption.
Display measurements and quality
Camera
The 4a's rear camera module houses only a lone flash unit and one 12MP sensor, with a f/1.7 aperture, hybrid stabilization, and dual-pixel autofocus—the exact same image sensor as every Pixel since the Pixel 3. This feels like an automatic loss in the fast-paced smartphone camera race, but, as always, Google has more than a few tricks up its sleeve when it comes to camera software.
The Pixel 4a packs the same image processing abilities that made previous Pixels great, delivering sharp details, natural colors, and downright excellent dynamic range. The 4a doesn't stumble with challenging shots, maintaining good contrast and balanced exposure. There's little to fault here for the quality of still imagery, save for the rather low resolution, though that shouldn't matter in most cases.
Having just one camera on the back feels plain wrong in 2020, but the Pixel 4a does manage fine without an extra ultra-wide or telephoto lens. There is up to 7x digital zoom supported, and it's an admirable effort—for digital zoom, at least. Photos are captured fairly sharply up to 3x or 4x, but fine details tend to get smeared if you go further.
The Pixel 4a also inherits the major camera modes of its brethren, featuring Night Sight for low-light photography, Astro Mode for shooting the stars, and (of course) Portrait mode. Each of these works essentially the same as they did on the Pixel 4, and they all perform as well (or about as well) as their flagship counterparts.
Selfies rely on the 4a's 8MP front-facing sensor, and it works fairly well. In good lighting, selfies generally have the same great processing and look almost as good as shots from the main camera. When lighting is sparser, the detail and exposure can falter a bit, but not enough to really drop the quality of most shots. You also get access to Night Sight and Portrait Mode with the front-facing camera as well.
All in all, the Pixel 4a's camera is (unsurprisingly) best-in-class.
Software & Performance
The 4a lives up to the Pixel standard of shipping with the latest Android version and the guarantee of speedy updates for years to come. The lightweight, clean Android skin runs fast and smooth without hiccups, and the 4a is also one of the few devices to boast the new Google Assistant, which runs locally and offers better support for more natural continued conversations.
Google's Personal Safety app, which comes pre-loaded, as well as Call Screening for automatic screening of robocalls also make a comeback on the 4a.
The 4a also marks the loss of an iconic Pixel feature: Active Edge, which arrived with the Pixel 2 and allowed for squeezing the sides of the phone to summon Google Assistant. Personally, I love Active Edge and hate to see it gone, but I admit that Assistant is already so deeply intertwined into the Pixel experience that it won't be too missed. After all, 'Hey Google' or a quick swipe from the bottom corner does the same thing from any situation.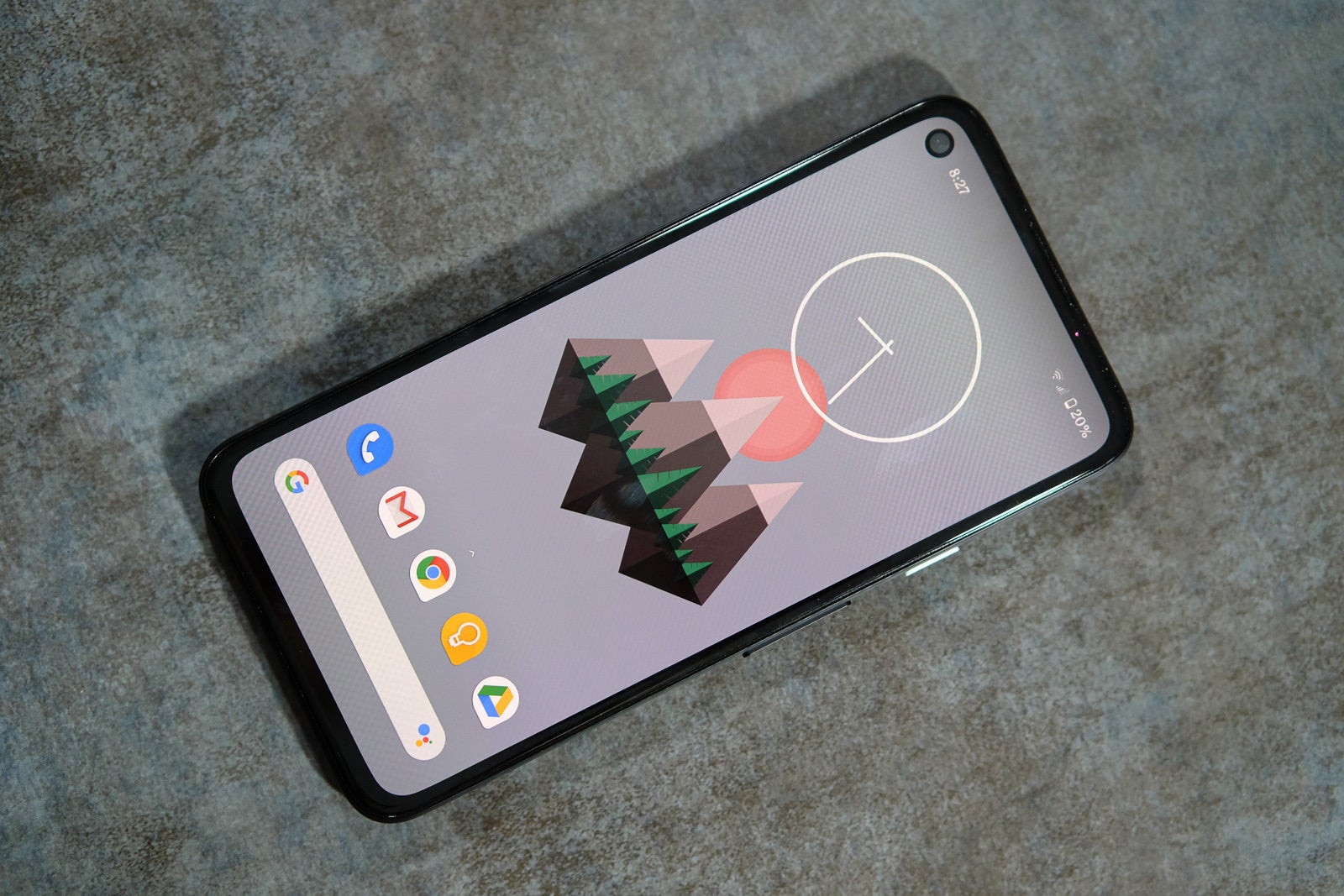 On the topic of gestures and interactions, the 4a has a terrific vibration motor for haptic feedback. Google's always done well with these intangible experience factors, and the vibrations on the 4a register as tight, precise clicks that are particularly wonderful during typing and unlocking the phone.
Inside, Pixel 4a has a Snapdragon 730G chipset and 6GB of RAM for speedy performance, along with a Titan M chip for extra security. These aren't state of the art specs, but they're more than respectable for a midrange device, and they perform just fine. Everyday scrolling, app usage, and multitasking are all snappy and responsive, and the 4a manages to keep up with the demanding visuals of most games as well.
Connectivity & Audio
Speaker quality is one of the few places where a significant drop from Google's flagships can be seen, though that may only be because the Pixel 4's speakers were really darn good. The 4a's stereo setup sounds good, offering the same punchy sound profile and tight, solid bass, but it doesn't sound quite as clear and natural. Max volume is also serviceable but not super impressive, though the sound remains distortion-free fairly high.
Like the Pixel 3a, there's a headphone jack up top for those unwilling to give up wired audio. On the inside, NFC and Bluetooth 5.1 are present as expected, though Wi-Fi 6 (802.11ax) isn't supported. Bluetooth connections were stable and unproblematic, and NFC functions as normal, too.
Battery
Despite its small size, the battery life provided by the 4a's 3140mAh power cell is surprisingly admirable, regularly offering screen times upwards of 8 hours. Google says the Pixel 4a's Adaptive Battery will learn your usage behaviors and adapt to provide the best battery life. For most use cases, it should make it through a full day without breaking a sweat.
The Pixel 4a supports 18W PD charging via its USB-C port, and a full top-up from empty takes about 90 minutes of plug-in time with the included charger. Sadly, wireless charging is missing, just like on the 3a, so wired charging is your only option here.
Competition
The midrange market is definitely more saturated than it was a year ago, but the Pixel 4a still manages to put up a good fight. Its most prominent rival is likely the larger, more powerful OnePlus Nord, but the camera and software aren't as polished as Google's offering—and, importantly, the Nord isn't available in North America, either.
Motorola's One line has a number of good budget options, like the One Fusion+, but none of them can touch the 4a's image quality or seamless software experience.