Stories you shouldn't have missed this week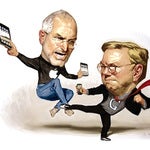 Before you fire up that Sunday barbecue in your back yard, how about we give you a list with a bunch of read-worthy stories? These are the week's stories you shouldn't have missed, and we start with a rumor about the next iPhone, currently referred to as the iPhone 5S. But while the iPhone 5S is just a rumor, the BlackBerry 10 L-series phone is very much real indeed and you can even go see some high-quality photos of it. Another smartphone that we know it exists is the ZTE Grand S, which is a high-end device coming to CES 2013.
Read more about these and other interesting stories by following the links below.