Stories you shouldn't have missed this week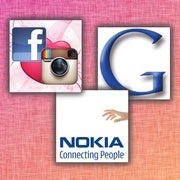 The acquisition of Instagram by Facebook was among the stories that generated quite a lot of buzz over the past week. About a billion (yes, with a "b") dollars is what the social network will spend, and the deal is expected to be finalized later this quarter. Once that's done, bathroom mirror self portraits will look more awesome-er than ever!
In other news, the rumored HTC Incredible 4G LTE posed for the camera again showing off its Verizon branding. The Samsung Galaxy Note, on the other hand, mysterioulsy popped up on Sprint's web page hinting that the carrier might soon start offering the device. But while that is just a rumor, the recently announced relese dates for the Samsung Galaxy Tab 2 tablets are very official indeed.
To learn more about these or other interesting stories that we posted over the past week, just follow the links we have provided below!