Best alternatives to the Galaxy S6 edge+
1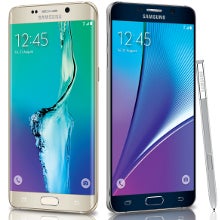 The
Samsung Galaxy S6 edge+
and
Note5
announcement is behind us, so we can finally concentrate on the real info, and tune out the crescendo of leaks, renders, actual design shots, and whispered specs.

The new dual-edged phablet from Samsung will apparently come costing about 800 USD or EUR for the 32-gigger, and about a Benjamin more for the 64 GB version. As far as specs go, the phone mimics the Note 5 sheet to the mark: a 5.7" Super AMOLED Quad HD display, covered with Corning Gorilla Glass 4 in curved edges, an octa-core Exynos 7420 chipset with Mali-T760MP8 graphics, and the hearty 4 GB of DDR4 RAM. The rear camera is a 16 MP module with OIS, while the front shooter is shown as 5 MP.
The only ho-hum field is the 3000 mAh battery, but let's not judge before we put the phablet's endurance through our battery benchmark test. So what are some other alternatives to Samsung's newest dual-
edge
smartphone that can currently be had on the market. Well, not many at all, since flexible display phones are few and far between, but let's have a look at the few that are out there.
The
Note Edge
might be Samsung's last year's finest, but it has a unique advantage before the other
edge+
alternatives of being the only one with a large, 5.7" screen size, and a bent display edge that can show info or serve functions independent of the main display area. The kicker? It's currently cheaper than the edge+.
The
Galaxy S6 edge
was the first phone to introduce the double-bent screen phenomenon that for now only Samsung has taken to market, and the wide success of the phone caught the company by surprise, cannibalizing on the sales of the "regular" Galaxy S6 to the point of thousands of (predominantly white) S6 units sloshing around in the warehouses, waiting for customers. The S6 edge+ is a larger, more decked-out version of the edge, for those who have been waiting for just such an alternative.
LG G Flex 2
might not have a dual-edge display, but it does employ a flexible OLED panel with a plastic, instead of glass substrate. It's just that the screen and the whole phone is bent vertically with quite the large radius, not side-sloping like the edge+. The advantage? Well, a tad more ergonomic feel in the hand and near the face during calls, plus arguably a more durable frame when the G Flex 2 gets dropped face-down.
Finally, the
Note5
has no flexibility in the display substrate to speak of, but it mimics the general design language and the specs of the Galaxy edge+ almost to the mark, so it's the closest alternative to those who want these great specs and gorgeous look, but find the presence of a stylus more useful than the shortcut access that the dual-edged phone offers.