Doroteya Borisova - Former Tech News Journalist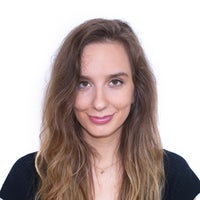 doroteya.b@phonearena.com
Doroteya (she prefers "Dorothy") was born in Bulgaria, but her family moved to Canada when she was seven. She grew up in Montreal, Quebec, speaking fluent English and a bit of French here and there, alongside her native Bulgarian.

She worked a slew of jobs throughout high school to fund her trips between Europe and Canada, from newspaper deliverer to seamstress, babysitter, pizza cook—you name it.

However, one of these jobs stands out in her mind, and that was a small business she started buying and reselling used smartphones. This slowly but surely sparked a growing interest in technology, which one day led her to taking apart a couple of iPhone 5S's to perform DIY repair (one was successful, the other not so much).

This interest expanded to a fascination with computer tech as well, and Dorothy eventually built her own Ryzen-powered gaming-by-night, workstation-by-day rig at home, which she has been slowly upgrading over time.

One of her favorite things about keeping up with technology, whether it's PC or smartphone tech, is that it is constantly evolving. There's never a dull moment when it comes to the massive progress happening year to year in this world, and she loves learning something new every day.

Although Dorothy swore she'd never learn another language in a fit of rage at French class in high school, she ended up graduating in Linguistics and Irish Studies at Concordia University. This led her to traveling to Ireland to study Irish Gaelic, as well as combining her love for the sea by spending one summer surfing the Atlantic while practicing "français" in the beautiful French village of Uza.

In her free time, Dorothy has no shortage of interests to keep her busy. From traveling and playing the piano and some violin, to gaming, rhythmic gymnastics, freediving, reading (not only about technology), and studying languages (her latest love is Spanish). She strongly believes that if you find life boring, then you must be a boring person.
Recent articles by Doroteya