Amazon Prime Day 2022: complete guide and deals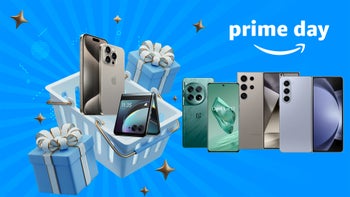 Amazon Prime Day 2022 is now gone, and here, we're offering you a recap of what happened during the sale event that lasted from July 12 to July 13. Those were two days filled with generous deals on our favorite tech products, and we saw plenty of awesome offers.
Many of those offers came on Amazon, and in order to benefit from them, you needed a Prime membership. However, other retailers also joined in and deals were hot, especially on Best Buy. We saw plenty of deals on phones and tablets, TVs, laptops, and many other tech things.
Prime Day 2022 tech deals: offers and recap

Okay, we'll first talk about phones. We had a $100 off on select iPhone 13 models (especially the iPhone 13 Pro) over at Best Buy, but that's about it for iPhones.
On the Samsung Galaxy front though, things were way more awesome: Samsung had an eye-widening $1100 off (with trade-in) on its latest models of phones, including the Galaxy S22 Ultra. On the other hand, the models from the S22 series were discounted by 30% on Amazon with Prime.

Big discounts (30-40%) were available also on the Z Flip 3 and the Z Fold 3, making the possibility of getting a foldable phone something more people can get to enjoy!
In terms of more affordable options, Prime Day had a multitude of discounts on Motorola phones. Discounts ranged from 30% (on the Motorola Edge+ 2022) to 40% off on the Motorola One 5G Ace. Almost all models from Motorola had their prices slashed during the sale event.

On the tablet front, things were awesome as well. The iPad Air 4 and the Galaxy Tab S8 Ultra were $150 off at Best Buy, Samsung had generous discounts on the Tab S8 series. The best deals were on Amazon Fire HD tablets, where certain models were 50% off during the event.

Smartwatches also saw great discounts (and yes, that's including the latest models from Apple and Samsung). The Apple Watch Series 7 was $70 off (and at one point, the discount on it went to $120 off at Target!).

The Galaxy Watch 4 and Watch 4 Classic were discounted generously (20-40% depending on the model and size) pretty much everywhere. With Prime, you could save an notable amount of money on Garmin smartwatches, where some models like the Garmin Vivoactive 4, the Garmin Instinct Solar, and the Garmin Forerunner 945 were around 40% off.

Prime Day was heaven also for earbuds and headphones buyers. Galaxy Buds models were 40-50% off at Amazon with Prime, we saw AirPods deals (ranging 18-20% off), and a lot of models from Beats, Sony, and other were also part of the deals.

What is Amazon Prime Day?


Prime Day is a 2-day shopping event held every year, with generous discounts across all product categories at Amazon, including tech like phones, tablets, headphones, smartwatches, and Amazon's own line of Kindle readers. The only catch: you have to be a Prime member.

The first Prime Day was held in 2015, as a way to celebrate the 20th anniversary of Amazon with its Prime members. It has continued on since then to be held every year with generous deals across Amazon's entire portfolio.
When is Amazon Prime Day?
Amazon's 2022 shopping event was held on July 12 at 3 a.m. EDT and continued for 48 hours into July 13. The sale event started on a Tuesday and ended on a Wednesday this year.

Below, we have the Prime Day dates from previous years for reference, and the official dates for this year's Prime Day:
| Amazon Prime Day | Start date | End date |
| --- | --- | --- |
| 2022 | July 12 | July 13 |
| 2021 | June 21 | June 22 |
| 2020 | October 13 | October 14 |
| 2019 | July 15 | July 16 |
How long does Prime Day last?
In the recent years, Amazon Prime Day has been running for 48 hours. However, that was not always the case: the first Prime Day deals event was a 24-hour-long shopping event, then in 2017, it stretched to a 30-hour one. 2018 again had a stretch as it grew in popularity and that year, Prime Day lasted 36 hours. In 2019, Prime Day lasted for the entirety of 48 hours.

Since then, Amazon has decided to stick with the 48-hour sale event. Again, 2022's event will again be a 48-hour long one, so you'll have plenty of time to get the tech you want the most.

Basically, Amazon and sellers on Amazon generously discount products when Prime Day starts. Amazon announces that Prime Day deals are available, and then you can browse through them in order to make your purchase on the official
Prime Day deals page
. When you find something you like, you can add it to your cart as you would do on any other day.
Do you need to be a Prime Member to shop Prime Day deals?
Yes. In order to benefit from the Amazon Prime Day discount, you do need an Amazon Prime membership. If you don't have one, you can get a free 30-day trial just in time for Amazon Prime. The Amazon Prime membership assures fast delivery and a great shopping experience, so if you're planning to be a long-term Amazon customer, it's great to get yourself the Amazon Prime membership.
And Prime membership is not technically free on Prime Day. However, but Prime comes with a 30-day free trial period which you can get just in time for Prime Day, in order to benefit from the generous deals on phones and other products. Of course, if you don't end up loving the subscription, you can then cancel it. However, the Prime membership is not only useful for Prime Day shopping, but it also gives you other perks such as free two-day delivery and free same-day delivery in select areas, streaming benefits, reading benefits, and other shopping perks.
How to prepare for Amazon Prime Day 2022?
As you may already know, preparing for Prime Day ahead of time is great. Knowing what you want to buy and setting a budget for yourself are also good practices in order to not spend too much money during the shopping event. Another useful thing to do is enable Alexa notifications for Prime Day deals. If you're a Prime member, you can have Alexa notify you for deals up to 24 hours in advance.

To turn the notifications on, you'll need to open the Alexa app, click More > Settings > Notifications before tapping on Amazon Shopping. You can then look for Shopping Recommendations and enable Deal Recommendations.
What deals to expect on Prime Day 2022
Amazon usually slashes the prices of Amazon products generously during the sale event, so Amazon Fire tablets, Kindles, Echo speakers will see the biggest discounts. However, we do expect other products to also be discounted. Here's the items we expect to see discounted in the tech category during Prime Day:
Amazon Fire tablets
Amazon Kindle
Amazon Echo speakers and earbuds
iPhones (although mainly refurbished units)
Samsung Galaxy phones
Earbuds and headphones (Sony models, Bose, JBL)
Smartwatches (Apple Watch, Galaxy Watch)
How to find the best Prime Day deals
Here's some tips that may be useful to you when you search for the best Prime Day deals:
Get a Prime trial (make sure it will run throughout the event, so wait until the dates are official and calculate when to get your trial).
Know what you want to buy and determine a budget for yourself. It's best to have an idea of what products you want so you won't spend too much getting tempted by all the offers during the sale event. Set a budget so you won't overspend.
Make a priority list of products you want. This way, if your top number 1 priority item is not discounted, you can go to the 2nd or the 3rd.
Keep an open mind for surprise deals. Buying one product that you didn't plan for but will be useful to you and is greatly discounted isn't a sin.
Check the prices when Prime Day starts, but keep track of changing deals (Amazon publishes different deals throughout the 48-hour period).
How long do Amazon Prime Day deals last?
Prime Day deals at Amazon last for 48 hours, officially. This, however, has some interesting aspects you might want to keep an eye on. First off, if stocks run out, they might not get replenished before the end of Prime Day. Second of all, some sellers might have deals even after the event is finished (but don't count on that, because it's up to the seller to determine what deal they want to publish after the shopping event and if they want to do it at all).

Also, other retailers may have deals that last longer than the Prime Day period, so do check them out too. You might also want to check our website after the event is over too, because, if there's a good deal, we will have it for you.

Where to find alternative Prime Day deals
Luckily, Amazon is not the only place that rocks great discounts during Prime Day. Many other retailers slash their prices for Amazon Prime Day, so you might get lucky with some good sales on phones at Walmart, Best Buy, and Target. Usually,
Best Buy Prime deals
are quite generous, both on iPhones (mainly renewed or pre-owned models though, or carrier-locked ones) and Samsung Galaxy phones, as well as other products.
Prime Day deals at Target
were under the banner "Deal Days" last year, and the discounts there were available for the full 3 days.
Walmart deals for Prime Day
are also expected to be present during the shopping event; there, the shopping event's name was "Deals for Days 2021".