Samsung Galaxy S21 Prime Day Deals
2
We may earn a commission if you make a purchase from the links on this page.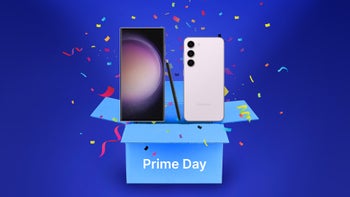 Prime Day 2021
is here, so we want to make sure you make the most out of an epic shopping spree, and don't miss out on any of the deals that are already circulating the web space as we type.
On what's become nearly a national holiday, year to year, we see deals and discounts to rival Black Friday—and you can easily save hundreds of dollars on tech and accessories as long as you do it right. (We suggest you follow these
5 key shopping tips
for the best experience!)
...But wait! Before you do anything else, do this!
Before we continue, we want to
make sure you are subscribed to Amazon Prime
.
Students get 6 months for free
, after which they can continue to enjoy
Amazon Prime's many membership benefits
at
50% off
. For the rest of us folks, the free trial lasts 30 days, and regular membership costs $12.99 per month or $119 per year.
You can actually
share your Amazon account
without breaking any rules as well! Of course, if you have a student in the household, you could always get them to help you out... (You didn't hear it from us!)
Best Amazon Prime Day Samsung Galaxy S21 deals
Samsung is running a big promo on Galaxy phones for Prime Day with discounts up to
25%
(and more, apparently) on unlocked phones, so this is a great option if you want to get a phone contract-free.
It isn't often we see mind-boggling rebates on Samsung flagships at
Amazon
. Most Americans these days are buying their phones directly from carriers, with a plan attached, so those tend to see some of the bigger discounts. However,
Prime Day
is an exception and there are plenty of
Amazon Prime Day Samsung deals
.
Best Galaxy S21 Deals at Verizon
With similar deals all over the place, we hardly knew where to start. A coin toss settled it on
Verizon
—where you can currently get the
Samsung Galaxy S21
for literally
free
(yes, you heard that right!) as long as you have an eligible trade-in and opt for an Unlimited Verizon plan. That is, you can sa
ve up to $800
with trade-in right now.
You can use
this link
to go to Verizon and
check if your phone is on the trade-in list
by clicking "See Details" in small text under the bolded offer. In the pop-up, you will find a drop-down menu listing all eligible phones. They accept most brands, not just Samsung. (You're welcome!)
Apart from that, a purchase of a new phone worth
$699.99
or more on
a new line
, and on an
Unlimited plan,
also grants you up to a
$300 free
pre-paid Mastercard (as well as free Verizon Stream TV). And guess what—the two deals are stackable for
up to $1100 in savings
! That's not even counting the free TV (Don't worry, we've read all the small text for you).
If you've got your sights set on a slightly higher-tier model, the
Galaxy S21+
can be had at an up to
$800 discount
with the same trade-in offer mentioned above. Same goes for the
Galaxy S21 Ultra
powerhouse, which can be snagged for as little as
$399.99
if you meet the trade-in requirements.
(You still need to get the new phone with an Unlimited plan to be eligible.)
The
Galaxy S21 Ultra
and
S21+
actually have a
Buy One, Get One $1000 off
deal as well. (Father's day is coming up on June 20,
wink wink
!)
Best Galaxy S21 Deals at AT&T
AT&T matches the best deals out there with up to
$800
off the price with
trade-in
, meaning that you can get the vanilla
S21 5G
literally
for free
. It's important to note that to benefit from this deal, you need to pick an unlimited plan and your trade-in device needs to be in good working condition.
Best Galaxy S21 Deals at Samsung
Samsung's
own discounts on the S21 are also all trade-in deals, though slightly different. On each tier from the
Galaxy S21
series, you can get up to
$800 off
retail price with—you guessed it—an eligible phone to turn in.
For the "basic"
Galaxy S21
(though it's anything but), regular financing is $33.34 for 24 months, but with the maximal offer applied, that can potentially go down to
$2.09/mo
. Even if your screen is cracked, Samsung offers up to
$450 in trade-in value.
If you aren't opting to turn in your phone, Samsung promises up to
$200 store credit
towards accessories.
There's also a
$50-$100 discount
(depending on the model)
off retail price on the entire
S21
line at the moment, if you choose carrier financing—which is stackable with the (up to)
$700 instant credit
offer.
Best Galaxy S21 Deals at Best Buy
Best Buy's current deals are plain and simple, no strings attached. And it's our lucky day, because they're hitting us with a
$150-$250 discounts
running on ALL unlocked
S21
models and storage variants. Unlike Samsung's deal, you don't need to choose an installment plan to benefit from it; you simply need to
activate it on the day of purchase
.
Best Galaxy S21 Deals at Walmart
Walmart's
Galaxy S21+
deal involves a monthly payment of $12.50 for 3 years for the AT&T variant, which brings its total price down to $450 from the usual $850. If you are interested in Verizon's model which goes for $1,050, you will get to save $600 over the course of the payment period (30 months).
This article is constantly being updated, so you'll stay in the loop of what's available and won't miss out on any deals.
You may also want to read: