Best Amazon Prime Day smartwatch deals: Recap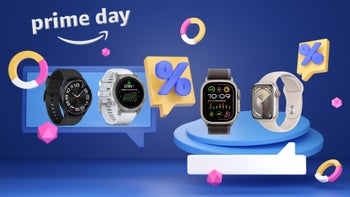 If you're a deal hunter, you'll surely enjoy
Amazon Prime Day
and all the tech discounts it brings. And if you're particularly looking for great Amazon Prime Day smartwatch deals, you've come to the right place!
Prime Day 2022 came and went, but get excited for Prime Day 2023! And to prepare for it, you may be interested in learning what smartwatch deals it'll bring, and for which brands. So, with that in mind, below we have for you a recap of the best smartwatch deals we saw last time, for reference.
Prime Day Apple Watch deals recap
Apple dominates the smartwatch market with its Apple Watch, and it's no surprise that this wearable gadget is among the most sought-after products on Amazon Prime Day.
Apple Watch Series 7 is the newest model available right now, and last time around it did get some great deals, including up to $120 off at Target. So during Prime Day you can get it for less than $300, how great is that?
The budget model, called Apple Watch SE, did see Amazon Prime Day discounts last year, but those were pretty mild; we're talking a $30 dollar discount at Best Buy, for example. But since in 2023 this watch would have become 3 years old, we can definitely hope for better Apple Watch SE deals during the next Amazon Prime Day.
The older Apple Watch Series 6 is most likely to see some good discounts this Prime Day too. Older models are always getting the biggest discounts on Prime Day, so once again - stay tuned - we'll have them right here for you when the time comes!
And less we forget the upcoming Apple Watch Series 8, which will also surely get discounts during Prime Day 2023! Stay tuned!
Prime Day Samsung Galaxy Watch deals recap
Samsung offers some great smartwatches these days, and if you're an Android user, picking one up during this Prime Day is definitely worth considering!
The Samsung Galaxy Watch series often get their prices slashed around Prime Day, so if you're looking for a perfect smartwatch to go with your Android phone, that would be the time to get it for cheaper. Also, check out our
best Prime Day Samsung Watch deals
article.
Samsung Galaxy Watch 4 Prime Day deals in 2022 included up to $101 off! Amazon was pretty generous with its Galaxy Watch discounts during that last Prime Day, covering many models and variants, so stay tuned for 2023!
In addition, if you're okay with picking up an older model, the Galaxy Watch Active 3 was nearly $200 off, and the Galaxy Watch 3 was $304 off! So, again, insanely good deals to expect during Prime Day 2023 also!
Prime Day Garmin smartwatch deals recap
Garmin's popular fitness-tracking smartwatch, the Vivoactive 4, saw some solid discounts during the last Prime Day event, up to $142 off on Amazon.
The rugged Garmin Instinct Solar was $90 off at Best Buy and on Amazon - $200 off! Crazy high discounts also covered the more niche Garmin smartwatch models too, so you can pretty much choose any one and expect good deals for it during Prime Day 2023.
Prime Day Fitbit smartwatch deals recap
Fitbit may be well-known for its excellent
fitness trackers
, but the company also produces a number of quality smartwatches too. On last Prime Day Amazon sold the Fitbit Versa 2 was $40 down.
Prime Day Fossil smartwatch deals recap
The Fossil models pack all the smartwatch features you may want, often in a stylish, classic design. In fact, Fossil smartwatches and hybrid smartwatches come in a variety of fantastic designs, from sporty ones to premium.
Last Amazon Prime Day the Fossil Gen 6 was $101 off and $110 off with different band models - the former just a silicone one, the latter - a more premium metal one.
Which smartwatch should I buy on Amazon Prime Day 2023?
So you've chosen to buy a smartwatch on Prime Day, you've bookmarked this page for when the event starts (right?) in order to get the best deals... But which smartwatch should you actually buy during Amazon's 2023 Prime Day? Need help choosing? Well...
The safest bet would be to get the Apple Watch Series 7 or 8 if you own an iPhone, or the Samsung Galaxy Watch if you're rocking an Android smartphone. Those two options from one of the most trusted phone makers in the world combine style with the smart features you'd expect from a smartwatch - fitness tracking, health tracking, getting your phone notifications, access to a smart assistant from your wrist... So either one would be a great safe buy for you this Prime Day!
More Amazon Prime Day deals: