Best Amazon Prime Day Smartwatch Deals: Apple Watch, Samsung Watch, Fitbit, Garmin and more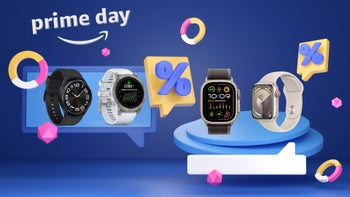 If you're in the market for a smartwatch, now is the perfect time get one, as Amazon Prime Day enables some of the best deals on both smartwatches and other consumer electronics. Below are the best deals currently available on the most desirable smartwatches for you to choose from!
This article will be updated regularly as new Prime Day 2020 deals become available.
You may also find useful:
Best Apple Watch offers for Prime Day
Let's start with Prime Day deals for most popular smartwatch in the world. If you own an iPhone and are interested in getting the
Apple
Watch for the fitness and health insights it can provide you with, or any of the other helpful features it sports, check out the best deals available for it right here.
Best Samsung smartwatch discounts for Prime Day
Walmart also has the following discounts for the Samsung Galaxy Watch during Prime Day:
Best Garmin smartwatch deals for Prime Day
Interested in Garmin's fitness-oriented premium smartwatches? Below are the best Prime Day discounts on those, starting with the Garmin Fenix 5 Plus, which packs built-in navigation, enough storage for up to 500 songs, and up to 12 days of battery life (with GPS off).
Best Fitbit smartwatch offers for Prime Day
Fitbit may be well-known for its excellent fitness trackers, but the company also produces a number of quality smartwatches too. The Fitbit Versa 2 and Fitbit Versa Lite have the following Prime Day discounts:
Best HONOR smartwatch discounts for Prime Day
See the best HONOR smartwatch offers available right now below, including special discounts that are only available for UK shoppers and through the company's website.
HONOR Magic Watch 2 at $20.00 off:
Best Fossil smartwatch deals for Prime Day
The Fossil Gen 5 smartwatch, which runs on Wear OS by Google and has all the smartwatch features you may want in a stylish, classic design is also discounted for Prime Day. So are the fashionable Fossil
Hybrid Smartwatch
HR and the Fossil Gen 5 Carlyle Stainless Steel Touchscreen Smartwatch.