Best Amazon Prime Day Smartwatch Deals: Samsung Watch, Fitbit, Garmin and more
0
We may earn a commission if you make a purchase from the links on this page.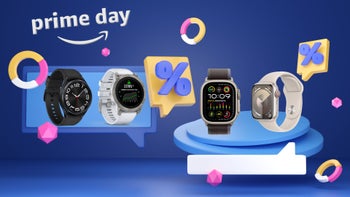 Here we have the best smartwatch offers for Prime Day 2021! Be quick if anything catches your eye, as there's not a lot of Prime Day 2021 left!
Prime Day Samsung Watch deals
The Samsung
Galaxy Watch
series often get their prices slashed around Prime Day, so if you're looking for a perfect smartwatch to go with your Android phone, now is the time to get it for cheaper. Here are the best Prime Day Samsung Watch deals available right now.
Prime Day Garmin deals
We have a ton of great deals on Garmin smartwatches for you, some of which can save you up to 50% off the original price. See the best Prime Day Garmin smartwatch deals here:
Prime Day Fitbit deals
Fitbit may be well-known for its excellent
fitness trackers
, but the company also produces a number of quality smartwatches too. The Fitbit Versa series in particular often get Prime Day discounts, so if you're hunting for Fitbit smartwatch deals, check out the current offers below.
Prime Day Fossil deals
The Fossil smartwatches pack all the smartwatch features you may want, often in a stylish, classic design. In fact, Fossil smartwatches and hybrid smartwatches come in a variety of fantastic designs, from sporty ones to premium. Below we have the top current Fossil Prime Day deals for you right now.
Fossil Men's Sport Metal and Silicone Touchscreen Smartwatch
Fossil Men's Machine Stainless Steel Hybrid Smartwatch
Fossil Gen 5 Carlyle Stainless Steel Touchscreen Smartwatch with Speaker, Heart Rate, GPS, Contactless Payments, and Smartphone Notifications
Fossil Men's Gen 5E 44mm Stainless Steel Touchscreen Smartwatch with Speaker, Heart Rate, Contactless Payments and Smartphone Notifications
Fossil Gen 5 Julianna Stainless Steel Touchscreen Smartwatch with Speaker, Heart Rate, GPS, Contactless Payments, and Smartphone Notifications
Fossil Women's Gen 5E 42mm Stainless Steel Touchscreen Smartwatch with Speaker, Heart Rate, Contactless Payments and Smartphone Notifications
Fossil Men's Collider Hybrid Smartwatch HR with Always-On Readout Display, Heart Rate, Activity Tracking, Smartphone Notifications, Message Previews
Fossil Men's FB-01 Dive-Inspired Hybrid Smartwatch HR with Always-On Readout Display, Heart Rate, Activity Tracking, Smartphone Notifications, Message
Fossil Men's Neutra Hybrid Smartwatch HR with Always-On Readout Display & Heart Rate & Activity Tracking & Smartphone Notifications & Message Previews