Weekly Round-Up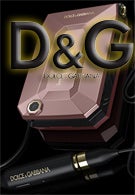 You didn't think this week will be short on news stories, did you? Tons of rumors appeared to foretell what is going to happen in the mobile world soon. We witnessed some interesting information about hot upcoming devices like the
LG Chocolate Touch
,
Samsung Instinct HD
(aka s50) and the eco-friendly
Blue Earth
. In addition, Sony Ericsson announced the super-sexy
Jalou
and its
Dolce&Gabbana
twin. The little phone is surely expected to become a popular fashion accessory for the ladies, but we will skip making final judgments at this point. Here's what else made headlines this week, sorted by dates.
August 08:
August 09:
August 10:
August 12:
August 13:
August 14:
Coming next week…
We have a bunch of phones rumored for next week. Let's begin with
Verizon
- it is said that the
Samsung Rogue U960
will become available on August 15, while the
Verizon Escapade
is to come out on August 21, but keep in mind there's nothing official as of now. As for
AT&T
customers, what we have listed is the eccentric Pantech Aladdin and the Samsung Trinity, both with an unofficial August 17 launch date. The cute, eco-conscious
Samsung Reclaim
is to hit
Sprint's
shelves on August 16 and finally we have the
Samsung Gravity 2
for
T-Mobile
that should arrive this month, and according to a leaked piece of info will launch on the 19th.
That's what we are expecting to happen next week, but surprises are always part of the game you know.
Have a nice weekend!