Apple iPhone 12 vs Samsung Galaxy S20 FE
40
We may earn a commission if you make a purchase from the links on this page.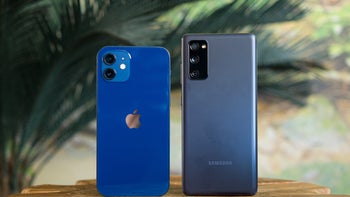 If you are a fan of conspiracy theories, you may have heard that Samsung's out-of-the-blue
Galaxy S20 FE
(for Fan Edition) takes the risk of enraging those who just bought the
S20+
in order to counter the bigger threat of
Apple's iPhone 12
with similar pricing.
Even if you are not, it makes sense to compare the upper midrange tier of the world's top phone makers that is becoming so popular that handsets in this price range are their bestsellers. Is it even a fair comparison, though, given what the Galaxy S20 FE offers when it comes to specs and camera abilities when compared to the iPhone 12? Well, let's find out!
Main iPhone 12 vs Galaxy S20 FE price and specs differences:
$799 (64GB) vs $699 (128GB)
6.1" 60Hz vs 6.5" 120Hz displays
12MP/12MP vs 12MP/12MP/8MP main/ultrawide/telephoto cameras
5nm A14 vs 7nm Snapdragon 865 processors
Apple iPhone 12 vs Samsung Galaxy S20 FE colors and display size
Black vs Lavender and Orange
White
Green
Red
Blue
Surprise, surprise, both phones would nourish your visual senses by being available in a variety of different colors for every taste. It makes sense, given their $700-$800 tier that is usually aimed at a younger and more diverse crowd.
The matte Galaxy S20 FE colors - Cloud Navy, Red, Lavender, Orange, White, or Mint - are painted over Samsung's "glasstic" design that is, well, plastic, while the iPhone 12 sits pretty in a glass body that introduces a new blue color but subtract the yellow and purple iPhone 11 hues. As you can see, even the colors of the two upper midrangers coincide to a great extent in numbers and hues, food for thought.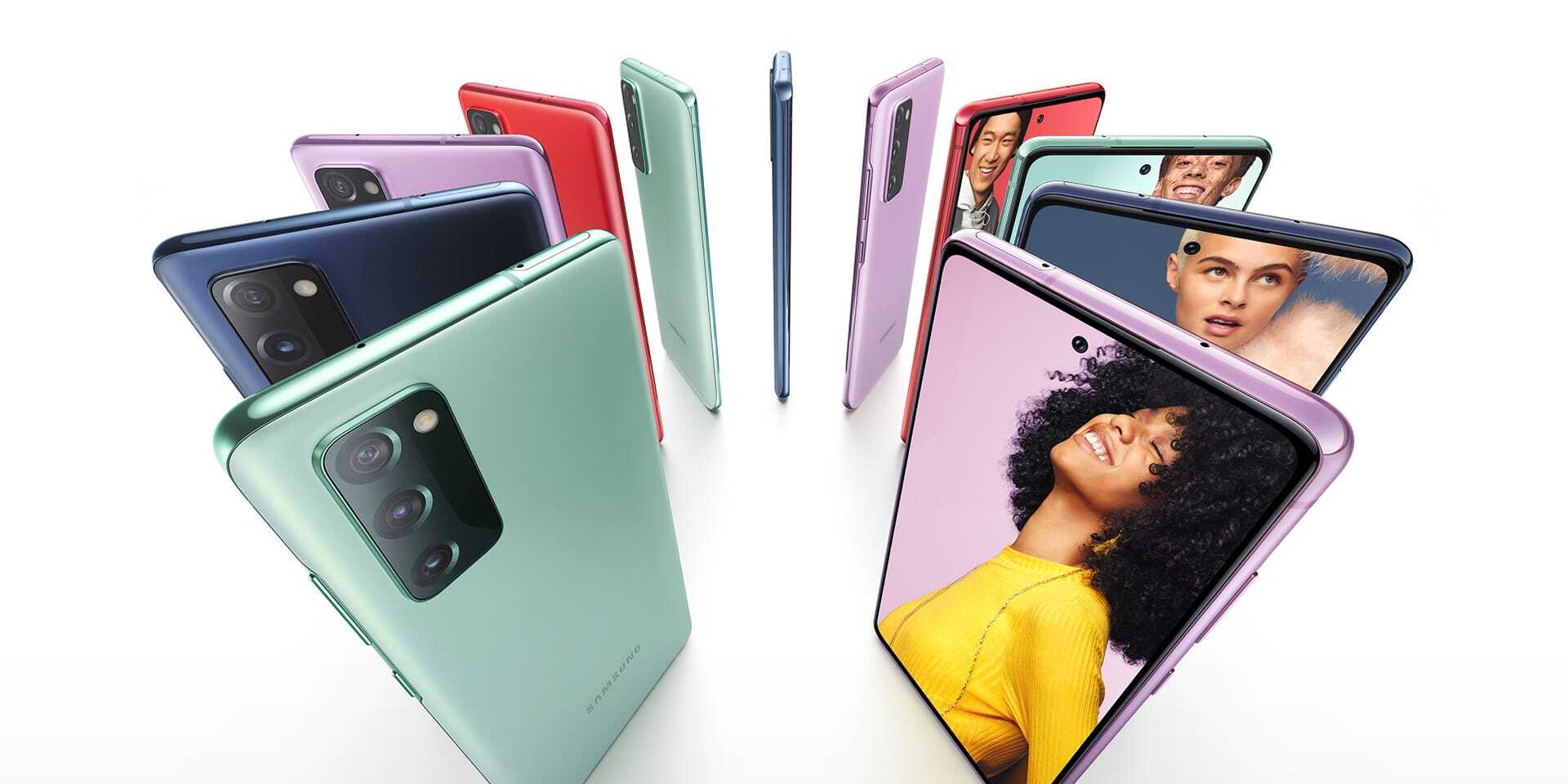 No orange for the iPhone 12, but the Galaxy S20 FE doesn't have a black version
Perhaps the main visible difference between the two phones - their screen diagonals and their refresh rates (60Hz for the iPhone 12 vs 120Hz for the S20 FE) - becomes the main design differentiator, too, as the 6.5" Galaxy S20 FE is a wee bit larger than the 6.1" iPhone 11, and, respectively, the 6.1" iPhone 12, as you can see in the S20 FE vs iPhone 12 size comparison below:
6.1" 60Hz vs 6.5" 120Hz OLED displays
2532 x 1170 (457 PPI) vs 2400 x 1080 (405 PPI) pixels
5.78 x 2.81 x 0.29 vs 6.29 x 2.93 x 0.33 inches
Despite its "glasstic" design, however, the S20 FE is about as heavy as the glass
Galaxy S20+
, so don't expect much relief in that regard when it comes to carrying the FE around, while the iPhone 12 is way lighter. As for using the iPhone 12 and S20 FE with one hand, the smaller one comes out on top, as it has a smaller width and is thinner.
Even if we disregard the huge 120Hz vs 60Hz advantage of the S20 FE before the iPhone 12's display, and the lack of a notch cutout, Samsung has also made a panel with a better brightness range, and very similar color representation, so it's a win for the S20 FE in the screen department.
Display measurements and quality
Apple iPhone 12 vs Samsung Galaxy S20 FE specs and battery life
Apple A14 5nm vs Snapdragon 865 7nm chipsets
64 vs 128GB base storage
4GB vs 6GB RAM
2775mAh vs 4500mAh battery
For all intents and purposes, the iPhone 12 gives way to the Galaxy S20 FE in terms of raw specs and memory, except when it comes to the new Apple A14 processor which is the only beast made on the 5nm process so far, while the Snapdragon 865 in the S20 FE is made with the 7nm method.
Needless to say, neither phone will feel underpowered at peak clock speeds hovering around the 3GHz mark, though, and yet the computational abilities of Apple's silicon in the graphics, browsing and AR/VR rendering departments, are unsurpassed.
When it comes to battery, Apple is not pulling out all stops in terms of capacity, and
our Galaxy S20 FE review
found it to be excellent in terms of battery life, yet the frugal marriage of Apple hardware and software returns very similar battery endurance between both phones, so we can call it a draw.
Don't even start us on charging times, though, as there is no
charging brick
in the iPhone 12 box, yet with the 20W one that Apple will be selling separately, the iPhone's way smaller 2815mAh battery fares only slightly better than the Galaxy S20 FE charging speed numbers from its stock 15W brick.
Apple iPhone 12 vs Samsung Galaxy S20 FE camera
12MP/12MP vs 12MP/12MP/8MP main/ultrawide/telephoto cameras
F/1.6 vs F/1.8 main camera lens aperture
Dual-pixel AF, OIS and 7P lenses
The 6.1" iPhone 12 models sports two cameras, while the Galaxy S20 FE has three, as Apple does what it did with the iPhone 11 series - spares the telephoto camera and adds a LiDAR for the more expensive Pro version.
We have wider lens aperture on the iPhone, though, with the ability to absorb more light, and improved image stabilization on the iPhone 12 compared to the iPhone 11, so the main camera quality comparison with the Galaxy S20 FE is a tossup, as you can see in our camera samples below.
There's one thing the iPhone 12 won't be able to do and the S2 FE can, though - clean 3x optical zoom with the 8MP telephoto camera on the back of the Fan Edition phone. Score three for Samsung, after the higher screen refresh and larger base storage for the price. Which one would you pick?