Apple iPhone 12 mini vs iPhone 11
13
We may earn a commission if you make a purchase from the links on this page.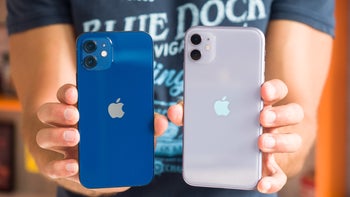 As if 2020 could get any stranger,
Apple's first 5G iPhones
shape up to be unlike any phone launches it has done so far. Both the smallest and the largest iPhone of the "all-screen" notch-y type design are expected, but there will be another more models to accompany them.
Of those middle children, only one will be orthodox, though, and a direct descendant of its
iPhone 11
predecessor, while the other will introduce a new form factor, too. In total, 2020 brings the largest reshuffle of iPhone screen sizes in history.
Apple introduced the brand new
5.4" iPhone 12 mini
form factor, followed by the iPhone 11 heir as the only one whose screen diagonal stays the same, then the
iPhone 12 Pro
display grows to 6.1 inches, and the
iPhone 12 Pro Max
goes way up to 6.7 inches to finish the series off with a bang.
Needless to say,
the iPhone 12 and 12 mini
will be the ones that will sell the lion's share of all iPhone 12 models in the next year or so, so let's compare those to their de facto predecessor, the iPhone 11.
Apple iPhone 12/mini vs iPhone 11 starting price
While the Apple iPhone 12 Pro Max goes from $1099, and the iPhone 12 Pro has a $999 sticker, an iPhone 12 mini's $699-$849 range, and the $799-$949 prices of the 6.1" iPhone 12 may be music to the fan base ears, as now they will be getting 5G and camera upgrades for the same basic level pricing as the iPhone 11 commands. All those savings from the
slim boxes
missing a charging brick or earphones of any kind have to be applied somewhere, after all.
iPhone 12/mini vs iPhone 11 colors
White
Black
Green
Blue vs Yellow and Purple
Red
While the iPhone 12 Pro models introduce a new Navy Blue hue for their exteriors, sunsetting the Midnight Green of their predecessors, the cheaper iPhone 12 models largely stay the course, save for the yellow or purple colors that get replaced by a nicer Blue.
That's explicable, given that the iPhone 11 already came in a rich variety of colors for every taste and eyesight, so Apple doesn't need to extract or add all that much. After all, Apple already paints the funky green, purple and yellow colors on the iPhone 11, and it will be hard to top that.
Instead of sunsetting the green color, Apple added a blue one to match the availability in the Pro models, but not a pastel tonality of the gender reveal dust type that says it's a boy. Just like the iPhone 11, the iPhone 12 and 12 mini are targeted to the younger crowd, and flashy colors would be a hit there.
iPhone 12 vs iPhone 11 display
6.1 inches OLED vs 6.1 inches LCD
2532 x 1170 pixels vs 1792 x 828 pixels
457 PPI vs 324 PPI
1200 nits vs 625 nits
2020 is the first year when Apple will release an iPhone 12 quartet where all handsets will be using OLED display technology. It took the company 9 years to switch to OLED after the
OG Galaxy S
was introduced by Samsung with a unique and yet-unproven 480x800 Super AMOLED screen, but it is getting there now that the technology is cheaper and ubiquitous.
Not only that but the iPhone 12 panel is now finally a 1080p display, a big boost from the 720p LCD panel of the iPhone 11, and more akin to the phone's $799 base pricing. Now that all the company's new phones are with high-res OLED display, does the iPhone 12 suffer any drawbacks at all compared to the iPhone 11? Looking at our display benchmarks below, one can easily note that the backlit iPhone 11 panel is a bit brighter and with a bit lower color inaccuracy. The OLED screen, however, has a more credible white balance, lower minimum brightness and higher contrast.
Display measurements and quality
Unfortunately, ubiquitous still doesn't mean that the only game in town has changed when it comes to OLED screens, and depending on one supplier means price distortions, so Apple is looking for ways out of its co-dependency with Samsung, including working on things like microLED technology. Last year, Apple tried to move away from Samsung by probing LG and BOE but their yield wasn't nearly enough for anything but small batches or repair parts, so Samsung again got the lion's share of iPhone OLED supply orders.

Now, however, Apple is apparently confident that LG is finally up to the task, and Korean media has been reporting that it has ordered 20 million 6.1" iPhone 12 panels from it. After all, the 12 is a direct heir of the iPhone 11 which in turn has been the most popular phone to buy in the US since launch.
iPhone 12 mini vs iPhone 11 display
5.4" OLED vs 6.1" LCD
2340 x 1080 pixels vs 828 x 1792 pixels
477 PPI vs 324 PPI
1200 nits vs 625 nits
Just as the
iPhone 12 mini
naming scheme suggests, that's actually the smallest member in Apple's 2020 iPhone crop, as it intros a brand new 5.4" form factor that makes it the smallest iPhone with a notch.
It is even smaller than the
iPhone SE
that has a 4.7" screen, and is intended for those who long for the days of powerful compact iPhones. The iPhone 12 looks rightfully diminutive next to the iPhone 11 but the screen diagonal is not the only difference between the iPhone 12 mini and iPhone 11, as there is also notch shrinkage.
A while back, famed Apple analyst Ming-Chi Kuo predicted that the compact 5.4-inch iPhone 12 mini will have a "
slightly narrower notch area for displaying the information well in the upper left and upper right corners
." There you have it, all those rumors about a smaller notch have been greatly exaggerated, with the exception of the iPhone 12. Why? Apple needed to scale iOS 14 for the new 5.4" reality, too.
With new screen size come new display resolution responsibilities, and iOS 14 brings Apple's Display Zoom scaling for screens and resolutions smaller than the iPhone 11 Pro's 5.8" panel. Needless to say, there's only one notch-y phone fits that pattern, because Apple aims to scale iOS 14 for the new 1080p resolution on the 5.4" handset. That's the other notable iPhone 12 mini vs iPhone 11 display difference.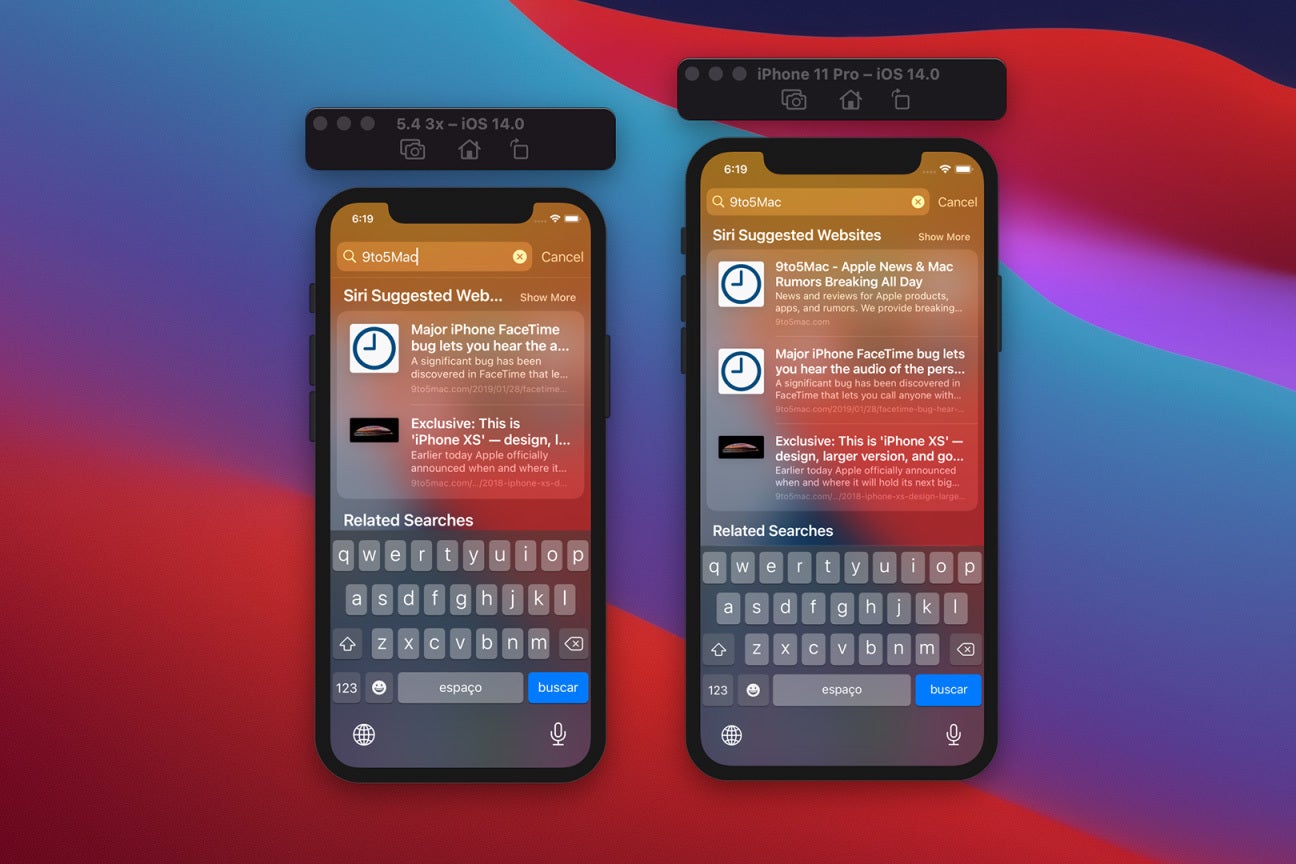 Apple iPhone 12 mini display scaling
iPhone 12/mini vs iPhone 11 specs
Apple A14 5nm vs Apple A13 7nm chipset
5G vs 4G LTE modem
While the iPhone 12 and 12 mini chipsets are still expected to come packed together with the same 4GB RAM amount as the iPhone 11, the processors inside are wildly different. Apple announced the 5nm A14 together with the iPad Air 4 on September 15, and tipped that it is more power-sipping and better performing than its already insane 7nm A13 Bionic that's in the iPhone 11.
According to the fabrication plans, TSMC's 5nm technology is about 15% faster but uses a full 30% lower power than the current 7nm node that is in the Snapdragon 865+ or Apple A13, the current mobile champs.
Why would Apple need that much more power, given that the A13 is already the fastest mobile chipset out there? Well, it may allow it to finally start fulfilling its AR/VR and other imaging dreams. After all, the
LiDAR camera from the iPad Pro 2020
is expected to trickle down to the iPhone 12 Pro camera set as well, but what would Apple be doing with it, remains to be seen.
Thus, the 5.4" iPhone 12 mini munchkin is the most powerful small iPhone that Apple has ever created, taking that crown from the iPhone SE. To top it all off, the chipset comes with an added 5G modem tacked on that will support both Verizon's mmWave network, and the low- to mid-bands of the likes that T-Mobile now has after the merger with Sprint.
iPhone 12/mini vs iPhone 11 cameras
7P vs 5P lenses
Bigger sensor/pixels for better low-light shots
Larger F/1.6 vs F/1.8 wide angle lens aperture
The 5.4" and 6.1" iPhone 12 models sport two cameras, while the Pro models have three, as Apple does what it did with the iPhone 11 series - spares the telephoto camera and adds a LiDAR to the more expensive Pro version. We have bigger 12MP sensors and pixels, though, with the ability to absorb more light, and improved image stabilization on the iPhone 12 compared to the iPhone 11.
So far, however, Apple has been using five-layer lenses, or the so-called 5P ones, even in its iPhone Pro models, while this year even the lowly iPhone 12 and 12 mini will ship with seven-layer (7P) lenses.
That's been long overdue given where Android phone cameras are now at, but it's still an exciting thought that Apple will be upgrading not only the external appearance, displays and chips of the new iPhone 12 models, but the camera setups as well, for a complete package, now sprinkled with 5G on top.
Check out the iPhone 11 vs iPhone 12 camera samples, the differences are subtle but in favor of the iPhone 12:
Sharper detail and more contrast
Smart HDR 3 makes for brighter yet without overexposed highlights pictures, especially at night
Warmer, more saturated colors
iPhone 12/mini vs iPhone 11 battery life
2815mAh/2227mAh vs 3110mAh capacity
17/15 vs 17 hours of video playback
11/10 vs 10 hours of streaming video
65/50 vs 65 hours of audio playback
The switch to a more frugal chipset and OLED display technology may be the reason that Apple has gone with a battery capacity downgrade of sorts for the iPhone 12 and Max models. It is using a more flexible battery design now to offset the costs of the 5G components inside the new iPhones, and the smallest 5.4" iPhone 12 mini may land with a typical battery capacity below 2500mAh which will have to pass the benchmark muster before it's declared enough.
Given that the iPhone 11 was a record endurance holder among Apple's more affordable handsets, the iPhone 12 has to follow that trend if Apple doesn't want to disappoint its user base, and we are glad to report this is indeed the case, as you an see in our battery testing scores below. We found out, however, that
5G connectivity left on
, or
gaming sessions
, however, will hit your battery life significantly downward.
As for the charging conundrum, the iPhone 12 models aren't shipping with a brick in the box, as Apple bets that you can always use one of your older adapters lying around, while it is simultaneously
unleashing a brand new 20W charger
that you'd have to, however, purchase separately. Said charger, however, doesn't take less time to top off your iPhone 12 compared to last year's 18W brick if you have one of those around.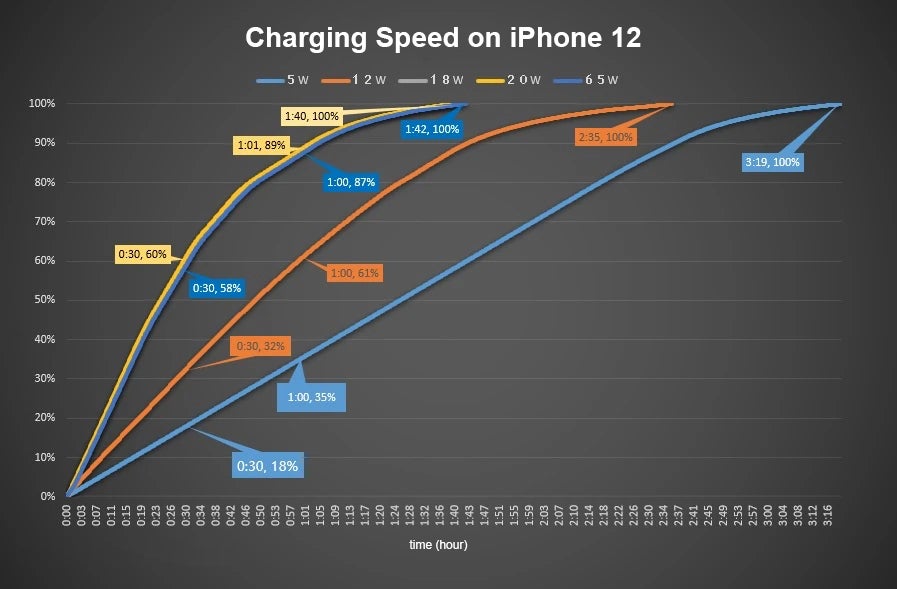 Apple iPhone 12 5W vs 12W vs 18W vs 20W vs 65W adapter charging speeds
All in all, a much better and tougher to break display, slightly better camera set, and 5G connectivity that, however, takes a toll on the otherwise pretty good battery life, would you upgrade?
Recommended Stories